A Call to Holiness Part 1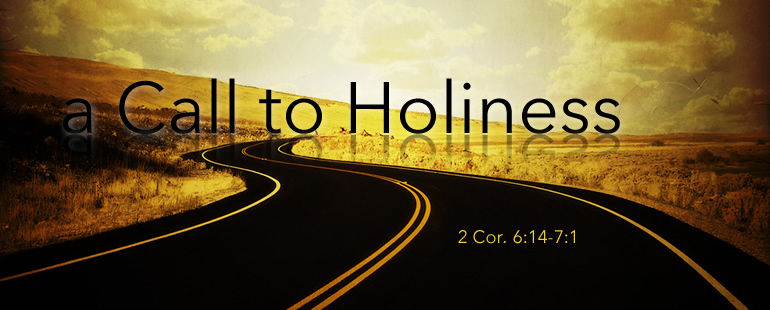 Text and Exposition
14"Do not be bound together with unbelievers; for what partnership have righteousness and lawlessness, or what fellowship has light with darkness? 15 Or what harmony has Christ with Belial, or what has a believer in common with an unbeliever? 16 Or what agreement has the temple of God with idols? For we are the temple of the living God; just as God said, "I will dwell in them and walk among them; And I will be their God, and they shall be My people."
14 Μὴ γίνεσθε ἑτεροζυγοῦντες ἀπίστοις· τίς γὰρ μετοχὴ δικαιοσύνῃ καὶ ἀνομίᾳ ἢ τίς κοινωνία φωτὶ πρὸς σκότος; 15 τίς δὲ συμφώνησις Χριστοῦ πρὸς Βελιάρ, ἢ τίς μερὶς πιστῷ μετὰ ἀπίστου; 16 τίς δὲ συγκατάθεσις ναῷ θεοῦ μετὰ εἰδώλων; ἡμεῖς γὰρ ναὸς θεοῦ ἐσμεν ζῶντος, καθὼς εἶπεν ὁ θεὸς ὅτι
Ἐνοικήσω ἐν αὐτοῖς καὶ ἐμπεριπατήσω
καὶ ἔσομαι αὐτῶν θεὸς
καὶ αὐτοὶ ἔσονταί μου λαός.
Preliminary Thought
"Paul's thoughts shift quickly in a context where frank speech gives way to necessary talk. The Corinthians were in real danger through compromising relationships with unbelievers on various levels. Although the precise identity of the unbelievers in focus is not stated, we need not limit the context to only one group since Paul uses the general statement "do not be bound together with unbelievers" with no further description. The phrase suggests that any relationship involving close and intimate associations such as marriage, business partnerships, and domestic situations where opposing worldviews cannot come together cannot be ruled out. Paul does however focus strongly on the concept of idolatry. This lends itself to the idea that what Paul was most concerned with was the yoking together of incompatible parties for spiritual purposes. The separation Paul is calling for here is rooted in two OT ideas, namely temple and covenant. Both of these motifs in Scripture involve the consecration of God's people for special purposes. As God's newly constitute people in Christ, the church is depicted in temple dimensions where God's presence dwells both corporately in the church and individually in the hearts of believers. Consequently, Paul's OT imagery of the temple also gives way to covenant passages that contain the promises of God and call for the type of separation this context is concerned with."
A CALL TO HOLINESS, Part 1
One of the reasons for focusing on the "temple" motif in this exposition is due to Paul's flow of thought. Paul's direction in this passage is guided by the reference to "the temple of God" in v. 16a. This initial reference leads Paul's thoughts into an expansion on the temple motif where Paul argues that God's people now comprise God's dwelling place. The language is theologically loaded. Rooted in OT theology and imagery, temple language was very significant for the people of God throughout redemptive history. Above all, the temple is associated with God's own special and holy presence which consequently demands holiness from His people (e.g. Ex. 25.8; Lev. 12.4; 16.33; Num. 19.20; 2 Chron. 29.16; Ps. 73.17; 78.69; 96.6; ). Because believers now comprise God's holy dwelling place (dwelling within them individually and among them corporately), it is incumbent upon us to sanctify ourselves wholly to the Lord. The language here deeply covenantal, deeply ceremonial; yet, our status and privileges are so vastly superior to those to whom many of the OT text in this section where originally written for that Paul insisted that the glory of the New Covenant surpasses the Old Covenant so that the glory of the new; with its fulfillments, its privileges, its completeness, its efficacy and its transforming power render the old without glory and obsolete (2 Cor. 3.10; cf. Heb. 8.6, 7, 13).
It is obvious from the material that has been written by modern commentaries and modern exegetes that detecting Paul's precise flow of thought here has been somewhat problematic. Although mostly unnecessarily many scholars have been perplexed as to why or how Paul could transition from the content of vv.11-13 which deals with Paul's affections for the church as well as a call for the church to reciprocate those affections, then to launch rather abruptly into the context of vv.14-7.1 which is a drastic call to holiness. Some have wondered if this is not some sort of later interpolation of the text, something Paul wrote on another occasion but decided to use it here. Such theories however only compound the problems in the text. It is better to see this text as flowing from Paul's candid appeal to the church not only to unity but now also to purity. With Paul's transparency and calling the church to transparency— he speaks candidly with them about the issue of compromised relationships. While their relationship with Paul was in need for greater unity, their relationship with others (especially but not exclusively false teachers) was in need of separation. While neglecting to be equally yoked with the apostle who loves them and cares for them, they were presently unequally yoked with unbelievers who defiled them.
1.) THE CALL TO SEPARATE FROM INCOMPATIBLE INFLUENCES
v.14-15,
14 "Do not be bound together with unbelievers; for what partnership have righteousness and lawlessness, or what fellowship has light with darkness? 15 Or what harmony has Christ with Belial, or what has a believer in common with an unbeliever?
The purpose and reason for Paul's exhortation towards greater holiness here is found succinctly in the first part of verse 14, "do not be bound together with unbelievers" (Μὴ γίνεσθε ἑτεροζυγοῦντες ἀπίστοις). This sets up the premise namely that certain incompatible influences needed to be severed if the Corinthians were to truly live as God's covenant people who possess God's covenant presence among them. This initial phrase is left somewhat ambiguous and demands exposition. For in other places Paul plainly states that absolute separation from unbelievers in this world was impossible (1 Cor. 5.10). The type of separation which Paul is calling for is not simply that of everyday friendly relationship which we should try to maintain with all people with all of our neighbors. What this is referring to are relationship which in some way or another causes believers to compromise and live contrary to their moral standards.
The language which Paul uses suggests that he is speaking of relationships on very intimate and significant level. Paul uses the imagery of a yoke to get his point across. The word, "bound together" or "unequally yoked" (ESV) (ἑτεροζυγέω) speaks directly to the issue of some sort of incompatible union. In the OT the phrase was used of breeding animals that did not utilize the same yoke (e.g. Lev. 19.19; Dt. 22.9-11). When translating these verses, the authors of the LXX used the word "bound together" lit. "yoked together" (ἑτεροζύγῳ; Lev. 19.19). The point of this language is to show the incompatibility matching up two different types of animals, two kinds of beasts such as a ox with a donkey (Dt. 22.10). The mismatching of animals in this way would result in ineffective work. One of the animals would surely be caused to fall or be injured and abused by such an uneven yoke. In a similar way, Paul tells the Corinthians that being "yoked together" with "unbelievers" (ἀπίστοις) will result in spiritual stagnation and inhibit their progress in Christ.
The problem of this sort incompatibility is further drawn out by the five antithetical statements Paul makes in vv.14-16. Each contrast brings in a different aspect of why such intimate, close, relationships with unbelievers simply will not work and will actually result in being contaminated with sin and compromise Christian conviction and worship (cf. 6.17, 7.1).
The first antithesis makes it clear that we are dealing with a moral issue, "what partnership have righteousness and lawlessness" (τίς γὰρ μετοχὴ δικαιοσύνῃ καὶ ἀνομίᾳ). In speaking in this way, it's almost as if Paul personifies these two opposite moral points of view. Righteousness cannot be the partner of lawlessness; they have completely different morals. But actually Paul is describing the contrast between the godly and the wicked, the regenerate and the unregenerate, the children of God with the children of the devil; these share in nothing of any eternal value whatsoever. The apostle John speaks in much the same way:
1 John 3:10 10 "By this the children of God and the children of the devil are obvious: anyone who does not practice righteousness is not of God, nor the one who does not love his brother."
The righteous love but the wicked, like Cain, murder their brothers. This is a fundamental difference between the believer and the unbeliever. The believer is characterized by a life of righteousness while unbelievers have no desire for holy things. As it is, unbelievers are already engaged in "lawlessness" (ἀνομίᾳ) by the simple fact that they do not believe:
2 Thessalonians 2:11–12 11 "For this reason God will send upon them a deluding influence so that they will believe what is false, 12 in order that they all may be judged who did not believe the truth, but took pleasure in wickedness."

2 Corinthians 4:3–4 3 "And even if our gospel is veiled, it is veiled to those who are perishing, 4 in whose case the god of this world has blinded the minds of the unbelieving so that they might not see the light of the gospel of the glory of Christ, who is the image of God."
The second antithesis is closely connected to the first. The metaphors of "light" (φῶς) and "darkness" (σκότος) are common biblical metaphors for moral purity or moral corruption, goodness or evil, a state of salvation or a state of condemnation (cf. 6.3-6). Both of these questions are rhetorical in nature and anticipate a complete negative response e.g. "what fellowship has light with darkness"? "Nothing at all!" etc. Both of these questions are joined to words denoting close association. The term "partnership" (μετοχὴ) implies that there is one common pursuit or goal. A close parallel to that word is the more common word, "fellowship" (κοινωνία), which stresses the fact that two people two parties are in agreement on the type of activities and interest they each possess. Believers celebrate the light, unbelievers tolerate the light and ultimate resent it and hate the light. Ultimately the reason for this is because "the light" is the light of God, the light of His holiness, the light of the knowledge of God, and the light of His presence.
Jesus being Himself the ultimate radiance of the God's light among men was rejected by those who chose rather to walk in darkness:
John 3:19–21 19 "This is the judgment, that the Light has come into the world, and men loved the darkness rather than the Light, for their deeds were evil. 20 "For everyone who does evil hates the Light, and does not come to the Light for fear that his deeds will be exposed. 21 "But he who practices the truth comes to the Light, so that his deeds may be manifested as having been wrought in God."

John 8:12 12 "Then Jesus again spoke to them, saying, "I am the Light of the world; he who follows Me will not walk in the darkness, but will have the Light of life."

John 12:46 46 "I have come as Light into the world, so that everyone who believes in Me will not remain in darkness."
The contrast between those righteousness and lawlessness, light and darkness could not be clearer and it could not be more personal. These are diametrically opposed paths, incompatible worldviews two different standards for living one's life. A Person that is living in accordance with the light has laid aside "the deeds of darkness and put on the armor of light" (Rom. 13.12); the antithesis is further cemented in Scripture by describing believer as those who not only are characterized by the light but even expose "the unfruitful deeds of darkness" (Eph. 5.11ff.). Paul's sums up the identity of the believer in relationship to the light of God's holiness by calling believers "sons of the light" who are not lulled to sleep by this present evil age in all of its seductive influences but who as children of light remain spiritually vigilant as they await the Lord's return:
1 Thessalonians 5:4–8 4 "But you, brethren, are not in darkness, that the day would overtake you like a thief; 5 for you are all sons of light and sons of day. We are not of night nor of darkness; 6 so then let us not sleep as others do, but let us be alert and sober. 7 For those who sleep do their sleeping at night, and those who get drunk get drunk at night. 8 But since we are of the day, let us be sober, having put on the breastplate of faith and love, and as a helmet, the hope of salvation."
In the third antithesis the contrast reaches something of a climax. Paul chooses to set the distinction between unbeliever's and believers in the sharpest possible contrast so that there would be no doubt just how diametrically opposed our way of life is to that of the world, "what harmony has Christ with Belial" (τίς δὲ συμφώνησις Χριστοῦ πρὸς Βελιάρ). This contrast gives us not only the stark contrast between Christian and non-Christian world and life views but also their foundations. We have no greater foundation than Christ He is our code/law.
In fact when the apostles seek to sum up Christian standards, ethics, or morals for holiness they point to Jesus Christ himself:
Ephesians 4:17–21 17 "So this I say, and affirm together with the Lord, that you walk no longer just as the Gentiles also walk, in the futility of their mind, 18 being darkened in their understanding, excluded from the life of God because of the ignorance that is in them, because of the hardness of their heart; 19 and they, having become callous, have given themselves over to sensuality for the practice of every kind of impurity with greediness. 20 But you did not learn Christ in this way, 21 if indeed you have heard Him and have been taught in Him, just as truth is in Jesus,"
Conversely, the unbeliever's source of moral or immoral living is rooted in the opposite of God's holiness, righteousness, and truth. Their foundation for philosophy, morals, and behavior is ultimately found in "Belial" (Βελιάρ). The term "Belial" simply means "worthlessness" it is personified and attributed to certain "worthless men" in the OT (e.g. Dt. 13.13; Judg. 19.22; 1 Sam. 2.12; 2 Chron. 13.7) but ultimately it is a reference to Satan himself; the ultimate personification every which God deeds worthless. Ultimately when a person is not being led of God they are under the influence of God's enemy, the devil thus making themselves children of the devil and enemies of God:
Ephesians 2:1–2 1 "And you were dead in your trespasses and sins, 2 in which you formerly walked according to the course of this world, according to the prince of the power of the air, of the spirit that is now working in the sons of disobedience."

2 Timothy 2:25–26 25 "with gentleness correcting those who are in opposition, if perhaps God may grant them repentance leading to the knowledge of the truth, 26 and they may come to their senses and escape from the snare of the devil, having been held captive by him to do his will."
The fourth antithesis forms an inclusio in the text with v.14a. "what has a believer in common with an unbeliever?" (τίς μερὶς πιστῷ μετὰ ἀπίστου;) showing once again the fundamental fact concerning faith. The only difference being a variation of yet a different adjective to describe the idea of what Paul means by being "bound together" (ἑτεροζυγέω); here he uses the word (μερὶς) which literally means "portion" (BDAG) see also (Acts 8.21). This word makes it clear that believers do not share in the portion of the wicked the unbeliever referring to their way of life. Believers do not have anything "in common" with unbelievers since they do not share in the same sum of ideas, perspectives, principles, morals or convictions— these are diametrically opposed.
In the next section of the text Paul moves from the more general incompatible influences to the more specific idolatrous influences found in v.16 which consequently launch Paul into the temple/covenant motif of vv.16-18.
2.) THE CALL TO SEPARATE FROM IDOLATROUS INFLUENCES
v.16,
16"Or what agreement has the temple of God with idols? For we are the temple of the living God; just as God said, "I will dwell in them and walk among them; And I will be their God, and they shall be My people."
This is Paul's fifth and final antithesis in the argument. In the transitional part of this context where Paul takes the reader into a consideration of what it means to be God's temple; he focuses on an issue of supreme significance so far as separation goes, namely that all of these influences either amount to or lead to idolatry. It is thus, the separation of religious ideals since all ideals are religious in nature. All worldviews will present some view of God including the position that there is no God e.g. Atheism. With this verse Paul makes it clear that the influences that he has had in mind are harmful and inherently contrary to the ways of God. God does not fellowship or dwell with "idols" (εἰδώλων). It seems that from the context, the principle of idolatry is not to be taken to refer strictly to literal figurines or statues of pagan deities; the principle Paul is teaching is that anything which is not under God's authority and Lordship is as contrary to God and as uninviting to the blessed presence of God as idols in "the temple of God" (ναῷ θεοῦ) (cf. Ezek. 8, 9).
The proof of this principle is in its application, "we are the temple of the living God" (ἡμεῖς γὰρ ναὸς θεοῦ ἐσμεν ζῶντος). The reason we are called to separate from intimate partnerships with unbelievers especially of a spiritual nature (though not limited to it), is because we are "the temple of the living God." As God's "temple" (ναὸς) our hearts were saved and sanctified to house "the living God" (θεοῦ… ζῶντος) not the gods of false religions or the gods of anyone's imagination which are no gods at all. In essence this is a warning against the ancient sin of syncretism which was so prevalent in OT times. The opposite of worshiping the true and living God was idolatry and God has always punished idolatry in the history of His people (e.g. Ezek. 6.13-14).
The idea of being God's temple is supported by the blessed promise of God's presence among His covenant people, "I will dwell in them and walk among them; And I will be their God, and they shall be My people" (6.16b). God's presence was a symbol of God's blessings and this promise is spoken in the hope of obedience and holiness, that is, that His people would sanctify themselves accordingly.
To further show the incompatibility between believers (both corporately and individually) with idolatry, Paul explicitly argues along covenantal lines citing various OT passages e.g. (Ex. 29.45; Lev. 26.11–12; Jer. 24.7; 31.1; Ezek. 37.27). Paul takes two passages (Lev. 26.11-12; Ezek. 37.27) and modifies them to suit the context and in order to highlight God's covenantal dealings with His people. Here Paul focuses on the promises of the covenant blessings of God as represented by four distinct verbal ideas (Ἐνοικήσω… ἐμπεριπατήσω… ἔσομαι… ἔσονταί). Three things are stated. First, the promise of God's presence not only "walk among them" (ἐμπεριπατέω) but also to "dwell in them" (Ἐνοικήσω ἐν αὐτοῖς) as well. What Paul is saying is that God's presence, like ancient Israel, would mark believers out to be God's special possession (Tit. 2.14; 1 Pet. 2.9cf. Ex. 19.5; Ps. 135.4) and as such that believers are only to worship the true and living God:
1 Thessalonians 1:9 9 "For they themselves report about us what kind of a reception we had with you, and how you turned to God from idols to serve a living and true God,"
Second, by His personal presence God has bound himself to His people as "their God" (αὐτῶν θεὸς). Third, God also assures that His covenant bond will not be broken by the unfaithfulness of His people but that they will indeed be "my people" (μου λαός). The result is divine fellowship on the basis of God's faithfulness to His people. Not surprising therefore, it is in the context of God's covenant blessings that God promises to make us productive so that we will bear fruit worthy of our calling:
Leviticus 26:9–11 9 "'So I will turn toward you and make you fruitful and multiply you, and I will confirm My covenant with you. 10 'You will eat the old supply and clear out the old because of the new. 11 'Moreover, I will make My dwelling among you, and My soul will not reject you."
In a new way as with a new covenant (3.3ff) we experience the blessings of a new covenant where God does not relent from doing us good (Jer. 32.40-41) where He will not reject us (Lev. 26.11) and where we will serve Him in the newness of the Spirit and not in the oldness of the letter (Rom. 7.6; 2 Cor. 3.6). Paul will make it explicitly clear in (7.1) that in light of such redemptive promises we should not delay nor hesitate to perfect holiness in the fear of God. Such promises have given new covenant believers optimum opportunity to rejoice in the promises of God seeing how such redemptive promises are finalized in Christ (2 Cor. 1.20). We should never cease to remember that the Lord is our God and that we are His people. This too finds its ultimate affirmation in Christ— our "yes" and "Amen" (Rev. 3.14).