A Call to Holiness Part 2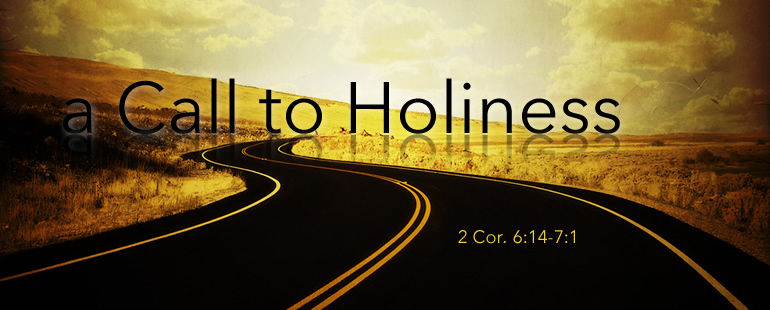 Text and Exposition
17"Therefore, come out from their midst and be separate," says the Lord. "And do not touch what is unclean; And I will welcome you. 18 "And I will be a father to you, And you shall be sons and daughters to Me," Says the Lord Almighty. 1 Therefore, having these promises, beloved, let us cleanse ourselves from all defilement of flesh and spirit, perfecting holiness in the fear of God."
17 διὸ ἐξέλθατε ἐκ μέσου αὐτῶν
καὶ ἀφορίσθητε, λέγει κύριος,
καὶ ἀκαθάρτου μὴ ἅπτεσθε·
κἀγὼ εἰσδέξομαι ὑμᾶς
18 καὶ ἔσομαι ὑμῖν εἰς πατέρα
καὶ ὑμεῖς ἔσεσθέ μοι εἰς υἱοὺς καὶ θυγατέρας,
λέγει κύριος παντοκράτωρ.
7 ταύτας οὖν ἔχοντες τὰς ἐπαγγελίας, ἀγαπητοί, καθαρίσωμεν ἑαυτοὺς ἀπὸ παντὸς μολυσμοῦ σαρκὸς καὶ πνεύματος, ἐπιτελοῦντες ἁγιωσύνην ἐν φόβῳ θεοῦ.
Preliminary Thought
"Because of the incompatible nature of God's people with unbelievers, the Corinthians are now exhorted towards complete separation. Paul shifts from language of the temple to language of the household of God. As God's people we are being called away from every defiling and idolatrous influence as well as from every conceivable partnership and association which may have a spiritually adverse effect on the church and its members. In following Paul's orders to spiritual consecration, the church has the assurance, indeed the promise of God's blessing and favor. While Paul begins with a quote from Isaiah about restoration, he also applies the language of the Davidic covenant to demonstrate the extension of God's covenant love for those who are in union with David's Messiah Son-Lord Jesus Christ. It is all those who belong to Him that the Father will likewise embrace with filial love. This however is no sentimental appeal but the pronouncement of the Lord Almighty himself. In light of such gracious and magnificent promises, God's people are not to delay in pursuing holiness. This calls for personal effort and personal purification from anything internal or external which can defile the believer. In doing this, believers can rest assured that they are pursuing the very goal of sanctification itself. The principle that governs all of the true people of God who seek to be holy as God is holy is fear for God himself."
1.) PURSUING HOLINESS ACCORDING TO OUR DIVINE ADOPTION
v.17-18
17"Therefore, come out from their midst and be separate," says the Lord. "And do not touch what is unclean; And I will welcome you. 18 "And I will be a father to you, And you shall be sons and daughters to Me," Says the Lord Almighty."
Paul shifts the focus of our covenant privileges away from the language of the temple and onto the language of divine adoption. What both ideas share is a covenantal reality; that of being God's people. While in vv.14-16 Paul's exhortation was based on the promise of God's presence dwelling in the midst of God's people here Paul is using the covenant promises of sonship. However, such promises are not being set out to believers as the possibility of obtaining these promises; Paul is quoting these texts to support the idea that believers are "sons and daughters" (υἱοὺς καὶ θυγατέρας) who need to live like it.
This section begins with a call for total separation, "come out from their midst and be separate" (6.17a). The separation focuses mainly on the church's need to separate from any syncretistic compromise where the church could be forced to comprise its convictions and beliefs because of incompatible and even idolatrous influences. However, we should also point out that the passage is also broad enough and general enough so that any sort of significant relationship with unbelievers can pose a threat to our sanctification if we are not careful. Marriage, business partnership, living agreements, contractual agreements with unbelievers all need to be handled with the greatest wisdom and discernment. Although marriage for example is not explicitly stated in the "unequally yoked" text (6.14) — the "partnership" and "fellowship" of marriage is one of the most significant in all of life so that such prohibitions are assumed in Christian theology (cf. 1 Cor. 7. 39). Likewise business partnership where business philosophy and business ethics are susceptible to unbiblical morals also should be avoided. Even domestic agreements should be avoided if possible since the domestic sphere is also the place where Christ will either be acknowledged as Lord or rejected as Lord (Eph. 5.22-6.9). In principle then the "yoke" that Paul is speaking about has direct implications for every area of our lives, Murray Harris writes:
"The Corinthians were to avoid any public or private relationship with unbelievers that was incompatible with or would compromise Christian standards, Christian adherence to monotheism, and Christian witness." (Harris, p.501).
Therefore, anything sinful anything that is not under the Lordship of Christ is applicable. Paul's focus here stems from his discussion on idolatry. Having introduced the language of idolatry in v.16, Paul launched into a quotation of two OT texts (Lev. 26.12; Ezek. 37.27). Both of these texts are covenantal in nature and referred to God making His dwelling place with His covenant people. But these covenant realities also would have a future significance in that God's dwelling in the midst of His people (i.e. His temple) and even in His people was looking forward to the New Covenant (Jer. 31.31-34). Here again, Paul is going to merge and modify various OT texts to bring out the implications of separation which Paul has been calling for. First Paul quotes from Isaiah. 52:
Isaiah 52:11, 11 "Depart, depart, go out from there, Touch nothing unclean; Go out of the midst of her, purify yourselves, You who carry the vessels of the Lord." (note: the gospel centricity of this context: 52.7; 53; 54.1 etc.)
In the context of Isaiah 52 God is bringing His people back from their Babylonian captivity where God promises to bring them back to Jerusalem. God's concern is that they leave unscathed by the idolatrous practices and pagan culture of the Babylonians. Paul is then applying this to the lives of believers who must also separate from any and every unrighteous, unholy influence especially idolatry so that we too may "purify" ourselves for the Lord's service. To show us that we have such a richer fuller application of God's redemptive work, Paul leaves out the words of Isaiah, "you who carry the vessels of the Lord" (Is. 52.11c). In doing so Paul extends the promise of deliverance and restoration beyond the Levitical priests who alone were to be designated to carry the holy things of the Lord (cf. Num. 3.5-9). In the new covenant however, all believers have equal priestly status:
Revelation 5:9–10 9 "And they sang a new song, saying, "Worthy are You to take the book and to break its seals; for You were slain, and purchased for God with Your blood men from every tribe and tongue and people and nation. 10 "You have made them to be a kingdom and priests to our God; and they will reign upon the earth."
With the privilege also comes the duty. All believers are to consecrate themselves as God's priests, His saints, and His people who are to be holy to the Lord chosen for holy purposes (Is. 41.9, Dt. 7.6; 14.2; cf. Eph. 1.3-5). Nothing brings the favor of the Lord upon our lives than holiness, "I will welcome you" (κἀγὼ εἰσδέξομαι ὑμᾶς). This latter phrase is a quotation from (Ezek. 20.34 LXX, see also Judg. 19.18) where it is usually translated, "gather" and refers to God reconstituting His covenant people as He takes them from the midst of the pagan "peoples" of the world.
The language also implies the bestowal of God's favor, protection, blessings, and fellowship. By taking this phrase from Ezekiel's prophecy, Paul sees the church as God's newly constituted people, indeed God's "temple" whom God has separated from the world of sin and idolatry (cf. John 15.19; 17.6) so that we may enter into unmitigated covenant fellowship with Him in holiness and familial love. That is the purpose of holiness, greater fellowship with God (cf. 1 Cor. 1.9):
James 4:4–5 4 "You adulteresses, do you not know that friendship with the world is hostility toward God? Therefore whoever wishes to be a friend of the world makes himself an enemy of God. 5 Or do you think that the Scripture speaks to no purpose: "He jealously desires the Spirit which He has made to dwell in us"? (see also, 1 John 2.16; Jam. 1.27).
The second passage Paul pulls from is less explicit although Paul insists, "says the Lord Almighty" (λέγει κύριος παντοκράτωρ). The use of the OT is less explicit here in that Paul is not quoting from one passage or verse verbatim— he chooses to string together the theology of several probable verses. The primary text which all commentators seem to agree with is that of the Davidic covenant in 2 Samuel:
2 Samuel 7:14 14 "I will be a father to him and he will be a son to Me; when he commits iniquity, I will correct him with the rod of men and the strokes of the sons of men,
Paul's use of this OT text again expands its application to fit the context of his present address and audience. He changes the pronouns from singular "him" to the plural "to you" (ὑμῖν) and "you" (ὑμεῖς) he changes the singular form of "son" to "sons" (υἱοὺς). The reason is to extend this covenant language to believers who sanctify themselves to the Lord and walk in holiness showing themselves to be "sons and daughters" (υἱοὺς καὶ θυγατέρας). In this language of separation is also the language of divine calling— the Lord calling his people to himself:
Isaiah 43:5–6 5 "Do not fear, for I am with you; I will bring your offspring from the east, And gather you from the west. 6 "I will say to the north, 'Give them up!' And to the south, 'Do not hold them back.' Bring My sons from afar And My daughters from the ends of the earth," (see also, Dt. 32.19).
By moving us from temple to family terminology, the Lord goes from being our God (ἔσομαι αὐτῶν θεὸς) to being our Father (ἔσομαι ὑμῖν εἰς πατέρα) God's people are no longer simply "my people" (μου λαός) but "sons and daughters to Me" (ἔσεσθέ μοι εἰς υἱοὺς καὶ θυγατέρας); see (Harris, p. 510). That Paul uses the phrase, "Lord Almighty" (κύριος παντοκράτωρ) reminds us of the power of God to speak (λέγει) and to deliver His people from the influences of the pagan nations (cf. Ezek. 20.34).
In a stroke of genius, Paul uses Davidic language and restoration language for one singular purpose, to see God's people devote themselves exclusively to the Lord as His redeemed, restored, and reconstituted "sons and daughters" in filial love.
2.) PURSUING HOLINESS ACCORDING TO DIVINE PROMISE
v.1,
1"Therefore, having these promises, beloved, let us cleanse ourselves from all defilement of flesh and spirit, perfecting holiness in the fear of God."
We have in this verse nuclear strength for the Christian life in general and sanctification in particular. The big picture in this verse deals with the manner in which our sanctification will best be obtained and achieved. Paul's call to holiness is reflective in nature in that it calls on believers to reflect on the "promises" (τὰς ἐπαγγελίας) of God as the incentive or fuel for holiness. Paul is also giving us the basis of his exhortation. The participial phrase here, "having these promises" (ταύτας οὖν ἔχοντες τὰς ἐπαγγελίας) is causal i.e. "because we have these promises… let us." The grammar also suggests that this is a continuous reality where we are said to continually possess these promises implying that we not fail to continually reflect upon them. What this verse shows us is that Paul is calling them to a particular type of sanctification an informed sanctification; four things should be considered here.
2.1, Self-purification
We should first notice that the purification being spoken of here is reflexive in nature, "let us cleanse ourselves" (καθαρίσωμεν ἑαυτοὺς). This idea of self purification points the cooperative nature of progressive sanctification and the effort we must yield in order to be engaged in godly disciple (1 Tim. 4.7). Scripture is replete with exhortations to self purification in the pursuit of holiness:
Philippians 2:12–13 12 "So then, my beloved, just as you have always obeyed, not as in my presence only, but now much more in my absence, work out your salvation with fear and trembling; 13 for it is God who is at work in you, both to will and to work for His good pleasure."
We are commanded to set our minds on "things above" (Col. 3.2), we are commanded to put to death what is earthly in us referring to evil behavior and sinful passions (Col. 3.5), the author of Hebrews commands us in light of having such a great company of saints to run with endurance and "lay aside" every any particular sin that may be hindering us from finishing the course that is set before us (Heb. 12.1). God sanctifies us by His grace and through His Spirit but we must avail ourselves to the grace and power of God with personal (God-given) effort.
2.2, Spheres of sanctification
Not only does this text supply the demand for personal effort as we strive towards greater and greater sanctification, it also supplies us with the sphere(s) of our sanctification. By referring to sanctification with the words, "flesh and spirit" (σαρκὸς καὶ πνεύματος) Paul is eliminating any all pagan concepts that sanctification and holiness is only that which pertains to either "flesh" i.e. external performance, bodily discipline, or physical practices of any kind or "spirit" i.e. dealing with the sphere of the mind, the heart, the seat of the emotions, or our thought life. Instead, sanctification is that which pertains to the total person both body and soul because man is comprise of both elements— body and spirit.
Paul's focus is on those things which can defile (μολυσμός) us either through physical or spiritual means because in essence they are inseparable. These words should have provoked the church to think on what Paul had told them in his first letter about sexual immorality and the joining of Christ to a prostitute:
1 Corinthians 6:15 15 "Do you not know that your bodies are members of Christ? Shall I then take away the members of Christ and make them members of a prostitute? May it never be!"
Therefore we should conclude that there is an indissoluble connection between the sin we commit with the body and the soul that dwells in the body since our body is "a temple of the Holy Spirit" (1 Cor. 6.1). This is just one of the many ways the believers can defile themselves through compromised relationships. Paul exhorts the Corinthians to "cleanse" (καθαρίζω) themselves from such sinful acts so that they can obey Paul's exhortation not to be unequally yoked with unbelievers (6.14) and to remove themselves from the world of unbelief and uncleanness (6.17).
2.3, The telic nature of sanctification
Paul also gives us the goal of sanctification in this text, "perfecting holiness" (ἐπιτελοῦντες ἁγιωσύνην) reveals not just the extent to which God commands us to be sanctified but the purpose of cleansing ourselves from sin. The word Paul uses here implies finishing something which is designed for a specific purpose or task. We can see the use of this term in Hebrew 9.6 where the priests are said to "perform" the task of divine worship once the tabernacle had been set up. In a similar way, God has called us for the purpose of holiness and worship, God has regenerated us for worship, God has chosen us for worship, and we must bring our sanctification to its completion. Although Paul is not implying the obtaining of sinless perfection, abstaining from sin is the goal of holiness nonetheless (cf. 1 John 1.5-10; 3.9).
The doctrine of sanctification also is rooted in a vision towards future sanctification where believers will finally be perfected in the fullest sense of the word:
1 Thessalonians 3:13 13 "so that He may establish your hearts without blame in holiness before our God and Father at the coming of our Lord Jesus with all His saints."

Hebrews 12:23 23 "to the general assembly and church of the firstborn who are enrolled in heaven, and to God, the Judge of all, and to the spirits of the righteous made perfect,"

2 Peter 3:14 14 "Therefore, beloved, since you look for these things, be diligent to be found by Him in peace, spotless and blameless,"
Sanctification looks back to the cross and to our regeneration, but it also looks ahead to the future and our final glorification so that with one eye ever towards the cross and one eye towards heaven our present progressive sanctification can flourish and grow now. Paul speaks in much the same way when he wrote to the Philippians:
Philippians 1:9–11 9 "And this I pray, that your love may abound still more and more in real knowledge and all discernment, 10 so that you may approve the things that are excellent, in order to be sincere and blameless until the day of Christ; 11 having been filled with the fruit of righteousness which comes through Jesus Christ, to the glory and praise of God."
This cleansing and the perfecting of holiness pushes us in the direction of continual advancement (see, Ralph P. Martin, WBC; p. 210). Paul uses the present active (ἐπιτελοῦντες) to indicate that he is not thinking of a once and for all event in our lives but rather a continuous life of pursuing and growing in holiness. In other words, our sanctification cannot be stagnant— holiness is designed to grow and increase:
2 Peter 3:18 18 "but grow in the grace and knowledge of our Lord and Savior Jesus Christ. To Him be the glory, both now and to the day of eternity. Amen."
2.4, The manner of sanctification
The final aspect of this call to holiness deals with the manner of our sanctification or with what disposition and attitude we are to proceed in our pursuit of holiness (). Paul brings in the fear of God and in doing so he gives us such a beautifully balanced theology of the doctrine of God. The same God who identifies himself as our covenant God and we His people (6.16), who welcomes us (6.17), and is a "Father" to us is also "the Lord Almighty" to be feared (6.18).
To consider the "fear of God" (φόβῳ θεοῦ) is to think on God's own holiness which is infinitely beyond ours. Yet, the phrase "the fear of the God" is a life principle that characterizes the life of the righteous:
Job 28:28 28 "And to man He said, 'Behold, the fear of the Lord, that is wisdom; And to depart from evil is understanding.' "

Psalm 19:9 9 "The fear of the Lord is clean, enduring forever; The judgments of the Lord are true; they are righteous altogether."

Psalm 34:11 11 "Come, you children, listen to me; I will teach you the fear of the Lord."

Proverbs 1:7 7 "The fear of the Lord is the beginning of knowledge; Fools despise wisdom and instruction."

Acts 9:31 31 "So the church throughout all Judea and Galilee and Samaria enjoyed peace, being built up; and going on in the fear of the Lord and in the comfort of the Holy Spirit, it continued to increase."
It is a lack of the fear of God that leads people to compromise with false religions, being bound with unbelievers, and mixing light with darkness on a myriad of different levels. It is a lack of the fear of God that causes all compromise, because by forgetting about the fear of God we forget God's ability to punish sinners, we forget about His wrath, we forget about His infinite holiness and His desire for holiness in us (1 Pet. 1.14-16).
While Paul begins this entire section calling for the Corinthians to break the bonds they had made with unbelievers, he ends the section by calling the church to be bound to the fear of the Lord. Holiness is much more than a list of do's and don'ts— it paints a picture of the gospel. Our holiness testifies to the fact that we have been called out of the world, that we no longer live for the profane, that we have been brought into God's favor who welcomes us through Jesus Christ as adopted sons and daughters of God, and who consequently, in light of such magnificent promises, strive to bring holiness to its completion in the fear God.