Biblical Leadership: Examining the Church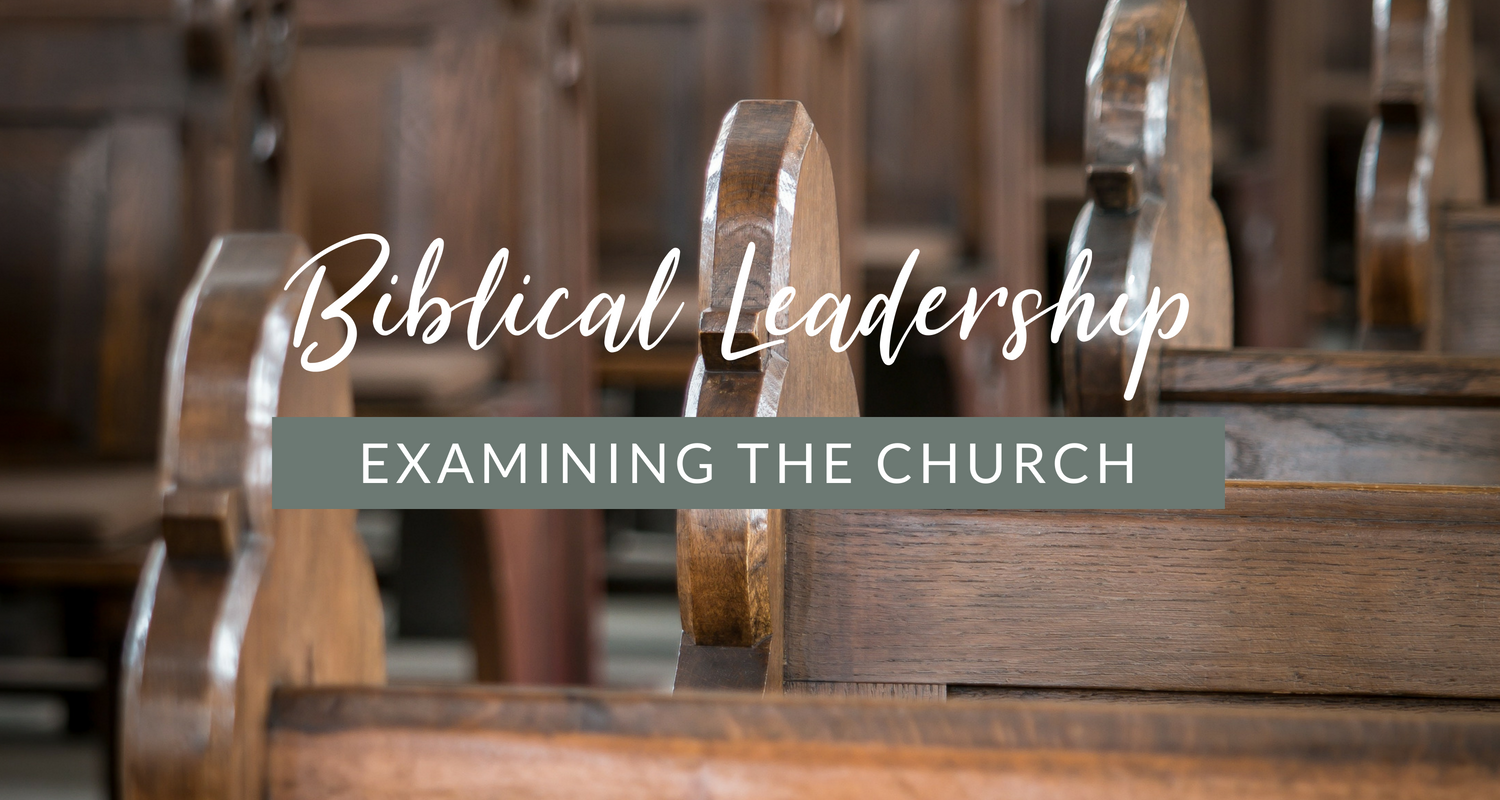 1 Thessalonians 3:6–10 6 But now that Timothy has come to us from you, and has brought us good news of your faith and love, and that you always think kindly of us, longing to see us just as we also long to see you, 7 for this reason, brethren, in all our distress and affliction we were comforted about you through your faith; 8 for now we really live, if you stand firm in the Lord. 9 For what thanks can we render to God for you in return for all the joy with which we rejoice before our God on your account, 10 as we night and day keep praying most earnestly that we may see your face, and may complete what is lacking in your faith?
The next section of this letter supplies us with yet another distinguishing characteristic of biblical leadership in what we can call the leaders role in examining or evaluating the church which is to say that there needs to be on behalf of the leadership of the church the ability to accurately monitor the health of the church. This can only happen by understanding the needs of the church, the maturity of the membership down to each individual member. Several questions need to be asked of any church that would be regarded as a healthy biblical church. Of course, another way that we could have easily approached this text is to focus on what biblical leadership produces with respect to unity and growth. Here however we will look at things introspectively as a church, asking if we have the right view of ourselves in the areas Paul mentions in this text. These questions are crucial for us individually and corporately; both for our unity and our maturity.
Does The Church Have A Proper View Of The Body
As we think about this initial point, it's important to put it in the context of church membership. Of course, Paul's injunctions are not simply for people that are curious about the local church, or visitors to the local church, or people that frequent the local church for various reasons or simply make professions of faith; his focus pertains to those who have formally identified with the local church and made a public commitment to it through membership. This is crucial to see. This reminds us that Paul's words were not written merely as general advice for Christians in their personal lives; Paul only sees Christianity through the matrix of our participation in the local church. In todays anti church climate we need to always remember this point. So what Paul is really getting at here is what does healthy participation or membership in the local church consist of? Here are at least two things.
Healthy church membership consists in the genuine faith and love of the body
Paul's first focuses on the two attributes he started the letter with, "faith and love" (τὴν πίστιν καὶ τὴν ἀγάπην). In 1.3, he thanks God for the church:
1 Thessalonians 1:2–3 2 We give thanks to God always for all of you, making mention of you in our prayers; 3 constantly bearing in mind your work of faith and labor of love and steadfastness of hope in our Lord Jesus Christ in the presence of our God and Father,
This is a critical part of the church's examination, 'is their faith in that church?' Is there "love" in that church? This is what we need to ask of any true church pursuing purity. The "faith" of the church here refers to the church's commitment to Christ or the lack there of. This is in one sense the test of orthodoxy. Does the church hold to the biblical, apostolic gospel of Jesus Christ. Although we may think this point should be assumed, liberalism and antinomianism throughout the history of the Church, if anything has proven that true churches can drift from their steadfastness. However, we do not need to even go so far as Church history to see this for in Paul's own churches, Galatians introduces the real potential of a church losing its grip on the gospel:
Galatians 1:6–9 6 I am amazed that you are so quickly deserting Him who called you by the grace of Christ, for a different gospel; 7 which is really not another; only there are some who are disturbing you and want to distort the gospel of Christ. 8 But even if we, or an angel from heaven, should preach to you a gospel contrary to what we have preached to you, he is to be accursed! 9 As we have said before, so I say again now, if any man is preaching to you a gospel contrary to what you received, he is to be accursed!
Jesus threaten the churches in Asia with removing their "candlestick" from their midst if they would not repent of their apathy. The church of Ephesus reminds us how complicated these spiritual dynamics can be since at the same time that Jesus warns the church He also praises the church:
Revelation 2:1–7 1 "To the angel of the church in Ephesus write: The One who holds the seven stars in His right hand, the One who walks among the seven golden lampstands, says this: 2 'I know your deeds and your toil and perseverance, and that you cannot tolerate evil men, and you put to the test those who call themselves apostles, and they are not, and you found them to be false; 3 and you have perseverance and have endured for My name's sake, and have not grown weary. 4 'But I have this against you, that you have left your first love. 5 'Therefore remember from where you have fallen, and repent and do the deeds you did at first; or else I am coming to you and will remove your lampstand out of its place—unless you repent. 6 'Yet this you do have, that you hate the deeds of the Nicolaitans, which I also hate. 7 'He who has an ear, let him hear what the Spirit says to the churches. To him who overcomes, I will grant to eat of the tree of life which is in the Paradise of God.'
Notice the intertwining of the attributes of "faith" represented by repentance, and "love" in this passage. Love is thus also a critical factor in evaluating the church's purity and health. A church can seem sound in doctrine while being sick in affections. We may be impressed with the mind of the church, but we need to also evaluate the heart of the church. This is why the apostle Paul exhorted the Corinthians not to shut up their hearts:
2 Corinthians 6:11–13 11 Our mouth has spoken freely to you, O Corinthians, our heart is opened wide. 12 You are not restrained by us, but you are restrained in your own affections. 13 Now in a like exchange—I speak as to children—open wide to us also.
Paul always sought for reciprocity! Paul expected that in a healthy church, the relation of the members to their leaders should be one of mutual edification, "you always think kindly of us, longing to see us just as we also long to see you" (ὅτι ἔχετε μνείαν ἡμῶν ἀγαθὴν πάντοτε, ἐπιποθοῦντες ἡμᾶς ἰδεῖν καθάπερ καὶ ἡμεῖς ὑμᾶς). The NASB translates the word that means 'memory' (μνείαν) as "kindly" and it suggests that not only is Paul thinking of their recollection of him but it also suggests that the effective pastor leaves his people with good 'memories' as it were through mutual spiritual edification. To the Romans, Paul insists that both he and they, which his to say that the leadership of church as well as the membership of the church has the capacity to impart spiritual blessings to one another:
Romans 1:11–12 11 For I long to see you so that I may impart some spiritual gift to you, that you may be established; 12 that is, that I may be encouraged together with you while among you, each of us by the other's faith, both yours and mine.
Healthy church membership consists in the genuine fellowship of the body and its leaders
We often fail to recognize that even at the apostolic level and during the apostolic age; the health and the purity of the church was a fragile reality. The reason for emphasizing the genuine nature of this fellowship is because, you cannot be disingenuous and "long" (ἐπιποθέω) for one another. The Greek word is a term that stresses powerful desire not cheap cordiality. In other words, this word flies in the face of facades, plastic smiles, and token prayers in the church. In other words, Paul had no desire to create fake Christians. That is why Paul saw the news from Timothy as "good news" (εὐαγγελίζω); Paul got a sense of the heart beat of the church and felt true affection emanating from its members in genuine Christian charity. This was Paul's way of evaluating indeed diagnosing the health of the church and its members. To use the language of Luke in Acts, the Thessalonians were continuing steadfast in doctrine and fellowship (cf. Acts 2.42).
Does The Church Have A Healthy View Of Perseverance
Verses 7-8 truly reveal the pastoral passion of the apostle Paul. His priorities, his focus and godly ambitions in the church. Paul's aim was to have a ministry that lasted that stood the test of time; Paul was no pragmatist. Paul was more interested in quality than quantity (cf. 1 Cor. 3.10-15). Paul understood that this was largely predicated on whether or not the people stood the test of time. That is why we need to talk about perseverance. The perseverance of the church promotes pastoral vitality. Paul says he was "comforted" (παρακαλέω) and would "live" (ζάω) if they "stood firm in the Lord" (στήκετε ἐν κυρίῳ). Paul could overcome the "distress and affliction" (τῇ ἀνάγκῃ καὶ θλίψει) of persecution through the hope of the church's survival and endurance in the gospel— this after all was Paul's ultimate goal in ministry; long lasting fruit:
Romans 1:13 13 I do not want you to be unaware, brethren, that often I have planned to come to you (and have been prevented so far) so that I may obtain some fruit among you also, even as among the rest of the Gentiles.
The reason for Paul's "comfort" and enthusiasm was twofold. On the one hand, Paul's "distress" (ἀνάγκη) was an agony over the church's condition. It was all of the unknown intangibles of their faith. The ultimate intangible of course being their "faith" and whether or not they would stand fast in it? This was Paul's ultimate burden. Even greater than his own persecution was the stressful concern for the church in Thessalonica. Persecution had complicated the mission but the thought of seeing these believers perish was unbearable. That's why Paul will go on to give thanks for them, they had the right view of perseverance and indeed by God's were enduring. But what does it mean to "stand firm in the Lord" and how do we do that exactly?
Walking In Truth
The first aspect of standing firm "in the Lord" (ἐν κυρίῳ) is by standing better yet, walking in the truth. You cannot stand firm with error. Your faith will never survive, and certainly will not grow as it ought to if your faith consists of serious theological deficiencies. That is what Paul is looking to complete in their faith, v.10. Sadly, today it is a struggle to get believers to care about theology; thinking that what is really important for their faith should operate on the 'devotional' or practical level. But this is an unfortunate and false dichotomy. Some of the most glorious things I have ever seen, spiritually speaking, have taken place through the study of theology whether Systematic Theology, Biblical Theology, Covenant Theology or Historical Theology etc. That is because theology is essential for our endurance in the faith and should never be minimized by the church by the leadership but exalted, magnified, practiced and implemented.
Walking In Obedience
Of course all truth is practical and has to reach into our heart until it resurfaces in real genuine experiential obedience to the word of God and to the "Lord" Jesus Christ himself. It is no good to be an infant in the faith doctrinally (Heb. 5.11ff.), it is no good to be ignorant of great and grand theological realities (2 Cor. 11.1-6), it is in fact dangerous to neglect the mind in the midst of our worship to God (Dt. 6.4-9; Mt. 22.37), and it is to our detriment if we do not learn how to contend for the faith (Jude 3), keep the faith (2 Tim. 4.7), hold fast to the mystery of the faith (1 Tim. 3.9), increase in the knowledge of God (Phil. 1.9; 2 Pet. 3.18), and strive for theological maturity. But it is equally dangerous if we are taking in mass amounts of theological truth and not meditating on those truths in prayer, in communion with God, in fellowship with one another and expressed through sacrificial love (Gal. 5.7; 1 John 3.13-18). This is why Paul says plainly, "If I have the gift of prophecy, and know all mysteries and all knowledge; and if I have all faith, so as to remove mountains, but do not have love, I am nothing" (1 Cor. 13.2). Standing fast in the Lord is possible only when our personal commitment to Christ is backed up by a walk that is "worthy"; a walk that consists of truth and obedience to God's word (cf. 2.12).
Does The Church Have A Healthy View Of Maturity
The reason why Paul commends this church, praises the church and rejoices over the church is because they sought the same thing he sought, completion which is to say spiritual maturity, "For what thanks can we render to God for you in return for all the joy with which we rejoice before our God on your account" (τίνα γὰρ εὐχαριστίαν δυνάμεθα τῷ θεῷ ἀνταποδοῦναι περὶ ὑμῶν ἐπὶ πάσῃ τῇ χαρᾷ ᾗ χαίρομεν δι' ὑμᾶς ἔμπροσθεν τοῦ θεοῦ ἡμῶν). Here we can see biblical maturity in two ways, obedience and desire.
This Maturity Is Seen By The Church's Worship-Producing Obedience
Having received "good news" from Timothy, Paul now is moved to give thanks for them. The beauty of this text is that Paul was genuinely grateful for this church. He genuinely wanted to be among them to see their growth and see their conformity to the gospel. Paul tested the Corinthians to see if they were going to be obedient in "all things" biblically prescribed (2 Cor. 2.9). From the pastor's perspective, this should be the greatest ambition of all, that is, the obedience of the church to the gospel. This was Paul's God-given directives, his desire, and his determination in his apostolic ministry concerning the Church from the outset of his ministry:
Romans 1:5 5 through whom we have received grace and apostleship to bring about the obedience of faith among all the Gentiles for His name's sake,
Galatians 4:19 19 My children, with whom I am again in labor until Christ is formed in you—
Colossians 4:12 12 Epaphras, who is one of your number, a bondslave of Jesus Christ, sends you his greetings, always laboring earnestly for you in his prayers, that you may stand perfect and fully assured in all the will of God.
This obedience produced worship in Paul, not in a one time giving of thanks but this was Paul's perpetual burden for the church saying that, "night and day" (νυκτὸς καὶ ἡμέρας) he kept "praying most earnestly" (ὑπερεκπερισσοῦ δεόμενοι) about his desired not only to see them but to bring them into greater maturity for Christ's sake. This was Paul's practice everywhere (cf. Col. 1.28-29).
This Maturity Is Seen By The Church's Desire For Discipleship
This desire for maturity is also reciprocal and from the church's perspective, its maturity can be seen by the desire of the membership for that same goal that the Paul had, completion (καταρτίζω). If we focus in on the nuance of the word, "complete" we can get a full-orbed understanding of what Paul is hinting at here both from a positive and negative point of view. Negatively, Paul is seeking to complete their faith by guarding the sheep from error and preserving the flock from division and harmful attitudes in the church that may threaten the church's unity:
1 Corinthians 1:10 10 Now I exhort you, brethren, by the name of our Lord Jesus Christ, that you all agree and that there be no divisions among you, but that you be made complete in the same mind and in the same judgment.
But the word is also positively set forth to speak of the overall order, health, success and sanctification of the church in general. This also has to do with its unity and vitality. A flourishing church is a mature church. Paul uses the same term in his parting words to the Corinthians as he gives them a list of virtues to actively pursue together in covenant community with one another:
2 Corinthians 13:11 11 Finally, brethren, rejoice, be made complete, be comforted, be like-minded, live in peace; and the God of love and peace will be with you.
All of this reminds us that humility is essential for our growth for, it takes a choice to remain teachable, pliable, and humble enough to receive instruction and wisdom from one another especially the leadership of the church. James told his church(s) to do the same, "Therefore, putting aside all filthiness and all that remains of wickedness, in humility receive the word implanted, which is able to save your souls" (Jam. 1.21). Therefore, not only do we need to acknowledge our need for growth, we recognize that our need for our faith to be made complete, a lifelong endeavor (cf. 2 Pet. 3.18; also 1 Pet. 5.10). The comfort and the powerful reality in all of this is that all of our teaching, the teaching of the apostles, the pastors, elders, teachers of the church, and the ministry of one another is ultimately subordinate to the primary Mover in our maturity for, it is God himself who is in fact equipping us and completing our faith. The author of Hebrews captures this beautifully in his final remarks to the church:
Hebrews 13:20–21 20 Now the God of peace, who brought up from the dead the great Shepherd of the sheep through the blood of the eternal covenant, even Jesus our Lord, 21 equip you in every good thing to do His will, working in us that which is pleasing in His sight, through Jesus Christ, to whom be the glory forever and ever. Amen.