Church Militant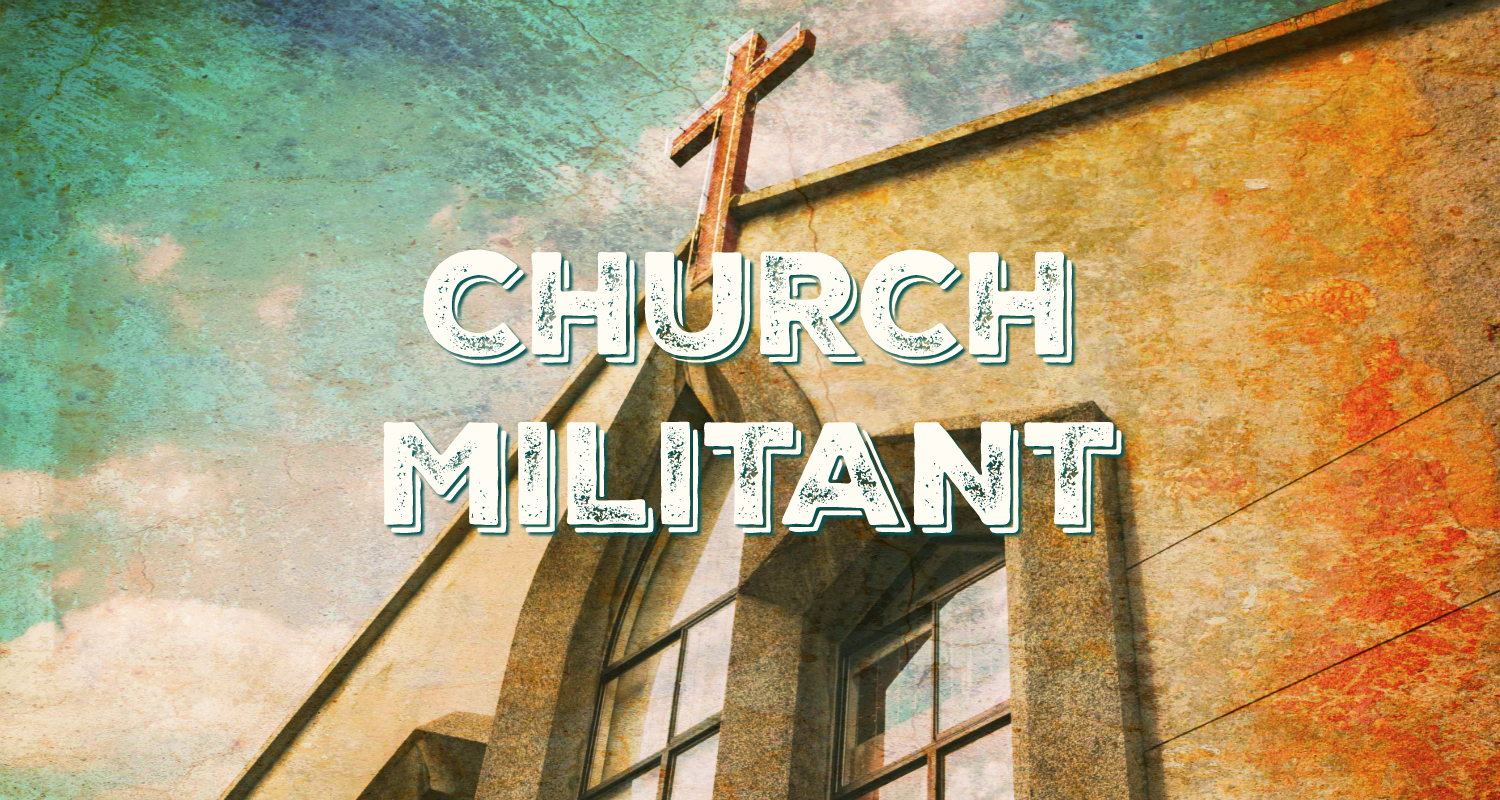 1 Thessalonians 2:17–20 17 But we, brethren, having been taken away from you for a short while—in person, not in spirit—were all the more eager with great desire to see your face. 18 For we wanted to come to you—I, Paul, more than once—and yet Satan hindered us. 19 For who is our hope or joy or crown of exultation? Is it not even you, in the presence of our Lord Jesus at His coming? 20 For you are our glory and joy.
Some justification is in order as to the use of the term "the church militant" since it does not refer to a violent vigilante Church but to Church that undergoes trials in the present evil age. Some theologians like Roman Catholics like Thomas Aquinas used the term in association to these three stages of the Church: the Church on earth in a state of spiritual warfare (the Church militant), in heaven in a state of triumph (the Church triumphant), the Church "expectant" for those in purgatory. While we reject the notion of purgatory altogether as heresy, Reformers like Luther, and others, did latch on to the term "militant" to express the pilgrimage of the Church in the present evil age as she wages war with the spiritual forces of wickedness that presently surround her. That's the meaning here. The Church in the present evil age, the Church hindered by trials, sin, the flesh and the world under Satan's influence (see, Allison, Gregg R. Historical Theology: An Introduction to Christian Doctrine. Grand Rapids, MI: Zondervan, 2011; Muller, Richard A. Post-Reformation Reformed Dogmatics: The Rise and Development of Reformed Orthodoxy; Volume 1: Prolegomena to Theology. 2nd ed. Grand Rapids, MI: Baker Academic, 2003).
Practically, pastorally, and evangelistically we should be greatly comforted to known that Jesus, Paul, the apostles and the early Church were part of this militant experience. Their experience is germane to our experience today. What are the characteristics and consequences therefore of belonging to the Church militant; that state of the Church currently as we traverse the wilderness of temptation and tribulation and how should be prepare and respond spiritually? These are all relevant questions to our discussion in this text.
The Church Militant Will Face Opposition To Unity
Part of the 'church militant' involves opposition to its intended unity. The unity that Jesus called for (John 17.22), the unity that Paul taught (Phil. 2.1-5), the unity that we experience in part and with great difficulty today. Because we are in this present state of militancy, that unity will not be fully realized until the eschaton. Its not just because Christians have a hard time getting along or because people oppose Christ; it because of the age in which we live. In this age, we are living in the age of disappointment, discouragement, and division. To expect perfect unity now is to fail to grasp the nature of the present evil age and the character of the Church as we travail through the present wilderness of sin. The Church, as long as she is in the wilderness, in the present distress, in these pilgrim times in which we live will always have opposition. This means at least two things for the Church's calling today:
Suffering Is Part Of Our Calling To Strive Towards Global Missions
Missionaries the world over again have no doubt meditated on and lived this passage in their own labors. If Paul the apostle of God can be hindered in his work for world missions, so will we. Paul says, "But we, brethren, having been taken away from you for a short while—in person, not in spirit—were all the more eager with great desire to see your face." (Ἡμεῖς δέ, ἀδελφοί, ἀπορφανισθέντες ἀφ' ὑμῶν πρὸς καιρὸν ὥρας, προσώπῳ οὐ καρδίᾳ, περισσοτέρως ἐσπουδάσαμεν τὸ πρόσωπον ὑμῶν ἰδεῖν ἐν πολλῇ ἐπιθυμίᾳ.). Paul was taken away although the mission was set, the plan was ready, and discipleship was desperately needed. All missions will entail this kind of opposition to the work. It may be suffering as severe as martyrdom or as subtle as that email that cant reach that missionary of that pastor in China.
Sanctification Is Part Of Our Calling To Strive Towards Unity
We should also note the tone of survival and hope in this text for Paul does not say, all is lost or all is now hopeless; instead he still sees himself as connected with the church, "in spirit" (καρδίᾳ). The word here is literally, "heart" referring to Paul's personal affection and love-bond with the church. Persecutors of the Church may take away our physical fellowship but they can never take away our bond of love because we are united by the Spirit of God.
Ephesians 4:1–7 1 Therefore I, the prisoner of the Lord, implore you to walk in a manner worthy of the calling with which you have been called, 2 with all humility and gentleness, with patience, showing tolerance for one another in love, 3 being diligent to preserve the unity of the Spirit in the bond of peace. 4 There is one body and one Spirit, just as also you were called in one hope of your calling; 5 one Lord, one faith, one baptism, 6 one God and Father of all who is over all and through all and in all.
We have a greater unity than the world will ever understand (cf. 2 Cor. 2.14-16). In fact, they do not understand it, they cannot discern it, they cannot partake of it; it is a bond forged in the flame of regeneration and our mystical union with Christ as His body. No union, no communion either with Christ or His Church.
Notice Paul's sustained desire, "were all the more eager with great desire to see your face" (περισσοτέρως ἐσπουδάσαμεν τὸ πρόσωπον ὑμῶν ἰδεῖν ἐν πολλῇ ἐπιθυμίᾳ). In other words, we do not give up because we cannot achieve perfect unity in this age. Instead, we continue to strive, to fight, and zealously struggle towards unity and maturity both individually and corporately. We can see Paul lay this out to us perfectly in Ephesians:
Ephesians 4:11–13 11 And He gave some as apostles, and some as prophets, and some as evangelists, and some as pastors and teachers, 12 for the equipping of the saints for the work of service, to the building up of the body of Christ; 13 until we all attain to the unity of the faith, and of the knowledge of the Son of God, to a mature man, to the measure of the stature which belongs to the fullness of Christ.
We should not overlook Paul's pastoral heart here for his people. His desire was for them, to see them face to face, to resume his critical work of establishing a pure church in their community. Paul has already expressed his tender affection for this church in this letter as that affection every pastor should have towards his people, "Having so fond an affection for you, we were well-pleased to impart to you not only the gospel of God but also our own lives, because you had become very dear to us" (2.8). . When Paul says, "having been taken away from you" (ἀπορφανισθέντες ἀφ' ὑμῶν), he uses a term that conveys the metaphor of an orphan being taken away from his/her guardian or parent. Paul's affection for the church was a longing and a passion for his family, the household of faith. Unlike many Christians today who are almost experts at avoiding Christian fellowship, Paul's love for the church was rooted in his desire for them, to fellowship with them, to see them and spend time in the midst of the congregation and among the flock of God (cf. Acts 20.28; 1 Pet. 5.2). A true churchman was Paul.
The Church Militant Will Face Opposition From Satan
One of the most challenging questions to discern in the Christian life is the precise nature of satanic attack on the Church even more specially, the individual believer's life. When can we say that "Satan hindered us" (ἐνέκοψεν ἡμᾶς ὁ Σατανᾶς)? Many have falsely concluded that all sickness, all tragedy, all suffering and struggles that we may face in the Christian life is Satan directly behind every trial. Late to work or struck in traffic? Some conclude Satan is in the red light. Get pulled over for speeding and some conclude that Satan is trying to discourage us. This is particularly rampant in the Pentecostal world where 'binding Satan' is as common and blessing God. In other words, they give Satan almost god-like attributes. People mistakenly think Satan is everywhere, that he almost listens to our conversations, I've even had believers tell to whisper because the devil can hear you and he will know! Obviously these are wrong-headed approaches to Satan's influence in our lives.
From the context, Paul is not referring to spiritual warfare in general but to a satanic obstruction to the progress of the gospel in his apostolic ministry specifically through persecution. After all, that has been the immediate context here (2.13ff.) and the direct opposition that he faced even in the founding of the church so that the church would have known that Paul was referring to Jewish persecution. Satan has always opposed God's people and persecution is one of his primary methods of his opposition. In Paul's case, Satan stirred up the Jews that led Paul to flee from city to city making it virtually impossible for him to reunite with the Thessalonians. Paul saw that the Jewish opposition to the gospel was satanic in origin, as all opposition to the gospel is (cf. 1 John 5.19). John the Apostle went so far as to say that Jews who oppose the gospel are actually part of Satan's synagogue (Rev. 2.9; 3.9)! The believers living in Pergamum, a pagan hub of ancient Rome, were also oppressed by their countrymen and John goes so far as to say that when Satan uses the political, spiritual and socio-economic powers of the world to persecute the church, "Satan's throne" is there (Rev. 3.13)! In other words, demonic powers in high places that are fundamentally anti-Christ and often manifest their hostility and hatred of Christ by persecuting His Church. This may be on an individual level (2 Cor. 12.7-9; 1 Tim. 3.7), or on a corporate level (2 Cor. 2.11); both are part of the militant Church and both will characterize our lives between the ages. This is why Jesus at the founding of His Church gave the that indispensible promise, "the gates of Hell will not prevail against it."
The Church Militant may at times feel like we are living under the throne of Satan's power and influence, he controls the culture, he controls the fashions of the world, the entertainment industry, the political climate, the elite socialites of the world so that among the militant church Paul says, "not many wise according to the flesh, not many mighty, not many noble" are called (1 Cor. 1.26). In other words, God's criteria for recruiting people into His kingdom is not based on who is esteemed in this world, but rather His sovereign choice is based on His grace (cf. Rom. 9.11, 1 Cor. 1.30; Eph. 1.3-6; Tit. 3.5). We think of the brethren currently living under the thumb of Islamic oppression where having a simple house church is illegal, making a public profession of faith can result in death, and conversion can mean the ostracizing of your entire family from civic life.
The Church Militant Will Give Way To The Church Triumphant
One the most fascinating aspects of Pauline theology is his eschatology. Not only his teaching on the second coming and the judgment of God, but more than that, his constant awareness of the all-important truth of the eschaton, the end of the age, the state in which the Church enters its eternal triumph. Paul, in other words, always saw everything in light of eternity. Paul looked to God that his labor for the church was not in vain and that the faith of the churches was in vain is they did not continue in the gospel:
1 Corinthians 15:2 2 by which also you are saved, if you hold fast the word which I preached to you, unless you believed in vain.
1 Corinthians 15:58 58 Therefore, my beloved brethren, be steadfast, immovable, always abounding in the work of the Lord, knowing that your toil is not in vain in the Lord.
Galatians 2:2 2 It was because of a revelation that I went up; and I submitted to them the gospel which I preach among the Gentiles, but I did so in private to those who were of reputation, for fear that I might be running, or had run, in vain.
Galatians 4:11 11 I fear for you, that perhaps I have labored over you in vain.
Philippians 2:16 16 holding fast the word of life, so that in the day of Christ I will have reason to glory because I did not run in vain nor toil in vain.
1 Thessalonians 2:1 1 For you yourselves know, brethren, that our coming to you was not in vain,
1 Thessalonians 3:5 5 For this reason, when I could endure it no longer, I also sent to find out about your faith, for fear that the tempter might have tempted you, and our labor would be in vain.
Paul's desire for the churches and believers in the churches was that we reach our intended goal and press on in faith until we attain to the triumph of our faith. Two additional things need to be pointed out here.
The Church Will Go From Faith To Sight
Paul hopes today for exaltation tomorrow. He hoped that in the present struggle to sanctify the church that in all his preaching, all his counseling, all his mentoring, teaching, training, writing, traveling, evangelism, praying, fasting, and his litany of sufferings that came with that as a missionary-theologian (cf. 2 Cor. 11.23ff.); that his course would have been worth it and the coronation of the Church complete. Although we are confronted with our struggles now visibly, physically, tangibly and experientially; the day is coming when our faith will turn to sight and all our warfare will be over. The pinnacle of Paul's joy was to see the church advance, grow, mature, obey and consecrate itself wholly to the Lord by persevering and excelling spiritually until the day of Christ (cf. Col. 1.28-29).
The Church Will Go From Longing To Fullness
The eschatology of this reality is brought on by the reality of the parousia, that all defining moment when not only will our faith be turned to sight, but our longing will also turn to fullness by the presence of Christ. In other words, our triumph is a deeper communion with Christ, a great experience of Him, and perfect fellowship with Him. John speaks of this in 1 John:
1 John 3:2–3 2 Beloved, now we are children of God, and it has not appeared as yet what we will be. We know that when He appears, we will be like Him, because we will see Him just as He is. 3 And everyone who has this hope fixed on Him purifies himself, just as He is pure.
If we understood what Paul says in Philippians 3 and the value of knowing Him, our trials and our militant state whether its through personal suffering or external persecution; that sorrow and pain should pale in comparison to the fact that what we truly need is not an end of our suffering but a greater nearness to Christ, a more perfect love to Christ, and a purer sight of Him. Of course, this will all happen, "in the presence of our Lord Jesus at His coming" (ἔμπροσθεν τοῦ κυρίου ἡμῶν Ἰησοῦ ἐν τῇ αὐτοῦ παρουσίᾳ).
2 Thessalonians 1:10 10 when He comes to be glorified in His saints on that day, and to be marveled at among all who have believed—for our testimony to you was believed.
The Church Will Go From Sorrow To Joy
There were in Paul's churches divisions, in fighting, schisms, hardships, scandals, persecutions, sickness, apostasies, and ten thousand other deficiencies and yet, for all the sorrow he never lost sight of the future joy that the church would bring him. Paul reminds us all that the Church militant may be battered and bruised now but it will be fully vindicated later. This is why Paul gloried in these believers. They would become the occasion of Paul's reward where God would reward Paul with the glory and honor he lacked in this age. One of the things that we all seek in this life is a sense of fulfillment, people seek in work, in a relationship, a sense of fulfillment and accomplishment that assures us that we are not wasting our time. Whatever degree of loss and lack Paul may have felt in the church militant would be fully vindicated in the church triumphant. God would give him eternal joy where in his present ministry he was often sunk in the misery of this sinful world. Paul understood that the Thessalonians, like the other churches, were the one bright spot behind the backdrop of a dark pagan world like Rome.
That needs to be our priority as well. The priority of the kingdom. The priority of our heavenly reward. The priority of the glory and honor and joy that will be given us there. We can so often get disillusioned with ourselves, our marriage is not what it ought to be, our lifestyle is not what we want it to be, and we often feel like we are chasing the wind in a world where everything is contaminated with sin so that it seems like we just cannot every get comfortable, we cannot rest, we cannot healthy, we cannot find safety and security, peace, pleasure and satisfaction— everything runs out, rusts away and fades (cf. Ps. 119.96). But have forgotten that we are in a state of militancy! Much of what is wrong with the Church is that everyone is seeking peace in war-time. This is the time for holy violence not euphoric rest. This is the time godly sweat not heavenly repose. This is the time to awaken not sleep or slumber. So many Christians are in a state of slumber! We see many war memorials at our capital and other places that depict soldiers in various postures but if there is one posture that is never depicted, its sleep. That would be a contradiction not an honor. And believers today, need to wake up to the cruel reality of spiritual war, the militant state in which the Church presently resides. Is it any wonder that Paul summed up his entire ministry and life as a "fight" (1 Tim. 5.7)?