Cut off from God, the Peril of Apostasy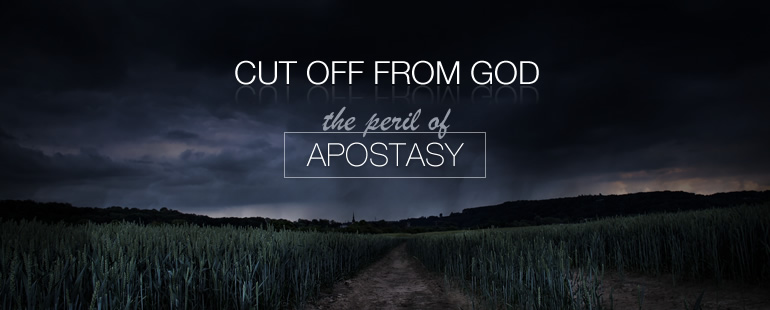 Hebrews 3:12–15 12 Take care, brethren, that there not be in any one of you an evil, unbelieving heart that falls away from the living God. 13 But encourage one another day after day, as long as it is still called "Today," so that none of you will be hardened by the deceitfulness of sin. 14 For we have become partakers of Christ, if we hold fast the beginning of our assurance firm until the end, 15 while it is said, "Today if you hear His voice, Do not harden your hearts, as when they provoked Me."
There are three exegetical links to the previous section of the chapter (3.7-11) but more importantly with the Psalm (95) cited there; the reference to "Today" (3.13), the repetition of v.7, and the historical details that take the reader back to Ps. 95 and the history of Israel in vv.16-19. But the purpose of this flow of thought surrounds the concept of "unbelief." In fact, the passage begins (v.12) and ends (v.19) with the noun "unbelief" (ἀπιστία). Hopefully the following exposition will help us understand not only how apostasy works but more importantly how it is over come. The passage begins by giving us the nature of apostasy itself before moving on to its remedy and finally a positive plea or incentive for avoiding apostasy altogether.
The Perilous Nature Of Apostasy
The very first thing in understanding the peril of apostasy is to define apostasy properly. Apostasy is what happens when a person goes from a place of confessing faith in Jesus Christ and the gospel to no longer maintaining the integrity of that confession. This is why Hebrews refers to our confession of faith in Christ from the very outset of the chapter here:
Hebrews 3:1 1Therefore, holy brethren, partakers of a heavenly calling, consider Jesus, the Apostle and High Priest of our confession;
Biblical apostasy can be either temporary, as with Peter who after he had sinned later returned (cf. Lk. 22.31-32), or permanent as with Judas (cf. Jn. 17.12). It never refers to loosing your salvation but it does refer to forfeiting salvation so long as a person remains in that state of unbelief. In addition to this, Scripture teaches us that a person who has in fact apostatized should be given no assurance of salvation whatsoever (cf. Mt. 18.17; 1 John 2.19).
We can see this in both Matthew 18 where Jesus instructs the church what to do with a believer that will not repent of their sin; he/she is to be put out, they are to be cut off from the fellowship of the church and treated as an unbeliever who cannot trusted, "Gentile and tax collector." Paul also exhibited this in his own ministry. He dwelt with apostasy seemingly everywhere he went. He was often in danger of false brethren (2 Cor. 11.26; 2 Tim. 4.10), he was often forced to participate in the discipline of church members who forsook their confession either by a complete denial of the Faith or through living in sin impenitently (1 Cor. 5; 2 Cor. 2.1-7). We see some of Paul's strongest words in writing to Timothy regarding two individuals who had in fact made shipwreck of their faith— again resulting in the failure to persevere and the total loss of assurance:
1 Timothy 1:18–20 18 This command I entrust to you, Timothy, my son, in accordance with the prophecies previously made concerning you, that by them you fight the good fight, 19 keeping faith and a good conscience, which some have rejected and suffered shipwreck in regard to their faith. 20 Among these are Hymenaeus and Alexander, whom I have handed over to Satan, so that they will be taught not to blaspheme.
All this to say that there is a tension with the doctrine of apostasy, nowhere more than in Hebrews. Such tension must be maintained in order not to violate the clear teaching of Scripture regarding eternal security and what has been historically called the Reformed doctrine of the perseverance of the saints. As the author begins to explain his theology of apostasy he begins with warning us of the threat of apostasy. Verse 12 not only gives us the threat of apostasy but its root and consequences we well.
The Threat Of Apostasy
The threat is stated by the imperative command, "take care brethren" (Βλέπετε, ἀδελφοί). The word here "take care" refers to a vigilant spiritual watchfulness where one is on the look out for spiritual danger and spiritual pitfalls. In this context the pitfalls have already been spelled out in the example of Israel's rebellion when they "provoked" God by trying and testing Him through unbelief (3.8-9). The threat of apostasy is really a call to be spiritually aware of the dangers that accompany the Christian life— both from within (personal sin) and from without (evil influences) (cf. Rom. 7.14ff.). Everything in this initial warning to "take care" flies in the face of any cavalier attitude towards our sanctification.
This tension is found everywhere in Scripture. As much as Jesus assured His disciples of His power to keep them to the end safe, sound, and saved; He also issued dire warnings about the disastrous potential in the heart of all of us to stop striving!
John 10:27–29 27 "My sheep hear My voice, and I know them, and they follow Me; 28 and I give eternal life to them, and they will never perish; and no one will snatch them out of My hand. 29 "My Father, who has given them to Me, is greater than all; and no one is able to snatch them out of the Father's hand.

Luke 13:24 24 "Strive to enter through the narrow door; for many, I tell you, will seek to enter and will not be able.

Matthew 10:22 22 "You will be hated by all because of My name, but it is the one who has endured to the end who will be saved.
The same book that assures us that God began a good work in us and that He will be faithful to complete it (Phil. 1.6) tells us that we need to work out our salvation in fear in trembling (Phil. 2.13). At this point, the author of Hebrews is in perfect harmony with Paul. The only way to conclude theologically as we think about the tension is that, these warnings in Hebrews and our call to fear must be the means by which God will keep us safe to the end.
The Root Of Apostasy
Externally, we can say that the believer has many spiritual dangers lurking around every corner- dangers which are presented by the world and the devil (cf. 1 Pet. 5.8-9; 1 John 2.15-17). But the root of all apostasy is the "heart." Here Hebrews warns the entire community collectively of the dangers that reside in our hearts, "Take care, brethren, that there not be in any one of you an evil, unbelieving heart" (3.12). Notice first the personal responsibility within the corporate context in which Hebrews was written. The exhortation is given to the church; yet, its impact is individualized as well, "in any of you." That is to say that we all bear personal responsibility for spiritual discipline and spiritual growth and self-evaluation (cf. 1 Cor. 13.5). Peter's letter is a good parallel exhortation in the same direction:
2 Peter 3:17–18 17 You therefore, beloved, knowing this beforehand, be on your guard so that you are not carried away by the error of unprincipled men and fall from your own steadfastness, 18 but grow in the grace and knowledge of our Lord and Savior Jesus Christ. To Him be the glory, both now and to the day of eternity. Amen.
Protecting the heart has as much to do with what we do as with what we do not do. The question is not just making sure nothing is wrong per se, but what are we doing right! Notice Peter's balance, "not carried away by… error", "but grow in… grace and knowledge." Surely this is the best way to keep a watch over your heart, not simply by focusing on what you are not allowed to do but focusing on what you are called to do in the Lord. Failure to kill unbelief at the root can result in what Hebrews calls, "an evil, unbelieving heart" (καρδία πονηρὰ ἀπιστίας).
The language of an evil heart connects this verse with Ps. 95 and the verse above (3.8) concerning the hardening of the heart only here the dynamics of that hardening is spelled out as consisting of unbelief. This is why the heart is called an "evil unbelieving heart." This description shows us two things here. First, that the heart that falls away is full of evil. The evil spelled out in Ps. 95 is disobedience, the willful rejection of God's word and the unwillingness to submit to His will, "they always go astray in their heart" (3.10) (see also, Jer. 16.12; 18.12).
Second, the fact that it is "evil" means that it is not in a neutral state. This is precisely what the quotation above says, "they provoked Me" (3.8). They did not remain morally neutral. Some people think they will simply back off from God and just remain neutral, saying, 'I have nothing against God, I just don't believe in it anymore.' This is an illusion of the worst kind. Scripture tells us that if the mind is not devoted to God it will be at enmity with God— there is no neutral ground (cf. Mt. 12.30):
Romans 8:6–8 6 For the mind set on the flesh is death, but the mind set on the Spirit is life and peace, 7 because the mind set on the flesh is hostile toward G od; for it does not subject itself to the law of God, for it is not even able to do so, 8 and those who are in the flesh cannot please God.
Eventually, in the heart of any apostate person there will ultimately be a hatred for God, a hatred for His word, a hatred for His standards, a hatred for His authority, and finally a hatred for His church. Ultimately, it boils down to rejecting God despite His goodness, holiness, justice and reward. This was precisely Israel's downfall in the wilderness. This same unbelief is what led God to swear in His wrath that they would not enter His rest in Canaan:
Numbers 14:11 11 The Lord said to Moses, "How long will this people spurn Me? And how long will they not believe in Me, despite all the signs which I have performed in their midst?
Deuteronomy makes it clear that the people's downfall was an unwillingness to trust Him personally even despite all the miraculous things God had done among them (Dt. 1.32; 9.23; cf. Ps. 106.24-27). In Numbers 14 after Moses intercedes (as a prefigure to Christ) for the people (Num. 14.13-19), God agrees not to annihilate Israel but He still judged the wilderness generation, just as He said He would:
Numbers 14:20–23 20 So the Lord said, "I have pardoned them according to your word; 21 but indeed, as I live, all the earth will be filled with the glory of the Lord. 22 "Surely all the men who have seen My glory and My signs which I performed in Egypt and in the wilderness, yet have put Me to the test these ten times and have not listened to My voice, 23 shall by no means see the land which I swore to their fathers, nor shall any of those who spurned Me see it.
Many believe that the "evil unbelieving heart" of v.12 is an echo of Num.14.27, 35 where twice the Israelites are called, "this evil congregation." If the Israelites were considered an evil church in the OT with the amount of revelation they had afforded to them then, to use the language of Hebrews, "how will we escape if we neglect so great a salvation" (2.3)? God did not deliver us from a tyrannical government but from Satan's dominion, He did not split the Red Sea for us but far greater, He rose His Son from the dead, He did not give us water out of a rock but living water for the rock was Christ, He is not setting before us an earthly country but a heavenly city whose builder is God! In other words, the whole argument of the book of Hebrews is one from the lesser to the greater (9.11). This brings us to the expressed consequences of apostasy.
The Consequences Of Apostasy
The peril of apostasy is best expressed in what an "evil unbelieving heart" results in namely that one "falls away from the living God" (ἐν τῷ ἀποστῆναι ἀπὸ θεοῦ ζῶντος). The consequences for apostasy could not be higher (on ἀφίστημι "to fall away" see: Lk. 8.13; 1 Tim. 4.1). To abandon faith is to be cut off from God and live with the certainty of God's judgment and wrath. Now that God is "the living God" surely means that He has life in himself.
He is the giver of life, there is in fact no life apart from Him so that a departure from Him is a departure from life itself and nothing that anyone can or will identify with as a source of life will truly satisfy them. In addition to God's character, the title "the living God" also means that apart from Him there will only be death. If there is one word that can sum up apostasy it surely is the word death! Ultimately however the phrase, "unbelieving heart that falls away from the living God" emerges from the background of Numbers 14 and other passages from the Pentateuch that relay the same information about the wilderness generation (e.g. Dt. 1.28). In Numbers 14.9 the children of Israel are told not to "rebel against the Lord."
God had been patient, merciful, slow to anger but when it came time to judge those who had rebelled against Him, God swears by this attribute of life and in doing so He separates himself from the dead idols who are not able to judge. So God swears, as the living God, "as I live", that they would not enter His rest above (i.e. Num. 14.20-23). There is another place however in Numbers where a typological link may be found regarding Caleb and Joshua:
Numbers 14:28–30 28 "Say to them, 'As I live,' says the Lord, 'just as you have spoken in My hearing, so I will surely do to you; 29 your corpses will fall in this wilderness, even all your numbered men, according to your complete number from twenty years old and upward, who have grumbled against Me. 30 'Surely you shall not come into the land in which I swore to settle you, except Caleb the son of Jephunneh and Joshua the son of Nun.
In Deuteronomy chapter one, Caleb is set out as the prototypical Israelite who "fully" follows the Lord (Dt. 1.36) and Joshua as a savior figure of his people who, "will cause Israel to inherit" the Land (Dt. 1.38). Hebrews sees the New Covenant believer as a new Exodus generation that stands either to follow or rebel against what God has does in Jesus, His new Exodus leader (2.10). This is why Hebrews will develop the same ideas later for those who fail to congregate and reject Jesus' atonement as sufficient:
Hebrews 10:30–31 30 For we know Him who said, "Vengeance is Mine, I will repay." And again, "The Lord will judge His people." 31 It is a terrifying thing to fall into the hands of the living God.
If anything we learn from all of this is the perilous and disastrous effects of apostasy. We learn also something of the threat of apostasy in the call to be vigilant and not spiritually sleepy or naïve but watchful! As we think about the root of apostasy we are confronted with potential evil that resides in all of our hearts and the calling not to idle but to grow in grace for you cannot wither if you grow! Finally, the consequences of apostasy cut us off from the living God and call down His judgment.
We can take a lesson also from Caleb and Joshua that has powerful and prophetic application for us today. Like Caleb, our call is to follow the Lord fully (Lk. 9.62). This made Caleb something of a spiritual loner in his day. He did not have the support of the masses, mainstream opinion was against him, and his faith was rare (cf. Num. 14.5-10). Finally, we end with looking to Joshua (Yahweh saves) who is a type of Christ and the salvation He would bring as He saves His people from their sins (Mt. 1.21). Unlike the Joshua of old, we will find out that the rest he could not give God's people resides in Jesus for all those who will believe in Him and hold fast their confidence, assurance, and confession firm to the end— then we will have rest from our enemies and rest for our souls (3.6; 3.14; 4.14; cf. Mt. 11.18-30; Jer. 6.16). If we see the goodness of the land, don't turn away from it.