Discouragement and it's Remedies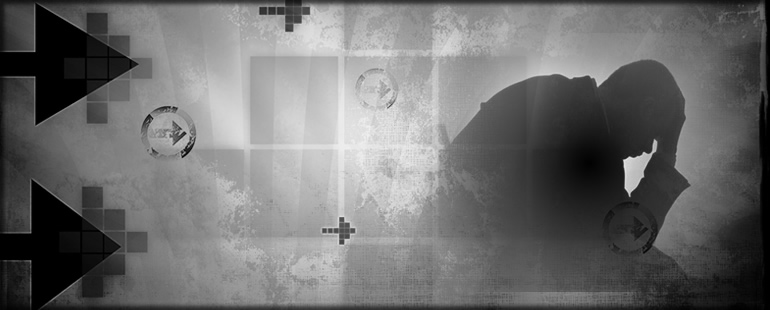 Text and Exposition
5"For even when we came into Macedonia our flesh had no rest, but we were afflicted on every side: conflicts without, fears within. 6 But God, who comforts the depressed, comforted us by the coming of Titus; 7 and not only by his coming, but also by the comfort with which he was comforted in you, as he reported to us your longing, your mourning, your zeal for me; so that I rejoiced even more."
5 Καὶ γὰρ ἐλθόντων ἡμῶν εἰς Μακεδονίαν οὐδεμίαν ἔσχηκεν ἄνεσιν ἡ σὰρξ ἡμῶν ἀλλ' ἐν παντὶ θλιβόμενοι· ἔξωθεν μάχαι, ἔσωθεν φόβοι. 6 ἀλλ' ὁ παρακαλῶν τοὺς ταπεινοὺς παρεκάλεσεν ἡμᾶς ὁ θεὸς ἐν τῇ παρουσίᾳ Τίτου, 7 οὐ μόνον δὲ ἐν τῇ παρουσίᾳ αὐτοῦ ἀλλὰ καὶ ἐν τῇ παρακλήσει ᾗ παρεκλήθη ἐφ' ὑμῖν, ἀναγγέλλων ἡμῖν τὴν ὑμῶν ἐπιπόθησιν, τὸν ὑμῶν ὀδυρμόν, τὸν ὑμῶν ζῆλον ὑπὲρ ἐμοῦ ὥστε με μᾶλλον χαρῆναι.
Preliminary Thought
"This passage brings the reader back into the thought left off at 2.13 with regards to Paul's personal travel plans and logistics. After a lengthy defense of his apostolic ministry, Paul recounts his circumstances leading up to the coming of Titus and the report he brought to him from Corinth concerning Paul's "sorrowful letter." Paul describes his condition as thoroughly vexing. Earlier (2.12-13), Paul recounted how he had no rest in Troas for his spirit due to the absence of Titus. This time Paul describes his entire self with the term "flesh" so that both in his flesh and in his spirit he could find no rest from his trials. Aside from the problems in Troas and even persecution he may have encountered in Macedonia (8.2) the essence of his afflictions had to do with the Corinthian correspondence. Yet, God did not forsake Paul in the midst of his anxiety but comforted him. Paul credits God with sending him relief through human agents both individually through his friendship with Titus and corporately through the fellowship of the church. Ultimately Paul was relieved by God himself who had worked in the situation in Corinth to restore fellowship between him and the church. This restoration led to the increase of Paul's joy."
1.) THE ANATOMY OF PAUL'S AFFLICTIONS
v.5,
5"For even when we came into Macedonia our flesh had no rest, but we were afflicted on every side: conflicts without, fears within."
Paul's description of his physical, emotional, and psychological condition during his arrival and stay in Macedonia is nothing less than suffocating. The traumatic depiction of Paul's spiritual condition at this point is all part of the Corinthian correspondence. This letter is written after several very serious events have taken place in the lives of both Paul and the Corinthians. Before coming to Corinth, Paul had decided to stop off in Macedonia and visit the churches there and make his rounds for the Jerusalem collection (8.1-5) before making his rounds back through Corinth on his way to deliver that aid in Jerusalem (1.15-16). While in Macedonia Paul was overwhelmed with tensions that had developed in Corinth. The lack of information from Titus who had been sent to deliver the severe letter and bring word back to Paul only made matters worse for him both in Troas and Macedonia:
2 Corinthians 2:12–13 12 "Now when I came to Troas for the gospel of Christ and when a door was opened for me in the Lord, 13 I had no rest for my spirit, not finding Titus my brother; but taking my leave of them, I went on to Macedonia."
It was while in Macedonia that more agonizing time elapsed causing Paul great angst, "our flesh had no rest" (οὐδεμίαν ἔσχηκεν ἄνεσιν ἡ σὰρξ ἡμῶν). What should have been a glorious time of fellowship and ministry among the Macedonian churches became an occasion for inner turmoil and savage spiritual warfare (see also, 8.2). The fact that Paul mentions "rest" (ἄνεσις) i.e. physical rest "flesh" (σὰρξ) suggests that he was deprived of much needed relaxation from his taxing missionary labors not to mention the weariness of traveling around in the Roman world. Several descriptions are given for us to get a glimpse into Paul's psychological condition. First, Paul describes his ordeal as simply all consuming, "we were afflicted on every side" (ἐν παντὶ θλιβόμενοι) (note also the strong adversative conjunction: ἀλλα). The word, "side" is not original. The phrase literally could read, "we were afflicted in all" or "in total." Second, Paul describes his state of mind as a kind of external or circumstantial brutality, "conflicts without" (ἔξωθεν μάχαι). Third, Paul also moves inward to describe the emotional entrapment that he felt, "fears within" (ἔσωθεν φόβοι). Suffocated as it were by external factors and circumstances (the lingering doubts about the letter) and the inward sense of uncontrollable fear led Paul to feel completely overwhelmed.
Before moving on to the remedies of Paul's afflictions, we must be mindful of several very crucial things. First, that Paul was afflicted in connection with the gospel and his apostolic ministry. He was not suffering for his sin, for his own foolishness, or the trials of everyday life. Although God is able to encourage and comfort us even in these circumstances; we would do a great injustice to the text to miss this exegetical point. Second, Paul had a spiritual perspective about his afflictions. Third, Paul sought for spiritual remedies for his afflictions. With these three guiding factors a person can consider what is the best way to pursue biblical remedies for our trials.
1.1, The gospel centered sufferings of Paul
This point is crucial for personal application. Ironically, we derive the very first step in remedying our discouragement by considering the exegetical value of the text. Before we move from text to immediate application, one must consider the context of these words to benefit from its content. The context of course is that Paul is in the service of the gospel. It was Paul's relationship to the gospel which brought about the conflict Paul finds himself in now. After all, Paul is not just suffering for any reason whatsoever; his suffering is explicitly evangelical in nature. Paul could have easily walked away from all the pain. Paul could have simply decided that the ministry was not worth the trouble, the insults, the worry, the persecution, the sacrifice, and the burden of carrying about others to his own physical and emotional detriment (2 Cor. 12.28). Like Demas; Paul could have deserted the ministry and set the burdens of ministry aside (2 Tim. 4.10). The problem is compounded further by considering the fact that Paul was anxious in connection with a church that often sided against him and tolerated his authority being undermined which means no doubt that he was slandered and often betrayed in the process.
The difference of course is that Paul's concern was motivated first and foremost for the glory of God, the good of God's church, and the genuineness of his ministry in light of the coming judgment of God. Several passages already in this letter summarize these points:
2 Corinthians 4:16–18 16 "Therefore we do not lose heart, but though our outer man is decaying, yet our inner man is being renewed day by day. 17 For momentary, light affliction is producing for us an eternal weight of glory far beyond all comparison, 18 while we look not at the things which are seen, but at the things which are not seen; for the things which are seen are temporal, but the things which are not seen are eternal."

2 Corinthians 5:9–10 9 "Therefore we also have as our ambition, whether at home or absent, to be pleasing to Him. 10 For we must all appear before the judgment seat of Christ, so that each one may be recompensed for his deeds in the body, according to what he has done, whether good or bad."
In other words, Paul had a resolutely spiritual perspective; one that all believers must have if they are to successfully appropriate Gods' remedies for our afflictions.
2.) REMEDY NUMBER ONE: GOD COMFORTS THROUGH INDIVIDUALS
v.6,
6"But God, who comforts the depressed, comforted us by the coming of Titus;"
As Paul continues to describe his personal situation, he now turns to describe the manner in which God remedied his anxiety in this specific situation. Paul begins by first stating the difference maker in the midst of his afflictions, "but God" (ἀλλ'… ὁ θεὸς). Although not detectable in English, Paul puts "God" at the end of the phrase (ὁ παρακαλῶν τοὺς ταπεινοὺς παρεκάλεσεν ἡμᾶς). By doing this, Paul places great emphasis on the fact that it was indeed the "God of all comfort" (1.4) that was responsible for the turn of events and for the encouragement Paul received through the coming of Titus. We should not overlook the simple fact that God uses human agents to minister comfort and encouragement to us. We should also notice the balance Paul places on the procedures of God's providence. Paul saw "the coming of Titus" as the work of God himself, "God, who comforts the depressed, comforted us" (ὁ παρακαλῶν τοὺς ταπεινοὺς παρεκάλεσεν ἡμᾶς ὁ θεὸς). Fellowship is a powerful tool in the hand of God for our good.
We should be careful to also observe Paul's theological maxim here, "God, who comforts the depressed" (ὁ παρακαλῶν τοὺς ταπεινοὺς… ὁ θεὸς). Paul first states this as a general overarching principle that "God comforts" his people who may be downcast and depressed. It is God's nature to comfort and encourage His people. In the book of 2 Corinthians alone, Paul gives several "timeless affirmations" concerning the Character of God (see, Harris, p.528):
2 Corinthians 1:3 3 "Blessed be the God and Father of our Lord Jesus Christ, the Father of mercies and God of all comfort,"

2 Corinthians 1:4 4 "who comforts us in all our affliction so that we will be able to comfort those who are in any affliction with the comfort with which we ourselves are comforted by God."

2 Corinthians 1:9 9 "indeed, we had the sentence of death within ourselves so that we would not trust in ourselves, but in God who raises the dead;"

2 Corinthians 7:6 6 "But God, who comforts the depressed, comforted us by the coming of Titus;"

2 Corinthians 13:11 11 "Finally, brethren, rejoice, be made complete, be comforted, be like-minded, live in peace; and the God of love and peace will be with you."
These are timeless truths about God that believers must cling to in every season particularly when life gets hard and when life and circumstances challenge our view of God. God is the trustworthy God who is able to encourage use able to assure us, and able to comfort us through the ministry of others and through the ministry of His Word. The Psalms are a treasure trove of ways in which God does this:
Psalm 34:4 4 "I sought the Lord, and He answered me, And delivered me from all my fears."

Psalm 119:50 50 "This is my comfort in my affliction, That Your word has revived me."

Psalm 119:76 76 "O may Your lovingkindness comfort me, According to Your word to Your servant."

Psalm 119:82 82 "My eyes fail with longing for Your word, While I say, "When will You comfort me?"
We often here pastors exhorting believers to stay in fellowship and to stay in the word; yet this is precisely why. God uses our friendships God uses our relationships, our accountability to the body to encourage our hearts in the Lord. By identifying God as "the one who comforts the depressed" (ὁ παρακαλῶν τοὺς ταπεινοὺς) Paul was saying that God has a long history, a track record of encouraging his downcast people. Ironically, it is in the same context of the Isaiah passage Paul quoted earlier (6.2) that Isaiah also emphasizes God's activity to comfort and console (Is. 40.1; 51.3, 12; 52.9; 61.2; 66.13.), "Shout for joy, O heavens! And rejoice, O earth! Break forth into joyful shouting, O mountains! For the Lord has comforted His people And will have compassion on His afflicted." (Is. 49.13).
In a parallel passage in 1 Thessalonians Paul speaks in much the same way about Timothy as he does here regarding Titus. One person can make the difference:
1 Thessalonians 3:6–7 6 "But now that Timothy has come to us from you, and has brought us good news of your faith and love, and that you always think kindly of us, longing to see us just as we also long to see you, 7 for this reason, brethren, in all our distress and affliction we were comforted about you through your faith"
The result from both the encouragement Paul received from Titus concerning Corinth and Timothy concerning the Thessalonians were both positive. In Corinth it revived a sense of comfort and deepened the love Paul had for the church and vice versa. While Paul was in Corinth and as Timothy (and Silas) brought word of the Thessalonians, Paul's encouragement can be seen by the fact that he was relieved and released to study the Word of God as he ought:
Acts 18:5 5 "But when Silas and Timothy came down from Macedonia, Paul began devoting himself completely to the word, solemnly testifying to the Jews that Jesus was the Christ."
3.) REMEDY NUMBER TWO: GOD COMFORTS THROUGH THE CHURCH
v.7,
7"and not only by his coming, but also by the comfort with which he was comforted in you, as he reported to us your longing, your mourning, your zeal for me; so that I rejoiced even more."
The second remedy goes beyond the comfort of individuals and into the comfort of the church corporately. It was "not only by his coming" (οὐ μόνον δὲ ἐν τῇ παρουσίᾳ αὐτοῦ) i.e. Titus but also the comfort which Titus received from the church itself; this too encouraged and comforted Paul, "but also by the comfort with which he was comforted in you" (ἀλλὰ καὶ ἐν τῇ παρακλήσει ᾗ παρεκλήθη ἐφ' ὑμῖν). When Paul says, "in you" we could translate that prepositional phrase "from among you" or "on your account" (ἐφ' ὑμῖν). Just as Titus was an instrument in God's hand to encourage Paul, so too the whole Corinthian church was God's means of encouragement.
Not only does verse 7 serve to answer the question as to how Paul was encouraged through what he learned about the church from Titus's report (ἀναγγέλλω), but exegetically it also serves as a summary statement for the content of vv.8-13 with verse 13 forming something of an inclusio with v.4 with regards to Paul's comfort. In this verse we get the first glimpse into precisely what it was that Titus reported to Paul and why it was such encouraging comforting news, "he reported to us your longing, your mourning, your zeal for me; so that I rejoiced even more" (7.7). This whole burst of emotion conveys one ultimate reality namely, that for the most part, the Corinthians had been brought back into harmony with Paul's apostolic authority and in doing so they were being faithful to the gospel. The church had rejected the accusations about Paul (1.17), they had rejected and disciplined the individual who caused Paul sorrow (2.4ff; 7.12), and they had expressed their love for him and their willingness to complete the ministry of bringing aid to the Jerusalem church (8.1ff).
The restored relationship between Paul and the church is expressed here with three distinct nouns which speak of the church's response to the "severe letter." Again, although these elements are developed further in (vv.8-11) Paul states the essence of them here.
3.1, Desire for fellowship
The first response is deeply personal. The noun, "longing" (ἐπιπόθησις) is probably referring to the church's desire for Paul himself i.e. to see him again for the purpose of fellowship. After corresponding through letters, messages, and messengers (e.g. Titus) the Corinthians were "longing" to cement their sentiments for Paul in person. Here a simple "Facebook" message would not do; they wanted to see him in the flesh. If given the opportunity they would have shown Paul that they were no longer restricted in their own affections toward him (cf. 6.12). All that remained was for them to express their love for him to open wide their hearts to him and to receive him back into their favor like an old friend or better yet an estranged "father."
3.2, Regret for sin
Consequently, the church also deeply regretted their sin to the point of "mourning" (ὀδυρμός) — a term associated with weeping and lamenting (Mt. 2.18). They were mourning that they had compromised their relationship with Paul, mourning that they had sinned against God, mourning that they had allowed themselves to be swayed against their shepherd and spiritual father (cf. 1 Cor. 4.15). As Paul will go on to clarify later (cf. 10.1-2) there were still those who may have been in the church or influencing the church from outside that he would still need to rebuke and confront but as for the issues that were addressed in Paul's letter its seems like by an large those issues got rectified.
3.3, Passion for vindication
All of these attitudes would have happened in quick succession if not simultaneously. The "zeal" (ζῆλος) Titus spoke to Paul about was the desire to obey Paul's instructions in the "severe letter" and also to vindicate Paul's reputation, "your zeal for me" (τὸν ὑμῶν ζῆλον ὑπὲρ ἐμοῦ). Paul will also go on to state they were eager to vindicate their own reputation as well (7.11). They finally were motivated to the point of action. So many churches know the right thing to do but will not act. Church discipline is all but gone today in the supposed Evangelical church. Churches are more afraid of getting sued than obeying God. But one of the marks of true church is the practice of church discipline. The Corinthians for their part, as problematic as the church was, finally followed through with church discipline (2.4ff; cf. 1 Cor. 5).
3.4, The restoration of joy,
True restoration of fellowship resulted in true joy. Paul's depression was turned into delight; delight in the fact that God had removed sin from the church, delight in the fact that God had encouraged him through the sanctification and purity of the church, and delight in the fact that he could now come to them not in sorrow but in the joy of true fellowship and unity. Although Paul was resolved to rejoice in the Lord in all circumstances (7.4; Phil. 4.4, 11-13), this new found unity with the Corinthians led to the increase of Paul's joy, "I rejoiced even more" (μᾶλλον χαρῆναι).
For Paul, all of this was evidence of the consolation of God. Paul was so discouraged at what was happening at Corinth probably wondering if there would ever be any relief. Paul was often worried that he had wasted his time and that he had run in vain and the church's faith was vain too (1 Cor. 15.2; 2 Cor. 6.1; Gal. 2.2; 3.4; Phil. 2.16; ). God used Titus individually and the Corinthians corporately to encourage Paul and to revive his joy and to sustain his pastoral concern for the church. God will do the same for any believer who will avail his/herself to the means which God has ordained for us through the ministry we render to one another.