Evangelism Explosion: Part 2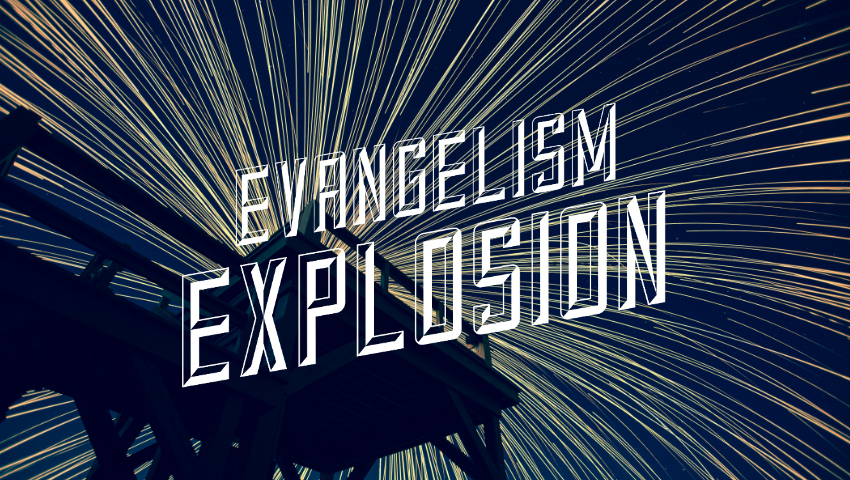 1 Thessalonians 1:8–10 8 For the word of the Lord has sounded forth from you, not only in Macedonia and Achaia, but also in every place your faith toward God has gone forth, so that we have no need to say anything. 9 For they themselves report about us what kind of a reception we had with you, and how you turned to God from idols to serve a living and true God, 10 and to wait for His Son from heaven, whom He raised from the dead, that is Jesus, who rescues us from the wrath to come.
In addition to evangelism being informed by authentic zeal, evangelism explosion is also the result of a transformed heart that endures to the eschaton. The Thessalonian's evangelism was a transformed and hope-filled evangelism that erupted in the proclamation of the gospel of God with full conviction.
Authentic Evangelism Arises From A Transformed Heart
Part of what made the Thessalonians such a blessing to Paul was the seemingly instantaneous impact the Church's faith had on the surrounding regions and churches so that Paul had nothing say at times since other churches "themselves report about us what kind of a reception we had with you" (αὐτοὶ γὰρ περὶ ἡμῶν ἀπαγγέλλουσιν ὁποίαν εἴσοδον ἔσχομεν πρὸς ὑμᾶς). This is just another way of saying that the church received and welcomed the apostles and the message that they preached. Paul mentions this again in Chapter 2:
1 Thessalonians 2:13 13 For this reason we also constantly thank God that when you received the word of God which you heard from us, you accepted it not as the word of men, but for what it really is, the word of God, which also performs its work in you who believe.
Paul is talking about the entry point of their gospel ministry among the Thessalonians specifically that Paul and his co-workers had faithfully ministered to them the word of the Lord. Thus, the transformation of the Thessalonians was situated in the context of Paul's faithful apostolic ministry in contrast with the fraudulent messages of philosophers, mystics, mystery cults and other peddlers of false worldviews:
"In an age where traveling philosophers and orators frequently entered a city with extravagant pomp and self-serving motives of securing the praise and purse of its citizens… people throughout Macedonia, Achaia, and even beyond recognized that Paul's mission-founding visit to Thessalonica exhibited none of these vain and dishonest practices." (Wiema, 1-2 Thessalonians, 107-108).
The faithful and sincere character of Paul's ministry is always the backdrop of the fruitful ministry of the NT churches that he founded beginning with regeneration. Paul was dominated with an ambition to labor faithfully in God's 'field.' Like an architect who aimed at excellence in everything he did, Paul only wanted to use the tools of truth, the choices building materials to build God's new covenant temple the Church.
1 Corinthians 3:10–17 10 According to the grace of God which was given to me, like a wise master builder I laid a foundation, and another is building on it. But each man must be careful how he builds on it. 11 For no man can lay a foundation other than the one which is laid, which is Jesus Christ. 12 Now if any man builds on the foundation with gold, silver, precious stones, wood, hay, straw, 13 each man's work will become evident; for the day will show it because it is to be revealed with fire, and the fire itself will test the quality of each man's work. 14 If any man's work which he has built on it remains, he will receive a reward. 15 If any man's work is burned up, he will suffer loss; but he himself will be saved, yet so as through fire. 16 Do you not know that you are a temple of God and that the Spirit of God dwells in you? 17 If any man destroys the temple of God, God will destroy him, for the temple of God is holy, and that is what you are.
When so many today operate mainly along the plane of pragmatism, Paul's vision was clear, he would not compromise to get 'results.' This passion for ministerial purity was the bedrock of the Thessalonian's own evangelistic explosion, an explosion that began with their conversion from paganism. This too was being reported by the surrounding churches, "how you turned to God from idols to serve a living and true God" (πῶς ἐπεστρέψατε πρὸς τὸν θεὸν ἀπὸ τῶν εἰδώλων δουλεύειν θεῷ ζῶντι καὶ ἀληθινῷ). The word of the Lord came to "in the Holy Spirit and with full conviction" (v.5), and God honored His word so that they "turned to God from idols" (ἐπεστρέψατε πρὸς τὸν θεὸν). One of the most stunning accounts of the same powerful transformation took place in Ephesus a few years after being in Thessalonica where many who were given over to demonic magic where transformed after seeing extraordinary miracles take place through the hands of Paul:
Acts 19:18–20 18 Many also of those who had believed kept coming, confessing and disclosing their practices. 19 And many of those who practiced magic brought their books together and began burning them in the sight of everyone; and they counted up the price of them and found it fifty thousand pieces of silver. 20 So the word of the Lord was growing mightily and prevailing.
We should also bear in mind that Paul was commissioned for the very purpose of turning the Gentiles from their pagan ways so that they would serve "a living and true God" (θεῷ ζῶντι καὶ ἀληθινῷ). You can see this from Paul's account of his conversion and commission:
Acts 26:15–18 15 "And I said, 'Who are You, Lord?' And the Lord said, 'I am Jesus whom you are persecuting. 16 'But get up and stand on your feet; for this purpose I have appeared to you, to appoint you a minister and a witness not only to the things which you have seen, but also to the things in which I will appear to you; 17 rescuing you from the Jewish people and from the Gentiles, to whom I am sending you, 18 to open their eyes so that they may turn from darkness to light and from the dominion of Satan to God, that they may receive forgiveness of sins and an inheritance among those who have been sanctified by faith in Me.'
Its no surprise therefore to find in Pauline churches this emphasis on idolatry as part of the founding of these NT churches. For example the Galatians and the Corinthians (not to mention others) have this same testimony:
Galatians 4:8 8 However at that time, when you did not know God, you were slaves to those which by nature are no gods.
1 Corinthians 12:2–3 2 You know that when you were pagans, you were led astray to the mute idols, however you were led. 3 Therefore I make known to you that no one speaking by the Spirit of God says, "Jesus is accursed"; and no one can say, "Jesus is Lord," except by the Holy Spirit.
Notice the theology of repentance here also. This was no simple assimilation of beliefs or simply adopting new habits or exchanging one culture for another; this was a total worldview shift and a moral and religious transformation, "you turned to God from idols" (ἐπεστρέψατε πρὸς τὸν θεὸν ἀπὸ τῶν εἰδώλων). Genuine repentance involves both of these movements.
One is a move toward (πρὸς) God by faith, the other a repudiation of sin literally 'from the idols' (ἀπὸ τῶν εἰδώλων). This is why repentance has to be emphasized in any legitimate gospel presentation. We must emphasize both the summons to receive God by faith who is himself the source of all forgiveness, grace, peace, joy and life (cf. Col. 3.4). And we must also stress man's need to reject and turn from his or her sin and misery that which will destroy them and cause them to be condemned on the Day of Judgment. Notice also that Paul is specific here; he named their bondage! They were idolaters who worshipped false gods and false religion. He did not sugarcoat it he did not beat around the bush and talk about the fact that they merely needed to overcome their shame or their obstacles in life. We have a dangerous notion today that aims to strip the gospel of any offense. We are told to make the gospel more palatable, more positive and less judgmental and perhaps people would be more inclined to except it and receive our message. The problem is that it is not our message!
The Thessalonian testimony was glorious not because these people simply adjusted a few moral qualities in their life; it was a total transformation from death to life. They were taken out of the kingdom of darkness and put into God's kingdom of light, the kingdom of His Son (cf. Col. 1.12-13). Their transformation led to their service and allegiance to the "living and true God" (θεῷ ζῶντι καὶ ἀληθινῷ). This title for God has a rich OT background and implies that God is the true unique living God who created everything and with whom man must reckon (cf. of God (Ex. 34.6; 2 Chron. 15.3; Ps. 86.15; Hos. 1.10; Is. 65.16).
The gospel lays claim over all of the religions of the world by exalting the authority of Jesus Christ who died and rose again and is returning to reign and judge the world (cf. Acts 10.42). This is what the title, "living and true God" means; the absolute sovereignty, supremacy and universal authority of the true and living God over all idols, all people, all nations and rulers and authorities. In coming to the true and living God, the Thessalonians underwent not only a personal transformation in heart but also a completely new religious orientation. From being enslaved to false idols to being enslaved to the true and living God. In fact, the word, "to serve" (δουλεύω) actually has this connotation of slavery. Paul uses it of being enslaved to sin (Rom. 6.6), enslaved to our passions (Tit. 3.3), and the worthless principles of the world of sin (Gal. 4.9). It also carries a positive meaning so that we can be enslaved to God's law (Rom. 7.25), to each other as servants of one another (Gal. 5.13), and ultimately to the Lord (Rom. 12.11; 14.18).
The word thus used in a positive sense carries with it a bit of irony so that being a servant of the true and living God results in a beautiful bondage. When the gospel transforms a person's life there should be a zeal to evangelize and to tell the story of the good news that changed our lives.
Authentic Evangelism Endures to the Eschaton
Notice that there are three controlling verbs in the text that describe the Thessalonian's faith and evangelistic zeal: 'turning' (ἐπιστρέφω), 'serving' (δουλεύω), and 'waiting' (ἀναμένω). The last verb "to wait" is a common eschatological description of the Christian life cast in the language of the eschaton. A similar verb (ἀπεκδέχομαι) is more common for Paul but it means the same thing i.e. to wait or 'to wait eagerly' (Rom. 8.19, 23, 25; 1 Cor. 1.7; Gal. 5.5; Phil. 3.20). The word Paul uses shares the same root word for 'abiding.' It is possible that Paul uses the word here to commend the church not only for living in expectation of the eschaton but also for accepting their calling to endure and abide in their present distress all the while hoping in the parousia.
Evangelism is an act of eschatology. The eschaton is that which relates to the future, to the certainty of the end and the life that is lived in light of that eternal reality that is brought about by the second coming. This endurance is the hopeful expectation of at least three things connected with the return of Christ: the return of Jesus Christ from heaven, the future resurrection, and the final deliverance of God's people. Evangelism is eschatology because it lives in light of all these things and announces these things in the gospel of Christ. Evangelism is concerned both with personal and cosmic eschatology because we announce the end of all things and we call people to prepare to meet God in eternity and in judgment. Sadly today if you mention eschatology in your evangelistic message you are accused of being 'doomsday preacher' or preaching 'doom and gloom' or 'fear mongering' etc. However Paul had no hesitation in reminding people of the Day of Judgment in the context of evangelism and apologetics:
Acts 17:30–31 30 "Therefore having overlooked the times of ignorance, God is now declaring to men that all people everywhere should repent, 31 because He has fixed a day in which He will judge the world in righteousness through a Man whom He has appointed, having furnished proof to all men by raising Him from the dead."
The Return Of Jesus Christ From Heaven
Notice that the apostle Paul does not leave it at the return of Christ but adds the detail of Jesus' return "from heaven" as we "wait for His Son from heaven" (ἀναμένειν τὸν υἱὸν αὐτοῦ ἐκ τῶν οὐρανῶν). This is of course because Jesus ascended into the heavens as our forerunner and victorious Champion-Warrior who defeated death and hell (cf. Acts 1.9-11; Eph. 4.7-10; Heb. 4.14; 6.19-20). Therefore, when Paul speaks of Christ returning "from heaven" (ἐκ τῶν οὐρανῶν) he is thinking of Jesus' work in totality and the fact that His ascension cannot be separated from His return and his return cannot be separated from His ascension. His ascension entails the absolute sovereignty of the Son, the enthronement of the Son, and the exultation of the Son to the right hand of God (cf. Mt. 26.64). The fact that Jesus will return from heaven means that all of heaven's authority, glory, power and wrath will come with Him. When he returns from heaven, he will return as the all powerful, exulted and glorified king of heaven. This is precisely what Jesus told His enemies before He left their world and passed through the heavens:
Matthew 26:63–64 63 But Jesus kept silent. And the high priest said to Him, "I adjure You by the living God, that You tell us whether You are the Christ, the Son of God." 64 Jesus said to him, "You have said it yourself; nevertheless I tell you, hereafter you will see the Son of Man sitting at the right hand of Power, and coming on the clouds of heaven."
The Return Of Jesus Christ And The Future Resurrection
Notice also that in verse 10 what is in view is Jesus' resurrection from the dead, "whom He raised from the dead" (ὃν ἤγειρεν ἐκ [τῶν] νεκρῶν). However the point that I am observing is not His resurrection only, but ours as well because in reality the resurrection of Christ is inseparable from the resurrection of His people and in fact ensures the resurrection of His people. He is the first fruits of the harvest of His people being raised from the dead at the eschaton. This introduces hope because as we wait for the return of the risen Lord, we await our own resurrection as well:
1 John 3:2–3 2 Beloved, now we are children of God, and it has not appeared as yet what we will be. We know that when He appears, we will be like Him, because we will see Him just as He is. 3 And everyone who has this hope fixed on Him purifies himself, just as He is pure.
The Return Of Jesus Christ And The Final Deliverance Of God's People
Of course we cannot talk about the future or the resurrection without speaking of our final and ultimate deliverance from God's judgment. Here the apostle Paul capitalizes on the word "wrath" (ὀργῆς) as that which describes the divine posture at the eschaton. When Christ returns He will come in the flaming fire of retribution and in the wrath of judgment and vindication:
2 Thessalonians 1:6–10 6 For after all it is only just for God to repay with affliction those who afflict you, 7 and to give relief to you who are afflicted and to us as well when the Lord Jesus will be revealed from heaven with His mighty angels in flaming fire, 8 dealing out retribution to those who do not know God and to those who do not obey the gospel of our Lord Jesus. 9 These will pay the penalty of eternal destruction, away from the presence of the Lord and from the glory of His power, 10 when He comes to be glorified in His saints on that day, and to be marveled at among all who have believed—for our testimony to you was believed.
Therefore it is not until we have contemplated the awful and terrible reality of Christ's return in terms of the judgment and what it will unleash that we will truly see our deliverance for what it really is, a divine "rescue" (ῥύομαι). God rescues us from the crisis of His wrath. That is why this is a great point of comfort, perhaps the greatest point of comfort that there is:
1 Thessalonians 5:9–11 9 For God has not destined us for wrath, but for obtaining salvation through our Lord Jesus Christ, 10 who died for us, so that whether we are awake or asleep, we will live together with Him. 11 Therefore encourage one another and build up one another, just as you also are doing.