Foundations for Church Unity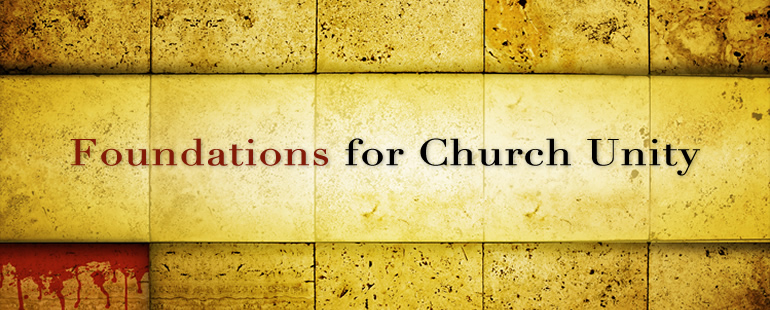 Text and Exposition
2"Make room for us in your hearts; we wronged no one, we corrupted no one, we took advantage of no one. 3 I do not speak to condemn you, for I have said before that you are in our hearts to die together and to live together. 4 Great is my confidence in you; great is my boasting on your behalf. I am filled with comfort; I am overflowing with joy in all our affliction."
2 Χωρήσατε ἡμᾶς· οὐδένα ἠδικήσαμεν, οὐδένα ἐφθείραμεν, οὐδένα ἐπλεονεκτήσαμεν. 3 πρὸς κατάκρισιν οὐ λέγω· προείρηκα γὰρ ὅτι ἐν ταῖς καρδίαις ἡμῶν ἐστε εἰς τὸ συναποθανεῖν καὶ συζῆν. 4 πολλή μοι παρρησία πρὸς ὑμᾶς, πολλή μοι καύχησις ὑπὲρ ὑμῶν· πεπλήρωμαι τῇ παρακλήσει, ὑπερπερισσεύομαι τῇ χαρᾷ ἐπὶ πάσῃ τῇ θλίψει ἡμῶν.
Preliminary Thought
"Paul resumes the section left off in chapter two after which he launched into a lengthy digression on the validity and nature of his apostolic ministry. Here then Paul resumes to speak of his relationship with the Corinthians. This passages turns on the report from Titus received in Macedonia. In this text Paul is already anticipating the content of the proceeding verses. He thus urges the Corinthians to embrace him without reservation realizing that he was innocent of all charges leveled against him by various individuals. Because his motives were pure, Paul had every basis from which to speak boldly and confidently to them as he has mentioned earlier in the epistle. Paul's confidence is also rooted in love. Here Paul will express his affections for them in deepest terms. They are inextricably bound to one another both in life and death. On the basis of such things Paul glories in his relationship with them and is greatly encouraged by their faith. Unity gives way to indomitable joy as Paul expresses the transcendent nature of his joy in the face of ever present affliction. If affliction is a motif of this letter, the theme of comfort is more still."
The details of this text are important to us today because although they refer to a certain situation that has long past, like everything Scripture records; it is written for our present day instruction and edification (cf. 2 Tim. 3.16). Chapter seven is resumptive of Paul's personal plans and concerns which ended in (2.13). Paul digressed into a long defense of his apostolic ministry (2.14-7.4) and now resumes with the ever important report from Titus (7.6ff.). This section (7.2-4) is spoken in light of Titus' report and prepares the way for Paul's direct reference to the report in (7.5-7). The report by Titus informed Paul of the Corinthians response to his "severe letter" written to rebuke the Corinthians for their tolerance towards what appears to be a certain individual who was personally opposing Paul's authority in the church (cf. 2.4).
1.) UNITY THROUGH AFFECTION NOT ABUSE
v.2,
2"Make room for us in your hearts; we wronged no one, we corrupted no one, we took advantage of no one."
This section serves as one of Paul's final pleas for restored unity between he and the Corinthians. Here Paul returns to the language of transparency which he had already spoken about:
2 Corinthians 6:11–13 11 "Our mouth has spoken freely to you, O Corinthians, our heart is opened wide. 12 You are not restrained by us, but you are restrained in your own affections. 13 Now in a like exchange—I speak as to children—open wide to us also."
At this point in the book Paul is hoping that with the knowledge of Titus' report and with the clarification the present letter offers on various misunderstandings, the church will no longer close their hearts to Paul. What follows is a threefold claim to innocence where Paul rejects any notion that he has personally been at fault for the present situation in Corinth. The three phrases that are used, "we have wronged no one" (οὐδένα ἠδικήσαμεν), "we corrupted no one" (οὐδένα ἐφθείραμεν), and "we took advantage of no one" (οὐδένα ἐπλεονεκτήσαμεν) all seem to point in the direction of Paul's integrity with respect to how he conducted himself among them; especially financially. While the first negation, "we have wronged no one" is broad enough to include all of Paul's dealings with the church, the second negation may be more specifically dealing with moral and financial integrity (cf. Harris, p.517; also see BDAG).
No doubt Paul still has the immoral and pagan influences in mind from the previous context when he writes here (6.14ff.). Unlike the unbeliever, being "bound" to Paul as it were never resulted in being "wronged" or being "corrupted" and led into sin either morally or financially. Paul has repeatedly made mention of this in the letter:
2 Corinthians 1:12 12 "For our proud confidence is this: the testimony of our conscience, that in holiness and godly sincerity, not in fleshly wisdom but in the grace of God, we have conducted ourselves in the world, and especially toward you."
It would have been very easy for the church to take personal offense to Paul's "severe letter" and respond with animosity towards him. It would have been easy for members of the church to think that Paul was being heavy-handed in his rebuke towards their sin and error but he was not speaking to crush them or rule over with dictatorial abuse; his aim was their upbuilding and joy (cf. 12.19):
2 Corinthians 1:23–24 23 "But I call God as witness to my soul, that to spare you I did not come again to Corinth. 24 Not that we lord it over your faith, but are workers with you for your joy; for in your faith you are standing firm."
Paul was also careful to point out that part of his integrity was that he "took advantage of no one" (οὐδένα ἐπλεονεκτήσαμεν). The verb Paul uses here (πλεονεκτέω) refers to exploitation, to defrauding someone, and to cheating someone out of something. In fact, the verb is used later in the context of financial impropriety (cf. 2.11 referring to Satan taking advantage of church discipline):
2 Corinthians 12:17–18 17 "Certainly I have not taken advantage of you through any of those whom I have sent to you, have I? 18 I urged Titus to go, and I sent the brother with him. Titus did not take any advantage of you, did he? Did we not conduct ourselves in the same spirit and walk in the same steps?"
This is why Paul could use the plural here (ἐπλεονεκτήσαμεν); no doubt Paul wants to make room to clear the ministry not only of himself but also his close associates and fellow-workers like Titus. Paul never wanted to open the door to any financial impropriety but always wanted to be above reproach in that matter. Paul is a great example to churches and pastors here (cf. 6.3). Paul uses the same caution later in the letter in the context of the collection for the Jerusalem church:
2 Corinthians 8:20–21 20 "taking precaution so that no one will discredit us in our administration of this generous gift; 21 for we have regard for what is honorable, not only in the sight of the Lord, but also in the sight of men."
All three of these claims to innocence prove that Paul was seeking affection not abuse. One of the strongest signs of true unity rises out of the willingness to show one another affection. The affection Paul has in mind here is not the affection of the professionalism it is not the affection of a mere fraternity of fellowship but of family and friendship. The next point builds on this theme of unity by showing the breadth of our commitment to one another.
2.) UNITY THROUGH COMMITMENT NOT CONDEMNATION
v.3,
3"I do not speak to condemn you, for I have said before that you are in our hearts to die together and to live together."
For the apostle Paul, fellowship was not simply the casual conversation in the hall ways of a church, likes or dislikes on facebook, the occasional participation in a small group; it was a life and death commitment to love the body of Christ. Christian love should permeate God's church. The whole body of Christ should be knit together in love especially on the local church level (cf. 1 John 2.10; 3.11, 14, 16; 4.7, 11, 12, 20, 21; 5.1, 2). This love is precisely what Paul is seeking to repair. Paul's earlier call for heightened affections was no mere call for emotionalism; rather, Paul's pursuit for greater love and affection is rooted in his commitment to the church. There was a unity already there grounded on their mutual union with the universal body of Christ and as different members of Christ' body they are "members of one another":
Romans 12:4–5 4 "For just as we have many members in one body and all the members do not have the same function, 5 so we, who are many, are one body in Christ, and individually members one of another."

Ephesians 4:25 25 "Therefore, laying aside falsehood, speak truth each one of you with his neighbor, for we are members of one another."
By exhorting them, the Corinthians could have easily been condemned. Often times, just at the mention that things are not right, a church can be overcome with a sense of condemnation. Because Paul wrote them a whole letter where he expressed his disapproval for certain things which were going on in Corinth; the Corinthians in turn interpreted that to mean that Paul was only seeking to grieve them (cf. 2.1-9), to condemn them. Paul will later say, "For though I caused you sorrow by my letter, I do not regret it" (7.8a). He does not "regret it" because Paul had the right motives i.e. the joy and comfort of repentance (7.10). This is why Paul can say it is not "condemnation" (κατάκρισις) its "salvation" and sanctification. Paul also understands that condemnation does not serve his purposes; unity is not achieved through condemnation but through commitment.
In speaking of commitment, Paul reminds them that he has already made that clear to them. What Paul has made clear to them is the love and affection which he had for them. This is expressed with the language of having the church "in our hearts" (ἐν ταῖς καρδίαις ἡμῶν). Paul has already utilized this sort of language:
2 Corinthians 3:2 2 "You are our letter, written in our hearts, known and read by all men"

2 Corinthians 6:11–12 11 "Our mouth has spoken freely to you, O Corinthians, our heart is opened wide. 12 You are not restrained by us, but you are restrained in your own affections."
This may be very important to a church that knows they have caused Paul some grief unlike perhaps a more unified and healthy church like Philippi. To the Philippians Paul used the same expression:
Philippians 1:7–8 7 "For it is only right for me to feel this way about you all, because I have you in my heart, since both in my imprisonment and in the defense and confirmation of the gospel, you all are partakers of grace with me. 8 For God is my witness, how I long for you all with the affection of Christ Jesus."
The gracious and loving shepherd that Paul is, Paul wants them to know that he loves them just as much as any other of his churches. He had the same disposition towards Corinth that he had towards to the other church one of love, affection, and gentleness (cf. 10.1; 12.14-15). What could be said of Paul could also be said of his associates:
2 Corinthians 7:15 15 "His [i.e. Titus] affection abounds all the more toward you, as he remembers the obedience of you all, how you received him with fear and trembling."

Philippians 2:20 20 "For I have no one else of kindred spirit who will genuinely be concerned for your welfare."
These are the qualities needed for unity and needed for those who would be entrusted with leading the church; a non-compulsory love for the church in selfless sacrificial service of the church. By God's grace, God had given Paul a small group of associates who possessed these qualities men like Titus, Timothy and other unnamed fellow workers who were likewise tested and proven to be faithful to the gospel and to the well being of the church (2 Cor. 8.16-24). Such earnest, affectionate, ambitious, zealous, reputable, risk taking, God centered, honorable, diligent, and tried and proven ministers illicit the approval and commendation of the church. All of these features are found in Paul and in his associates i.e. Titus, and "the brother" (8.18) in the context of (8.16-24).
Furthermore, to the language of affection, "you are in our hearts" (ἐν ταῖς καρδίαις ἡμῶν), Paul also adds the language of commitment, "to die together and to live together" (συναποθανεῖν καὶ συζῆν). Paul's heart was bound to this church. He had them in his heart in life and in death; this was a "till death do us part" moment for Paul. But the sobriety of it surrounds the gospel itself. Moving away from Paul was to move away from the gospel and being reconciled to Paul was likewise important to keep the church in the apostolic tradition.
3.) UNITY THROUGH CONFIDENCE NOT CIRCUMSTANCES
v.4,
4"Great is my confidence in you; great is my boasting on your behalf. I am filled with comfort; I am overflowing with joy in all our affliction"
What united the church to Paul was Paul's relentless commitment to preaching the truth. In fact, Paul's point here may imply that the "confidence" (παρρησία) of which he was speaking refers not simply to being confident in them but even more significantly, having confidence to speak to them in boldness and frankness. The prepositional phrase, "in you" is more naturally translated "to you" suggesting further that what Paul may have been thinking was that his candid speech was rooted in his loving commitment to them. Because his motive is unity, love, and affection; he spoke the truth to them boldly. In a similar context Paul has already hinted at this:
2 Corinthians 3:12 12 "Therefore having such a hope, we use great boldness in our speech,"

2 Corinthians 6:11 11 "Our mouth has spoken freely to you, O Corinthians, our heart is opened wide."
This verse covers a whole range of emotions and expressions which describe Paul's relationship with the church. Paul's "confidence" (παρρησία) toward them (πρὸς ὑμᾶς) was necessary in order to rebuke them, to confront them, and to encourage them in the gospel. However, the confidence may also refer to Paul's confidence "in" them i.e. in their response (the knowledge of which was made possible by the report from Titus). Because of the positive response to Paul's letters, he is able to rejoice even in the midst of his present circumstances. He will speak of this "confidence" again in verse 16, only there it is certain that Paul was speaking of the confidence he had in them because of their obedience to his commands, "I rejoice that in everything I have confidence in you." However one takes this confidence, whether as boldness in speech or assurance of obedience, it was coupled with other powerful emotions which Paul felt towards the church namely, pride (boasting), comfort (encouragement), and boundless joy (elation).
3.1, Paul's God-centered boasting
There is nothing wrong with commending progress and being enthusiastic about a person(s) growth and sanctification a church's growth and sanctification; it's called encouragement and the apostle Paul did it often. In fact, commending others is a powerful tool for building up the church of God to the glory of God. In a recent book entitled, Practicing Affirmation, Sam Crabtree has written:
"The chief end of God is not the glory of man, as humanistic thought would have it; the chief end of man is to glorify God by enjoying him forever. Meanwhile, the praising of people does not necessarily preclude the praising of God, if the people are commended ultimately for his glory. God is glorified in us when we affirm the work he has done and is doing in others." (Sam Crabtree, Practicing Affirmation (Wheaton: Crossway, 2011) p.12)).
This is precisely what Paul is doing, ultimately acknowledging the work God has done in them by producing obedience and readiness in them to align themselves with His apostle.
3.2, Paul's invigorating comfort
2 Corinthians could easily be called the "epistle of comfort" for it speaks comfort to us again and again. Comfort in the midst of affliction (1.4), comfort from "the God of all comfort" (1.3), comfort so that we can identify with and then comfort others as scripture commands (1.6; 1Thess. 4.18), comfort for the depressed (7.7), God's comfort to us through others e.g. Titus comforts Paul etc. (7.6), and here comfort in light of church's support for Paul (7.4; cf. 7.13). This comfort was a blast of fresh air for Paul. With so much bad news going on in Corinth no doubt this bit of comfort in light of Titus' report invigorated Paul, encouraged him, and emboldened him (all legitimate uses of παράκλησις) to keep ministering to them and keep fighting against those who were undermining him in Corinth.
3.3, Paul's transcendent joy
Finally, Paul glories in the fact that because of such support, because of the unity which Paul had with the church, especially after the report from Titus, he was nothing less than exuberant, "I am overflowing with joy in all our affliction" (7.4). But this was no happen chance joy; this was indomitable joy; joy that was two things in particular. First, Paul's joy was superabundant joy he was "overflowing with joy" (ὑπερπερισσεύομαι τῇ χαρᾷ). It was joy of an excessive kind, a joy that spilled over into praise no doubt. Because of this joy Paul is refreshed and reinvigorated, Oh the power of true joy! Second, Paul's joy was transcendent. This joy enabled Paul to rise above present circumstances, and all circumstances.
But we should also notice the context of Paul's joy. Paul's joy was ecclesiastical joy i.e. his joy was inextricably connected to the life, and health, and purity of the church. Just like nothing brought Paul greater joy than the prosperity of the church, nothing brought Paul more concern than the demise of the church. This is why Paul can be seen over and over again agonizing over the church, fighting for the purity of church, and contending for the very life and soul of the church. God had called Paul to be all of these things, God had given Paul a shepherd's heart, God had placed in Paul the burdens he felt for the church— so it is with all true ministers (cf. Phil. 2.19-20). Such burdens and such joys can be seen throughout Paul's life yet we can think of no greater passage which gives us so much autobiographical insight into Paul's pastoral passion than Acts 20:
Acts 20:28–32 28 "Be on guard for yourselves and for all the flock, among which the Holy Spirit has made you overseers, to shepherd the church of God which He purchased with His own blood. 29 "I know that after my departure savage wolves will come in among you, not sparing the flock; 30 and from among your own selves men will arise, speaking perverse things, to draw away the disciples after them. 31 "Therefore be on the alert, remembering that night and day for a period of three years I did not cease to admonish each one with tears. 32 "And now I commend you to God and to the word of His grace, which is able to build you up and to give you the inheritance among all those who are sanctified."