God Is Totally Sovereign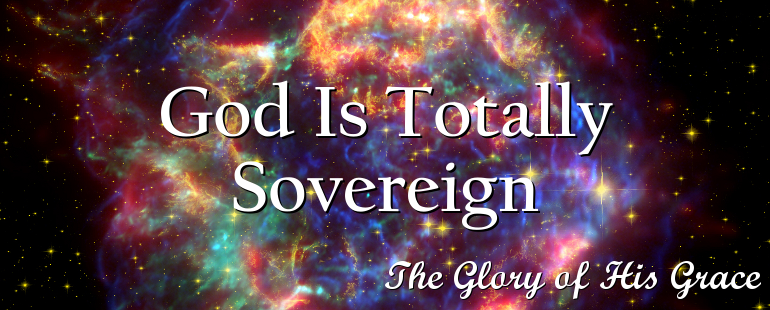 The Glory of His Grace, Part 1
God is Totally Sovereign
Isaiah 46:10–11 10 Declaring the end from the beginning, And from ancient times things which have not been done, Saying, 'My purpose will be established, And I will accomplish all My good pleasure'; 11 Calling a bird of prey from the east, The man of My purpose from a far country. Truly I have spoken; truly I will bring it to pass. I have planned it, surely I will do it.
Fewer doctrines in the grand panoply of Christian theology are as precious and as important as the absolute sovereignty of God over all things. There is nothing that will effect a believer more profoundly than this, that God is working all things according to counsel of His own will (Ps. 33.11; Is. 14.24), and according to the infinite wisdom of His own purposes in Christ (Eph. 3.11), and that His will and purpose is that which will display the glory of His grace for all eternity and that for our everlasting good (Lk. 12.32; Rom. 8.28; 1 Cor. 2.6; 2 Tim. 1.9; Heb. 9.26; 1 Pet. 1.20).
The Necessity Of Sovereignty
We should begin by stressing the absolute necessity for the sovereignty of God. Many years ago, the Church received one of the clearest most comprehensive and biblically faithful representations of the sovereignty of God ever produce in A.W. Pink's The Sovereignty of God. Pink summarized the importance of maintaining the sovereignty of God by saying simply and profoundly, "To say that God is sovereign is to declare that God is God".[1] In other words, as we diminish the sovereignty of God we diminish the divine nature of God, God's Godhood, God's attribute of what it means to be the infinite Almighty Being of the universe and of eternity. And equally appalling is the idea that God would be usurped by any another power, principle or entity as sovereign whether Satan, angels, man or chance— something will fill the void of sovereignty if God is dethroned from His sovereign supremacy. The Bible however assigns sovereignty absolute sovereignty over all things only to God. So it is necessary to look at the vocabulary of sovereignty in Scripture.
The Vocabulary Of Sovereignty
The vocabulary of the absolute sovereignty of God is found throughout Scripture. All of the language in Scripture that speaks of God as supreme, Almighty, King, Lord, Master and God is relating to the absolute sovereignty of God over all things. The most fundamental aspect of God's sovereignty is His freedom to do what He wants and when He wants without having to answer to anyone for anything. The Psalms are full of this type of language:
Psalm 103:19 19 The Lord has established His throne in the heavens, And His sovereignty rules over all.
Psalm 115:3 3 But our God is in the heavens; He does whatever He pleases.
Psalm 135:6 6 Whatever the Lord pleases, He does, In heaven and in earth, in the seas and in all deeps.

When Daniel interpreted Nebuchadnezzar's dream it was this exact point that God would teach this earthly despot; that there is only one sovereign ruler over all things— a truth Nebuchadnezzar came to confess:

Daniel 4:34-35 34 "But at the end of that period, I, Nebuchadnezzar, raised my eyes toward heaven and my reason returned to me, and I blessed the Most High and praised and honored Him who lives forever; For His dominion is an everlasting dominion, And His kingdom endures from generation to generation. 35 "All the inhabitants of the earth are accounted as nothing, But He does according to His will in the host of heaven And among the inhabitants of earth; And no one can ward off His hand Or say to Him, 'What have You done?' (Prov. 21.1).
All rule and power and dominion are in His hand so that no earthly or cosmic power can resist His sovereign authority. This is precisely what Jehoshaphat the king of Judah declared when they were invaded by the Moabites:
2 Chronicles 20:6 6 and he said, "O Lord, the God of our fathers, are You not God in the heavens? And are You not ruler over all the kingdoms of the nations? Power and might are in Your hand so that no one can stand against You.
The language of God's sovereignty is rooted in the total authority and dominion of God over all things. God is fully aware that we do not see this authority exercised now that is, in this age and will not until the end of the age when Christ returns to destroy His enemies when He will bring both divine retribution and ecclesiastical deliverance (Heb. 2.8; 2 Thess. 1.5ff). Nevertheless, the sovereignty of God also means that He is working all things out according to the wisdom of His own will and purpose, "we have obtained an inheritance, having been predestined according to His purpose who works all things after the counsel of His will," (Eph. 1.11).
The Preeminence Of Sovereignty
This leads necessarily to the preeminence or the priority of the sovereignty of God. There is no question that the Word of God informs us to the fact that life is complicated that we live in a world filled of causes, catastrophes, and coincidences. Still, we dare not imagine a world where God is not sovereign. To imagine such a world would be to assign sovereignty to something other than God. But this of course is impossible. Angels are not sovereign (cf. Eph. 3.10). They have no ability to you usurp the sovereign purpose of God (cf. Lk. 10.18). Angels, whether demons or elect angels, do God's bidding. They serve His purpose and cannot thwart God's plan. This is why Jesus could assure His disciples that they would triumph over Satan's schemes:
Luke 10:18–20 18 And He said to them, "I was watching Satan fall from heaven like lightning. 19 "Behold, I have given you authority to tread on serpents and scorpions, and over all the power of the enemy, and nothing will injure you. 20 "Nevertheless do not rejoice in this, that the spirits are subject to you, but rejoice that your names are recorded in heaven."
The Sovereignty Of The Creator Above The Creature
What this means of course is that God is not in competition with His creation over who rules and governs the universe. Satan tried to compete with God's sovereignty and was cast down out of Heaven (Is. 14.12). The serpent and mankind questioned God's sovereign decrees and His sovereign rule in the Garden and were all cursed because of it (Gen. 3.14-16). Kings like Nebuchadnezzar who raise their fist at God in mockery and unbelief only to have God humble them making them recognize His sovereign dominion over all the affairs of man (Dan. 4; Prov. 21.1). But when it comes to His sovereignty there are three areas of greatest interest— Creation, the cross and salvation. This is where God's sovereignty is displayed most.
The Display Of Sovereignty
If we want to learn about the sovereignty of God we must choose our source our authority and our starting point. I only say this because unlike the Reformers, Historic Calvinists and of course the Puritans there are those who do not begin with Scripture but with philosophy and human reason rather than inspired revelation (cf. 1 Cor. 2.1-5; Col. 2.8). But if we don't begin and end with Scripture we cannot know for certain that what we are concluding about the sovereignty of God is true. So then if we want to study the sovereignty of God we must begin with the word of the sovereign God himself.
The Sovereignty of God is Displayed in Creation
The sovereignty of God in creation has to do with His providence and the meticulous maintenance of God over the universe down to the smallest detail. But God's sovereignty in creation is seen both in his power over things both big and small things which we may deem as historically significant or of no seeming significance at all— God is sovereign over all of it. Whether we are talking about the sparrows that fall to the ground (Mt. 10.29), the number of hairs on our head (Lk. 12.7), or the flower in an open field somewhere (Lk. 12.27)— God is in full control of all of it. Spurgeon brought this out long ago:
"I believe that every particle of dust that dances in the sunbeam does not move an atom more or less than God wishes,— that every particle of spray that dashes against the steamboat has its orbit as well as the sun in the heavens,—that the chaff from the hand of the winnower is steered as surely as the stars in their courses,—that the creeping of an aphis over a rosebud is as much fixed as the march of the devastating pestilence, and the fall of sere leaves from the poplar is as fully ordained as the tumbling of an avalanche. He who believes in God must believe this truth." [2]
Long ago did the prophets speak of this meticulous sovereignty:
Jeremiah 10:12–13 12 It is He who made the earth by His power, Who established the world by His wisdom; And by His understanding He has stretched out the heavens. 13 When He utters His voice, there is a tumult of waters in the heavens, And He causes the clouds to ascend from the end of the earth; He makes lightning for the rain, And brings out the wind from His storehouses.
It is God's meticulous superintendence of the created order that distinguishes Him from idols, it is a proof in other words of His existence and their non-existence:
Jeremiah 14:22 22 Are there any among the idols of the nations who give rain? Or can the heavens grant showers? Is it not You, O Lord our God? Therefore we hope in You, For You are the one who has done all these things.
God's sovereignty in creation does not just mean God is sovereign over the weather but He is sovereign over everything in His creation including human actions and events whether good or evil. Isaiah says as much:
Isaiah 45:7 7 The One forming light and creating darkness, Causing well-being and creating calamity; I am the Lord who does all these.
Not only did God decree the Fall of man into sin, He has decreed every other sin since then (Gen. 15.16). When Joseph was sold into slavery he came to believe that God had ordained that wicked act for a good purpose (Gen. 50.20). God tells Moses that He is sovereign over all disabilities including blindness, being deaf, and mental illness (Ex. 4.11). God however is not credited with committing iniquity— a fact that is always upheld in Scripture, "God is Light, and in Him there is no darkness at all" (1 John 1.5). Also:
James 1:13 13 Let no one say when he is tempted, "I am being tempted by God"; for God cannot be tempted by evil, and He Himself does not tempt anyone.
The reality is that God is the primary cause of all things good or bad, a fact which is undeniable in Scripture. Yet equally undeniable is the fact that God can never be credited with sin (Job 1.22), He cannot lie (Tit. 1.2), He cannot deny himself (2 Tim. 2.13) and He cannot be accused of sin (John 8.46; 14.30). It is the foolish man that would bring a reproach against God for any reason (Ps. 74.22; Prov. 19.3; Ezek. 18.25; Rom. 9.20). The reassuring thing for us is that everything even the adversity we undergo in this life God works for our good (cf. Rom. 8.28):
Genesis 50:20 20 "As for you, you meant evil against me, but God meant it for good in order to bring about this present result, to preserve many people alive.
The Sovereignty of God is Displayed in The Cross
As we consider just how sovereign God is an especially as it relates to His sovereign decrees over all things both good or evil; there is no greater display of that balance of sovereignty than at the cross. People do often err in looking to great human atrocities as the ultimate examples of evil and suffering as it relates to God. There is no greater sin that we can look at in all the world than the crucifixion of the holy Son of God to know that God not only allows evil, but ordains it for some good purpose rooted in His mysterious will. Because God had an infinitely good purpose in the death of His Son, the Lord was pleased to crush Him (cf. Is. 53.10). One text in Acts shows us the balance of all these factors in perfect tension:
Acts 4:24–28 24 And when they heard this, they lifted their voices to God with one accord and said, "O Lord, it is You who made the heaven and the earth and the sea, and all that is in them, 25 who by the Holy Spirit, through the mouth of our father David Your servant, said, 'Why did the Gentiles rage, And the peoples devise futile things? 26 'The kings of the earth took their stand, And the rulers were gathered together Against the Lord and against His Christ.' 27 "For truly in this city there were gathered together against Your holy servant Jesus, whom You anointed, both Herod and Pontius Pilate, along with the Gentiles and the peoples of Israel, 28 to do whatever Your hand and Your purpose predestined to occur.
What we learn from this text is that all the world was united in force against God's Christ, all of their vain imaginations about how they would not have this Man to rule over them (cf. Lk. 19.14), all of their God hating animosity, all of their hostility and hatred of God leveled against Christ and all of it ordained by the hand of a sovereign God— our sovereign God! God was sovereign over an international counsel comprised of Jews and Gentiles, God was sovereign over the authority of a Roman Governor in Pontius Pilate, a Jewish King in Herod, Roman soldiers and Jewish mobs all of which were united against God's holy Lamb of God. God was also sovereign over the satanic power behind the scenes fueling and provoking the people with an anti-Christ spirit. Jesus himself recognized that what was against Him in that very hour was the forces of darkness even more so than the forces of the Sanhedrin or Rome, "this hour and the power of darkness are yours" (Lk. 22.53). Yet, God's word assures us that this was all according to God's sovereign plan, "to do whatever Your hand and Your purpose predestined to occur" (Acts 4.28).
The cross also displays God's sovereignty in the fulfillment of Biblical prophecy. Dozens if not hundreds of prophecies fulfilled in Jesus' cross work. That God would crush the serpent (Gen. 3.15), that God would provide an ark of salvation (Gen 6; 1 Pet. 3.20-21), that God would provide himself a sacrifice (Gen. 22.5), that God would spill His blood to keep the covenant to Abraham (Gen. 15.17ff.; Acts 20.28), that God would send a kinsman Redeemer (Ruth 3.12; Lk. 24.21; Gal. 3.13; 4.5), that He would be betrayed for thirty pieces of silver (Zech. 11.12; Mt. 26.15), that not one bone on His body would be broken (Ex. 12.46; Num. 9.12; Ps. 34.20; Jn. 19.36), that He would be crucified among criminals and suffer the death of a transgressor (Is. 53.12), that His garments would be gambled away (Ps. 22.18; Jn. 19.24), that He would sing among his brethren on the cross (Ps. 22.1; Mk. 15.34; Heb. 2.11-13), that He would be buried in a rich man's tomb (Is. 53.9; Mt. 27.57-60), and that He would rise on the third day (Hos. 6.2; Jon. 1.17; Mt. 12.40; 1 Cor. 15.4), and be exalted to God's right hand where the Father would make His enemies a footstool for His Son's feet (Ps. 110.1; Lk. 20-42-43; Heb. 1.13), and that through His death and resurrection justification would come to God's elect (Is. 53.11-12; Rom. 4.25). These are but a few of the ways the cross displays the sovereignty of God.
The Sovereignty of God is Displayed in Salvation
Finally, the sovereignty of God is also displayed in the salvation of His people (cf. Mt. 1.21). Jonah said succinctly, "salvation is from the Lord" (Jon. 2.9). Speaking of the mystery of regeneration, Jesus gave us an analogy of sovereign salvation and the Spirit's freedom and power to save:
John 3:8 8 "The wind blows where it wishes and you hear the sound of it, but do not know where it comes from and where it is going; so is everyone who is born of the Spirit."
When the wind of salvation blows, we understand that God was totally free and sovereign in imparting life. The wind "blows where it wishes" and there is none to stop the power and force and prevailing power of the wind. Conversely, when the Spirit "wishes" to blast out in salvation, ten million armies of men or demons are powerless to stop up God's sovereign power in regeneration. Paul insists, we were dead, but God "made us alive" by virtue of our union with Christ (Eph. 2.5). Salvation is a matter of union with Christ. God decided from before the foundations of the world to chose a people for himself in Christ for salvation:
Ephesians 1:4–5 4 just as He chose us in Him before the foundation of the world, that we would be holy and blameless before Him. In love 5 He predestined us to adoption as sons through Jesus Christ to Himself, according to the kind intention of His will,
2 Thessalonians 2:13 13 But we should always give thanks to God for you, brethren beloved by the Lord, because God has chosen you from the beginning for salvation through sanctification by the Spirit and faith in the truth.
Perhaps no other single text unifies more elements of salvation more than Romans 8 and what has been called "the golden chain" of redemption:
Romans 8:29–30 29 For those whom He foreknew, He also predestined to become conformed to the image of His Son, so that He would be the firstborn among many brethren; 30 and these whom He predestined, He also called; and these whom He called, He also justified; and these whom He justified, He also glorified.
[1] A.W. Pink, The Sovereignty of God, 1979 ed. (Grand Rapids: Baker Books) p. 19).
[2] C. H. Spurgeon, The Metropolitan Tabernacle Pulpit Sermons, vol. 54 (London: Passmore & Alabaster, 1908), 502.