Godly Generosity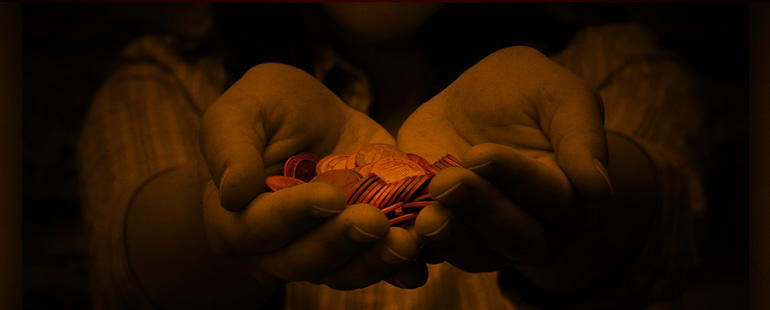 Text and Exposition
1"Now, brethren, we wish to make known to you the grace of God which has been given in the churches of Macedonia, 2 that in a great ordeal of affliction their abundance of joy and their deep poverty overflowed in the wealth of their liberality. 3 For I testify that according to their ability, and beyond their ability, they gave of their own accord, 4 begging us with much urging for the favor of participation in the support of the saints, 5 and this, not as we had expected, but they first gave themselves to the Lord and to us by the will of God. 6 So we urged Titus that as he had previously made a beginning, so he would also complete in you this gracious work as well."
Γνωρίζομεν δὲ ὑμῖν, ἀδελφοί, τὴν χάριν τοῦ θεοῦ τὴν δεδομένην ἐν ταῖς ἐκκλησίαις τῆς Μακεδονίας, 2 ὅτι ἐν πολλῇ δοκιμῇ θλίψεως ἡ περισσεία τῆς χαρᾶς αὐτῶν καὶ ἡ κατὰ βάθους πτωχεία αὐτῶν ἐπερίσσευσεν εἰς τὸ πλοῦτος τῆς ἁπλότητος αὐτῶν· 3 ὅτι κατὰ δύναμιν, μαρτυρῶ, καὶ παρὰ δύναμιν, αὐθαίρετοι 4 μετὰ πολλῆς παρακλήσεως δεόμενοι ἡμῶν τὴν χάριν καὶ τὴν κοινωνίαν τῆς διακονίας τῆς εἰς τοὺς ἁγίους, 5 καὶ οὐ καθὼς ἠλπίσαμεν ἀλλ' ἑαυτοὺς ἔδωκαν πρῶτον τῷ κυρίῳ καὶ ἡμῖν διὰ θελήματος θεοῦ 6 εἰς τὸ παρακαλέσαι ἡμᾶς Τίτον, ἵνα καθὼς προενήρξατο οὕτως καὶ ἐπιτελέσῃ εἰς ὑμᾶς καὶ τὴν χάριν ταύτην.
Preliminary Text
"Paul now transitions to the heart of the epistle. The Jerusalem collection is the primary and current concern in Corinth. Paul is eager to regain whatever ground might have been lost through the problematic issues raised in the first seven chapters. As Paul urges the Corinthians to give themselves fully to the mission of bringing much needed aid to the Jerusalem saints he sets before them the example of the Macedonian churches and their godly generosity. We may pull numerous valuable principles from Paul's Macedonian boast. They proved a worthy example as they gave selflessly. Paul sees their generosity as proof of God's own gracious work for they transcended their trials on their way to blessing others. Their service was sacrificial and selfless. They also had shown an eagerness to fellowship with others in bringing aid to the Jerusalem saints. These churches were deeply devoted to the Lord which resulted in their willingness to submit themselves to their leaders in compliance with this gracious work of giving. Paul's hope and seeming confidence is that the example of the Macedonian churches will compel the Corinthians to imitate their faith and godly generosity in similar devotion to the Lord and concern for His church."
In the first part of this letter (Ch. 1-7) Paul covered an extensive array of subjects in defense of his apostolic ministry for the sake of reconciling with the Corinthians and setting things right with previous offenses. Here (Ch. 8-9), Paul now turns to focus on the issue of the Jerusalem collection. This collection was to alleviate the suffering of poverty stricken Christians in Jerusalem (cf. Rom. 15.26). In the present letter the recipients of the collection are not specified; referred only as "the saints" (8.4; 9.1). For Paul this collection is directly tied to his purpose in coming to them. Titus is to go ahead of Paul and make sure the collection is prepared for his own arrival (8.16-24; 12.20, 21; 13.1, 2).
The passage itself although focused on giving is not focused on the regular giving of the congregation but is instead focused on a particular collection from a multitude of churches for the sake of the church(s) in Jerusalem. Nevertheless, this entire portion of the letter is still deeply informative for the whole subject of Christian giving. The following exegesis will yield bountiful insights into the Scripture's teaching of New Covenant giving. Paul begins his section on the collection by emphasizing the nature of godly generosity as seen through the example of "the churches of Macedonia."
1.) GENEROSITY FLOWS FROM GRACE
v.1,
1"Now, brethren, we wish to make known to you the grace of God which has been given in the churches of Macedonia,"
The very first principle that Paul set out before us in the letter regarding giving is the connection between God's "grace" (χάρις) and our giving. As Paul transitions from his apostolic defense and the mending of his relationship with the church, he appeals to them as brethren saying, "Now brethren" (δὲ… ἀδελφοί). As Paul begins his appeal to the Corinthians to "complete" (8.6, 11) the collection (i.e. through Titus) he gives the Corinthians an example they can follow in "the churches of Macedonia" (ταῖς ἐκκλησίαις τῆς Μακεδονίας).
Although the focus of Paul's reference to the Macedonian churches has to do with their "liberality", he first gives us the basis of their great generosity namely, "the grace of God" (τὴν χάριν τοῦ θεοῦ). To add to utter Theocentric nature of God's grace, Paul uses the perfect passive participle (δεδομένην) to indicate supernatural origin of their giving. As a perfect participle, Paul emphasizes the permanent impartation of God's grace that now presently fuels their giving.
As a passive participle Paul emphasizes the fact that the Macedonian churches received something from God (the implied Agent of the participle). Thus, Paul points to the result of God's grace having been given and received as the basis of the church's generosity. Practically speaking this is where all true generosity should flow from. It should flow from God and His grace. More than from mere obligation and aside from all manner of spiritual manipulation and gimmickry, generous giving should be rooted in "the grace of God."
This being the case, there was certainly a level of Christian maturity in both the setting forth of the Macedonian example by Paul and the appreciation of their example by the Corinthians. Paul was not seeking to get churches to compete against each other but to complement one another by learning from each other. He was not trying to make the Corinthians jealous of the Macedonian churches but zealous to imitate their faith in order to experience the blessedness of giving (cf. 9.8-12). (see, David E. Garland, NAC, 2 Corinthians; p.366).
Paul saw the liberality of the Macedonian churches as evidence that God's grace was abundantly at work in those churches. Churches such as Philippi, Berea, and Thessalonica were given the extraordinary privilege of being shown off as trophies of God's grace. Apparently, such churches excelled in their generosity. The Philippian church was certainly one of these generous churches. Judging from the letter to the Philippians this should come as no surprise:
Philippians 4:15–18 15 "You yourselves also know, Philippians, that at the first preaching of the gospel, after I left Macedonia, no church shared with me in the matter of giving and receiving but you alone; 16 for even in Thessalonica you sent a gift more than once for my needs. 17 Not that I seek the gift itself, but I seek for the profit which increases to your account. 18 But I have received everything in full and have an abundance; I am amply supplied, having received from Epaphroditus what you have sent, a fragrant aroma, an acceptable sacrifice, well-pleasing to God."
We should be careful to note that for Paul, giving for the sake of the gospel and the advancement of God's Kingdom was a matter of worship. Paul relished the financial generosity of this church's gifts because God saw it as an act of worship in which He delighted. In the end, Paul knew that such generosity would result in thanksgiving to God, praise to God, and glorifying God as the source of all financial and material blessing whatsoever:
2 Corinthians 9:12 12 "For the ministry of this service is not only fully supplying the needs of the saints, but is also overflowing through many thanksgivings to God."
2.) GENEROSITY TRANSCENDS CIRCUMSTANCES
v.2,
2"that in a great ordeal of affliction their abundance of joy and their deep poverty overflowed in the wealth of their liberality."
As a result of the overflow of God's grace in their lives, the Macedonian churches were also exemplary because of their perseverance in doing good. These churches gave in a difficult context. Their generosity was not borne out of convenience or abundance. It was not because they had so much left over that they could spare being generous with their excess; we could say they gave "out of season" as it were. Verse 2 supplies the content of "the grace of God" which was given to these believers. The verse is thus explanatory and the conjunction (ὅτι) connects the thought with the head verb of verse 1, "to make known" (Γνωρίζομεν). Both the NASB and the ESV (also NIV) add an Optative nuance to the text, saying in effect, "we wish" or "we want to make known", in this context, the godly generosity of the Macedonian churches. Whereas the NKJV and the NET state it more literally as, "we make known to you" (note the Indicative mood of: Γνωρίζομεν).
Paul is purposefully setting the example of these churches before the Corinthians because they provided such an amazing example of godly generosity. Paul points out that their generosity was also stellar because of their situation and more than that but that their generosity transcended their circumstances. Paul mentions two things in particular, their "affliction" and their "poverty."
2.1, Godly generosity transcends great trials
Paul explains that the Macedonian's trials were quite severe by repeating the word "great" (πολύς) both with respect to their "affliction" (θλῖψις) and their "poverty." First, Paul refers to the "affliction" of the Macedonian churches as a "great ordeal" (πολλῇ δοκιμῇ). The term "ordeal" (δοκιμή) simply means "test" and here it refers to the "testing process" of the church's faith (cf. BDAG). Needless to say these churches passed the test. That is, they endured their trials and tests with joy they persevered under extreme suffering in such a way that they did not lose their joy in the process (cf. 7.4). But what exactly was the nature of their "ordeal?" There is no doubt that this "ordeal" refers primarily to persecution at the hands of the Romans and the Jews (cf. Acts 17.5-8). Paul's epistles to the churches in that region reveal the presence of such persecution:
Philippians 1:29 29 "For to you it has been granted for Christ's sake, not only to believe in Him, but also to suffer for His sake,"

1 Thessalonians 1:6 6 "You also became imitators of us and of the Lord, having received the word in much tribulation with the joy of the Holy Spirit,"

1 Thessalonians 2:14–15 14 "For you, brethren, became imitators of the churches of God in Christ Jesus that are in Judea, for you also endured the same sufferings at the hands of your own countrymen, even as they did from the Jews, 15 who both killed the Lord Jesus and the prophets, and drove us out. They are not pleasing to God, but hostile to all men,"

2 Thessalonians 1:4 4 "therefore, we ourselves speak proudly of you among the churches of God for your perseverance and faith in the midst of all your persecutions and afflictions which you endure."
2.2, Godly generosity transcends great poverty
Furthermore, their "poverty" can also be considered great because of Paul's description of the depth of their poverty, "deep poverty" (βάθους πτωχεία). During the Intertestamental period, the word "poverty" (πτωχεία) was used to described someone who was in a beggarly condition (see, BDAG). These churches were themselves in need. These churches could have used support themselves but they chose rather to think of others. This type of selfless giving can only be described as godly generosity, selfless generosity. They lived in the reality of what the Lord Jesus Himself taught (probably in principle) that, "it is more blessed to give than to receive" (Acts 20.35). Interestingly enough such maxims where regularly found in the ancient world (e.g. Thucydides, see, Bock, Acts: BECNT; p. 632) that is, the idea of giving selflessly. However, nothing like Christian theology which sees such giving as an expression of holy love and divine worship. Thus, In both their ordeal of persecution and their occasion of poverty these churches rose above their circumstances and maintained their "joy" (τῆς χαρᾶς) in the midst of the fire. This was evidenced by their continued obedience and continued willingness to participate in the gospel and in the care and ministry of the saints.
3.) GENEROSITY IS ROOTED IN SACRIFICIAL SERVICE
v.3,
3"For I testify that according to their ability, and beyond their ability, they gave of their own accord,"
Closely related to this point is the idea that these Macedonians gave in a truly sacrificial way. Paul solidifies their generosity with an oath, "I testify" (μαρτυρῶ) meaning that such amazing displays of generosity were completely genuine and pure. Paul knew these churches personally, attested to their faith and their generosity (e.g. Phil. 4.15).
Paul wants the Corinthians to know not only the depth of their poverty but also the greatness of their generosity. Paul argues from the lesser to the greater. They met the standard of giving one might expect, "according to their ability" (ὅτι κατὰ δύναμιν); but Paul's emphasis was on their sacrifice, "beyond their ability" (παρὰ δύναμιν); and even the nature of their sacrifice, "they gave of their own accord" (αὐθαίρετοι). This last phrase, "they gave of their own accord", shows us several things:
First, they were not pressured. This means Paul did not need to engage in what is so common today with in the area of giving namely, monetary manipulation. Second, they were motivated. The word that Paul uses here for their "own accord" (αὐθαίρετος) literally mean's "self chosen" or "choosing for yourself" (see, BDAG). Paul will use the word one more time in (8.17) of Titus's own willingness to go visit the church; the word does not appear anywhere in the NT or LXX. It mean then that the Macedonians gave because they had the proper motivation and needed no coercion or gimmicks to get them going. Third, they were genuine. Because they gave without being forced and because they gave out of the proper motivation, they were genuinely generous. No doubt they gave in the spirit of what Paul will go on to describe in chapter 9:
2 Corinthians 9:7 7 "Each one must do just as he has purposed in his heart, not grudgingly or under compulsion, for God loves a cheerful giver."
To add to the generosity of these churches its important to keep in mind that these predominantly Gentile churches giving to Jewish believers in Jerusalem:
Romans 15:26–27 26 "For Macedonia and Achaia have been pleased to make a contribution for the poor among the saints in Jerusalem. 27 Yes, they were pleased to do so, and they are indebted to them. For if the Gentiles have shared in their spiritual things, they are indebted to minister to them also in material things."
4.) GENEROSITY IS ROOTED IN DEVOTION
vv.4-5,
4"begging us with much urging for the favor of participation in the support of the saints, 5 and this, not as we had expected, but they first gave themselves to the Lord and to us by the will of God."
What all of this amounts to is the fact that the Macedonian churches had a thoroughly spiritual perspective of giving. This is also clearly seen by the next component of their godly generosity namely, worship. When such generosity is rooted in devotion and worship it exceeds expectations.
This devotion can be seen by the language of eagerness and participation, "begging us with much urging for the favor of participation in the support of the saints, 5 and this, not as we had expected" (μετὰ πολλῆς παρακλήσεως δεόμενοι ἡμῶν τὴν χάριν καὶ τὴν κοινωνίαν τῆς διακονίας τῆς εἰς τοὺς ἁγίους, 5 καὶ οὐ καθὼς ἠλπίσαμεν) (8.4-5a). These Macedonians were thrilled for the opportunity to serve "the saints" (τοὺς ἁγίους) in Jerusalem. They saw this opportunity to give as an opportunity for grace literally, (note the use of χάρις). Most EVV translate this verse as, "the favor of participation" (NASB) or "the favor of taking part" (ESV) or "the privilege of sharing" (NIV); however the original can be more literally translated, "begging us with much urging for the grace and the fellowship of the support for the saints." The Macedonians wanted to become partakers both of the grace and the fellowship involved in this support effort. Paul says this type of eagerness was "not as we had expected" (οὐ καθὼς ἠλπίσαμεν) meaning that it far exceeded even his expectations.
For these Macedonians and for all similar gospel ministry two things were involved; first, giving yourself to the Lord and second giving yourself to others. This is precisely what Paul says, "they first gave themselves to the Lord and to us by the will of God." When Paul says that they gave themselves "to the Lord" (τῷ κυρίῳ), several things may be implied. It may mean that they needed to commit the situation to prayer so that prayerful consideration of their contribution may be undertaken. It may also mean that they committed themselves afresh to the cause of Christ. Most often an articular use of "Lord" refers to Christ (see, Harris; p.568 n.60). They had given themselves to the Lord in the sense that they were devoting themselves to Christ before all else. As MacArthur pointed out, this commitment was not "of first in time, but of first in priority" (MacArthur, 2 Corinthians; p.284).
Only as the Macedonians had first devoted themselves to Christ and His Kingdom would they have the right heart then to devote themselves to His church leaders. The principle here is quite simple; believers should always seek the Lord in all matters financial or otherwise. No doubt, these Macedonians gave this collection significant thought. They were not careless or sloppy givers. No doubt they had put their heart and soul as it were into this generous gift. This is why Paul can be so confident that their participation with them was "by the will of God" (διὰ θελήματος θεοῦ). Not every open door for financial support is "God's will." Every venture of their sort should be committed to great prayer and great devotion. When we see that our giving is an act of worship, we will be much more circumspect to make godly decisions in financial commitments.
5.) GENEROSITY CREATES GREATER GENEROSITY
v.6,
6"So we urged Titus that as he had previously made a beginning, so he would also complete in you this gracious work as well."
The final aspect of godly generosity is in the doing. Paul was concerned to see the Corinthians follow in the Macedonian's example so he brings up Titus' visit again to urge them while he himself was absent not to fall short in completing the collection he had begun a year ago. Paul mentions this "beginning" in verse 10 and in the next chapter and it is evidence that this business of the Jerusalem collection was initially adopted by the Corinthians among the Gentile churches:
2 Corinthians 8:10 10 "I give my opinion in this matter, for this is to your advantage, who were the first to begin a year ago not only to do this, but also to desire to do it."

2 Corinthians 9:2 2 "for I know your readiness, of which I boast about you to the Macedonians, namely, that Achaia has been prepared since last year, and your zeal has stirred up most of them."
This may also be an exegetical link between contexts. For, the first seven chapters are actually a tragic interruption of the "gracious work" which begins here in chapter 8. This should also be a lesson in the erosion of effectiveness in ministry. Because the Corinthians had fallen prey to division and disorder, particularly in an anti-Pauline fashion (cf. 2.5), they had stunted their growth in the gospel. This is why he needed so desperately to send Titus and correspond with him (cf. 2.13; 7.5-6).
Paul sends Titus on one of his most important missions and he had "urged" (παρακαλέω) him that he "complete" (ἐπιτελέω) what Paul beautifully entitles "this gracious work" literally simply, "this grace" (τὴν χάριν ταύτην) – recognizing that all of this activity is the byproduct of God's gracious activity among His people (cf. Phil. 1.7). Paul is confident that as the church follows the example of the Macedonians they too would be motivated by the grace of God, rise above their circumstances, give sacrificially, devote themselves to the Lord and the their leaders, and generate godly generosity in others. This text demonstrates that the godly generosity of one group one church can create greater generosity in others in other churches.