God's Electing Love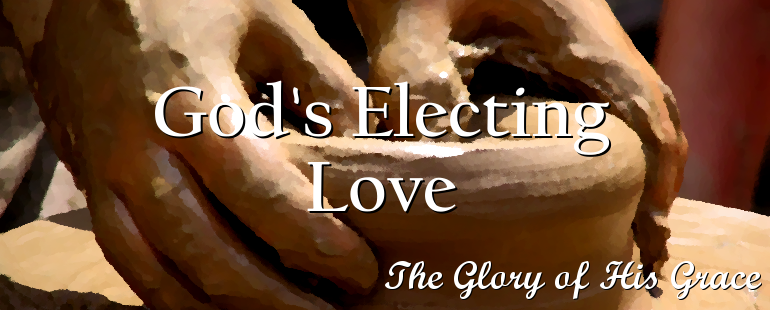 The Glory of His Grace, Part 3:
God's Electing Love
Exodus 33:17–19 17 The Lord said to Moses, "I will also do this thing of which you have spoken; for you have found favor in My sight and I have known you by name." 18 Then Moses said, "I pray You, show me Your glory!" 19 And He said, "I Myself will make all My goodness pass before you, and will proclaim the name of the Lord before you; and I will be gracious to whom I will be gracious, and will show compassion on whom I will show compassion."
A puzzling answer to a profound request, "I will be gracious to whom I will be gracious, and will show compassion on whom I will show compassion" (Ex. 33.19). The only reason we may be tempted to think that this is a strange way to respond to Moses' request is if we don't understand what God's response means. Moses' request to see God's glory is a request to see the glory of the Triune God— to see all that it means to be God. Essential to God's nature therefore is His freedom to dispense His mercy and grace on whomever God wills. This issue is ultimately settled in Romans 9 where Paul is seeking to answer the question as to how it is possible for the Jews to whom the promises were made (Rom. 9.4-5), to forfeit salvation. Paul answers what his readers may naturally think, 'has God's word failed?' (9.6), 'is there injustice with God?' (9.14). Paul answers by developing the the doctrine of unconditional election. He does this in a number of ways: 1) by declaring that not all Israel is Israel (9.6) thereby introducing a special Israel of God called the "children of God" distinct from purely ethnic Israel (9.6-9), 2) by grounding God's redemptive purposes in election and not on the basis of anything Abraham's physical descendants did; good or evil (9.10-13), 3) by securing God's sovereign election as a matter of God's free and sovereign purposes to either show mercy unto salvation or harden unto destruction (9.14-18), 4) by arguing that finite man has no right to question an infinite God (9.19-21), 5) by concluding that supreme in God's purpose for the world is the display of His full glory i.e. both His mercy and His wrath (9.22-23). John Piper's famous Romans 9 book, The Justification of God, concludes that God's sovereign freedom is, "The essence of what it means to be God. This is his name."[1]
Historically the doctrine of unconditional election teaches that God chose us in Christ before the world began on the basis of His infinite merit so that we would come to believe in Him. This is based on God's foreknowledge whereby He comes to love a people as His own possession. Election is not the result of God foreseeing that of all those He would create some would exercise faith and believe resulting in and triggering God's choice of them. One has God responding, the other has God resolving to save a particular people for His own glory. In the former salvation is a reward the payment for one's faith, in the latter salvation is a free gift bestowed on undeserving sinners. The latter is what the Reformers taught[2]; but they also taught that election as high a lofty doctrine as it is and together with predestination should only be sought in Scripture. Calvin for example:
"… to seek any other knowledge of predestination than what the Word of God discloses is not less insane than if one should purpose to walk in a pathless waste [cf. Job 12:24], or to see in darkness. And let us not be ashamed to be ignorant of something in this matter, wherein there is a certain learned ignorance. Rather, let us willingly refrain from inquiring into a kind of knowledge, the ardent desire for which is both foolish and dangerous, nay, even deadly."[3]
This is good advice since Scripture itself warns us about excessive curiosity (cf. Dt. 29.29). Any and every conversation about election and predestination must begin and end in divine revelation not human philosophy or even human insight from the most respected theologian.
Election in the Old Testament
The concept of election and God's choosing has various expressions in Scripture. When we begin to look at the OT evidence, we find Israel being chosen not necessarily for eternal salvation but only for various national privileges (Dt. 4.37; 7.6–8; 10.15; Hos. 13.5). We also see people being chosen by God to fulfill some office or function like a prophet (Jer. 1.5), a king (1 Sam. 10.24), or an apostle (John 6.70; Acts 9.15).
Still, there is a salvific election that only means that one has been chosen for eternal life and this aspect is what we need to focus on. The way we ought to think of God's election as we move from OT to NT and from something like national non-salvation election to strictly salvific election is typological, metaphorical and a relationship from the lesser to the greater. If God's choice of Israel to be His chosen nation from among all the nations of the earth was great how much greater is God's choice to choose a people from all the nations throughout all history for eternal salvation in Christ? We see that God's sovereign election is based on God's own sovereign purpose to be glorified and praised (Eph. 1.3-12).
Nehemiah 9:5b "Arise, bless the Lord your God forever and ever! O may Your glorious name be blessed And exalted above all blessing and praise!
Here that "praise" is ascribed to the Lord in part for His having chosen the great Patriarch of the nation from his pagan roots:
Nehemiah 9:7 7 "You are the Lord God, Who chose Abram And brought him out from Ur of the Chaldees, And gave him the name Abraham.
Regarding Abraham, Genesis tells us that God's own sovereign choice of Abraham is rooted in His covenant love for Abraham and the fact that God had "known" Abraham. This is why God is willing to disclose His sovereign purposes to him as the friend of God:
Genesis 18:17–19 17 The Lord said, "Shall I hide from Abraham what I am about to do, 18 since Abraham will surely become a great and mighty nation, and in him all the nations of the earth will be blessed? 19 "For I have chosen him..."
But what happened to the patriarchs and the nation Israel on a general level is nevertheless instructive of God's salvation for us in Christ. In fact, Deuteronomy gives us several facets of God's electing love:
Deuteronomy 7:6–8 6 "For you are a holy people to the Lord your God; the Lord your God has chosen you to be a people for His own possession out of all the peoples who are on the face of the earth. 7 "The Lord did not set His love on you nor choose you because you were more in number than any of the peoples, for you were the fewest of all peoples, 8 but because the Lord loved you and kept the oath which He swore to your forefathers, the Lord brought you out by a mighty hand and redeemed you from the house of slavery, from the hand of Pharaoh king of Egypt.
What Israel's election teaches us is the nature of God's choosing. That He chooses for the purpose of holiness (John 17.13-19; Eph. 1.4), that He seeks to have a people for His own possession speaking to God's own personal interests in the thing chosen (Tit. 2.14; 1 Pet. 2. 9), He seeks to separate us from the world of the profane (John 15.19; 16.14), God's choice is based on His covenant love (John 15.9), God's love is not conditional on anything good in us (Rom. 5.8), God delights in choosing what the world does not esteem (1 Cor. 1.26-31), God's choice is rooted in His boundless love and His covenant faithfulness (Lk. 1.73; Acts 2.30;1 John 3.1; 2 Cor. 1.20; 2 Pet. 3.9). These are only a few ways that God's general election in the OT points us to our election in Christ. This is precisely Peter's point:
1 Peter 2:9 9 But you are a chosen race, a royal priesthood, a holy nation, a people for God's own possession, so that you may proclaim the excellencies of Him who has called you out of darkness into His marvelous light;
Messianic Election
There is also a very important Christological connection in the OT. Messianic election has to do first and foremost with being chosen in Christ who is himself Gods' prototypical chosen One (Is. 42.1; 43.10; 49.7; Ps. 89.3, 19; Mt. 12.18; Lk. 23.35; 24.26; Acts 2.23; 4.28; 1 Pet. 1.20; 2.4). He is chosen not for salvation but to accomplish and apply salvation to God's people (cf. Is. 49.7-8). In other words, election not only had a national focus it also had a Messianic focus. This is the high point of OT election. Thus, the prophets had their way of referring to election and union in Christ before Paul:
Psalm 89:3–4 3 "I have made a covenant with My chosen; I have sworn to David My servant, 4 I will establish your seed forever And build up your throne to all generations." Selah. (Ps. 89.19-29).
God's election of His Servant is also picked up in Isaiah where God's people are again in some way united to Him and benefit from His election:
Isaiah 42:1 1 "Behold, My Servant, whom I uphold; My chosen one in whom My soul delights. I have put My Spirit upon Him; He will bring forth justice to the nations.
Election in the New Testament
There is no question that Israel's election was typological of Christ and His election (cf. Is. 44.1-3 cf. Joel 2.28; Acts 2.16). This is Isaiah's way of saying what Paul says in Ephesians 1, that is, that in Christ we have "every spiritual blessing in the heavenly places in Christ." So then we turn our attention to the New Testament where the doctrine of election only becomes brighter, richer and full.
Election in the gospels
In the Gospel the doctrine of election is at the very heart of the gospel message. The gospel is about the good news of salvation; the fact that God moved to save sinners through Jesus Christ. But the gospel is good news for several reasons that are connected to the doctrine of election (cf. Rom. 8.28-30). First of all, the gospel is about God actually saving sinners not making sinners savable (cf. Heb. 10.12; Rom. 8.34; Col. 3.1; 1 Pet. 1.18-21). Second, the gospel secures that salvation for those whom God has chosen unconditionally and on the basis of His free grace. These points will be developed further below. Here we should return to the beginning of the gospel narrative to see this particular and efficacious salvation spelled out. The gospel begins with the pronouncement of God's intent to send His Son in order to save His elect people (cf. 1 Tim. 1.15):
Matthew 1:21–23 21 "She will bear a Son; and you shall call His name Jesus, for He will save His people from their sins." 22 Now all this took place to fulfill what was spoken by the Lord through the prophet: 23 "Behold, the virgin shall be with child and shall bear a Son, and they shall call His name Immanuel," which translated means, "God with us."
In the ministry of Jesus we find some of the strongest pronouncements of sovereign election in all of Scripture straight from the mouth of Jesus himself. From a Trinitarian perspective both the Father and the Son work in perfect harmony to reveal the knowledge of God for salvation (1 Pet. 1.1-2):
Matthew 11:25–27 25 At that time Jesus said, "I praise You, Father, Lord of heaven and earth, that You have hidden these things from the wise and intelligent and have revealed them to infants. 26 "Yes, Father, for this way was well-pleasing in Your sight. 27 "All things have been handed over to Me by My Father; and no one knows the Son except the Father; nor does anyone know the Father except the Son, and anyone to whom the Son wills to reveal Him.
What we are looking at here is a sovereign choice on the part of the Son to impart the life saving knowledge of God. This choice is however in perfect harmony with the decree of God to hand all things over to the Son. These things as the text makes plain are things pertaining to a saving knowledge of the Father and the Son. Jesus in other words acts in perfect harmony with the sovereign decrees of God the sovereign will of His Father to choose people according to His will. This is why Jesus has a perfect knowledge about how salvation works. When Jesus said, "For many are called, but few are chosen" (Mt. 22.14), He was not making an observation He was making a declaration of sovereign election and how it works.
In the Gospels election informs the dispensation of God's truth to His elect through Christ. He calls His people fully aware of who has been called effectually and who has not, "Did I Myself not choose you, the twelve, and yet one of you is a devil?" (John 6.70). He revealed truth and He hid the truth according to God's sovereign purpose, "Jesus answered them, "To you it has been granted to know the mysteries of the kingdom of heaven, but to them it has not been granted" (Mt. 13.11). Jesus went on to point out that even His refusal to disclose himself to certain people was part of His prophetic calling and part of fulfilling biblical prophecy concerning God's hardening of the non-elect and effectually calling the elect (Mt. 13.14-15 cf. Is. 6.9-10).
Jesus had no problem using the word "elect" to speak of believers in general. Today we try and keep the word elect under our breath lest we upset people who do not like the idea that God just has a group of elect people who He is saving perfectly and rescuing mercifully while the world of the non-elect perish in their sin and unbelief. 'Do we have an unashamed love for the elect?' Jesus did. He expresses this very thing even in the context of a parable on prayer. Notice that election is not even the point, the fact that Jesus uses the term elect in this context shows the subconscious nature of the doctrine in the Jewish mind:
Luke 18:6–8 6 And the Lord said, "Hear what the unrighteous judge said; 7 now, will not God bring about justice for His elect who cry to Him day and night, and will He delay long over them? 8 "I tell you that He will bring about justice for them quickly. However, when the Son of Man comes, will He find faith on the earth?"
Eschatologically, God is ultimately and finally concerned with the wellbeing of His elect people:
Matthew 24:22 22 "Unless those days had been cut short, no life would have been saved; but for the sake of the elect those days will be cut short.
Matthew 24:24 24 "For false Christs and false prophets will arise and will show great signs and wonders, so as to mislead, if possible, even the elect.
Election in the apostles
In the apostles the doctrine of election comes into greater focus still. Several aspects of the apostles teaching on election show that election is based on the free choice of God. In other words, its totally unconditional— not based on what we have done good or evil. God calls us in Christ from all eternity not according to anything that we have done or that He foresees in us although He has perfect prescience:
2 Timothy 1:9 9 who has saved us and called us with a holy calling, not according to our works, but according to His own purpose and grace which was granted us in Christ Jesus from all eternity,
Romans 9:11 11 for though the twins were not yet born and had not done anything good or bad, so that God's purpose according to His choice would stand, not because of works but because of Him who calls,
Election is not conditional for becoming elect and it is not conditional for staying elect so that our election is absolutely certain and sure. In other words, the purpose of God is immutable His sovereign decree to save a people for His own possession will never change:
2 Timothy 2:19 19 Nevertheless, the firm foundation of God stands, having this seal, "The Lord knows those who are His," and, "Everyone who names the name of the Lord is to abstain from wickedness."
This passage introduces the idea of an order to salvation and logic to salvation. For God to know His own does not simply mean that He knows who they are, but that He has committed himself to them with a holy covenant love (Dt. 10.15), thus the call for holiness as God's chosen ones:
Colossians 3:12 12 So, as those who have been chosen of God, holy and beloved, put on a heart of compassion, kindness, humility, gentleness and patience;
Not only does the concept of election lead us to a certain logical connection i.e. if we are chosen we are to be holy; but also it leads us to an undeniable order in our salvation as well. This order is presented to us in Romans 8 in a succinct and logical order that cannot be undone no matter how hard people try:
Romans 8:29–30 29 For those whom He foreknew, He also predestined to become conformed to the image of His Son, so that He would be the firstborn among many brethren; 30 and these whom He predestined, He also called; and these whom He called, He also justified; and these whom He justified, He also glorified.
Jesus said, "you did not choose me, but I chose you" (John 15.16) which means that God has preeminence in salvation. God is free to choose we are not, our salvation is based on His choice not ours. That brings up tons of questions for people who usually do not approach the Bible from a God-centered point of view. How is that fair, what about my children, my spouse, my family and friends; are they doomed without any ability to change their destiny? The reality is, that these are the wrong question to be asking. The person who has been subdued by the Spirit of God and seeks to live for the glory of God is concerned more than anything with God's glory and not with questioning the goodness of God. The question we should be asking is, why would God choose anyone? What is man that He is mindful of him let alone come to earth and die on a cross for him?
The reality is that everything serves the doctrine of election, even the non-elect because what God is doing in the election of His people is building a new humanity, a new people, a new temple-structure where His presence can dwell forever. Theologian Herman Bavinck brings out the awesome redemptive wonder of God's work of election in this way:
"Election is the divine "idea," the eternal blueprint of the temple that he builds in the course of the ages and of which he is the supreme builder and architect. All things are subordinate and subservient to the construction of that temple. Just as all the decrees of God culminate in that of the glorification of God, so the entire history of the world and humankind works together for the coming of the kingdom of God. "Even those who are not citizens of that kingdom," says Calvin, "are born with a view to the salvation of the elect." Creation and fall, preservation and governance, sin and grace, Adam and Christ—all contribute, each in his or her own way, to the construction of this divine edifice, and this building itself is built to the honor and glorification of God. "All [things] are yours, and you are Christ's, and Christ is God's" (1 Cor. 3:21–23 KJV)."[4]
[1] John Piper, The Justification of God (Grand Rapids: Baker, 1992), 219.
[2] See, Richard A. Muller, Post-Reformation Reformed Dogmatics: The Rise and Development of Reformed Orthodoxy; Volume 3: The Divine Essence and Attributes (Grand Rapids, MI: Baker Academic, 2003), 436ff..
[3] John Calvin, Institutes of the Christian Religion & 2, ed. John T. McNeill, trans. Ford Lewis Battles, vol. 1, The Library of Christian Classics (Louisville, KY: Westminster John Knox Press, 2011), 923.
[4] Herman Bavinck, John Bolt, and John Vriend, Reformed Dogmatics: God and Creation, vol. 2 (Grand Rapids, MI: Baker Academic, 2004), 404–405.