God's Invincible Grace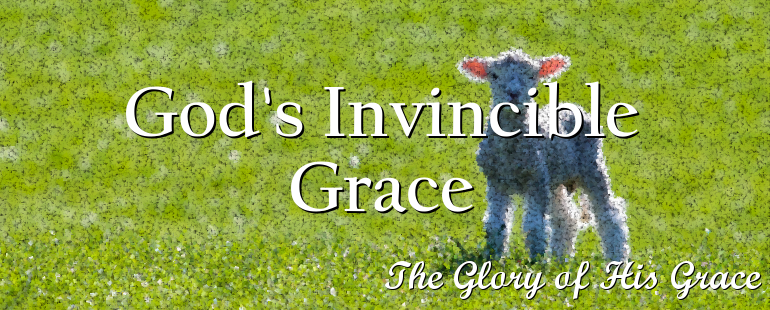 The Glory Of His Grace, Pt.5
God's Invincible Grace
Psalm 65:4 4 How blessed is the one whom You choose and bring near to You To dwell in Your courts. We will be satisfied with the goodness of Your house, Your holy temple.
Having looked so far at the nature of man's depravity, God's electing love and the extent of Christ's atonement; the doctrine of irresistible grace is a logical consequence rooted in the inability of man, the sovereign election of God's people and the limited nature of Christ's atonement. God's invincible grace is theologically, and as we hope to see, exegetically connected to all of these doctrines. It may first be best to simply define what precisely is meant by the Reformed teaching Irresistible Grace: Irresistible grace means that God's grace overcomes man's unbelief and rebellion giving him the ability to believe in the gospel through God's sovereign power in regeneration. This has also been called Effectual Calling. The doctrine of God's invincible grace is based on a comprehensive study of the word of God regarding how God calls a person to salvation, why men reject the offer of salvation, how men receive the grace of God for salvation. These are the three areas of God's grace we need to explore in order to have a comprehensive understanding of irresistible grace.
God's Grace Extended
As with all of the doctrines of grace, there are many people who have misunderstood what Calvinists means when they talk about irresistible grace. Some think that the grace of God cannot be rejected ever, which of course is totally inaccurate, some think that Calvinists think that the gospel should not be preached to everyone which is another caricature of the doctrine of irresistible grace and effectual calling. Scripture teaches that God's grace should be extended to all people that all people both God's elect and non-elect have the same message preached to them with equal zeal and equal accuracy (cf. Mt. 22.14; Lk. 14.23). However, because irresistible grace presupposes the reality of election, Calvinists know that God's free and universal offer of the gospel will be rejected by some and accepted by others (cf. Rom. 11.7). Election however never kept Jesus or the apostles from preaching the gospel to all (cf. Rom. 10.14-15; 15.20; 2 Tim. 2.10).
In fact they knew that the gospel itself was rooted in the reality of election itself and that there would always be those for whom the gospel only cemented their condemnation further:
2 Corinthians 2:15–16 15 For we are a fragrance of Christ to God among those who are being saved and among those who are perishing; 16 to the one an aroma from death to death, to the other an aroma from life to life. And who is adequate for these things?
Paul is saying several things here. First, the truth that the believer especially the minister who is advancing the message of the gospel carries with him/her the divine calling to be Christ's fragrance. That just means you speak of Christ, if you would, you "reek of Christ." Second, because of your ambassadorship, the message possesses a double purpose; to affect those who are "being saved" and "those who are perishing." Third, the fragrance we carry speaks of life or death so that some people hear in the message of the gospel hope— the hope of God making them free. Others however hear only death. Those who detect the aroma of death are those who hear in the gospel the threat of God keeping them from their personal ambitions, passions, and lusts (cf. Jam. 3.16). Paul repeats the same principle in his first letter to the Corinthians:
1 Corinthians 1:23–24 23 but we preach Christ crucified, to Jews a stumbling block and to Gentiles foolishness, 24 but to those who are the called, both Jews and Greeks, Christ the power of God and the wisdom of God.
We preach the gospel to all because we know that the gospel will have far reaching effects. We know ultimately that God is going to use the gospel to draw in His people or harden those who are not His people (cf. Rom. 11.7; John 12.37-40). This is why Jesus could say, "For many are called, but few are chosen" (Mt. 22.14). Knowing all of this, it was Jesus of course who exhibited this universal call better than anyone:
Matthew 11:28–30 28 "Come to Me, all who are weary and heavy-laden, and I will give you rest. 29 "Take My yoke upon you and learn from Me, for I am gentle and humble in heart, and you will find rest for your souls. 30 "For My yoke is easy and My burden is light."
John 7:37 37 Now on the last day, the great day of the feast, Jesus stood and cried out, saying, "If anyone is thirsty, let him come to Me and drink.
God's Grace Rejected
Because inherent in the preaching of the gospel God has ordained both the effectual calling of the elect and the hardening of the non-elect, we see repeatedly the gospel being offered to those who reject the gospel and repudiated it. Arminians have long held to the notion that if God's grace has ever been resisted, then that somehow means that the doctrine of irresistible grace is false. Of course that is totally fallacious. Calvinists are not ignorant to the fact that God's grace has suffered great abuse and extensive rejection even by His own covenant people under the Mosaic Covenant:
John 10:24–26 24 The Jews then gathered around Him, and were saying to Him, "How long will You keep us in suspense? If You are the Christ, tell us plainly." 25 Jesus answered them, "I told you, and you do not believe; the works that I do in My Father's name, these testify of Me. 26 "But you do not believe because you are not of My sheep.
According to Jesus, the causal logic works this way- if a person is not God's sheep (a synonym for God's elect) then they will not believe. The Arminian has it completely backwards. They think a person is not God's sheep because they do not believe. But this is the opposite of what Jesus said. Being His "sheep" comes first. God's grace was rejected by Jesus' own (John 1.11; 3.11; 32; 5.49, 43; 12.37; cf. Ps. 69.8; Is. 63.3; Jer. 25.4). When the apostles preached they got much the same result, that is, most mocked and scoffed at the message but some were inevitably drawn. So in Acts 17 when Paul is giving the same apologetic to all, some reject it and some receive it:
Acts 17:32–34 32 Now when they heard of the resurrection of the dead, some began to sneer, but others said, "We shall hear you again concerning this." 33 So Paul went out of their midst. 34 But some men joined him and believed, among whom also were Dionysius the Areopagite and a woman named Damaris and others with them.
On a practical level this passage is so encouraging because we see three different responses and these three responses are what we face today. Some, totally outwardly reject Paul outright. Others, are interested not wanting to totally disavow Paul's message but unwilling to believe it nevertheless which means they were not willing to be identified with it (Mt. 10.33). The third group are those who are effectually drawn by the Father, irresistibly drawn by His grace and thus, "joined him and believed."
Perhaps the best and most explicit example of rejecting the grace of God is found in Stephen's testimony in Acts:
Acts 7:51–52 51 "You men who are stiff-necked and uncircumcised in heart and ears are always resisting the Holy Spirit; you are doing just as your fathers did. 52 "Which one of the prophets did your fathers not persecute? They killed those who had previously announced the coming of the Righteous One, whose betrayers and murderers you have now become;"
Notice that the ultimate example of resisting the Holy Spirit is in connection with Jesus Christ and the fact that though He was previously announced as the "Righteous One" they murdered Him nonetheless. The irony of the Arminian argument, the idea that God's grace can be resisted, is that such an objection actually becomes the basis for the doctrine of irresistible grace. If man, in His depravity naturally resists the grace of God, indeed the very Spirit of God, than God must act with irresistible grace if anyone is to be saved since each are equally sinful and equally depraved. Resisting God's grace demands that God must overcome our resistance if people are to be saved at all. John Murray explains:
"When we speak of irresistible grace… it is not to assert that all grace is irresistible, nor is it to deny the numberless respects in which grace is resisted and resisted to the culmination of resistance in everlasting doom. In fact the truth of and necessity for irresistible grace may be most cogently demonstrated in the premise of resistible grace. The enmity of the human heart is most virulent at the point of the supreme revelation of God's glory. So deep-seated and persistent is the contradiction that the Saviour as the embodiment of grace is rejected. It is when we recognize this that the need for irresistible grace is perceived."[1]
The more man rejects the grace of God in Christ more proof is being offered up that what is needed is some sort of invincible grace, grace that cannot be resisted and finally reject. Only irresistible grace can subdue the natural man's hostility to God and replace his stony heart and replace it with a spiritually responsive heart of flesh (cf. Ezek. 11.19; 36.26; Jer. 31.33; Gal. 6.15). A heart in other words, that no longer resists God's gracious call, God's gracious commands and God's gracious will because that is what God's will is— gracious and right.
God's Grace Received
Ironically, the basis of this new heart, which is rooted in OT new covenant prophesies (e.g. Ezek. 36.26), is found in one of the NT strongest passages dealing with the doctrine of God's irresistible grace. John 6 is among Jesus' most controversial sayings. From an external, visible, physical, natural perspective this collection of teachings cost Jesus' ministry dearly. As the text would go on to point out, many among His own disciples withdrew themselves from Him (John 6.66). In other words, no longer wanting to be identified with Jesus. What Paul experienced many years later in Athens was simply what Jesus had experienced from those who listened to Him in Capernaum and throughout His ministry but who stumbled at His words (6.60-61).
In John 6 Jesus makes a series of controversial statements about the necessity of faith in Him for salvation but also about the sovereignty of God at work in the midst of that salvation. He introduces the idea of the covenant of Redemption as some have called it, that is the sovereign decree of God whereby the Father gives to the Son a people for His possession on the basis of election. Consequently, it is this group of given people whom the Son identifies as those who will come to Him by faith, "All that the Father gives Me will come to Me" (6.37a). These that come are according to the rest of the passage "drawn" by the Father, "no one can come to Me unless the Father who sent me draws him" (6.44) and again, "for this reason I have said to you, that one can come to Me unless it has been granted him from the Father " (6.65). One aspect is emphasizing God's ability overcoming man's inability, "no one can come." The other is emphasizing man being enabled to come on the basis of God's sovereign gift, God's sovereign grace, "no one can come to Me unless it has been granted him from the Father."
Jesus grounds all this in an OT text taken from Is. 54.13 where Jerusalem is being referred to a women in need of comfort and grace. She is promised a time of beautification which corresponds to salvation in the New Covenant; a beauty you and I have in Christ now:
Isaiah 54:11–13 11 "O afflicted one, storm-tossed, and not comforted, Behold, I will set your stones in antimony, And your foundations I will lay in sapphires. 12 "Moreover, I will make your battlements of rubies, And your gates of crystal, And your entire wall of precious stones. 13 "All your sons will be taught of the Lord; And the well-being of your sons will be great.
We sing, "Jesus is our great Salvation, worthy of our best esteem, He has saved His favorite nation join to sing aloud of Him." The result of this prophetic salvation in Christ as we should expect is a perfect salvation. If Roman's 8 represents for Paul the golden chain of redemption, John 6 is Jesus' perfect prophetic portrait of a salvation which cannot fail being rooted in God's prophetic word, His sovereign grace, His effectual call where by we are invincibly drawn near to God through regeneration (Ps. 65.4; Eph. 2.13; Col. 1.20). In the words of Paul, "whom He called…He also glorified" (Rom. 9.30). This is how Jesus put it and in the process establishes the basis for the doctrine of irresistible grace:
John 6:37–40 37 "All that the Father gives Me will come to Me, and the one who comes to Me I will certainly not cast out. 38 "For I have come down from heaven, not to do My own will, but the will of Him who sent Me. 39 "This is the will of Him who sent Me, that of all that He has given Me I lose nothing, but raise it up on the last day. 40 "For this is the will of My Father, that everyone who beholds the Son and believes in Him will have eternal life, and I Myself will raise him up on the last day."
John 6:44–45 44 "No one can come to Me unless the Father who sent Me draws him; and I will raise him up on the last day. 45 "It is written in the prophets, 'And they shall all be taught of God.' Everyone who has heard and learned from the Father, comes to Me.
Irresistible grace raises us up on the last day. In other words, it gives us full assurance, it means that we have learned from the Father, it means that we have beheld the Son, it means we have eternal life and it means that Jesus himself will raise us up. God's grace is truly invincible, it conquers our sin and our misery, our rebellion and our unbelief and like the rest of the doctrines of grace, it gives all the glory of God. Truly we should say with the Psalmist, "How blessed is the one whom You choose and bring near to You To dwell in Your courts. We will be satisfied with the goodness of Your house, Your holy temple."
[1] http://www.ligonier.org/learn/articles/irresistible-grace/
Image courtesy of Tim Pokorny.