Gospel Centered Generosity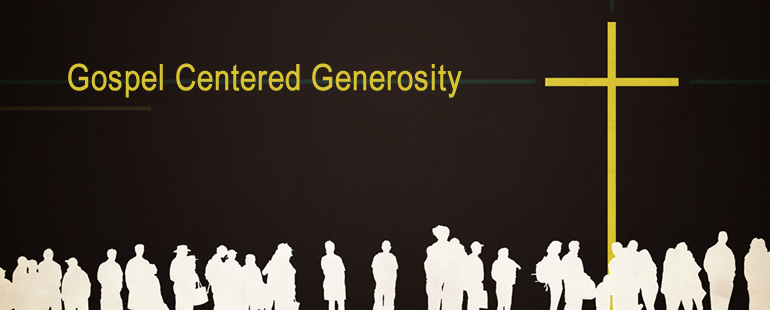 Text and Exposition
7"But just as you abound in everything, in faith and utterance and knowledge and in all earnestness and in the love we inspired in you, see that you abound in this gracious work also. 8 I am not speaking this as a command, but as proving through the earnestness of others the sincerity of your love also. 9 For you know the grace of our Lord Jesus Christ, that though He was rich, yet for your sake He became poor, so that you through His poverty might become rich."
7 ἀλλ' ὥσπερ ἐν παντὶ περισσεύετε, πίστει καὶ λόγῳ καὶ γνώσει καὶ πάσῃ σπουδῇ καὶ τῇ ἐξ ἡμῶν ἐν ὑμῖν ἀγάπῃ, ἵνα καὶ ἐν ταύτῃ τῇ χάριτι περισσεύητε. 8 Οὐ κατ' ἐπιταγὴν λέγω ἀλλὰ διὰ τῆς ἑτέρων σπουδῆς καὶ τὸ τῆς ὑμετέρας ἀγάπης γνήσιον δοκιμάζων· 9 γινώσκετε γὰρ τὴν χάριν τοῦ κυρίου ἡμῶν Ἰησοῦ Χριστοῦ, ὅτι δι' ὑμᾶς ἐπτώχευσεν πλούσιος ὤν, ἵνα ὑμεῖς τῇ ἐκείνου πτωχείᾳ πλουτήσητε.
Preliminary Thought
"In this next section of Paul's exhortation concerning the Jerusalem collection, Paul urges the church from yet another example— the ultimate example, Christ. Paul's thought in these verses are thus evangelical in nature. Paul momentarily focused once again on the Macedonian churches and reminds the Corinthians about the blessings they have received by way of spiritual gifts. The first issue for Paul is an issue of balance and priorities. Paul exhorts them through encouragement and reflection. Although the Corinthians were excelling in many areas of their spiritual lives, they nevertheless needed to apply themselves to hands on ministry when the opportunity came. Paul will later emphasize the benefits of this in the next chapter (e..g 9.7-8). Having seen the sincere love of the Macedonians, Paul calls them to the same purity of worship. The ultimate example of giving is nothing less than that which is found in the gospel itself. Christ was for Paul the greatest motive for Christian generosity. Jesus' condescension should produce sacrifice, sincerity and generosity in His people."
Three things that should characterized evangelical generosity which is another way of saying giving which is gospel centered. Such gospel centered generosity has balance as its aim, love as its motive and Christ as its example.
1.) BALANCE AS ITS AIM
v.7,
7"But just as you abound in everything, in faith and utterance and knowledge and in all earnestness and in the love we inspired in you, see that you abound in this gracious work also."
Paul uses the giftedness of the Corinthian church to point out the potential for becoming deficient with respect to their contribution to the Jerusalem church. Paul's call to "abundant" (περισσεύω) giving first begins by reminding them of the gracious gifts given to them "in everything" (ἐν παντὶ). This is followed up by the parenthetical description of some of those things in which the Corinthian did excel. However, it should be observed that the abundance of these things are not Paul's primary focus. Paul is simply bringing in a powerful and readily understood comparison (ὥσπερ) between that which they had in "abundance" and that which he earnestly desires for them to follow through with i.e. the compassionate aid of the Jerusalem saints.
Paul reminds them of the charismatic ecstasies which they had indulged in (and even abused cf. 1 Cor. 14.40) in order to remind them not to forget the balance of practical hands on ministry. If there was one thing the Corinthian church excelled in it was charismatic activity. Paul himself comments on the fact that they were amply supplied with grace gifts in an abundant way and goes so far as to give God thanks for so richly blessing them with such an outpouring of gifts:
1 Corinthians 1:4–7 4 "I thank my God always concerning you for the grace of God which was given you in Christ Jesus, 5 that in everything you were enriched in Him, in all speech and all knowledge, 6 even as the testimony concerning Christ was confirmed in you, 7 so that you are not lacking in any gift, awaiting eagerly the revelation of our Lord Jesus Christ,"
Here Paul is going to quickly mention five things which are positive traits of the Corinthian church. First, Paul points out that they excel in "faith" (πίστις). This faith is probably more in keeping with the supernatural faith which was associated with sign gifts such as faith to heal and faith to work miracles rather than the faith associated with repentance and salvation (1 Cor. 12.9-10; 13.2).
Second, Paul focuses on their speech or "utterance" (λόγος). This also refers not to the eloquent speech of an Apollos but to the prophetic words of those who had regularly exercised the gift of prophecy (both forth telling (1 Thess. 5.20) and foretelling (1 Cor. 12.10; 14.26ff.) and even tongues (1 Cor. 12-14). Third, Paul mentions "knowledge" (γνῶσις). This was probably in reference to their theological knowledge. They might have claimed to know many "mysteries" (1 Cor. 13.2); yet, such knowledge also had the potential to puff them up if not followed up by good deeds.
Fourth, Paul refers to "earnestness" (σπουδῇ) in combination with the fifth item on the list contained in the prepositional phrase, "in the love we inspired in you" (τῇ ἐξ ἡμῶν ἐν ὑμῖν ἀγάπῃ); more literally rendered, "the love from us among you." With these last two items, Paul may be already priming the proverbial pump for his ultimate point to earnestly love the Jerusalem saints by giving generously to them. He reminds them of "earnestness" and "love" because they are two virtues needed to complete the contribution for Jerusalem. Paul is hoping that by setting their zeal and their supposed or actual "love" before them they will be admonished to extend these already existing virtues in a different direction. It is often the case that churches need to be reminded of what they already "know":
2 Peter 1:12–13 12 "Therefore, I will always be ready to remind you of these things, even though you already know them, and have been established in the truth which is present with you. 13 I consider it right, as long as I am in this earthly dwelling, to stir you up by way of reminder,"

Philippians 3:1 1 "Finally, my brethren, rejoice in the Lord. To write the same things again is no trouble to me, and it is a safeguard for you."
Thus, Paul unashamedly calls for the "overflow" of such virtues for the Jerusalem collection and the poor saints who desperately need their generosity, "see that you abound in this gracious work also" (ἵνα καὶ ἐν ταύτῃ τῇ χάριτι περισσεύητε). Paul moves from the reality of their abundance to the responsibility of their abundance as he shifts from the Indicative mood (περισσεύετε) to the Subjunctive (περισσεύητε) (possibly with Imperatival force). Paul moves from what is to what ought to be. Such a gifted congregation carried with it a great responsibility to follow through with the overflow of such spiritual enrichment for the physical alleviation of others.
2.) LOVE AS ITS MOTIVE
v.8,
8"I am not speaking this as a command, but as proving through the earnestness of others the sincerity of your love also."
Gospel generosity also must have love as its motive. In the context Paul is still looking back to the example of the Macedonians (7.1-5). He calls for them to emulate them one more time. First however, Paul wants to make it plain that his motive or better yet, his manner is not according to any dictatorial or domineering posture that may be attributed to him. We should notice the strong adversative construction here "…not…but…" (Οὐ… ἀλλὰ). He does not want them to get the wrong idea that he is somehow lording his apostolic authority over them. As Harris points out many have seen this qualification as Paul saying that he is not instructing them by any command either based directly from God or Christ neither is he speaking apostolic directives which were binding on all churches; Paul's aim is their motive! Because of the sensitive nature of his present relationship with the Corinthians, Paul has felt the need to make this point abundantly clear in the letter:
2 Corinthians 1:24 24 "Not that we lord it over your faith, but are workers with you for your joy; for in your faith you are standing firm."

2 Corinthians 12:19 19 "All this time you have been thinking that we are defending ourselves to you. Actually, it is in the sight of God that we have been speaking in Christ; and all for your upbuilding, beloved."

2 Corinthians 10:8 8 "For even if I boast somewhat further about our authority, which the Lord gave for building you up and not for destroying you, I will not be put to shame,"

2 Corinthians 13:10 10 "For this reason I am writing these things while absent, so that when present I need not use severity, in accordance with the authority which the Lord gave me for building up and not for tearing down."

Philemon 8–9 8 "Therefore, though I have enough confidence in Christ to order you to do what is proper, 9 yet for love's sake I rather appeal to you—since I am such a person as Paul, the aged, and now also a prisoner of Christ Jesus"
Thus, rather than pushing his weight around as it were, Paul is actually seeking the good of their own reputation. He wishes for them to be moved by the example of others, "through the earnestness of others" (διὰ τῆς ἑτέρων σπουδῆς) that is, through the example laid out by the Macedonians. Therefore the phrase should be understood as causal, "because of… others." But what Paul is hoping to produce or "prove" (δοκιμάζω) in them is the right motive, "the sincerity of your love also" (τῆς ὑμετέρας ἀγάπης γνήσιον).
Like the Macedonian churches which had been sincere in their perseverance and their joy so that they overflowed "in the wealth of their liberality" (2 Cor. 8.2) they should also. The Macedonians had given from their poverty and with much eagerness even beyond their ability (8.3); Paul's hope is that the Corinthians would engage in the same selfless sacrifice. The Macedonian's sincerity was seen in their begging and urging the apostle Paul for the grace to be a part of the support effort (8.4); Paul hopes they would have the same type of prevailing willingness. Finally, as previously pointed out, the genuineness of their generosity can be also seen in the church's devotion to Lord and their dedication to His people (8.5). In all these things the Macedonian churches were sincere in their giving.
This principle should affect all Christian giving. The reason this is so is because of what giving actually is— worship. All worship must be sincere or God will take no delight in it. The hypocrisy of the nation of Israel reached an intolerable degree when God finally sounded forth with an oracle of rejection since He could no longer bear the disingenuous nature of their worship:
Isaiah 1:13–15 13 "Bring your worthless offerings no longer, Incense is an abomination to Me. New moon and sabbath, the calling of assemblies— I cannot endure iniquity and the solemn assembly. 14 "I hate your new moon festivals and your appointed feasts, They have become a burden to Me; I am weary of bearing them. 15 "So when you spread out your hands in prayer, I will hide My eyes from you; Yes, even though you multiply prayers, I will not listen. Your hands are covered with blood."
3.) CHRIST AS ITS EXAMPLE
v.9-10,
9"For you know the grace of our Lord Jesus Christ, that though He was rich, yet for your sake He became poor, so that you through His poverty might become rich."
With regard to the nature of Christian giving, either during the regular offering of the church or specific needs such as those in this context, the topic hits something of a Christological high point in this verse. Harris called this Christological appeal, "the ultimate incentive for wholehearted participation, the supreme and purest motivation" (Harris, p.577). For Paul and extending to every believer, there should be an analogy between the example of Christ and our giving. In this verse Paul speaks of Christ's selflessness, His sacrifice, His humility, His willingness to become poor for our sakes; however, this whole verse is simply an expansion on the "love" of Christ which is equated with nothing less than His "grace" (χάρις).
Paul is calling the church to emulate the love of Christ for in it i.e. His love, "the grace of our Lord Jesus Christ" (τὴν χάριν τοῦ κυρίου ἡμῶν Ἰησοῦ Χριστοῦ) is most on display. Not because Jesus burned with holy love, but because He bestowed this love to us freely by His sovereign grace. We should notice also that this grace is redemptive in nature. This redemption begins with an understanding of Christ's privileges, "though He was rich" (πλούσιος ὤν). As small of a phrase as this is (πλούσιος ὤν), the Christology contained in it is inestimable because, it tells us of the preexistent Christ. The use of the present tense (ὤν) stresses the fact that He was continually rich and indicates that at no point in time did Christ come into His eternal riches like He came into His poverty.
This passage is also redemptive in that it describes His incarnation as voluntary (note the active voice in the verb ἐπτώχευσεν), it is historic "he became poor," it is substitutionary, "for your sake" (δι' ὑμᾶς), and it is benevolent in its design, "so that you through His poverty might become rich" (ἵνα ὑμεῖς τῇ ἐκείνου πτωχείᾳ πλουτήσητε). Several things should be pointed out here:
3.1, The humility of Christ teaches us that selfishness is not fitting for His people
Philippians 2:6–8 6 "who, although He existed in the form of God, did not regard equality with God a thing to be grasped, 7 but emptied Himself, taking the form of a bond-servant, and being made in the likeness of men. 8 Being found in appearance as a man, He humbled Himself by becoming obedient to the point of death, even death on a cross." (bearing in mind that the context here is "the interest of others", vv1-5)
3.2, The incarnation of Christ results in the enrichment of His people
When Paul speaks of our "becoming rich" (πλουτήσητε) he is mainly focused on spiritual benefits which are vastly superior to any conceivable physical blessings:
Ephesians 1:3 3 "Blessed be the God and Father of our Lord Jesus Christ, who has blessed us with every spiritual blessing in the heavenly places in Christ,"
For the Corinthian context, there is also good reason to think that what Paul has just written might have registered with the church along more charismatic lines. In his first letter Paul reminded the church about that very truth i.e. that they had been lavishly blessed by God with spiritual graces of every kind— the abuse of such gifts make the offense that much more egregious (cf. 1 Cor. 4.8; 14.37-38, 40).
1 Corinthians 1:4–5 4 "I thank my God always concerning you for the grace of God which was given you in Christ Jesus, 5 that in everything you were enriched in Him, in all speech and all knowledge,"
Theologically speaking, we should not choose between either having been given the greatest gift of all in salvation and the gifts that come post salvation for the building up of the body of Christ in love (cf. Barnett, NICNT p.409).
3.3, The example of Christ's Divine condescension should fuel genuine love for God's people expressed through generosity
Paul's prayer for this church is that the deepest motivation for generosity stem from knowing and enjoying the love of Christ, "for the love of Christ controls us" (5.14a). This why the focus here is gospel centered generosity— it gives based on what has been given by Christ. If there was ever a person entitled to His riches it was Christ, if there was ever a people who in no way deserved Christ's riches it was us (Rom. 5.6-11). John MacArthur says:
"In the incarnation of Christ, the eternal God became poor by taking on human flesh and humbling Himself even to the point of death on the cross. By doing so, He defeated the powers of hell, accomplished the work of redemption God assigned Him, and gave His people the priceless riches of salvation." (MacArthur, 2 Corinthians; p.293-294).
The gospel should have a long lasting impact upon us. We are never to lose sight of the cross least of which is not when we support the needs of the saints in whatever capacity that may be. It when we realize the spiritual wealth we have in Christ that we will rise to meet the material needs of His people.