Heavenly Hope: Part 1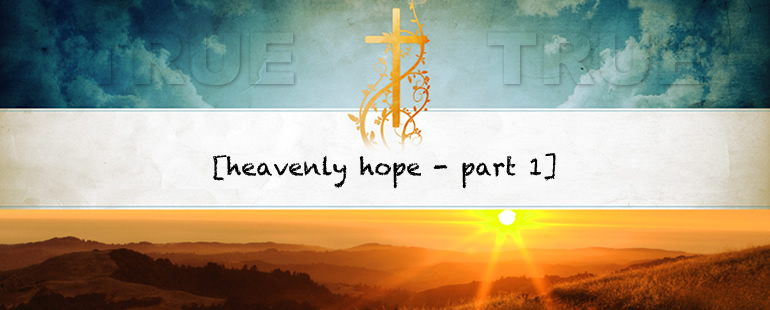 The Hope of Heaven- True Salvation, pt. 1
3"Blessed be the God and Father of our Lord Jesus Christ, who according to His great mercy has caused us to be born again to a living hope through the resurrection of Jesus Christ from the dead, 4 to obtain an inheritance which is imperishable and undefiled and will not fade away, reserved in heaven for you, 5 who are protected by the power of God through faith for a salvation ready to be revealed in the last time. 6 In this you greatly rejoice, even though now for a little while, if necessary, you have been distressed by various trials, 7 so that the proof of your faith, being more precious than gold which is perishable, even though tested by fire, may be found to result in praise and glory and honor at the revelation of Jesus Christ; 8 and though you have not seen Him, you love Him, and though you do not see Him now, but believe in Him, you greatly rejoice with joy inexpressible and full of glory, 9 obtaining as the outcome of your faith the salvation of your souls."
If we are honest with ourselves we would agree that the subject of heaven often goes largely neglected in our lives and even in our study of God's Word. Yet, it is the single most massive reality in the believer's life after salvation and in reality it is part of our salvation. Heaven pertains to our glorification and it's the final installment of God's grace in our lives. The reason I have decided to focus on this text out of Peter and spend several weeks considering the theology of this text is not only because heaven is an intriguing subject but because we need the hope of heaven to sink deeply into our souls. The real motive behind taking an in-depth look at what I have entitled, The Hope of Heaven is rooted in the reality of suffering. This however, is not merely because there are sobering texts on the reality of suffering there are:
John 16:33 33 "These things I have spoken to you, so that in Me you may have peace. In the world you have tribulation, but take courage; I have overcome the world."

Acts 14:21–22 21 After they had preached the gospel to that city and had made many disciples, they returned to Lystra and to Iconium and to Antioch, 22 strengthening the souls of the disciples, encouraging them to continue in the faith, and saying, "Through many tribulations we must enter the kingdom of God."

1 Thessalonians 3:2–4 2 and we sent Timothy, our brother and God's fellow worker in the gospel of Christ, to strengthen and encourage you as to your faith, 3 so that no one would be disturbed by these afflictions; for you yourselves know that we have been destined for this. 4 For indeed when we were with you, we kept telling you in advance that we were going to suffer affliction; and so it came to pass, as you know.
My reasons for focusing on this theme is because at least in my life and I know for many of us, being surrounded by sickness, suffering, hardships of all kinds; physical, medical, financial, marital, familial or emotional suffering drives us to places we do not want to go. One dysfunctional member of your family can get you there. One layoff, one phone call, one doctor visit or one incurable disease and you're there. But if there is one thing that Scripture makes clear about suffering is that it purifies, it sanctifies and causes the believer to become dependent on God in a way that may have never arisen in our lives had it not been for suffering:
2 Corinthians 1:8–9 8 For we do not want you to be unaware, brethren, of our affliction which came to us in Asia, that we were burdened excessively, beyond our strength, so that we despaired even of life; 9 indeed, we had the sentence of death within ourselves so that we would not trust in ourselves, but in God who raises the dead;
I know that the greatest thing that can happen to us in the midst of our trials and tests is to become more sober and mature about eternity. Nothing will increase the maturity of a believer more than to have a heavenly perspective and a Godward life that hopes in and lives by the promises of God (cf. Pet. 1.4). I am hoping that as we pour over these verses in Peter we will begin to grow in grace and set our hope on the grace that will be brought to us at the revelation of Jesus Christ. After giving us these marvelous truths, these are precisely Peter's own conclusions:
1 Peter 1:13 13 Therefore, prepare your minds for action, keep sober in spirit, fix your hope completely on the grace to be brought to you at the revelation of Jesus Christ.
Peter is uniquely qualified to teach us on "hope" since his letters were written to and audience that is being pummeled by trials and persecution specifically but suffering is the way Peter chooses to describe their experience of persecution (1 Pet. 2.19-23; 3.14, 17; 4.1, 13-16, 19; 5.9-10).
THE HOPE OF HEAVEN BEGINS WITH TRUE SALVATION
v.3,
3"Blessed be the God and Father of our Lord Jesus Christ, who according to His great mercy has caused us to be born again to a living hope through the resurrection of Jesus Christ from the dead,"
Heavenly hope must begin with genuine salvation because far too many people have no heavenly hope, no hope of glorification because they have no hope of justification either. Peter knows that. His message of hope for those who are suffering begins by having them understand and reflect on the nature of true salvation.
We have to start with genuine salvation as the hope of heaven because without this there is no hope of heaven at all. We have to feel the full weight of the plight of the wicked to cherish the glorious destiny of the righteous:
Psalm 1:5–6 5 Therefore the wicked will not stand in the judgment, Nor sinners in the assembly of the righteous. 6 For the Lord knows the way of the righteous, But the way of the wicked will perish.
If man is to be blessed by God on earth he must know that God has blessed him in heaven. That is to say, that a person who has no certainty of his heavenly inheritance has no hope on earth. Salvation means that God has delivered you. He delivers us from the wrath of God, He delivers us from the penalty of our sins, He delivers us from eternal punishment in Hell, and He delivers us from our sin and misery now (cf. Is. 9.2; Mt. 4.16; Lk. 1.79; Eph. 5.8). Those who do not have salvation are in the worst possible predicament imaginable— chiefly because they do not even understand the depth of their dilemma in the first place. This is why Scripture describes salvation as a person coming their senses and seeing things in the right light:
2 Timothy 2:24–26 24 The Lord's bond-servant must not be quarrelsome, but be kind to all, able to teach, patient when wronged, 25 with gentleness correcting those who are in opposition, if perhaps God may grant them repentance leading to the knowledge of the truth, 26 and they may come to their senses and escape from the snare of the devil, having been held captive by him to do his will.
Genuine salvation is the sovereign act of a merciful God
As we begin to think about genuine salvation we must begin to define what t really is; its nature and its effects. The first thing to understand about salvation is that salvation is of the Lord (Jonah 2.9). God stands sovereign and supreme over the whole realm and reality of salvation:
Psalm 3:8 8 Salvation belongs to the Lord; Your blessing be upon Your people! Selah.

Psalm 35:3 3 Draw also the spear and the battle-axe to meet those who pursue me; Say to my soul, "I am your salvation."

Isaiah 43:11 11 "I, even I, am the Lord, And there is no savior besides Me.
This is why salvation is God's plan not ours (John 17.4; Eph. 3.9-11), salvation is on the basis of His power not ours (John 10.28; 1 Pet. 1.5), salvation accomplishes His purpose (Eph. 1.6, 12, 14), and salvation is found in His presence not ours (Col. 1.27). That salvation is all of God and not of ourselves means that salvation is not found within, salvation is not found in our spouses or our families or our good deeds— salvation comes to us from an alien source, from a foreign righteousness that is not our own. And what does it look like to seek salvation outside of ourselves? Paul described it this way:
Philippians 3:8–9 8 More than that, I count all things to be loss in view of the surpassing value of knowing Christ Jesus my Lord, for whom I have suffered the loss of all things, and count them but rubbish so that I may gain Christ, 9 and may be found in Him, not having a righteousness of my own derived from the Law, but that which is through faith in Christ, the righteousness which comes from God on the basis of faith,
But Peter stresses that God's sovereign salvation is merciful. The phrase, "according to His great mercy" (ὁ κατὰ τὸ πολὺ αὐτοῦ ἔλεος) gives us the basis of genuine salvation; divine mercy being the ultimate motive for salvation. With this Paul agrees:
Ephesians 2:4–6 4 But God, being rich in mercy, because of His great love with which He loved us, 5 even when we were dead in our transgressions, made us alive together with Christ (by grace you have been saved), 6 and raised us up with Him, and seated us with Him in the heavenly places in Christ Jesus,
The fact that He "caused us to be born again" (ἀναγεννήσας ἡμᾶς) gives us the means of genuine salvation and stresses again His sovereign mercy. The Participle Peter uses here, "caused to be born again," (ἀναγεννάω) stresses the act of re-begetting someone or something; even more than it stresses the new birth it stresses the act of God giving birth to us (cf. Jam.1.18) (see, Thomas Schreiner, 1, 2 Peter NAC; p.60). Because it is God who "causes" us to be born again, genuine salvation is rooted in monergestic regeneration.
Genuine salvation produces genuine hope
It is a genuine hope that we are after because, Heaven is a real place and it is based on a real historical event namely the resurrection. For this reason Peter describes our hope as "a living hope" (ἐλπίδα ζῶσαν). Paul describes our hope as a "living" (ζάω) hope for three reasons. First because there is a real contrast between hope that is alive and hope that is dead. What good is a dead hope? Second, because our hope is rooted in the indestructible life of Jesus Christ (cf. Heb. 7.16). Scripture teaches that we will live because He lives. We may need to ask ourselves when our hope wanes, "does Jesus live?" For if He lives, and He does, then we will live with Him! Therefore, a living hope is not based on our strength and life, but on the power of God and on the life that Jesus has. This is what genuine hope looks like:
2 Corinthians 13:4 4 For indeed He was crucified because of weakness, yet He lives because of the power of God. For we also are weak in Him, yet we will live with Him because of the power of God directed toward you.
Genuine hope is a living hope. Who would not agree with Paul above that often times our hope is mingled with weakness. Yet, it is in the context of our weakness that our hope is so different from the hopeless condition of the world for, as Paul says, "when I am weak, then I am strong" (2 Cor. 12.10). Schreiner comments further on the implications of a contrasted hope:
Those who are suffering persecution in Asia Minor are not dashed to the ground by their troubles. They look to the future with the sure confidence that inestimable blessing awaits them. Nor is their confidence baseless superstition. It is grounded in and secured by the resurrection of Jesus Christ. Their hope, in other words, is the hope of resurrection, triumph over death; hence, whatever happens to them in this world is trivial compared to the blessing of the future resurrection. (Schreiner, NAC; pp.61-62).
The third reason we could say Peter describes our hope as "a living hope" is because we hope not simply in the resurrection of Christ but in our resurrection as well. In other words, we are hoping that we will live again, we will live forever, we will live in heaven, and we will live with Christ so that when we see Him, we will be like He is i.e. alive in every sense of the word:
1 John 3:2–3 2 Beloved, now we are children of God, and it has not appeared as yet what we will be. We know that when He appears, we will be like Him, because we will see Him just as He is. 3 And everyone who has this hope fixed on Him purifies himself, just as He is pure.
Genuine salvation is based on the work of Christ
Peter is careful therefore to point out that our hope is based on the life of Christ. That is to say that, genuine salvation and genuine hope is based on the work of Christ. Our hope being based on the resurrection is just one aspect of the work of Christ for the benefit of the believer. Every facet of our life and salvation is based on Christ's crosswork. This means that the confidence of our hope is rooted in the work of Jesus Christ and not in our own works, as Calvin put it, Peter brings the "merits of works to nothing" (see, Calvin, Commentaries vol. 22). Consequently, this is why it is such a solid hope, because Christ can never fail. This is why we study the doctrines of our redemption; to learn and understand the foundations of our Christian hope.
Because genuine salvation is based on the merits of Christ and not our own, we cannot place any hope in ourselves but in God who raises the dead (cf. 2 Cor. 1.9). The merits of Christ make it possible for us to fully entrust ourselves to God— we can trust Him to protect us in a world of suffering and reserve for us a living hope based on His faithfulness not ours:
1 Peter 4:19 19 Therefore, those also who suffer according to the will of God shall entrust their souls to a faithful Creator in doing what is right.
The "resurrection of Jesus Christ from the dead" (ἀναστάσεως Ἰησοῦ Χριστοῦ ἐκ νεκρῶν) also connects our hope to God's unbreakable plan of redemption for; the resurrection Jesus Christ is the pinnacle of God's redemptive work on behalf of His people. It was Peter who said, "it was impossible for Him to be held in its [death] power" (Acts 2.24).
When Martha was overwhelmed by the loss of her brother Lazarus, Jesus pointed to His indestructible life as that which should have brought her comfort:
John 11:25–26 25 Jesus said to her, "I am the resurrection and the life; he who believes in Me will live even if he dies, 26 and everyone who lives and believes in Me will never die. Do you believe this?"
The question is equally put to us, "do we believe this?" Do we believe that our hope is secure in the hands of Christ? Thus I will point us to the certainty of Jesus' own resurrection and life as the proof and power of our heavenly hope. Because Christ cannot fail, we will not fail to be raised up with Him. He was raised for our justification and if we are justified, we will be glorified (cf. Rom. 4.25; 8.30).
Genuine salvation produces genuine praise
If our heavenly hope is rooted in true salvation, then true salvation is evidenced by true worship and true praise (cf. John 4.24). This verse begins with a doxological statement, "Blessed be the God and Father of our Lord Jesus Christ" (Εὐλογητὸς ὁ θεὸς καὶ πατὴρ τοῦ κυρίου ἡμῶν Ἰησοῦ Χριστοῦ). Not only does Peter address God as the "Father" (πατὴρ) of Jesus Christ but He also then blesses Him for His sovereign mercy, "Blessed be the God and Father of our Lord Jesus Christ, who according to His great mercy has caused us to be born again" (Εὐλογητὸς ὁ θεὸς καὶ πατὴρ τοῦ κυρίου ἡμῶν Ἰησοῦ Χριστοῦ, ὁ κατὰ τὸ πολὺ αὐτοῦ ἔλεος ἀναγεννήσας ἡμᾶς).
Peter's blessing introduces the whole section on salvation and heavenly hope. This is when you know true salvation has come, you are thankful to God for what salvation is— all of it. We thank God for His mercy but we also thank God for sovereignty. Sadly, many Christians blame God for His sovereignty, question God's fairness and goodness, questions God's word, refuse to glorify God for his sovereignty, His justice, His wrath, His judgment, but the Psalmist is a great example to us in this area:
Psalm 19:9 9 The fear of the Lord is clean, enduring forever; The judgments of the Lord are true; they are righteous altogether.

Psalm 119:137 137 Righteous are You, O Lord, And upright are Your judgments.

Psalm 119:75 75 I know, O Lord, that Your judgments are righteous, And that in faithfulness You have afflicted me.
Notice finally the specificity of Peter's worship. He is not just worshiping God with mindless words; he is extoling the Lord for sovereign mercy, for Trinitarian truth, for the Fatherhood of God and the eternal sonship of Christ, for the riches of God's mercy, for monergestic regeneration, for genuine salvific hope, and for power of the resurrection. All of the early church's hymns were doctrinal in nature (Col. 1.15ff.; Eph. 1.3-14; 1 Tim. 3.16). They were usually exalting in some doctrine or another especially Christology, they sung the Psalms, they sung songs about God' judgments and terrible wrath as much as they sung about God's mercy and lovingkindness. This is the nature of true salvation, it expresses itself in true praise of who God reveals himself to be in Scripture.