Heavenly Hope: Part 3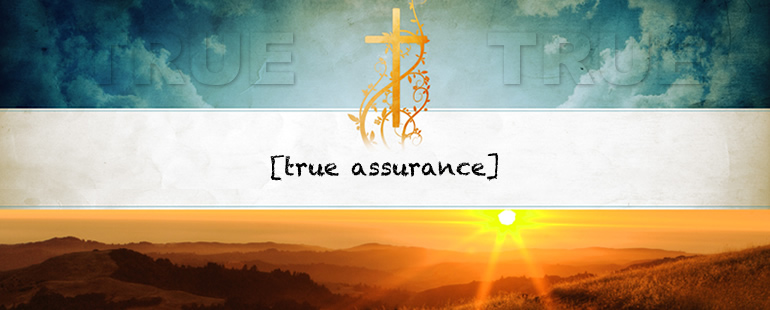 The Hope of Heaven, True Assurance, pt. 3
3"Blessed be the God and Father of our Lord Jesus Christ, who according to His great mercy has caused us to be born again to a living hope through the resurrection of Jesus Christ from the dead, 4 to obtain an inheritance which is imperishable and undefiled and will not fade away, reserved in heaven for you, 5 who are protected by the power of God through faith for a salvation ready to be revealed in the last time. 6 In this you greatly rejoice, even though now for a little while, if necessary, you have been distressed by various trials, 7 so that the proof of your faith, being more precious than gold which is perishable, even though tested by fire, may be found to result in praise and glory and honor at the revelation of Jesus Christ; 8 and though you have not seen Him, you love Him, and though you do not see Him now, but believe in Him, you greatly rejoice with joy inexpressible and full of glory, 9 obtaining as the outcome of your faith the salvation of your souls."
Sadly today one of the most precious gifts of the Christian faith can be one of the greatest perplexities in the life of believer. True Christian assurance according to Scripture is a gift that God has given to His people to be a comforting joy not a paradoxical conundrum. Assurance is a glorious aspect of the Spirit's ministry (Rom. 8.16) but it is often twisted by the devil to deceive and deter believers from faith in Christ. But true assurance is the by-product of true conversion, adoption and genuine salvation. Everything in Scripture suggests that the normative pattern is that believers can know and be assured of their union with Christ and thus be comforted by that assurance:
2 Corinthians 13:5 5 Test yourselves to see if you are in the faith; examine yourselves! Or do you not recognize this about yourselves, that Jesus Christ is in you—unless indeed you fail the test?

1 John 5:13 13 These things I have written to you who believe in the name of the Son of God, so that you may know that you have eternal life.

Romans 8:15–16 15 For you have not received a spirit of slavery leading to fear again, but you have received a spirit of adoption as sons by which we cry out, "Abba! Father!" 16 The Spirit Himself testifies with our spirit that we are children of God,
Peter provided his own powerful method of assurance whereby the believer could be comforted about his/her assurance and entrance into the kingdom of God:
2 Peter 1:10–11 10 Therefore, brethren, be all the more diligent to make certain about His calling and choosing you; for as long as you practice these things, you will never stumble; 11 for in this way the entrance into the eternal kingdom of our Lord and Savior Jesus Christ will be abundantly supplied to you.
As Peter is talking about the hope of heaven he is also trusting that his readers will have true assurance as well. If we constantly find ourselves doubting our salvation, putting our hope in heaven will be too often an unrealistic ideal instead of the joy producing hope that it is designed to be. Here we will look at the occasion of this assurance and describe its nature.
TRUE ASSURANCE
v.5,
5"who are protected by the power of God through faith for a salvation ready to be revealed in the last time."
In 1 Peter the need for assurance has arisen for a particular reason and it is not personal introspection per se; rather it is the influence of external suffering and persecution. This is why Peter affords them so much assurance of the power and protection of God over their lives.
The need for assurance
The context of Peter is crucial and principal. Not only does it help us to understand why Peter feels the need to assure them but he also sets forth the principle of assurance in the face of adversity in general which is something we can all identify with even if we are not facing persecution. The epistle demonstrates that Peter is comforting the believers with the hope of heaven because of the opposition they were facing in the Roman world. Peter addresses his readers as, "Peter, an apostle of Jesus Christ, To those who reside as aliens, scattered throughout Pontus, Galatia, Cappadocia, Asia, and Bithynia," (1.1). As such they were exiles, sojourners, pilgrims and even "strangers on the earth" (2.11). For Peter, the gospel ought to have so radically altered the lives of these believers that they virtually felt themselves unrecognizable in this world (1 Cor. 2.15).
That is, they should see nothing like themselves in this world nothing that would be the equivalent of their values, beliefs, morals, and theological perspectives. In other words, the world's cultures, philosophies, worldviews, ethics, and notions of spirituality have no ultimate common ground with Biblical Christianity (cf. Col. 2.8). For the authors of Scripture there is Christ and His gospel and everything else. Everything else is simply part of the worthless elemental things man-made religions and worldviews that do not lead a person to know God (1 Cor. 1.18-21; cf. Gal. 4.9).
But Peter uses these seemingly oppressive terms i.e. "aliens", "strangers" etc. as titles of nobility and evidence of God's sovereign choice of them. These "strangers" were facing persecution because of what he called the "futile way of life inherited by your forefathers" (1.18). In fact, Peter describes the persecution as consisting of ridicule for refusing to go with the cultural flow of their sinful world:
1 Peter 4:3–4 3 For the time already past is sufficient for you to have carried out the desire of the Gentiles, having pursued a course of sensuality, lusts, drunkenness, carousing, drinking parties and abominable idolatries. 4 In all this, they are surprised that you do not run with them into the same excesses of dissipation, and they malign you;
This is where their need of assurance arises, out of the midst of adversity, hostility and real-life opposition from the world so that you are made to feel out of step with the culture, out of step with the fashion, out of step with the music, out of step with moral norms of the society.
The power of assurance
The power of our assurance is also important since we need an assurance that is able to bring us real assurance and comfort. The power of our assurance is rooted in God's power to "protect" (φρουρέω) us from our hope being jeopardized. The participle Peter uses here stressed both and fact that God is the one protecting us and that He will continually protect us. The adverbial phrase here is "by the power of God" (ἐν δυνάμει θεοῦ) which describes the strength of this protection. That it is God means two things. First, we do not supply the power necessary to ensure that our souls will be protected for salvation. This means that, as necessary as our perseverance is, it does not supply us with the power to be saved, this would result in a doctrine of salvation that is autosoteric.
This is why Scripture always gives the credit for the perseverance of the saints to God and not man:
Philippians 1:6 6 For I am confident of this very thing, that He who began a good work in you will perfect it until the day of Christ Jesus.

Philippians 2:12–13 12 So then, my beloved, just as you have always obeyed, not as in my presence only, but now much more in my absence, work out your salvation with fear and trembling; 13 for it is God who is at work in you, both to will and to work for His good pleasure.
Second, because the power which is protecting us is God's "power" (δυνάμει) it is the strength of omnipotent power, one that is able to accomplish its intended goal to the very end (cf. Ps. 37.24; John 17.12; Acts 20.32; Rom. 8.31; 14.4; 2 Cor. 9.8; Eph. 3.20):
Jude 24 24 Now to Him who is able to keep you from stumbling, and to make you stand in the presence of His glory blameless with great joy,
The method of assurance
The method of assurance consists in believers trusting in the power of God. Which I think is Peter's way of saying, don't look for escape, don't look for a way out of your trials or imagine a life without suffering. True perseverance is not painless (cf. Acts 14.22). This is precisely the point of God's power— God's ability to protect us in a hostile environment is how we experience His power. That does not mean He changes the environment, He changes our perspective by increasing our faith. We can see some of the dynamics of this in Paul's personal experience and account of suffering:
2 Corinthians 1:8–11 8 For we do not want you to be unaware, brethren, of our affliction which came to us in Asia, that we were burdened excessively, beyond our strength, so that we despaired even of life; 9 indeed, we had the sentence of death within ourselves so that we would not trust in ourselves, but in God who raises the dead; 10 who delivered us from so great a peril of death, and will deliver us, He on whom we have set our hope. And He will yet deliver us, 11 you also joining in helping us through your prayers, so that thanks may be given by many persons on our behalf for the favor bestowed on us through the prayers of many.
God did not give Paul stronger skin and bones or supplied him with a vision assuring him that he would not suffer again; to the contrary (Acts 9.15-16)— God strengthened his faith, "so that" (here is the purpose) "we would not trust in ourselves, but in God who raises the dead" (2 Cor. 1.9).
Schreiner's commentary on Peter comes to the same conclusion:
"All of 1 Peter clarifies that we are not exempted from suffering or even death because of the power of God since the church experiences persecution. God's power does not shield believers from trials and sufferings, but it does protect us from that which would cause us to fall away. What would prevent us from maintaining our allegiance to Christ until the end? Surely the answer is sin, and we know that sin stems from unbelief—in failing to hope in God during our earthly sojourn. God's power, to be effective at all, must guard us from sin and unbelief… If God's power does not protect us from unbelief, it is hard to see what it does. How is God protecting us until the end if his guarding plays no role in our continuing faith?" (Thomas R. Schreiner, 1 Peter NAC; p.65).
Therefore, the faith-method of God's grace is a purifying method, a method that fosters more faith more endurance and greater trust so that it results in greater assurance. Hebrews strikes a delicate balance between perseverance and hope versus throwing away our hope by failing to endure:
Hebrews 10:35–39 35Therefore, do not throw away your confidence, which has a great reward. 36 For you have need of endurance, so that when you have done the will of God, you may receive what was promised. 37 For yet in a very little while, He who is coming will come, and will not delay. 38 But My righteous one shall live by faith; And if he shrinks back, My soul has no pleasure in him. 39 But we are not of those who shrink back to destruction, but of those who have faith to the preserving of the soul.
The substance of assurance
The hope of heaven is rooted after all is said in done in an ultimate reality. Therefore, the things which God assures us of are rooted in the reality which has only begun to dawn in our hearts by faith. The substance of and fullness of our assurance is yet to come and we are assured now of its future realization. This realization will take place when we see our "salvation" (σωτηρία) "revealed" (ἀποκαλύπτω).
But as we wait for the full disclosure of this revelation we are called to live eschatological lives; lives in anticipation of this disclosure. The revelation that Peter is talking about is nothing less than that which will be ushered in by the return of Christ. This is the ultimate reality for which our hearts have been assured by God. Peter uses the phrase, "for a salvation ready to be revealed in the last time" (εἰς σωτηρίαν ἑτοίμην ἀποκαλυφθῆναι ἐν καιρῷ ἐσχάτῳ) as a purpose clause. It stresses the purpose for which God is protecting us right now. The persecuted church can take great hope in the fact that Christ will one day return to rescue His beaten battered and bloodied church from her adversaries and vindicate her in the presence of all her enemies:
2 Thessalonians 1:6–10 6 For after all it is only just for God to repay with affliction those who afflict you, 7 and to give relief to you who are afflicted and to us as well when the Lord Jesus will be revealed from heaven with His mighty angels in flaming fire, 8 dealing out retribution to those who do not know God and to those who do not obey the gospel of our Lord Jesus. 9 These will pay the penalty of eternal destruction, away from the presence of the Lord and from the glory of His power, 10 when He comes to be glorified in His saints on that day, and to be marveled at among all who have believed—for our testimony to you was believed.
For Peter this deliverance this salvation was "ready"; all that needed to happen was for its full disclosure to come. This is why Peter can say our salvation is "ready" (ἑτοίμην). It is ready because it is done, that is, it is accomplished and this is what all true assurance is about; trusting in what God has accomplished for us in Christ. While, we trust in what Christ has done, we also look forward to what Christ will do when He returns to usher us to heaven. This is the salvation Peter is talking about. It is the salvation that will take place "in the last time" (ἐν καιρῷ ἐσχάτῳ). This is not referring simply to a general period of time like "the last days" (cf. Acts 2.12; 2 Tim. 3.1; Heb. 1.2; Jam. 5.3; 2 Pet. 3.3); but if you would, "the last day" i.e. the second coming. That is when our salvation will be fully "revealed" (ἀποκαλύπτω).
It will be the visible manifestation of our invisible salvation. It will be the final vindication of the church which will be delivered from all her enemies. But this eschatological tone is also meant to be deeply personal. Much of the Bible's teaching on eschatology has to do with what theologians call, "individual eschatology."
Paul gives us his marvelous description of this personal eschatology and the hope and assurance it should foster in our lives:
1 Corinthians 15:50–57 50 Now I say this, brethren, that flesh and blood cannot inherit the kingdom of God; nor does the perishable inherit the imperishable. 51 Behold, I tell you a mystery; we will not all sleep, but we will all be changed, 52 in a moment, in the twinkling of an eye, at the last trumpet; for the trumpet will sound, and the dead will be raised imperishable, and we will be changed. 53 For this perishable must put on the imperishable, and this mortal must put on immortality. 54 But when this perishable will have put on the imperishable, and this mortal will have put on immortality, then will come about the saying that is written, "Death is swallowed up in victory. 55 "O death, where is your victory? O death, where is your sting?" 56 The sting of death is sin, and the power of sin is the law; 57 but thanks be to God, who gives us the victory through our Lord Jesus Christ.
The fact that this instantaneous transformation into triumphing with Christ stands "ready to be revealed" is because God has finished His redemptive work. Nothing remains but the ingathering of His people from all the four corners of the world. God has summed up all things in Christ, (Eph. 1.11), the resurrection was the final and greatest redemptive act of God in human history. All that remains is for us to take possession of it; the possession of our inheritance. God is able make this salvation fully revealed to us, either when He comes to us or when we go to Him.