Heavenly Hope: Part 4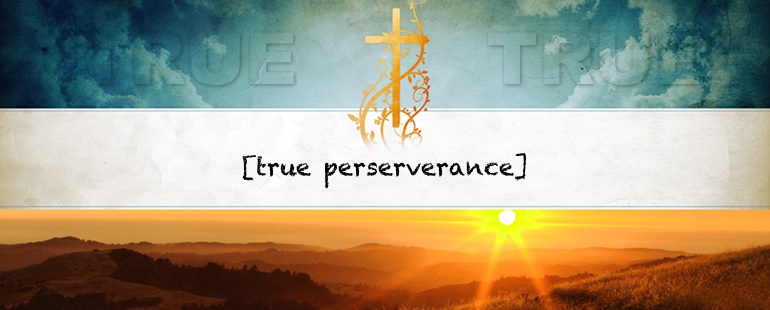 The Hope of Heaven, True Perseverance, pt. 4
3"Blessed be the God and Father of our Lord Jesus Christ, who according to His great mercy has caused us to be born again to a living hope through the resurrection of Jesus Christ from the dead, 4 to obtain an inheritance which is imperishable and undefiled and will not fade away, reserved in heaven for you, 5 who are protected by the power of God through faith for a salvation ready to be revealed in the last time. 6 In this you greatly rejoice, even though now for a little while, if necessary, you have been distressed by various trials, 7 so that the proof of your faith, being more precious than gold which is perishable, even though tested by fire, may be found to result in praise and glory and honor at the revelation of Jesus Christ; 8 and though you have not seen Him, you love Him, and though you do not see Him now, but believe in Him, you greatly rejoice with joy inexpressible and full of glory, 9 obtaining as the outcome of your faith the salvation of your souls."
In order for the doctrine of perseverance to land on us with weight and lasting effect, we must have a view of the doctrine that is specific and spiritual. It must be specific or else we can make errors in our Christian life. Errors in how we view trials, errors in how we worship, errors in how we fight sin, and errors in how we apply our theology. Spiritual because that will give us the proper mind set moving forward in understanding and applying this doctrine to our lives. When I say spiritual, I mean that we approach the doctrine of perseverance with the mind of Christ (1 Cor. 2.16), and not the mind set on the flesh (Rom. 8.7). It is the difference between fatalism (the idea that everything in life determined in such a way that personal effort and personal choices are ultimately superfluous, superficial and unimportant) and Calvinism where everything has meaning, significance, and purpose beneath God's great glory. If we do not hold to the biblical tension of what is known as the Reformed doctrine of "the perseverance of the saints", then we will make an irreverent mockery of a slew of very personal, emotional, psychological struggles in the lives of every model of faith in the Bible (cf. Heb. 11). For example Paul:
Colossians 1:28–29 28 We proclaim Him, admonishing every man and teaching every man with all wisdom, so that we may present every man complete in Christ. 29 For this purpose also I labor, striving according to His power, which mightily works within me.
A bit more theology on this word, "striving" (ἀγωνίζομαι), because it is so important to the discussion of perseverance; we need to take a closer look. The term unfolds in Scripture in many ways and beholden to the task of understanding the meaning of this word is the fact that it can serve many contexts. The word is used of "fighting", "working", and "competing." Jesus used the word literally of "fighting" when he assured Pilate that he was not seeking any earthly kingdom for then, as Jesus said, "My servants would be fighting" (John 18.36). Paul uses the term more figuratively of the whole Christian life; describing the totality of life as a battle, "I have fought the good fight" (2 Tim. 4.7). In Paul's ministry, the term is used of both working or "laboring" and competing as in 1 Cor. 9.25. Paul also used the word to describe the striving of Epaphras in prayer (Col. 4.12). All such effort is real effort, worthy effort, effort which is not done in vain:
1 Corinthians 15:58 58 Therefore, my beloved brethren, be steadfast, immovable, always abounding in the work of the Lord, knowing that your toil is not in vain in the Lord.
TRUE PERSEVERANCE
vv.6-7,
6"In this you greatly rejoice, even though now for a little while, if necessary, you have been distressed by various trials, 7 so that the proof of your faith, being more precious than gold which is perishable, even though tested by fire, may be found to result in praise and glory and honor at the revelation of Jesus Christ;"
But if we are going to have a genuine hope of heaven, we will likewise have to have true perseverance in this life. If we fool ourselves that the Christian life is going to be a walk in the park we will become disenchanted with Christ and seek the ease of the world (cf. Mt. 13.21). Thus, we need to understand the true nature of our perseverance because we cannot hope in heaven without a realistic view of our life on earth.
Persevering with Joy
First, we should start by pointing out where our true, lasting, indomitable joy truly lies. Peter is looking back in the text when he says, "in this you greatly rejoice" (ἐν ᾧ ἀγαλλιᾶσθε). The word "this" (ᾧ) certainly refers back to the "power of God" (δυνάμει θεοῦ) to protect us in order that we might receive our "salvation ready to be revealed in the last time" (1.5b).
As we have learned another way of describing this "salvation" is "a living hope" (1.3) or "an inheritance" which "will not fade away" (1.4). This is what Peter is looking back to. And for his readers, it was a great source of joy. Despite their trails despite their opposition (4.4) these scattered aliens "greatly rejoiced" (ἀγαλλιάω) in this salvation. In other words, it was what satisfied them and sustained them. They found no satisfaction in the "excesses of dissipation" this world could afford them (4.3-4). They had a supreme joy that could not fade away. This is why Peter told them, "so as to live the rest of the time in the flesh no longer for the lusts of men, but for the will of God" (4.2). With this pursuit of a supreme joy Paul and Peter agree:
Romans 13:11–14 11 Do this, knowing the time, that it is already the hour for you to awaken from sleep; for now salvation is nearer to us than when we believed. 12 The night is almost gone, and the day is near. Therefore let us lay aside the deeds of darkness and put on the armor of light. 13 Let us behave properly as in the day, not in carousing and drunkenness, not in sexual promiscuity and sensuality, not in strife and jealousy. 14 But put on the Lord Jesus Christ, and make no provision for the flesh in regard to its lusts.
As we think about how to do that, we might begin by observing that, what the world takes delight in, Paul calls "sleep", "darkness", "the flesh." In other words, we have to have the right view of "carousing, drunkenness, sexual promiscuity, and sensuality." Not as the joy producing fun that the world tells us these deeds are but the soul-destroying vices that Scripture tells us they are. In other words, this is a totally different pursuit of Joy. Peter would have learned this well from Jesus. The evidence of this may be in the fact that this term, "greatly rejoiced" (ἀγαλλιάω) is found in Peter and in Jesus though not in Paul. Paul seemed to prefer a slightly different term e.g. (χαίρω; Phil. 4.4). This only means that at this time, Peter's theology was rooted more in the sayings of Jesus and less in the vocabulary of Paul. For example Jesus used the word "rejoice" to speak of the same eschatological inheritance:
Matthew 5:12 12 "Rejoice and be glad, for your reward in heaven is great; for in the same way they persecuted the prophets who were before you.
Persevering with this type of joy will test where your true hope resides. Do we have an eschatological joy, or is it a joy that seeks to find every thrill here and now? Eschatology means, we don't get all of our reward now; but we will receive our inheritance nonetheless.
Persevering with Trials
For Peter, true perseverance means persevering with trials. As glorious and soul satisfying as the joy of our salvation is, it nevertheless is a realistic joy. Part of our calling is to persevere in the context of our trials and our trials are divinely appointed by God's sovereign hand. The evidence of this lies both here in the text (δεῖ) and in the teaching of the letter as it unfolds. Here is seems most natural to see Peter's words as inferring that there is a God-ordained cycle of suffering in the Christian life, "even though now for a little while, if necessary, you have been distressed by various trials" (ὀλίγον ἄρτι εἰ δέον [ἐστὶν] λυπηθέντες ἐν ποικίλοις πειρασμοῖς). We are called to persevere with these appointed trials and we should not even think it strange when they come (4.12). What we should consider strange is our inability to cope with the trials God has appointed for us in light of God protection and power at work in our lives (cf. 2 Pet. 1.3).
The translation of this verse is crucial. Although the English puts this necessity in the form of a question, "if necessary" (εἰ δέον), the Greek text suggests that this is an assumed truth (1st class conditional clause). This means that Peter is not really asking something more than he is stating a fact. With the present active participle for the word "necessary" (δέον) the phrase could be translated, 'it is continually necessary' to be distressed by various trials. The text accounts for why our trials don't seem to go away. They don't go away because it is necessary that all the life long we experience these trials and suffer with Christ (4.13; Col. 1.24).
Peter's theology continues to unfold throughout the book where the believers are assured that suffering rightly finds favor with God (2.20), that we are also called to walk in Jesus' footsteps which are stained with the blood of His Calvary road (2.21), that there is a blessing for those who suffer for righteousness sake (3.13-14), and that we should arm ourselves in this life for the purpose of suffering that Jesus experienced in his life (4.1-2). The obvious difference being that our suffering unlike Jesus is not redemptive in nature. Ultimately, all true Christian suffering is to be patterned after Christ who is himself the greatest example of how to suffer and how to live (cf. John 13.15; 1 Jn. 2.6). What a remarkable reality, that much of the Christian life is to be spent learning from a crucified Messiah, how to suffer rightly. This is what the world regards as total folly. To the world, the cross is weak, worthless, and foolish (cf. 1 Cor. 1.18ff.).
The world ignores their suffering until at last they suffer with eternal shame in Hell. The biggest test for us therefore, is that we suffer according to God's will and not as a result of our own folly and sin:
1 Peter 4:12–19 12 Beloved, do not be surprised at the fiery ordeal among you, which comes upon you for your testing, as though some strange thing were happening to you; 13 but to the degree that you share the sufferings of Christ, keep on rejoicing, so that also at the revelation of His glory you may rejoice with exultation. 14 If you are reviled for the name of Christ, you are blessed, because the Spirit of glory and of God rests on you. 15 Make sure that none of you suffers as a murderer, or thief, or evildoer, or a troublesome meddler; 16 but if anyone suffers as a Christian, he is not to be ashamed, but is to glorify God in this name. 17 For it is time for judgment to begin with the household of God; and if it begins with us first, what will be the outcome for those who do not obey the gospel of God? 18 And if it is with difficulty that the righteous is saved, what will become of the godless man and the sinner? 19 Therefore, those also who suffer according to the will of God shall entrust their souls to a faithful Creator in doing what is right.
The joy of the believer not only satisfies us as we prefer the joy of our salvation in the context of our trials and above the fleeting pleasures of sin; our joy is also a sustaining joy because it is full of hope in future glory:
1 Peter 5:10 10 After you have suffered for a little while, the God of all grace, who called you to His eternal glory in Christ, will Himself perfect, confirm, strengthen and establish you.
Persevering with Purpose
Not only do we have a great glorious future to look forward to when our salvation is fully revealed, but even now, we persevere with purpose. The purpose has to do with the sanctifying power of our trials. Our trials are a continual necessity Peter tells us. They are designed to enhance the quality of our faith. Two things are produced by our trials, a faith that is purified and praiseworthy.
Purified faith
The greatest form of faith-purification is a salvific purification. Trials are designed to cause the false convert to be exposed. Not that all false converts will fall away because of trials but some will.
Jesus taught this most explicitly in the Parable of the Sower where he lists various reason why people fall away; showing themselves to be bad soil which represents the unregenerate human heart. Among these are those who are ever learning but unable to come to the knowledge of the truth (Mt. 13.19; 2 Tim. 3.7). Others, hear the word of God but remain unfruitful because they are either too worried about the cares of this life so that he/she can never get on with the work of the kingdom or they too worried about their wealth and their earthly kingdom so that they too never become fruitful and productive in God's kingdom (Mt. 13.22-23). But Jesus also describes a scenario where trials and suffering become the occasion of their stumbling:
Matthew 13:20–21 20 "The one on whom seed was sown on the rocky places, this is the man who hears the word and immediately receives it with joy; 21 yet he has no firm root in himself, but is only temporary, and when affliction or persecution arises because of the word, immediately he falls away.
Sometimes one great trial is the deciding factor if a person is going to persevere in faith or apostatize in unbelief. But trials also have a sanctifying purpose. That is, trials are conditioned to refine our faith, to test our faith so that we become stronger in our faith, grow in faith, and become established in our faith through our trials. Peter says, we will be tested and "distressed by various trials" (λυπηθέντες ἐν ποικίλοις πειρασμοῖς,) "so that" (ἵνα) such testing would be the "proof" (δοκίμιον) of the genuineness of our faith. Peter gives us a helpful metaphor to understand the testing process as consisting of something of great value not of great mediocrity, "being more precious than gold which is perishable, even though tested by fire" (πολυτιμότερον χρυσίου τοῦ ἀπολλυμένου διὰ πυρὸς δὲ δοκιμαζομένου).
Thus, our trials become and indispensible tool for trying our faith so that, "sufferings function as the crucible for faith" (T. Schreiner, NAC 1, 2 Peter, Jude; p. 67). Like every biblical metaphor, there is a limit to its comparison. We can see that through Peter's comparative genitive (χρυσίον) "gold" which is something "perishable" (ἀπόλλυμι). The world is in a frenzy today to invest in gold. It seems like everywhere we here advertisements trying to persuade us to purchase gold for long lasting financial security. But as Peter says, our faith is "more precious than gold that is perishable" (πολυτιμότερον χρυσίου τοῦ ἀπολλυμένου). So that our faith is infinitely more valuable because unlike gold it is imperishable, of eternal value, and results is eternal security which a turbulent global economy cannot touch.
Praiseworthy faith
Although both "gold" and our "faith" are "tested by fire" (διὰ πυρὸς δὲ δοκιμαζομένου) our faith results in something much more pure than any amount of karats. Our faith, if it is genuine, will result in, "praise and glory and honor at the revelation of Jesus Christ" (ἔπαινον καὶ δόξαν καὶ τιμὴν ἐν ἀποκαλύψει Ἰησοῦ Χριστοῦ). Here God, the protector of our faith, is also now personified as the Divine Goldsmith of our faith who will inspect our faith to see of what quality it is. And like gold, ultimately there are only two kinds of faith, real faith or fool's faith or better yet, true faith or false faith. Only the faith that is real, genuine, pure and refined will result in God's approvable. That is what "praise and glory and honor" (ἔπαινον καὶ δόξαν καὶ τιμὴν) refer to— God's eschatological approval of one's faith. If we need a picture of what such approval will look like, the Parable of the Talents is a great place to start. God's approval for His fruitful and faithful servants will sound like this:
Matthew 25:21 21 "His master said to him, 'Well done, good and faithful slave. You were faithful with a few things, I will put you in charge of many things; enter into the joy of your master.'
As one commentator put it, "it is God who crowns genuine faith" (J. Ramsey Michaels, WBC 1 Peter, vol. 49; p.31). When will He crown you? When Christ returns, "at the revelation of Jesus Christ" (ἐν ἀποκαλύψει Ἰησοῦ Χριστοῦ)! Paul's parallel passage also extends this blessing to everyone who has trusted and kept the faith to the end (Mt. 10.22):
2 Timothy 4:7–8 7 I have fought the good fight, I have finished the course, I have kept the faith; 8 in the future there is laid up for me the crown of righteousness, which the Lord, the righteous Judge, will award to me on that day; and not only to me, but also to all who have loved His appearing.
When Christ returns there will be a glorious reflexive effect of these eschatological terms on both God and man, Ramsey Michaels explains how this future glorious coronation will work:
"Each term (ἔπαινος, δόξα, τιμή) can be used either for that which human beings offer to God or for that which God confers on them… the two alternatives are not to be set against each other but regarded as two sides of a single coin. If "the God and Father of our Lord Jesus Christ" is a God of grace, then it is in giving that he receives… In honoring he is honored, in glorifying he receives glory, and in praising he is praised…Yet the priority is clear. Peter has in mind explicitly the praise, glory, and honor that God bestows on his servants," (J. Ramsey Michaels, WBC 1 Peter, vol. 49; p.31).
A tested faith, is purified, a refined faith is a praiseworthy faith. God is not cynical about our trials He is just waiting for us not to be either. His will for us is to persevere with joy, without looking to simply escape our trials but to embrace that they are ordained by the hand of sovereign and merciful God, and that His will is for us to persevere with purpose seeing that our trials are purifying our faith so that it would result in praise from God (cf. Rom. 2.29). This is what true perseverance is all about, receiving praise from God for true tried and tested faith. Faith is a gift, perseverance reveals what we did with that gift.