How Repentance Redeems the Ministry of the Church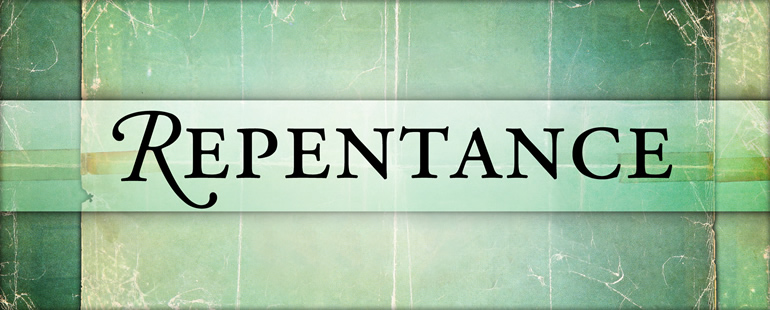 Text and Exposition
13"For this reason we have been comforted. And besides our comfort, we rejoiced even much more for the joy of Titus, because his spirit has been refreshed by you all. 14 For if in anything I have boasted to him about you, I was not put to shame; but as we spoke all things to you in truth, so also our boasting before Titus proved to be the truth. 15 His affection abounds all the more toward you, as he remembers the obedience of you all, how you received him with fear and trembling. 16 I rejoice that in everything I have confidence in you."
13 διὰ τοῦτο παρακεκλήμεθα. Ἐπὶ δὲ τῇ παρακλήσει ἡμῶν περισσοτέρως μᾶλλον ἐχάρημεν ἐπὶ τῇ χαρᾷ Τίτου, ὅτι ἀναπέπαυται τὸ πνεῦμα αὐτοῦ ἀπὸ πάντων ὑμῶν· 14 ὅτι εἴ τι αὐτῷ ὑπὲρ ὑμῶν κεκαύχημαι, οὐ κατῃσχύνθην, ἀλλ' ὡς πάντα ἐν ἀληθείᾳ ἐλαλήσαμεν ὑμῖν, οὕτως καὶ ἡ καύχησις ἡμῶν ἡ ἐπὶ Τίτου ἀλήθεια ἐγενήθη. 15 καὶ τὰ σπλάγχνα αὐτοῦ περισσοτέρως εἰς ὑμᾶς ἐστιν ἀναμιμνῃσκομένου τὴν πάντων ὑμῶν ὑπακοήν, ὡς μετὰ φόβου καὶ τρόμου ἐδέξασθε αὐτόν. 16 χαίρω ὅτι ἐν παντὶ θαρρῶ ἐν ὑμῖν.
Preliminary Thought
"Through repentance the church of Corinth had come back into a place of usefulness and effectiveness. Because they had chosen to realign themselves with Paul and his associates, they became influential once again. Indeed, they encouraged and comforted Paul and produced such joy in Titus that it caused Paul to rejoice all the more. Once again Paul was able to boast on their behalf as God redeemed their honor. They were a commendable church and a church that did not disappoint or bring Paul further shame by failing to obey the gospel. This is where the honor and health of the church lied i.e. in the willingness of the church not only to receive the truth through Paul's ministry but also to reflect the truth through obedience. This obedience rendered the church effective again. Because of their repentance, God redeems the power of the church. The evidence of this is seen in the fact that they had the affirmation of their leaders, obedience to Paul's demands in the "severe letter", cooperation in the gospel as seen in ch.8, 9, and the restored confidence of the apostle Paul in all things concerning them. The passage presents a powerful lesson on grace. God is willing to redeem and restore if His people would but repent and turn back to follow His ways."
Repentance is God's way of salvaging our personal reputations, our personal holiness, and our personal spheres of ministry. Repentance is what God uses to put things right with His people. To repent has the fundamental meaning of turning to go a different direction. Throughout its biblical usage the word speaks of turning away from all that is contrary to God and turning to do God's will (Hos. 3.5; Rev. 3.19), to obey His commands (Ps. 119.59-60), and to walk in His ways (Lam. 3.40). In the OT repentance for God's covenant community was often the way in which the people of God expressed their pilgrimage through a world of uncleanness. When they did repent it was an expression that they were on a journey with their covenant God. When they refused to repent, God punished them and repeatedly chastised them so that they would learn to keep His ways and return to Him with penitent hearts (cf. Amos. 4.6-13; Hos. 5.15-6.5; Jer. 3.12-24). Whether on a national scale or on an individual level, before God's people would repent there was a complete lack of rest, peace, and joy (cf. Ps. 51). However after repentance, the fruit of repentance would follow. Jeremiah captures the essence of this fruit and its consequences:
Jeremiah 7:3–7 3 "Thus says the Lord of hosts, the God of Israel, "Amend your ways and your deeds, and I will let you dwell in this place. 4 "Do not trust in deceptive words, saying, 'This is the temple of the Lord, the temple of the Lord, the temple of the Lord.' 5 "For if you truly amend your ways and your deeds, if you truly practice justice between a man and his neighbor, 6 if you do not oppress the alien, the orphan, or the widow, and do not shed innocent blood in this place, nor walk after other gods to your own ruin, 7 then I will let you dwell in this place, in the land that I gave to your fathers forever and ever."
If Israel would be willing to repent God would be willing to restore their fortunes, to restore their usefulness and give them an inheritance in His kingdom. In a similar way this is precisely what we are seeing in this text, God's willingness to restore and redeem the usefulness of this church upon their repentance (cf. 2 Cor. 7.7-11). Here Paul gives us various aspects of what this redemption looks like and what we can learn about our own effectiveness and usefulness in God's service. But we should begin by stating the obvious, that God is a God of great grace— a God of "second chances." That is that God's mercy is willing to restore us when we fail, willing to redeem us when we fall, and willing to reinstall us when we feel totally unworthy and inadequate for gospel ministry (cf. John 21.15-18; 2 Cor. 3.5). Indeed God delights to perfect His power in our weakness (2 Cor. 12.9), to display His wisdom through our foolishness (1 Cor. 1.26ff.).
1.) REDEEMING THE CHURCH'S INFLUENCE
v.13,
13"For this reason we have been comforted. And besides our comfort, we rejoiced even much more for the joy of Titus, because his spirit has been refreshed by you all."
The first sign of the Corinthian's redeemed influence can be seen in the church's capacity "to comfort" (παρακαλέω). Because of the church's repentance, the apostle's great and intense concern surrounding this entire situation (i.e. especially the contents of the "severe letter" cf. 7.12) has been put at ease. The word "to comfort" can also mean "to encourage" and thus we see the instantaneous usefulness of a penitent church. The church did not need a long rehabilitation process; they were out of sorts with Paul and now that they have had a true and genuine change of heart (7.11), their effectiveness for ministry is immediate. Genuine repentance is the root and here, effectiveness and influence is the fruit.
They did not only "comfort" (παράκλησις) Paul but they also produced joy in him, "And besides our comfort, we rejoiced even much more" (Ἐπὶ δὲ τῇ παρακλήσει ἡμῶν περισσοτέρως μᾶλλον ἐχάρημεν). Not only did repentance redeem the church's influence because it imparted "comfort" but beyond that, it also produced "joy." These are two essential aspect of any true church. There must be the presence of comfort and there must be the presence of joy (cf. 1.3-7, 24). But Paul's joy was produced in a dynamic and organic way since it grew out of the "joy of Titus" (τῇ χαρᾷ Τίτου) and that grew out of yet another aspect of the church's influence namely, the ability to revive the souls of the saints.
Paul had learned that Titus, who was not certain how he was going to be received (cf. 7.15), was actually "refreshed" (ἀναπαύω) by the Corinthian's fellowship and thus is encouraged and elated by the news of Titus' positive reception. Because of their repentance, they became useful again, because of their usefulness they became influential and began to experience genuine spirit filled body life in its midst again. They had begun to return to what a church is meant to be; a unified spiritual entity but more than an entity a close knit family that is affectionately connected with its members with whom they are one (cf. Eph. 4.11-16):
Romans 12:15 15 "Rejoice with those who rejoice, and weep with those who weep."

1 Corinthians 12:26 26 "And if one member suffers, all the members suffer with it; if one member is honored, all the members rejoice with it."

Romans 15:32 32 "so that I may come to you in joy by the will of God and find refreshing rest (συναναπαύομαι) in your company."

Philemon 20 20 "Yes, brother, let me benefit from you in the Lord; refresh my heart in Christ." (Notice the one to one ministry happening here).
Paul rejoiced in the fact that Titus was refreshed by the saints because he himself was no stranger to such refreshing fellowship among the brethren:
1 Corinthians 16:17–18 17 "I rejoice over the coming of Stephanas and Fortunatus and Achaicus, because they have supplied what was lacking on your part. 18 For they have refreshed my spirit and yours. Therefore acknowledge such men."

Philemon 7 7 "For I have come to have much joy and comfort in your love, because the hearts of the saints have been refreshed through you, brother." (Notice the impact one believer can have on the many).
2.) REDEEMING THE CHURCH'S HONOR
v.14,
14"For if in anything I have boasted to him about you, I was not put to shame; but as we spoke all things to you in truth, so also our boasting before Titus proved to be the truth."
Verse 14 comes as an elaboration or expansion of Paul's joy. He gives further reason why he was so comforted and made to rejoice, "For if in anything I have boasted to him about you, I was not put to shame" (ὅτι εἴ τι αὐτῷ ὑπὲρ ὑμῶν κεκαύχημαι, οὐ κατῃσχύνθην). If we see this passage as emblematic of God redeeming their honor, several important observations can be made here.
1.1, An honorable church is to be commended
Paul often commended the churches for their faith (Rom. 1.8; 1 Thess. 1.8), their love (Eph. 1.5; Col. 1.4), their ministry (2 Cor. 9.13), and their obedience to the gospel (Phil. 2.12, 16). This is no exception for here Paul states that he "boasted" (καυχάομαι) to Titus (αὐτῷ) concerning the Corinthians. Paul probably "boasted" about the Corinthians with regards to their positive reception of the "severe letter" hoping and probably believing that they would receive it and repent. Because of their repentance, God redeemed their honor. They were on the path to dishonor and shame but repentance changed all that so that even now the church throughout all ages can learn from certain commendable characteristics of the Corinthian church. Paul's commendation of the church however is altogether gospel-centered. It is their returning to the gospel, their faithfulness to the gospel, their living out the gospel through obedience to the gospel that made them commendable.
1.2, An honorable church does not disappoint
Closely connected to Paul's positive commendation and boasting of the church was the negative confidence Paul had that they would not disappoint him, "I was not put to shame" (οὐ κατῃσχύνθην). Paul could rest in the fact that they had followed his directives in his letter to them. This brings up another honorable trait that the church possessed, namely submission to authority. This is sorely lacking in many churches today. Today churches as plagued by individuals who have a real hatred for authority, resentment for authority, and disdain for what they see as evil "institutional religion." Instead of a submissive spirit, some are obsessed with divisiveness, and a complete disregard for authority in the church. Scripture however, does not allow for such rogue mentalities in the church:
Hebrews 13:17 17 "Obey your leaders and submit to them, for they keep watch over your souls as those who will give an account. Let them do this with joy and not with grief, for this would be unprofitable for you."

1 Thessalonians 5:12–13 12 "But we request of you, brethren, that you appreciate those who diligently labor among you, and have charge over you in the Lord and give you instruction, 13 and that you esteem them very highly in love because of their work. Live in peace with one another."

2 Thessalonians 3:14 14 "If anyone does not obey our instruction in this letter, take special note of that person and do not associate with him, so that he will be put to shame."

1 Timothy 5:17 17 "The elders who rule well are to be considered worthy of double honor, especially those who work hard at preaching and teaching."

1 Peter 5:5 5 "You younger men, likewise, be subject to your elders; and all of you, clothe yourselves with humility toward one another, for God is opposed to the proud, but gives grace to the humble."

1 Corinthians 16:16 16 "that you also be in subjection to such men [ministry leaders in general] and to everyone who helps in the work and labors."

Titus 2:15 15 "These things speak and exhort and reprove with all authority. Let no one disregard you."
1.3, An honorable church receives and reflects the truth
Again, Paul must have boasted to Titus, even despite their temporary falling out, that the Corinthians were a true church. As a genuine church, Paul must have boasted in their readiness to receive the gospel, and their readiness to obey the gospel as well. In this way they not only received the truth through what Paul spoke to them, "we spoke all things to you in truth" (πάντα ἐν ἀληθείᾳ ἐλαλήσαμεν ὑμῖν) (cf. 2.17; 4.2) but also they reflected the truth of the gospel by their obedience to the gospel. Therefore, Paul was reassured that his boasting about them "before Titus" (ἐπὶ Τίτου) "proved to be the truth" (ἀλήθεια ἐγενήθη).
Certainly, this is a mark of a healthy church i.e. they receive the gospel and they reflect the reality and power of the gospel by their obedience to it. The church had become obedient, receptive and responsive to the truth. Any time a church responded in this way to the gospel, Paul saw it as clear evidence that a genuine work of God had taken place and genuine faith followed as a result. When such faith was evident in the church Paul did not hesitate to commend the church for its faith:
2 Thessalonians 1:3–4 3 "We ought always to give thanks to God for you, brethren, as is only fitting, because your faith is greatly enlarged, and the love of each one of you toward one another grows ever greater; 4 therefore, we ourselves speak proudly of you among the churches of God for your perseverance and faith in the midst of all your persecutions and afflictions which you endure."
3.) REDEEMING THE CHURCH'S POWER
v.15-16,
15"His affection abounds all the more toward you, as he remembers the obedience of you all, how you received him with fear and trembling. 16 I rejoice that in everything I have confidence in you."
The last two verses of this pericope describe the mutual ministry that now exists between the Corinthian church and the leaders of the early church namely Paul and here his associate Titus. Their repentance rendered the church useful again for ministry. The church is "firing on all cylinders" as it were. This passage gives us four other indicators of this powerful usefulness and of their redeemed ministry.
3.1, The power of affirmation
First, they received affirmation from their leaders, "His affection abounds all the more toward you," (τὰ σπλάγχνα αὐτοῦ περισσοτέρως εἰς ὑμᾶς). The affection of Titus comes as a sharp contrast to Paul's earlier statements about the Corinthian's own affections prior to Titus' visit, "You are not restrained by us, but you are restrained in your own affections" (6.12). As to the power and effectiveness of the church, it must begin with a healthy relationship with its leaders. Paul uses the word "affection" (τὰ σπλάγχνα) to relay the heartfelt response of Titus' affirmation. This was not merely a professional, religious, or formal affirmation; it was affirmation rooted in the seat of the emotions i.e. his heart. It was a heartfelt affirmation for the church's repentance and faith that was spilling over and abounding (περισσοτέρως) in the heart of Titus and thus, Paul also. This response on Titus's behalf was rooted in the church's obedience. This leads us to the second element in the church's new found effectiveness and power.
3.2, The power of obedience
Second, there was obedience that began permeating the entire church, "as he remembers the obedience of you all" (ἐστιν ἀναμιμνῃσκομένου τὴν πάντων ὑμῶν ὑπακοήν). The fact that ch.11 begins another wave of corrective language suggests that Paul may simply be generalizing things here. The fact that he affirms "you all" (τὴν πάντων ὑμῶν) simply may refer to the fact that by and large, especially the leaders of the church, had been completely brought back to a place of Pauline support rather than Pauline opposition; the whole church was fundamentally on the same page in this regard. Widespread repentance led to widespread obedience.
3.3, The power of cooperation
Third, they became effective in their ability to minister and cooperate with the gospel and other churches, "how you received him with fear and trembling" (ὡς μετὰ φόβου καὶ τρόμου ἐδέξασθε αὐτόν). This aspect of their ministry is seen from the fact that Titus was there to help Paul complete the Jerusalem collection as the next two chapters will show. Paul describes the church's cooperation and reception of Titus with the Pauline phrase, "with fear and trembling" (μετὰ φόβου καὶ τρόμου). This phrase is found in the NT only in Paul's writings. And although it describes the nature of the human response we ought to have for such things as secular employment as we submit to our earthly masters in "fear and trembling" (Eph. 6.5), the manner in which we engage our sanctification (Phil. 2.12), the attitude we must carry in the ministry of the gospel (1 Cor. 2.3) — the phrase is ultimately God-centered.
Ultimately the phrase is rooted in the OT description of the people of God responding to the power and majesty of God (see, Harris, p.552). The phrase is translated with the same Greek words used by Paul to describe how God's people respond to His deliverance and power (e.g. Ex. 15.16; Dt. 2.25; 11.25; Is. 19.16). It is also used to describe the nature of true worship, "Worship the Lord with reverence And rejoice with trembling" (Ps. 2.11). Peter O'Brien points out:
"the phrase has to do with an attitude of due reverence and awe in the presence of God, a godly fear of the believer in view of the final day." (Peter T. O'Brien, Philippians, New International Greek Testament Commentary (Grand Rapids, MI: Eerdmans, 1991), p. 283).
In other words, the church began tapping back into their Divine obligation to Paul and the gospel; not only to make amends for their error but also to further the truth they had received by cooperating with the truth by cooperating with Paul and Titus his emissary for both of them were Christ's ambassadors and God's servants and God's fellow workers (5.21; 6.1, 4). A complete reversal had taken place where as before it was Paul who had approached them in fear and trembling (cf. 1.23).
3.4, The power of confidence
Fourth, Paul's final assessment of the church also speaks to the church's power and effectiveness, "I rejoice that in everything I have confidence in you" (χαίρω ὅτι ἐν παντὶ θαρρῶ ἐν ὑμῖν). They had gone from a place of potential "shame" to proven substance and usefulness in Paul's eyes and more importantly before God. The word Paul chooses here for "confidence" (θαρρέω) speaks of courage, boldness, certainty, and confidence (cf. 5.6, 8, 10.1, 2; Heb. 13.6). Paul was revived to commend the Corinthians in the matter and as a commendable church with a viable ministry— one he could be proud of.
The proof of the redeemed power of this church was in its ability to produce joy in the apostle Paul. Joy that they had repented, joy that they had relieved his worries and made good on his boasting on their behalf, joy in light of their cooperation with Titus, and joy in their future ministry which Paul will describe in chapter 8, 9. God redeemed their influence, their honor, and their power to the end that it made them useful again for ministry.