Imitators, Persecutors and the Wrath of God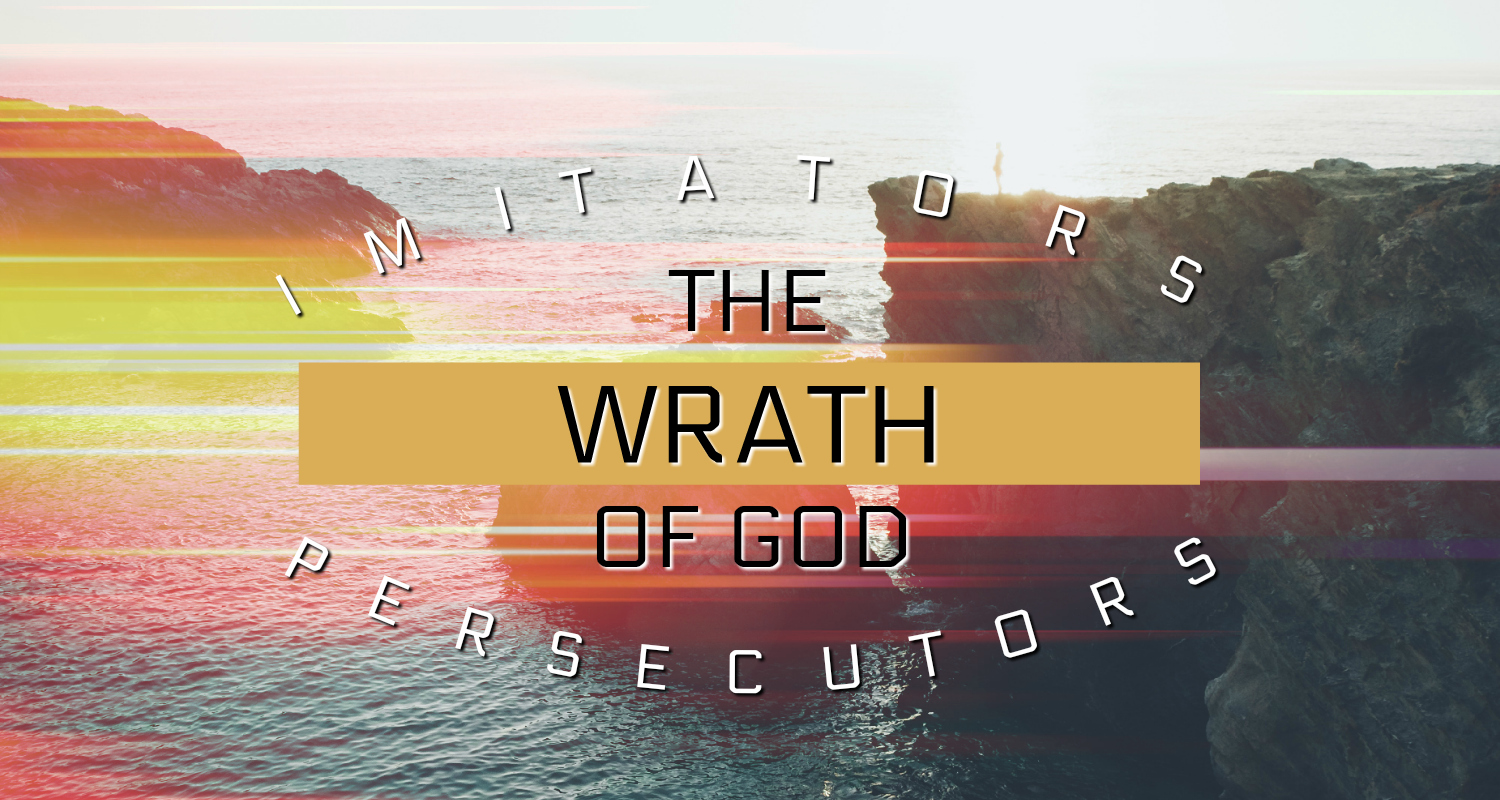 1 Thessalonians 2:14–16 14 For you, brethren, became imitators of the churches of God in Christ Jesus that are in Judea, for you also endured the same sufferings at the hands of your own countrymen, even as they did from the Jews, 15 who both killed the Lord Jesus and the prophets, and drove us out. They are not pleasing to God, but hostile to all men, 16 hindering us from speaking to the Gentiles so that they may be saved; with the result that they always fill up the measure of their sins. But wrath has come upon them to the utmost.
The Imitation Of Faith
We begin with another passage teaching the principle of imitation. This principle is so pervasive throughout Scripture that it can easily be said to be one of the primary ways that God sanctifies His children. Whether we are imitating God (Eph. 4.1), Christ (Mt. 11.29-30), Paul and the apostles (Phil. 4.9), other believers (Rom. 15.1-4), church leaders (Heb. 13.7), or as here other churches (2.14). Scripture teaches this principle in part to show us the unity of the body of Christ, the fellowship that we have not only in living but also in dying, in salvation and in suffering.
Revealed Through Faithful Commitment To Scripture
Our imitation is begins with a commitment to the revealed word of God and the gospel. That is what v.13 is about; the commitment to suffer on behalf of the message of the cross. It is a mark of true faith, genuine salvation and authentic Christianity. Paul is telling us that faithful imitation of God's true Church and our organic connection to it can be largely based on our commitment to the gospel and to God's word. So many err here. Whether its through theological liberalism, personal compromise on controversial issues, culturally sensitive subjects like homosexuality and abortion— God has a way of testing our faith in our endurance in the truth. The connection between persecution and our remaining faithful to God's word was clearly established by Christ in His final sayings in the Gospel of John:
John 14:23–24 23 Jesus answered and said to him, "If anyone loves Me, he will keep My word; and My Father will love him, and We will come to him and make Our abode with him. 24 "He who does not love Me does not keep My words; and the word which you hear is not Mine, but the Father's who sent Me.
John 15:20 20 "Remember the word that I said to you, 'A slave is not greater than his master.' If they persecuted Me, they will also persecute you; if they kept My word, they will keep yours also.
Revealed Through Faithful Commitment To Christ
This is why a commitment to the word is at the same time a commitment to Christ. We will only imitate the genuine faith of the universal Church when we are faithfully committed to Christ and endure persecution for His sake. There are plenty of groups throughout the world being persecuted for false teaching, heretical and false religion. Muslims persecute Catholics, Mormons, Hindus, Buddhists, and Jews just as easily as they persecute biblical Christianity. You can actually see some of this in this text when Paul, in speaking of the Jews, saying that they are "hostile to all men" (2.15b). However, our persecution for Christ's sake is the only one that is at the same time an indication of sin and salvation. In other words, when we are persecuted for Christ God is giving a tangible indication of His saving work among His people and His judgment, as we will see below, of the wicked. This is precisely what Paul says in a parallel passage in Philippians:
Philippians 1:27–28 27 Only conduct your selves in a manner worthy of the gospel of Christ, so that whether I come and see you or remain absent, I will hear of you that you are standing firm in one spirit, with one mind striving together for the faith of the gospel; 28 in no way alarmed by your opponents—which is a sign of destruction for them, but of salvation for you, and that too, from God.
We are commended when we, like the churches around the world who are being persecuted and even martyred, remain faithful and endure to the end with faith in our heart, God's word upon our lips, and Christ as our glory. This level of endurance is not produced by mere courage or the resilience of the human spirit; it's a fruit of genuine faith it is the byproduct of regeneration. God's saving power in our lives is such that even in the face of death, we can through the aid and power of the Holy Spirit, embrace our suffering and even regard persecution as a privilege of having suffered for Christ sake (cf. Phil. 1.29).
The Persecution Of Faith
Persecution is a principle that has been in the world since the dawning of redemptive history. From the first persecutor of the faith, Satan in the Garden who assaulted the beliefs of Adam and Eve, to the seed of the Serpent represented by Cain who killed the prophet Abel and since then, like Abel, the blood of the martyrs have cried out to God from the ground crying out for vengeance (cf. Gen. 4.10). From the perspective of God's sovereign will, God has ordained our sufferings and our persecutions for our testing for our purity, to make us more like Christ and to conform us to the cross in our own lives. Later, Paul will point this very thing out to the Thessalonians so that they will not be surprised or shaken by persecution as so many people are.
1 Thessalonians 3:1–5 1 Therefore when we could endure it no longer, we thought it best to be left behind at Athens alone, 2 and we sent Timothy, our brother and God's fellow worker in the gospel of Christ, to strengthen and encourage you as to your faith, 3 so that no one would be disturbed by these afflictions; for you yourselves know that we have been destined for this. 4 For indeed when we were with you, we kept telling you in advance that we were going to suffer affliction; and so it came to pass, as you know. 5 For this reason, when I could endure it no longer, I also sent to find out about your faith, for fear that the tempter might have tempted you, and our labor would be in vain.
The Universal Hostility Of The World
This persecution is both real and universal. Although it will vary in degree from person to person, church to church, generation to generation and location to location; persecution is a universal reality, "you also endured the same sufferings at the hands of your own countrymen, even as they did from the Jews, who both killed the Lord Jesus and the prophets, and drove us out. They are not pleasing to God, but hostile to all men" (vv. 14-15). Here we can see that persecution is not particular to the Jewish hatred of Christ but extends to the Gentile world as well because, the gospel is diametrically opposed to the elementary principles of the world and that consists of all nations, all peoples, all forms of human reason, philosophy, ethics, religion, and morals that do not have God's law as their foundation and Christ as their source of knowledge and truth (cf. Ps. 33.12; 144.15; 147.19-20; Col. 2.2-3).
The Universal Condemnation Of The World
In addition to the universal extent of persecution is the universal condemnation of persecution by God. Paul simply says about the Jews, "They are not pleasing to God" (θεῷ μὴ ἀρεσκόντων). This is an important qualification because Jewish persecution, as Paul knew so well, was done in the name of God, in the name of advancing God's cause and protecting God's honor and glory but as Paul teaches elsewhere, this was a zeal devoid of knowledge (Rom. 10.2). And yet, even as Paul will deal with the sin of his own countrymen that is the Jews, he will also express that God's condemnation of those who persecute the Thessalonians will also be judged:
2 Thessalonians 1:6–9 6 For after all it is only just for God to repay with affliction those who afflict you, 7 and to give relief to you who are afflicted and to us as well when the Lord Jesus will be revealed from heaven with His mighty angels in flaming fire, 8 dealing out retribution to those who do not know God and to those who do not obey the gospel of our Lord Jesus. 9 These will pay the penalty of eternal destruction, away from the presence of the Lord and from the glory of His power,
The Wrath Of God
There is scarcely a more controversial subject in all of theology than the wrath of God. It seems that regardless of how wicked and vile man is, society still sees the wrath of God as more vile. People may hurl obscene blasphemies at the God of heaven and spite His sovereign reign and detest His goodness and ignore His law and yet, they will not see their judgment as just. People would much rather expunge the holiness of God from God than the wickedness of man from man. They would much rather worship an idol all their life and suppress the truth to their own destruction than to know that the fear of the Lord is pure. It is texts like the present passage however that simply does not allow the child of God to ignore the wrath of God or preach a soft sentimental therapeutic gospel of cheap grace. We must embrace God as He is and as He was revealed himself to be. Anything less would be to worship God in our own image after our likeness and not according to the truth. Having seen that Paul clearly states that God's vengeance will in fact come upon those who afflict the Church, here we can also see the justice and inevitability of God's wrath.
God's Wrath Is Deserved
First, consider that God's wrath is fully deserved by those whom God will judge. Paul systematically lays out the case, "the Jews, 15 who both killed the Lord Jesus and the prophets, and drove us out. They are not pleasing to God, but hostile to all men, 16 hindering us from speaking to the Gentiles so that they may be saved; with the result that they always fill up the measure of their sins" (τῶν Ἰουδαίων, 15 τῶν καὶ τὸν κύριον ἀποκτεινάντων Ἰησοῦν καὶ τοὺς προφήτας καὶ ἡμᾶς ἐκδιωξάντων καὶ θεῷ μὴ ἀρεσκόντων καὶ πᾶσιν ἀνθρώποις ἐναντίων, 16 κωλυόντων ἡμᾶς τοῖς ἔθνεσιν λαλῆσαι ἵνα σωθῶσιν, εἰς τὸ ἀναπληρῶσαι αὐτῶν τὰς ἁμαρτίας πάντοτε).
In view here particularly are "the Jews" (τῶν Ἰουδαίων) who are guilty of displeasing God. Still more specifically, Paul does not have in view every individual Jew, since he himself was a Jew, but the Jews collectively and nationally identified as the covenant people. Every remnant of Jewish nationalism, institutional Israel, those identifying with the Old Covenant economy who refused to move on with the New Covenant. It was they who were not pleasing to God and in fact have a lamentable legacy of disobedience with murder, persecution and hostility in their wake. The whole concept of not pleasing God is the opposite of keeping God's covenant and obeying God's commands (cf. Ps. 56.13; 116.9). Here it is even more specific and more egregious than that— Paul's list is extensive. "They killed the Lord Jesus and the prophets and drove us out" (τῶν καὶ τὸν κύριον ἀποκτεινάντων Ἰησοῦν καὶ τοὺς προφήτας καὶ ἡμᾶς ἐκδιωξάντων). Their assault on the apostles was well known in the early Church (1 Cor. 4.9) and to the Thessalonians for in the very founding of their church it was the Jews who riled up a mob of shady characters and provoked the city and the city officials to drive Paul out of the city and dragged a young man Jason and others before the city officials where he had to pay his way out of trouble (Acts 17.1-9). Paul now shows that their persecution of the church was only one in a long line of Israel being on the wrong side of redemptive history.
The greatest sin the Jews have is their murder of the Messiah. In their blind arrogance they killed the Lord of glory even calling on Pilate that His blood be on their hands as a people (1 Cor. 2.8; Mt. 27.25):
Matthew 27:24–25 24 When Pilate saw that he was accomplishing nothing, but rather that a riot was starting, he took water and washed his hands in front of the crowd, saying, "I am innocent of this Man's blood; see to that yourselves." 25 And all the people said, "His blood shall be on us and on our children!"
The Greek text has been cited here as significant since the phrase puts the term "Lord" (τὸν κύριον) before the verb "killed" (ἀποκτείνω) and then last is the name "Jesus" (Ἰησοῦν). It is almost as if Paul wanted to emphasize the gravity of the evil that was committed at Calvary one that resulted in the ultimate irony of ironies for Israel's rightful Lord, King, and Messiah was sacrificed and murdered by Israel itself. The theme of the murder Christ is replete throughout the message of Acts (cf. 2.23, 36; 3.13–15; see also 4.10; 5.30; 7.52; 10.39; 13.27–28. Also see, John 5:18; 7:1; 8:59; 11:45–53; 18:14, 31). But the murder of Jesus was just the logical next step in their opposition to God's kingdom and glory since they also killed the "prophets" (τοὺς προφήτας). Those who were sent with the message of salvation, those who had the keys of knowledge, who came bearing the word of the Lord, and where divinely commissioned for the good of the people— they were killed nonetheless. Elijah's cry of desperation to the Lord is an adequate description of the ancient hostility of Israel as a nation against their own righteous people:
1 Kings 19:10 10 He said, "I have been very zealous for the Lord, the God of hosts; for the sons of Israel have forsaken Your covenant, torn down Your altars and killed Your prophets with the sword. And I alone am left; and they seek my life, to take it away."
The greatest indictment of the Jewish people came from the Messiah himself when He indicted them for being guilty of the blood of the prophets and building monuments to their own sin:
Matthew 23:29–36 29 "Woe to you, scribes and Pharisees, hypocrites! For you build the tombs of the prophets and adorn the monuments of the righteous, 30 and say, 'If we had been living in the days of our fathers, we would not have been partners with them in shedding the blood of the prophets.' 31 "So you testify against yourselves, that you are sons of those who murdered the prophets. 32 "Fill up, then, the measure of the guilt of your fathers. 33 "You serpents, you brood of vipers, how will you escape the sentence of hell? 34 "Therefore, behold, I am sending you prophets and wise men and scribes; some of them you will kill and crucify, and some of them you will scourge in your synagogues, and persecute from city to city, 35 so that upon you may fall the guilt of all the righteous blood shed on earth, from the blood of righteous Abel to the blood of Zechariah, the son of Berechiah, whom you murdered between the temple and the altar. 36 "Truly I say to you, all these things will come upon this generation.
Paul's comprehensive indictment of the Jewish nation extends universally to all man, "They are not pleasing to God, but hostile to all men" (θεῷ μὴ ἀρεσκόντων καὶ πᾶσιν ἀνθρώποις ἐναντίων). There is clear historical evidence of this point that should be noted:
"Initially these harsh words sound like those made by many other ancient writers who reacted negatively to the strict separation that many Jews practiced between themselves and other ethnic groups. For example, the Roman historian Tacitus claimed that Jews felt "hostility and hatred toward all people" (Hist. 5.5.2). The Egyptian Apion charged the Jews with regularly swearing a divine oath "to bear no goodwill to any foreigner, and especially to none of the Greeks" (Josephus, Ag. Ap. 2.121). The Roman satirist Juvenal asserted that the Jews were an unfriendly race who denied even the most common act of hospitality to strangers (Sat. 14.103–4). Diodorus Siculus, a Greek historian, wrote that Jews "looked upon all people as their enemy" and that they "made their hatred of humankind into a tradition" (34.1.1–2). And Philostratus, a Greek sophist of the Roman imperial period, claimed that "the Jews have long been in revolt not only against the Romans but against humanity" (Vit. Apoll. 5.33)." (Jeffrey A. D. Weima, 1-2 Thessalonians, 172-173).
However as commentators have point out, Paul's description is even more precise. The Jews can be characterized as "hostile to all" (πᾶσιν ἀνθρώποις ἐναντίων) because of their aversion to the salvation of the Gentiles, "hindering us from speaking to the Gentiles so that they may be saved; with the result that they always fill up the measure of their sins" (κωλυόντων ἡμᾶς τοῖς ἔθνεσιν λαλῆσαι ἵνα σωθῶσιν, εἰς τὸ ἀναπληρῶσαι αὐτῶν τὰς ἁμαρτίας πάντοτε). This has always been in Israel's history because they were always called to be a light to the Gentile world, a calling in which they failed and for which they are now under God's judgment (cf. Is. 9.2; 42.6; 49.6, 9; 51.4; 60.1–3; Mt. 4.16; Acts 13.47; 26.23). What national Israel was to be, Messianic Israel, Jesus Christ the true Israel of God, He did through the cross where He would draw all to himself (cf. John 12.32). As for Israel, their rejection of the Messiah was the final stroke of covenant displeasure and their disobedience to the Law and their hindering of the gospel just confirms their antagonistic posture against the purpose of God in Christ so that their sin is filled up and their judgment sure.
God's Wrath Is Dependable
Second, God's wrath is not only deserved, but dependable or certain. We can see the inevitability of God's wrath by Paul's words, "wrath has come upon them to the utmost" (ἔφθασεν δὲ ἐπ' αὐτοὺς ἡ ὀργὴ εἰς τέλος). As Jesus promised, their judgment has come to pass. This text reminds us that God's wrath will come with the full measure of retribution that God has assigned to it including vengeance on behalf of His people, vengeance on behalf of His law, vengeance on behalf of His justice and honor. Exegetically, in view here is the wrath of God upon the "Jews" (τῶν Ἰουδαίων). What is also clear from the language is that God's wrath is definitive. To the "utmost" is more literally rendered "to the end" or "in full" (εἰς τέλος).
Theologically, this text introduces a debate about the future of the Jewish people and whether or not God has done away with Israel and in what way? Or is this just a temporary outpouring of His wrath for a particular generation i.e. the generation of Scripture or Jesus and the apostles in the early Church? These are not simple questions to answer. Jesus prophesied about the rejection of Israel as God's theocratic people and even toppled its institutions ultimately symbolized in the destruction of the temple as God's sanctuary. Of course this was based on the rejection of the Messiah himself (cf. John 1.11):
Matthew 21:42–44 42 Jesus said to them, "Did you never read in the Scriptures, 'The stone which the builders rejected, This became the chief corner stone; This came about from the Lord, And it is marvelous in our eyes'? 43 "Therefore I say to you, the kingdom of God will be taken away from you and given to a people, producing the fruit of it. 44 "And he who falls on this stone will be broken to pieces; but on whomever it falls, it will scatter him like dust."
Matthew 23:37–39 37 "Jerusalem, Jerusalem, who kills the prophets and stones those who are sent to her! How often I wanted to gather your children together, the way a hen gathers her chicks under her wings, and you were unwilling. 38 "Behold, your house is being left to you desolate! 39 "For I say to you, from now on you will not see Me until you say, 'Blessed is He who comes in the name of the Lord!' "
In other words, when Jesus returns again, it will no longer be an opportunity for salvation for that day of visitation has past and now, all homage from non-believers will be forced (cf. Phil. 2.9-11)! Romans 11 is not the reinstitution of Israel's national, kingdom privileges from the typological age of the past- a function they forfeited long ago (cf. Mt. 8.11-12). Now believing Jews, even should they come in in mass prior to the parousia will be re-grafted into the new international "nation" that Jesus created and constituted through the new covenant in His blood (cf. Heb. 8.13). That is the only 'Israel of God' that He is concerned with anymore for God's true nation is comprised of every tribe and tongue, people and nation (Rev. 5.9).