Lessons from a Commendable Minister of God Part 2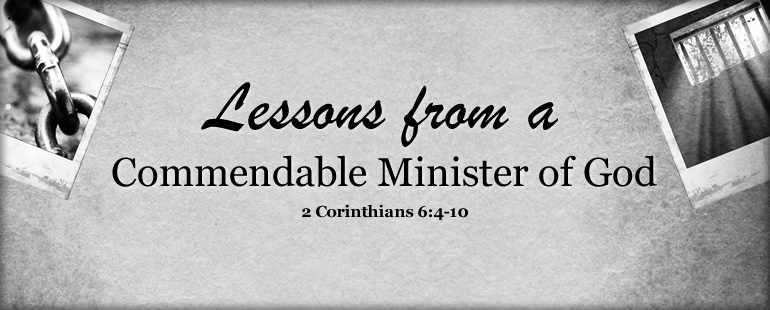 Text and Exposition
"7in the word of truth, in the power of God; by the weapons of righteousness for the right hand and the left, 8 by glory and dishonor, by evil report and good report; regarded as deceivers and yet true; 9 as unknown yet well-known, as dying yet behold, we live; as punished yet not put to death, 10 as sorrowful yet always rejoicing, as poor yet making many rich, as having nothing yet possessing all things."
7 ἐν λόγῳ ἀληθείας, ἐν δυνάμει θεοῦ· διὰ τῶν ὅπλων τῆς δικαιοσύνης τῶν δεξιῶν καὶ ἀριστερῶν, 8 διὰ δόξης καὶ ἀτιμίας, διὰ δυσφημίας καὶ εὐφημίας· ὡς πλάνοι καὶ ἀληθεῖς, 9 ὡς ἀγνοούμενοι καὶ ἐπιγινωσκόμενοι, ὡς ἀποθνῄσκοντες καὶ ἰδοὺ ζῶμεν, ὡς παιδευόμενοι καὶ μὴ θανατούμενοι, 10 ὡς λυπούμενοι ἀεὶ δὲ χαίροντες, ὡς πτωχοὶ πολλοὺς δὲ πλουτίζοντες, ὡς μηδὲν ἔχοντες καὶ πάντα κατέχοντες.
Preliminary Thought
"As Paul continues to commend his ministry to the Corinthians in this long list of afflictions and virtues, Paul touches on two more crucial aspects of his life as a servant of God. Paul has already listed various hardships and afflictions that prove his sacrificial nature of his labors to the church and his commitment to the ministry of the gospel. Here, Paul sets forth various other virtues and complexities of his calling. Paul uses military imagery to speak of his spiritual fitness and fortitude. He sees himself as a soldier that does not forget to put on his armor. Paul equips himself with the necessary weaponry in order to fight the good fight of faith in the context of the ministry. He also describes the complex paradoxes involved in his apostolic ministry. Paul presents himself here as something of a spectacle, where on the one hand the world and even some within the church view him solely according to external factors, while he gives the Corinthians the reality which undergirds all of these things. These then are the trials and triumphs of the apostle Paul in the service of his God. Believers everywhere and in all places of spiritual maturity can gain great lessons from one who not only lived a profound and extraordinary life in Christ, but who also was able to capture the heart and substance of his life and ministry with such beautiful simplicity and eloquence to the glory of God."
LESSONS FROM A COMMENDABLE MINISTER OF GOD part2
Bearing in mind as Paul's long catalogue of afflictions associated with the ministry continues that his list serves to illustrate the blameless nature of his apostleship. He begins this vein of thought with the words in 2 Cor. 6:3, "giving no cause for offense in anything but in everything commending ourselves as servants of God" (2 Cor. 6.3-4). In light of the great eschatological announcement that this was "the acceptable time" and "the day of salvation" it is important that his ministry not be diminished in its effectiveness in any area. In order to show that this was indeed the nature of his apostleship, Paul sets out both the complexity and cost included within the ministry itself. Ministry for Paul meant not only counting the cost of all of the suffering entailed, but paying the cost through "much endurance." This endurance was not only to be understood in the things which Paul suffered through persecution, but the personal sacrifice included in being a fit and commendable minister of God. In 2 Cor. 6:7-10 Paul gives several more aspects of his ministry highlighting both the need for personal spiritual fortitude and the practical paradoxes involved in being God's "servants."
4.) SPIRITUAL FORTITUDE
2 Cor. 6:7,
7"in the word of truth, in the power of God; by the weapons of righteousness for the right hand and the left,"
As Paul continues his list of afflictions and personal experience in the ministry, he has listed various virtues that made him such a powerful minister especially in 2 Cor. 6:6, "in purity, in knowledge, in patience, in kindness, in the Holy Spirit, in genuine love." The next group which describes Paul's spiritual fortitude is connected to military metaphors. Paul begins with the most fundamental basis of all true biblical ministry, "the word of truth" (ἐν λόγῳ ἀληθείας) which is to say the Bible itself. There are times when more paraphrase driven translations such as the NIV are helpful to draw out the meaning of certain phrases and passages in Scripture. Here however, the NIV has completely missed the point by translating this phrase as "truthful speech." This phrase is classic Pauline language to refer to the gospel in general and the Word of God in particular; Scripture abundantly proves this point:
Ephesians 1:13 "In Him, you also, after listening to the message of truth, the gospel of your salvation—having also believed, you were sealed in Him with the Holy Spirit of promise,"

Colossians 1:5 "because of the hope laid up for you in heaven, of which you previously heard in the word of truth, the gospel"

2 Timothy 2:15 "Be diligent to present yourself approved to God as a workman who does not need to be ashamed, accurately handling the word of truth [i.e. the Word of God]."
It is not enough however to simply define the phrase, "the word of truth," we must also appreciate the determination that Paul possessed to be a man of the Word. Here we can learn a great deal from the apostle. It was his resolve to preach Scripture, study Scripture, to preach the gospel, and to devote himself to the gospel that made his ministry so effective. In fact, one of the places where this aspect of Paul's character was on display was in Corinth itself. Acts 18 records that Paul spent 18 months studying (Acts 18.5) and teaching (Acts 18:11) the Word of God. He was committed to the Word of God in every facet and aspect of his ministry. His commitment to the Word was not an end in itself but rather, he devoted himself to the study of the word in order to teach it to others. This is why Paul exhorted Timothy to "preach the word" and not just "rightly divide the word"; digesting the word was for the purpose of disseminating the word to others both evangelistically (2 Tim. 4:5) and in the context of the local church (2 Tim. 2:2).
Next Paul shows that he not only had the proper proclamation but the proper power as well, "in the power of God" (ἐν δυνάμει θεοῦ). Paul did not have a ministry of pure intellectualism, there was also a dependency on the power of God for ministry. Paul recognized his absolute inadequacy to serve God and to be His spokesman, His ambassador and servant (2 Cor. 3:4-6). This led him to dependency which in turn resulted in spiritual empowerment. The source of this "power" was God himself, the nature of this power is that it was triune. Paul writes about the strength and power which he derived from every member of the Godhead revealing that Paul had an intimate acquaintance with each Divine person of the Trinity. The Father strengthens us (Eph. 1:19), the Spirit strengthens us (Eph. 3:16; Rom. 15:13), and the Son strengthens us (2 Cor. 12:9). It was because of such divine empowerment that Paul could labor as he did it was not self-generated:
Colossians 1:29 "For this purpose also I labor, striving according to His power, which mightily works within me."
That was the power of God working in the apostle, but the power of God was also at work through the apostle particularly in conjunction with his preaching, "and my message and my preaching were not in persuasive words of wisdom, but in demonstration of the Spirit and of power, so that your faith would not rest on the wisdom of men, but on the power of God." (1 Cor. 2:4-5). The power that God supplied was the power that God used to effect the change and transformation which the gospel calls for among His people.
Next the apostle launches into a military metaphor to describe the nature of his ministry and the spiritual fortitude with which he was equipped. Paul's focus is with what he calls, "weapons of righteousness" (τῶν ὅπλων τῆς δικαιοσύνης). This metaphor serves to illustrate Paul's moral integrity. The closest parallel is found in Rom. 6:13 where the word (ὅπλον) is usually translated "instruments" by most EVV. There, as is the case here, refers to Paul's integrity and character which was rooted in righteousness and holiness. All of ministry is fought with holiness and all ministry must be undergirded with a commitment to righteous living.
The righteous weapons therefore are those things which accord to righteousness i.e. a life of godliness, prayer, sacrifice, faith, doctrinal faithfulness, and zeal. It is only in this way that the man of God will be equipped to fight the spiritual battles involved in the gospel. This passage is also reminiscent of Paul's description of the "armor of God" in Eph. 6 which consequently is drawn from OT imagery. With such military imagery, Paul follows the prophet Isaiah who describes the Lord in similar military language:
Isaiah 59:17 "He put on righteousness like a breastplate, And a helmet of salvation on His head; And He put on garments of vengeance for clothing And wrapped Himself with zeal as a mantle."
Like God therefore, Paul decked himself on the "right hand and the left" (τῶν δεξιῶν καὶ ἀριστερῶν) with the necessary spiritual fortitude that was necessary to engage in the combat of ministry which calls for both offense (presumably on the right had where a weapon would be held) and defense (where a shield would be held). Paul was a Christian in complete armor. With such weaponry, Paul could face the complexity of Christian life and ministry (cf. 2 Cor. 10:3-5; Rom. 13:12; Eph. 6:13-18; 1 Tim. 6:12; 2 Tim. 2:4).
5.) MINISTRY PARADOXES
2 Cor. 6:8-10,
8"by glory and dishonor, by evil report and good report; regarded as deceivers and yet true; 9 as unknown yet well-known, as dying yet behold, we live; as punished yet not put to death, 10 as sorrowful yet always rejoicing, as poor yet making many rich, as having nothing yet possessing all things."
The paradoxes of ministry are presented as a series of antithetical opinions both positive and negative, true and false, spiritual and carnal etc. Each antithesis serves to highlight a different aspect of Paul's ministry, his hardships, the nature of his endurance, and the constant opposition he faced at the hands of his critics both inside and outside of the church.
5.1, Moral and Immoral Antithesis
The first set of antithetical opinions is ethical in nature. There were those who had a positive opinion of Paul and his ministry where Paul was viewed with "glory" (δόξα) here meaning honor. Some, especially believers (yet not all), maintained that Paul had a "good report" (εὐφημία) and viewed him as "true" (ἀληθής) that is, truthful, genuine and trustworthy (cf. 1Thess. 2:13). Still, others slandered Paul as being dishonorable (ἀτιμία) with an "evil report" (δυσφημία) or reputation and believed him to be a "deceiver" (πλάνος). All of these adjectives were associated with Paul and being attributed to Paul. Obviously those who asserted a pejorative opinion of Paul where often unbelievers (Acts 24:2-5), false teachers (Gal. 2:5), opponents and adversaries (1 Cor. 16:9; 2 Cor. 1:17), and even misinformed brethren (2 Cor. 11:16). In the final analysis, ministry entails opposition, slanderous assaults, and spiritual warfare that often results in great confusion within the church. It was in Corinth that Paul faced much of his ministerial opposition. In almost a sarcastic way, Paul describes himself in the manner in which he is being falsely characterized i.e. as a "fool":
1 Corinthians 4:10 "We are fools for Christ's sake, but you are prudent in Christ; we are weak, but you are strong; you are distinguished, but we are without honor."
Ministry involves the willingness to have one's name derided. The minister's name is subject to slander, gossip, and ridicule for the sake of God's glorious holy Name (cf. Rom: 1.5). This does not mean that we overlook the slander or that we tolerate the propagating of lies but, since Paul often corrected and refuted his opponents, but it does mean that we accept the cost involved in the defamation of our name for the sake of His Name. Ultimately what this means is that there will always opposing views of believers in general and the minister in particular. This divergence of opinions is rooted in the nature of the gospel itself; something Paul has already made reference to:
2 Corinthians 2:14–16 14 "But thanks be to God, who always leads us in triumph in Christ, and manifests through us the sweet aroma of the knowledge of Him in every place. 15 For we are a fragrance of Christ to God among those who are being saved and among those who are perishing; 16 to the one an aroma from death to death, to the other an aroma from life to life. And who is adequate for these things?"
As an apostle, Paul knew what it felt like to be derided to be slandered and attacked by false accusations. Some took him to be nothing more than a dishonorable deceiver who did not have a good reputation. Still others, those who remained loyal to him, had a right view of Paul.
5.2, The Human and Divine Antithesis
Verse 9 gives another set of perspectives which can be said to represent either the human or divine side of things, "as unknown yet well-known, as dying yet behold, we live; as punished yet not put to death." As an apostle Paul did not hold any real prominence in the Ancient world. This can be seen throughout his missionary journeys and the corresponding imprisonments which demonstrate that Paul was not recognized (ἀγνοέω) as possessing any prominence in the world. Paul gives his own assessment of his status in society in his first letter to Corinth. Although some have argued that Paul is comparing the ridicule of the world versus the acceptance he received in the church; this acceptance not being at all universal even within the church has led others to see that Paul is really speaking of being unknown to men (in various ways and to various degrees) yet known to God:
1 Corinthians 4:9–13 9 "For, I think, God has exhibited us apostles last of all, as men condemned to death; because we have become a spectacle to the world, both to angels and to men… 11 To this present hour we are both hungry and thirsty, and are poorly clothed, and are roughly treated, and are homeless; 12 and we toil, working with our own hands; when we are reviled, we bless; when we are persecuted, we endure; 13 when we are slandered, we try to conciliate; we have become as the scum of the world, the dregs of all things, even until now."
Although Paul suffered at the hands of the world and even at the hands of divisive men within the church who did not recognize and even rejected his apostolic authority— Paul's true identity, calling, and quality of ministry was known to God who had appointed (τίθημι) him to preach the gospel as God's minister (Eph. 3:7ff.; 1 Tim. 1:12). It was God who called him to be an apostle (2 Cor. 1:1; Gal. 1:1) and who was always in constant fellowship with him (1 Cor. 13:12). While others may have questioned Paul's calling and credentials (1 Cor. 9:1; 2 Cor. 3:1; 5.12; 10:10; 11:6), who and what he is was "well-known" (ἐπιγινώσκω) to God and to those who remained faithful to him and to the gospel throughout his life. When Paul defends himself in this way he often calls God as his witness because God knows the true Paul:
2 Corinthians 2:17 "For we are not like many, peddling the word of God, but as from sincerity, but as from God, we speak in Christ in the sight of God."

2 Corinthians 4:2 "but we have renounced the things hidden because of shame, not walking in craftiness or adulterating the word of God, but by the manifestation of truth commending ourselves to every man's conscience in the sight of God."
It was God also that was making it possible for Paul to undergo such adversity in his ministry. It was because of God's divine protective power that Paul was able to proclaim with such emphasis that he lived on, even under the constant threat of death and under the constant affliction of various forms of punishment, "as dying yet behold, we live; as punished yet not put to death" (ὡς ἀποθνῄσκοντες καὶ ἰδοὺ ζῶμεν, ὡς παιδευόμενοι καὶ μὴ θανατούμενοι). These two last comparisons (note: ὡς… ὡς…) both have to do once again with Paul's physical maladies.
Again, the reason this verse is to be understood along the human/divine antithesis is simply due to the nature of Paul's afflictions here. From an earthly perspective is seems as if Paul's authority is often undermined and even unrecognized, yet what he is and who he is fully known to God and through God to the faithful in the church as well. It would also seem from an earthly perspective that Paul's afflictions should naturally result in death especially considering the extensive ways in which Paul suffered (e.g. 2 Cor 11:23ff.). But providence protected him time and again from certain death even if it meant escaping in a basket (2 Cor. 11:33). In fact this text is only one of countless instances in which Paul was seemingly ready to be "punished" (παιδεύω) yet he was "not put to death" (μὴ θανατούμενοι):
2 Corinthians 11:30–3330 "If I have to boast, I will boast of what pertains to my weakness. 31 The God and Father of the Lord Jesus, He who is blessed forever, knows that I am not lying. 32 In Damascus the ethnarch under Aretas the king was guarding the city of the Damascenes in order to seize me, 33 and I was let down in a basket through a window in the wall, and so escaped his hands."
Of course suffering was all part of Paul's apostolic calling. Suffering is what Paul saw as his part in that which remains of suffering for the sake of Christ, as Christ's body— the church:
Colossians 1:24 "Now I rejoice in my sufferings for your sake, and in my flesh I do my share on behalf of His body, which is the church, in filling up what is lacking in Christ's afflictions."

Philippians 3:10 "that I may know Him and the power of His resurrection and the fellowship of His sufferings, being conformed to His death;"

1 Peter 4:13 "but to the degree that you share the sufferings of Christ, keep on rejoicing, so that also at the revelation of His glory you may rejoice with exultation."
In the midst of so much suffering, it was only the power of God that could keep Paul from literally dying any sooner than he did; a fact that demonstrates that like Jesus Paul was on God's sovereign timeline for his life. Paul did not suffer in vain.
5.3, The Situational and Spiritual Antithesis
This final group of antithesis really brings things to a glorious climax. On the surface and in light of the things which Paul suffered it may seem as if Paul's life consisted solely of sorrow and poverty. However, the only reality that really counts is the heavenly, the eternal, and spiritual reality. With the proper spiritual perspective the fact that Paul was often in circumstances that caused him to be "sorrowful" (λυπέω) only served as the catalyst for greater transcendent joy i.e. joy in spite of circumstances.
Paul moves from the personal to the corporate, from the individual to the enriching of others. By the grace and power of God, by the Holy Spirit's power and influence Paul could "rejoice" (note: Present Active Participle χαίροντες) though often filled with sorrow. Paul could be filled with great anxiety over the church, which seemed to be a constant daily battle, Paul could be having financial problems, Paul could be struggling at times to get to his next meal (e.g. 2Cor. 6:5, "hunger" cf. 1 Cor. 4:11) yet still be filled with the transcendent joy of the Lord which surpasses and transcends our earthly trials (Phil. 4:4-7). On the surface it may seems that logic and all common sense reason demand that Paul get depressed and stay depressed, but Paul rose above his circumstances not by any moralistic self generated self esteem of his own, but by the power of God and the "encouragement of the Scriptures" (Rom. 15:4); this is what gave Paul hope and joy.
Because Paul was spiritually minded, he knew that his physical poverty resulted in the spiritual enrichment of others. The situations surrounding the life of the apostle Paul would seem to spell out only that he was "poor" (πτωχός) and destitute but the reality which governed the thinking of the apostle consisted of the fact that as people were gaining eternal life through the gospel he was actually "making many rich" (πολλοὺς δὲ πλουτίζοντες). The riches that Paul is referring to of course were the riches of salvation (Mt. 5:3), the unfathomable riches of Christ (Eph. 3:8), the riches of being a fellow heir with Christ and of His kingdom (Rom. 8:17; 2 Tim. 5:18), and the riches of knowing the all-satisfying Christ and being used by Him for His glory (Phil. 3:8-10); those are true riches indeed (cf. Rom. 10:12; 11:12; Col. 1:25-27). In stating the matter this way, Paul was seeking to follow the greatest of all examples, Jesus. Paul will go on to state this very thing:
2 Corinthians 8:9 "For you know the grace of our Lord Jesus Christ, that though He was rich, yet for your sake He became poor, so that you through His poverty might become rich."
Thus, Paul's ministry is sacrificial in nature— his poverty, like Jesus, results in the enrichment of others. Paul's poverty was not motivated by ascetic zeal but by evangelistic zeal and ecclesiastical zeal.
This verse seems to ascend in intensity, one could almost sense Paul's affections rising with each antithesis in 2 Cor. 6:10, "sorrowful yet always rejoicing, as poor yet making many rich, as having nothing yet possessing all things." This final contrast is climactic in several ways. The world's final assessment of the apostles was indeed that their calling was not of any worth (1 Cor. 4:9, 13), that their message was utter foolishness (1 Cor. 1:18), that the church was nothing but sect of zealous "holier than thou" fanatics (1 Pet. 4:4) leaving them with nothing to commend them (μηδὲν ἔχοντες). In reality and as the apostle Paul rightly saw it, believers are said to be "possessing all things" (πάντα κατέχοντες). It is only with a proper spiritual perspective that a believer can genuinely see him or herself in possession of "all things" (πάντα) which here surely means those things which are of any real eternal and lasting value. Paul has already spoken in this way:
2 Corinthians 4:18 "while we look not at the things which are seen, but at the things which are not seen; for the things which are seen are temporal, but the things which are not seen are eternal."
In statements like these it seems that for Paul, the reality of such future eschatological hope enabled him to view his present trials as almost insignificant in comparison to the believer's future glory. This glory consists of nothing short of a full inheritance of God's eternal kingdom where we will reign with Christ. Suffering is simply the means to that very end:
2 Timothy 2:12 "If we endure, we will also reign with Him; If we deny Him, He also will deny us;"

Romans 8:17 "and if children, heirs also, heirs of God and fellow heirs with Christ, if indeed we suffer with Him so that we may also be glorified with Him."
It is with this spiritual vision for his life that Paul can commend his ministry to the Corinthians who, with these words, can now see with greater clarity the true manner, motive, and method of Paul's apostolic life. Paul's life is commendable because it's sacrificial, godly, fortified, and spiritual albeit paradoxical nature. These verses describe the substance of the "endurance" (2 Cor. 6:4) which characterized Paul's ministry. This endurance should be sought by all believers everywhere. In order to do this however, we will have to have Paul's same dependence, perspective, and resolve.