Ministering through Adversity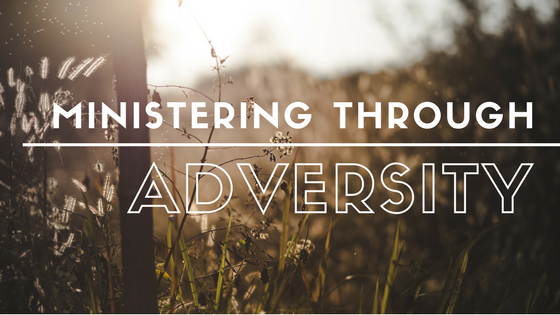 1 Thessalonians 2:1–2 1 For you yourselves know, brethren, that our coming to you was not in vain, 2 but after we had already suffered and been mistreated in Philippi, as you know, we had the boldness in our God to speak to you the gospel of God amid much opposition.
It would not be difficult to trace the theme of suffering and adversity in the ministry through the pages of Scripture going all the way back to the inception of God's community of faith from Abel to Noah, Abraham to Moses and the prophets. Adversity has always been part of the program so to speak and that will not change so long as we minister in this fallen world (cf. Ps. 34.19; Acts 14.22). Not only did God put enmity between His people (both the typological and spiritual people of God) and the wicked who rebel against God's revelation, but also it is the principle of sin in all of us that makes it hard to shepherd and minister in the present evil age. In this passage Paul begins to change gears and focus on the legitimacy and sincerity as well as his manner of ministry among the Thessalonians (cf. 1 Th. 2.1-12). This chapter in Paul's letters gives us an in-depth look at indispensible characteristics of Paul's ministry. This chapter is autobiographical and begins with Paul's willingness to minster through all of the adversities that come with ministry. This chapter not only reminds us that Paul was willing to suffer in ministry, but it is also focuses on Paul's commitment to the church, his love for the church and his passion to see the church grow in sanctification and real holiness.
We should also point out that while this section provides pastors with ample advice, insight, and valuable principles for ministry in the pastorate; we should note that in addition to Paul occupying the role of a pastor, he was also a pioneer missionary, something many pastors will never be themselves. This is an important point as we consider the sacrifice and cost that Paul was willing to pay for the ministry. Paul was not merely looking to fill a pastoral spot at a little country church in some sleepy little town; his calling was to further the gospel at all costs and lay down his life for the sake of the Church and the obedience of the saints to the gospel of Jesus Christ (cf. Rom. 1.5). He did this by planting biblical churches where Christ had never been preached— this was his ultimate vision and passion, all for God's glory (cf. Rom. 15.20).
Paul ministered with purpose
There is here a nuanced approach to the significance of Paul's negation in the phrase, "in vain" (οὐ κενὴ). It is nuanced because as commentators have pointed out this phrase could imply several implications including the result and the nature or character of his visit with them. Paul endured whatever hardship he needed to go through for their sake, that is for their faith (cf. Rom. 15.16; Phil. 2.17). This was his over arching purpose with them, to establish their faith. In fact, Paul prayed day and night that he might come to them again and complete whatever might be lacking in their faith both doctrinally and practically (3.10).
This meant imparting to them the apostolic doctrine, training them in the Scriptures, establishing them in their faith, and teaching them how to live the Christian life in every sphere of their lives including family, marriage, raising their children, behaving properly in society and in the church, also having a right view of things like work and money. The fact that Paul characterizes his ministry as "not in vain" suggests not only that Paul's visit was not a waste of time but it also means that Paul was successful in accomplishing certain goals; especially their salvation but even more than that the ministry of the word not fail to produce true discipleship and sanctification (κενὴ 'failure' NIV, see, 3.5). At least in part Paul's entrance to the Thessalonians was successful in imparting sound doctrine and producing genuine fruit in their lives (cf. 2.13). Paul's ultimate goal however was to complete what he started so that their conduct would match their calling. Paul says this explicitly as a reason for sacrificing on behalf of the church in the way in which he did:
1 Thessalonians 2:10–12 10 You are witnesses, and so is God, how devoutly and uprightly and blamelessly we behaved toward you believers; 11 just as you know how we were exhorting and encouraging and imploring each one of you as a father would his own children, 12 so that you would walk in a manner worthy of the God who calls you into His own kingdom and glory.
Paul's words here reminds us that the goal of all ministry is conformity to God, His will and His calling for us in Christ. Our calling is not at all to be left alone, to settle for a static faith. Paul agonized to see more of virtue and excellency of Christ in his converts. Paul told the Galatians, "I am again in labor until Christ is formed in you" (Gal. 4.19).
This cruciform image stamped upon the church of God and its members should be the goal of ever true church. If you do not want to be challenged in your piety, this may not be the church for you. To be specific, if you do not want to be accountable in areas like speech, parenting, modesty, husband and wife roles, finances, even behavior on social media and Christian liberty; this may not be the church for you. If your desire is to come to church hear a thought provoking sermon and then retreat to a life of individualistic isolationism; this may not be the church for you!
This is not to say that we become legalistic or Pharisaical; but discernment at times demands confrontation and true love demands a true commitment to the body of Christ and the duty of "one-another" ministry that Paul so often wrote about. I think one of the hardest things about life in this world is how put off we are by one another in the church of God! What should be the household of faith is often the household of strife. The Church is that institution under Jesus Christ wherein people are to be the most united, the most committed, and the most loving and compassionate and yet we are often so splintered and scattered that we hardly have any regard for the brethren around us. The problem is often that we do not receive from one another or we are too hard on each other. We either do not care enough to loving exhort and admonish each other or we think it's our personal duty to correct every one around us that has different views or convictions on matters that are truly tertiary. We can either be overbearing and heavy handed or we can become negligent and indifferent to the church. Both of these attitudes are wrong however. And while we will never probably arrive at a perfect balance; we can nevertheless learn from the example that Paul left for us in his letters (along with the rest of the NT and Scripture in general).
With such a delicate balance how to be move forward and make progress? Of course the greatest motive in all of this should be love. Love will lead us to sacrifice for each other (1 John 3.16), to be devoted to each other (Rom. 12.10), to pray for each other (Eph. 6.18), to be hospitable to each other (Rom. 12.13), and forgive and be gracious toward each other accepting one another in the fear of God (Eph. 4.32; Col. 3.13). Biblical love however is not a passive, gullible, sloppy love as it were, it is wise love, mature love full of discernment and knowledge:
Philippians 1:9 9 And this I pray, that your love may abound still more and more in real knowledge and all discernment,
This was Paul's purpose in ministry. This is why he endured hardship. These were his goals for the church and it should be ours we well. Every pastor should look at the church as his 'glory and crown' (2.19). It should be what adorns the pastor, rewards the pastor and causes him his greatest delight.
Paul ministered with boldness
Although Paul's "boldness" (παρρησιάζομαι) cannot be characterized with pride, arrogance or some kind of 'daredevil' zeal, the term does however mean 'fearless' (BDAG). The sanctity of Paul's boldness however is found in the prepositional phrase, "in our God" (ἐν τῷ θεῷ ἡμῶν). Here, God is the source of this boldness. God in other words, enabled Paul and his co-workers to continue "to speak" (λαλῆσαι) the "gospel" (τὸ εὐαγγέλιον). The result of God's enablement is also God-centered in that it was His gospel, "the gospel of God" (τὸ εὐαγγέλιον τοῦ θεοῦ). The divine enablement was for the proclamation of the divine message. God was faithful to His word in giving Paul the grace to continue ministering in the context of such adversity. This is particularly striking in light of Paul's detail about his time in Philippi, "after we had already suffered and been mistreated in Philippi, as you know" (προπαθόντες καὶ ὑβρισθέντες, καθὼς οἴδατε, ἐν Φιλίπποις).
All of this supports the idea of endurance. Paul being enabled by God's grace even after having already been pummeled spiritually, emotionally, and physically in Philippi, it was truly amazing that Paul was able to continue ministering. Acts records the kind of "mistreatment" that Paul is talking about:
Acts 16:22–24 22 The crowd rose up together against them, and the chief magistrates tore their robes off them and proceeded to order them to be beaten with rods. 23 When they had struck them with many blows, they threw them into prison, commanding the jailer to guard them securely; 24 and he, having received such a command, threw them into the inner prison and fastened their feet in the stocks.
Of course this is just one occasion in a litany of afflictions suffered by Paul (cf. 2 Cor. 11.22f.). That is why boldness was a serious factor for Paul to talk about. We can say that there are two aspects in a sense that are worth thinking about here. There is the boldness that it took Paul to get the gospel of God to the Thessalonians and the boldness to continue to minister the gospel to them as their shepherd. One an evangelistic courage, the other is a pastoral courage.
Here we will focus more on the pastoral end of Paul's boldness and what we can call boldness "to speak" (λαλῆσαι) the "gospel of God" (τὸ εὐαγγέλιον τοῦ θεοῦ) in ministry. Paul refers to this boldness several times in the Pastoral Epistles:
2 Timothy 1:6–8 6 For this reason I remind you to kindle afresh the gift of God which is in you through the laying on of my hands. 7 For God has not given us a spirit of timidity, but of power and love and discipline. 8 Therefore do not be ashamed of the testimony of our Lord or of me His prisoner, but join with me in suffering for the gospel according to the power of God,
So much of what happens in ministry requires boldness because so much of what happens in ministry is confrontational in nature. This aspect of the ministry is an essential component and a prerequisite for the would be pastor:
2 Timothy 4:1–2 1 I solemnly charge you in the presence of God and of Christ Jesus, who is to judge the living and the dead, and by His appearing and His kingdom: 2 preach the word; be ready in season and out of season; reprove, rebuke, exhort, with great patience and instruction.
Titus 2:15 15 These things speak and exhort and reprove with all authority. Let no one disregard you.
Paul's boldness however had a very specific aim. He was not bold for the sake of being bold. There should be a godly ambition that stands behind the pastor's authority. We can see this in Paul's conflict and confrontation of the Corinthian church where Paul was often forced to assert his authority in a disciplinary way. But even then it was for the purpose of doing the body good not harm:
2 Corinthians 10:8 8 For even if I boast somewhat further about our authority, which the Lord gave for building you up and not for destroying you, I will not be put to shame,
We can see this by the way the man of God uses Scripture in pastoral ministry. 2 Timothy 3.16 is a text that has become the go to proof text on the doctrine of inspiration, but if we are careful to note the context, this text is in the context of pastoral ministry, "so that the man of God nay be adequate, equipped for every good wok" (v.17; also the immediate following context on pastoral ministry, 2 Tim. 4.1-5). Part of that work and a proper utilization of Scripture in pastoral ministry is "correction" (ἐπανόρθωσις). Regarding this term, Sinclair Ferguson has pointed out:
"The language of 'correction'… is used in the Septuagint for the rebuilding of a city of the repair of a sanctuary. Outside of biblical Greek, it is used in the medical textbooks of the ancient world for the setting of broken limbs. It is a word that belongs to the world of reconstruction, remedy, healing, and restoration." (Sinclair B. Ferguson, Some Pastors and Some Teachers, Reflecting a Biblical Vision of What Every Minister is Called to Be (Wheaton: Crossway, 2018) 723).
The reason why Paul had an undaunting resolute invincible fearless boldness even when it demanded correction and the asserting of his apostolic authority is because his motive was love, his goal was to build up, and his conscience was captive to the word of God. Paul would later say about his instruction to the church, "But the goal of our instruction is love from a pure heart and a good conscience and a sincere faith" (1 Tim. 1.5). He trusted that God would be faithful to His word, His gospel ("the gospel of God") if he faithfully ministered it irrespective of what others thought of him, or misunderstood in his style and tone, or disagreed with in terms of his personality or pragmatic effects of the ministry. Paul's commitment was first and foremost on a vertical axis. He was bold because he knew he had to give an answer to the God of heaven who called Him not only into His kingdom but into the ministry. That's why he could later say that it really was of no consequence what others concluded about him:
1 Corinthians 4:1–5 1 Let a man regard us in this manner, as servants of Christ and stewards of the mysteries of God. 2 In this case, moreover, it is required of stewards that one be found trustworthy. 3 But to me it is a very small thing that I may be examined by you, or by any human court; in fact, I do not even examine myself. 4 For I am conscious of nothing against myself, yet I am not by this acquitted; but the one who examines me is the Lord. 5 Therefore do not go on passing judgment before the time, but wait until the Lord comes who will both bring to light the things hidden in the darkness and disclose the motives of men's hearts; and then each man's praise will come to him from God.
Paul ministered with opposition
If we meditate on the final phrase of verse 2 carefully, we will see find the predominant situation in which pastoral ministry is done, "amid much opposition" (ἐν πολλῷ ἀγῶνι). The word meaning, "struggle, fight, or opposition" it is akin to agonia where we get our word, agony. Paul would experience distress, persecution, affliction, and suffering from day one in the ministry so that shortly after he went public with his conversion the Jews plotted to do away with him (Acts 9.23). He had a hard time identifying with the church since the disciples were all afraid of him because of his past persecution of the Church (Acts 9.26). Once Paul was accepted by the Church he began his missionary journeys where he would see his share of betrayal, apostasy, division, relationships that would come and go, people failing him in the ministry, the lack of trustworthy men that he could trust with the church (cf. Phil. 2.18ff; 2 Tim. 4.11, 16), and of course the battles that he fought within his own churches whether if it was doctrinal error and the constant struggle with false teaching and false teachers (Gal. 1.6-9), or sinful factions (1 Cor. 3.3-4), the prevalence of immorality (1 Cor. 5-6), spiritual laziness (Rom. 12.11), theological ignorance (e.g. 1 Cor. 15.34; 2 Cor. 3.2) and the constant disregard for his authority (cf. 2 Cor. 10.10).
We are in for a rude awakening if we think ministry will mean success if we are free of problems, free of suffering and free from opposition. Everything in Scripture points in the complete opposite direction. If anything, in order to have the right mindset coming into the ministry we have to adopt a war-time mentality realizing that what we are doing is engaging in serious spiritual warfare. This is precisely what Paul warned Timothy about:
2 Timothy 2:1–3 1 You therefore, my son, be strong in the grace that is in Christ Jesus. 2 The things which you have heard from me in the presence of many witnesses, entrust these to faithful men who will be able to teach others also. 3 Suffer hardship with me, as a good soldier of Christ Jesus.
Of course, opposition was only what Paul was promised when the Lord enlisted him (cf. Acts 9.15-16), and what he himself knew by the Spirit i.e. that he would suffer for Christ (cf. Acts 20.22-24). And so Paul exhorts us all to press on, not doubting success because of promised persecution and the pressures of biblical ministry:
Acts 14:22 22 strengthening the souls of the disciples, encouraging them to continue in the faith, and saying, "Through many tribulations we must enter the kingdom of God."