Paul and the Thessalonian Church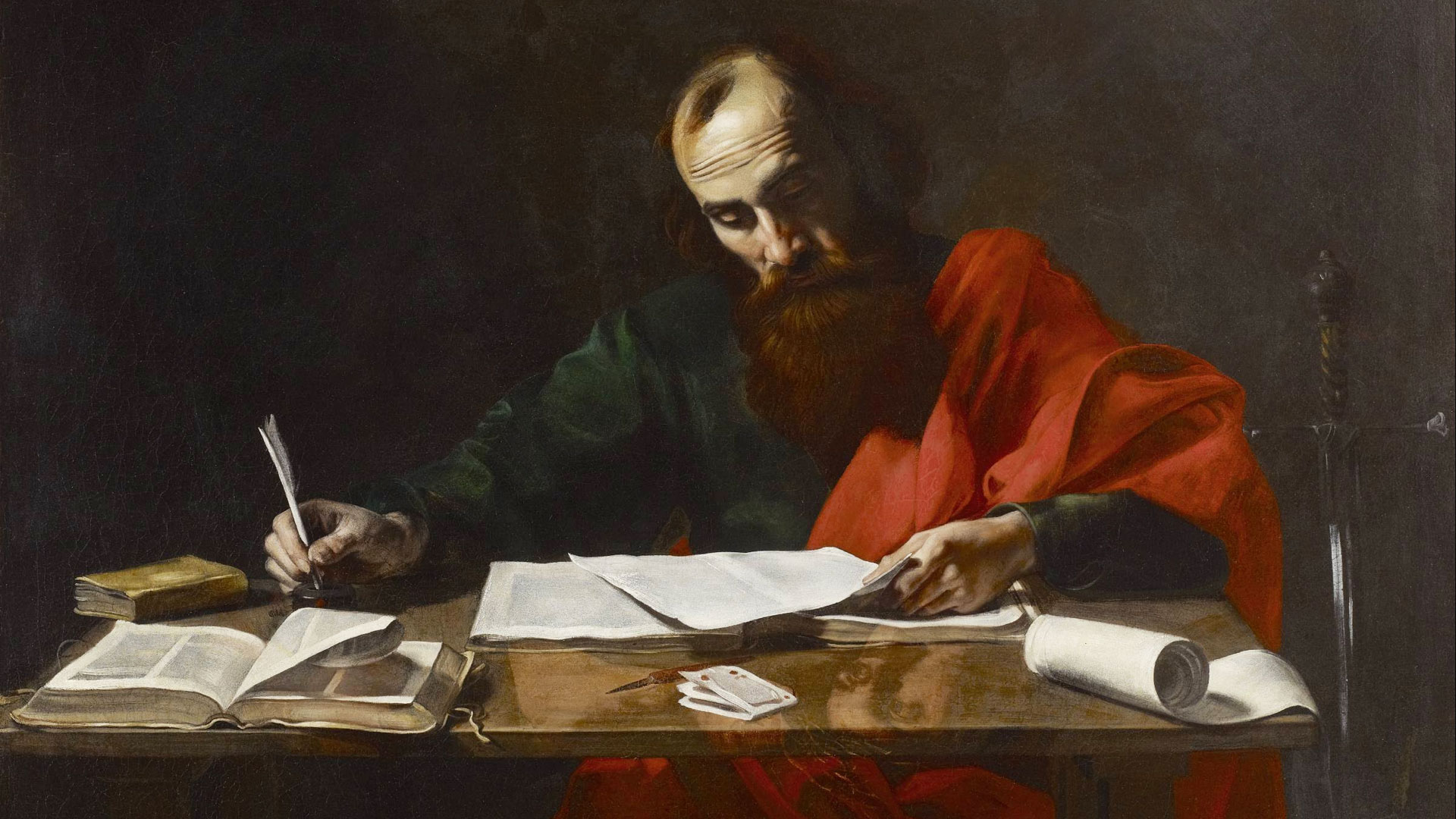 1 Thessalonians 1:1 1 Paul and Silvanus and Timothy, To the church of the Thessalonians in God the Father and the Lord Jesus Christ: Grace to you and peace.
Introduction To 1 & 2 Thessalonians
Several issues arise as we introduce the letters to the Thessalonians. These issues are manifold but should be considered under three headings, namely, author, audience and argument. This alliteration has always served the purpose of giving the reader and student of the letter the sufficient background to the books of the NT especially letters in order to ascertain the sitz em leben or situation of 1 and 2 Thessalonians (Abbreviated as 1, 2 Th.).
Author
Paul wrote the letter early in his apostolic ministry and may perhaps be the earliest letter written by Paul, especially if we take late date for Galatians. But this letter is written around 50-51 A.D. and was penned during Paul's eighteen month stay in Corinth (cf. Acts 18.1-5). During that time much of Paul's correspondence referred to in these letter took place especially receiving word from Timothy. After a short 3-4 week stay at Thessalonica, Paul was forced to flee twice by Jewish persecution, once from Thessalonica (Acts 17.10), and once from Berea since the Jews followed Paul there form Thessalonica (Acts 17.13ff.). Paul later was taken to Athens where he encounters the Stoic and Epicurean philosophers on Mars Hill and found out in Athens just how idolatrous Macedonia was (cf. Acts 17.16). From Athens Paul then later goes to Corinth where he stays for a year and a half (Acts 18). This was Paul's longest stay anywhere during his second missionary journey where Paul could devote himself completely to the word of God (Acts 18.5). It was in Corinth that Paul obviously founded the church of Corinth but also it was there that he met his life long friends, Priscilla and Aquila, and reunited with Timothy and Silas his apostolic emissaries who would bring him encouraging news from Thessalonica concerning the church:
1 Thessalonians 3:6–8 6 But now that Timothy has come to us from you, and has brought us good news of your faith and love, and that you always think kindly of us, longing to see us just as we also long to see you, 7 for this reason, brethren, in all our distress and affliction we were comforted about you through your faith; 8 for now we really live, if you stand firm in the Lord.
Audience
The Thessalonian church was not unlike our modern context insofar as they faced much of what we find today in modern society including immorality of every kind, idolatry (cf. 1 Th. 1.9), materialism. Thessalonica was also full of political pride, religious pluralism and anti-Christian sentiment that was pervasive in the entire Greco-Roman world (cf. Acts 17.5). We can see the events of the founding of the church and the consequent persecution from Luke's account in Acts:
Acts 17:1–9 1 Now when they had traveled through Amphipolis and Apollonia, they came to Thessalonica, where there was a synagogue of the Jews. 2 And according to Paul's custom, he went to them, and for three Sabbaths reasoned with them from the Scriptures, 3 explaining and giving evidence that the Christ had to suffer and rise again from the dead, and saying, "This Jesus whom I am proclaiming to you is the Christ." 4 And some of them were persuaded and joined Paul and Silas, along with a large number of the God-fearing Greeks and a number of the leading women. 5 But the Jews, becoming jealous and taking along some wicked men from the market place, formed a mob and set the city in an uproar; and attacking the house of Jason, they were seeking to bring them out to the people. 6 When they did not find them, they began dragging Jason and some brethren before the city authorities, shouting, "These men who have upset the world have come here also; 7 and Jason has welcomed them, and they all act contrary to the decrees of Caesar, saying that there is another king, Jesus." 8 They stirred up the crowd and the city authorities who heard these things. 9 And when they had received a pledge from Jason and the others, they released them.
Despite the persecution in the city however, the church of Thessalonica was very strategic for the gospel and we can see God's sovereign designs in choosing this location for Paul to plant a church. On the Via Egnatia the church was at a critical juncture not only because it was on the west side of ancient Rome's 'supper highway,' but also because it contained the very best natural port city in all of the Aegean Sea. Together, the Egnatia road and the sea port at Thessalonica made it possible for the gospel to have easy access to many cities in the Roman empire including: Philippi, Berea, Troas and the cities of Asia Minor to the West of Thessalonica 'as far as Illyricum' as Paul says (Rom. 15.19).
Argument
The argument of Thessalonians (I, II) is manifold and also includes the reason why Paul wrote the letter not just what he wrote. First, Paul's pastoral concern for his reputation with the church was critical to his ministry there. In 1 Thessalonians we can see Paul's concerned to defend his absence from the church and he spends considerable time reiterating his love for them (1 Th. 2.1-3.13). Even in the second letter there is evidence that Paul still sees the need to establish his apostolic authority (cf. 2 Th. 3.14). Second, to correct the church's view of the end times. There are several matters that have taken center stage as far as eschatology was concerned. The first of this was the death of believers and their relationship to the eschaton (cf. 1 Th. 4.13ff.). Second, was the nature of the Day of the Lord. In addition to the church's confusion concerning believers who have fallen asleep in the Lord, some in the church had began circulating the idea that the Day of the Lord had already come which was very concerning to the apostle (cf. 2 Th. 2.2-3). This logically led believers to abdicate from daily life e.g. unwillingness to work with there own hands and have an upstanding testimony with the outside world (cf. 1 Th. 4.11-12). For Paul the Day of the Lord would be preceded by at least two events, namely a great "apostasy" and the revelation of "the man of lawlessness" (cf. 2 Th. 2.3). Third, was the importance of the parousia since every chapter in 1 Thessalonians ends with a reference to the second coming of Christ (1 Th. 1.10; 2.19; 3.13; 4.17; 5.23).
Third, to establish them in the faith:
1 Thessalonians 3:6–8 6 But now that Timothy has come to us from you, and has brought us good news of your faith and love, and that you always think kindly of us, longing to see us just as we also long to see you, 7 for this reason, brethren, in all our distress and affliction we were comforted about you through your faith; 8 for now we really live, if you stand firm in the Lord.
This concern was borne out of the Paul's absence and their response to his absence. As a young church, their pastor/apostle Paul, was suddenly taken away by Jewish persecution (Acts 17.5ff.). No doubt this would have made the church feel vulnerable and insecure. They were a young church and they needed serious pastoral care during this formative days of their inception. Paul's absence was a sink or swim moment of the Thessalonians. This includes many of the issues already raised e.g. eschatology, but Paul's focus is also practical. He is concerned about their moral vision (4.3), continued love of the brethren (4.9-10), their conduct toward the outside world (4.11-12), their view of their leaders (5.12-13), and in second Thessalonians, Paul has exhortations regarding being idle, division and even church discipline (1 Th. 3.6ff.). These are all features found in the any true church. Like with Paul's other churches, Thessalonians faced its challenges and thus, they were in serious need for continual encouragement and discipleship.
Opening Salutation
1 Thessalonians 1:1 1 Paul and Silvanus and Timothy, To the church of the Thessalonians in God the Father and the Lord Jesus Christ: Grace to you and peace.
The opening of the letter begins with a standard greeting that is always useful to learn at least a few things about Paul's relationship to the church he is writing to. Here we can see these observations by focusing on the apostolicity of Paul ministry under the subjects of His apostleship, His church and His greeting.
Apostolic Company
Both letters begins with a reference to three senders, "Paul and Silvanus and Timothy" (Παῦλος καὶ Σιλουανὸς καὶ Τιμόθεος). Paul's letters typically follow the ancient and customary format for a letter namely, Sender, Recipient, and Greeting (see, Jeffrey A.D. Weima, 1-2 Thessalonians, Baker Exegetical Commentary on the New Testament (Grand Rapids: Baker, 2014) 65). Where Paul departs from some of his fuller salutations is that there is no description of the sender such as "apostle" or "servant" etc. (1 Cor. 1.1; 2 Cor. 1.1; Gal. 1.1; Eph. 1.1; Col. 1.1; 1 Tim. 1.1; 2 Tim. 1.1; Titus 1.1) also "servant" (Rom. 1.1; Phil. 1.1; Titus 1.1). These greetings served as technical greetings that would assert the apostle's authority as one who was sent by Jesus Christ on the authority of God as ministers of the gospel (cf. Rom. 1.1-6).
In the Thessalonian letters, Silvanus (Silas), and Timothy are co-senders of this letter not only because they labored with Paul to plant the church but also because they are with him in Corinth at the time of the writing and have been corresponding with church on Paul's behalf. These men were Paul's most trusted emissaries. Paul's commendation of Timothy to the Philippians reminds us why these men were so valuable to Paul and useful for ministry:
Philippians 2:19–22 19 But I hope in the Lord Jesus to send Timothy to you shortly, so that I also may be encouraged when I learn of your condition. 20 For I have no one else of kindred spirit who will genuinely be concerned for your welfare. 21 For they all seek after their own interests, not those of Christ Jesus. 22 But you know of his proven worth, that he served with me in the furtherance of the gospel like a child serving his father.
Paul's companions were highly qualified men, selected carefully by the apostles to accompany him in the furtherance of the gospel (Acts 15.22). These were men that were leaders among the brethren long before they held any formal office (Acts 15.22). These were men that were trustworthy (Acts 15.27). In NT times sometimes these men were considered prophets, pastors, evangelists, and apostles themselves (Acts 14.14; 15.32). We should be careful however to distinguish between these gifts and offices. Being gifted with evangelism does not mean that you hold and office in the church and simply because the term apostle is used of others in a semi-technical since does not mean that this office is available today. In fact, already in Acts, Luke distinguishes between "elders" (πρεσβύτερος) and apostles (Acts 16.4). The reality is that in the formation of the new covenant church as it transitioned away from Judaism, God ordained the office of an apostle and their authoritative emissaries who often were referred to as either prophets or apostles themselves (cf. Acts 13.1; 15.32; 21.9).
What is happening today is complete hijacking of these first century gifts as offices. Of course this exists mostly in the Pentecostal church that believes that the office of apostle, prophet, evangelist, and even pastor is available for any believer. 'Continuationism' is notorious for egalitarian theology since they believe everything in the apostolic age continues today including ecclesiology. If the daughters of Philip were prophetess (Acts 21.9) than there seems no reason to think women today cannot also be prophets, apostles, and thus pastors despite Paul's explicit prohibition (1 Tim. 3.11ff.). The NT age was a unique stage of redemptive history, never to be repeated again!
Although assisted by many fellow-workers in the gospel (cf. Rom. 16.3, 9, 21; 2 Cor. 8.23; Phil. 2.25; 4.3; Col. 4.11; Philem. 1, 24)- Paul's calling was unique, supernatural and has left an indelible mark on the history of the church. We would do well to take his own advice and imitate his character as much and wherever possible (cf. 1 Cor. 11.1; Phil. 4.9). Though none of us will ever be an apostle, yet all believers can imitate Paul's abandonment to the gospel (cf. Phil. 1.21), his since of belonging to God (Gal. 2.20; Phil. 1.12), his love and passion for the truth (cf. 2 Tim. 2.15), his pursuit of holiness (cf. 2 Cor. 5.9), and his zeal for evangelism (cf. Rom. 15.20; 1 Cor. 2.2). Michael Grant in his Saint Paul, summarizes the enormity of Paul's impact and influence not only in Scripture but on mankind in general:
"Paul is one of the most perpetually significant men who have ever lived. Without the spiritual earthquake that he brought about, Christianity would probably never have survived at all. Yet his importance also extends very widely beyond and right outside the religious field. For he has also exercised a gigantic influence, for generation after generation, upon non-religious events and ways of thinking—upon politics and sociology and war and philosophy and that whole intangible area in which the thought-processes of successive epochs become formed. He has to be considered, therefore, not only as a religious figure of exceptional power, but as one of the outstanding makers of the history of mankind." (as cited in: Robert L. Reymond, Paul, Missionary Theologian (Scotland: Christian Focus Publications, 2000), 18).
Geerhardus Vos simply stated the same thing stating what we have in Paul is "the genius of the greatest constructive mind ever at work on the data of Christianity" (Geerhardus Vos, The Pauline Eschatology (Grand Rapids: Baker, 1979 reprint of 1930 edition), 149). Paul was simply unparalleled in his accomplishments and role as God's instrument of revelation (cf. 2 Pet. 3.15-16). A true missionary theologian.
Apostolic Church
One of the things that made the apostle Paul so remarkable was his indomitable passion for the Church. This passion however harks back to his own previous calling in which Paul was given divine directives by the Lord of Glory himself concerning his missionary labors:
Acts 9:15–16 15 But the Lord said to him, "Go, for he is a chosen instrument of Mine, to bear My name before the Gentiles and kings and the sons of Israel; 16 for I will show him how much he must suffer for My name's sake."
The church of Thessalonica was the byproduct of this apostolic calling to witness and to suffer for the Lord on behalf of the gospel:
Ephesians 6:19–20 19 and pray on my behalf, that utterance may be given to me in the opening of my mouth, to make known with boldness the mystery of the gospel, 20 for which I am an ambassador in chains; that in proclaiming it I may speak boldly, as I ought to speak.
Paul's church was an offering to the Lord and rendered as a priest in God's temple (cf. Rom. 15.16)- Paul poured himself out to death for the Church, "But even if I am being poured out as a drink offering upon the sacrifice and service of your faith, I rejoice and share my joy with you all" (Phil. 2.17). In midst of all of his sufferings, the Thessalonians church was Paul's heart, his joy and crown of glory, "For who is our hope or joy or crown of exultation? Is it not even you, in the presence of our Lord Jesus at His coming?" (1 Th. 2.19). For the apostle Paul, the church was an eschatological community who lived before God, in God and for God. Every day brought him and the church one step closer to the final eschatological assize before the judgment seat of Christ (cf. 2 Cor. 5.10).
For Paul, the church in Thessalonica was distinguished by their designation as, "To the church of the Thessalonians in God the Father and the Lord Jesus Christ" (τῇ ἐκκλησίᾳ Θεσσαλονικέων ἐν θεῷ πατρὶ καὶ κυρίῳ Ἰησοῦ Χριστῷ) (1.1b cf. 2 Th. 1.1b). The most important part of that phrase is also the most puzzling. The prepositional phrase, "in God" (ἐν θεῷ) can be understood either as referring to their participation in the sphere of salvation by virtue of their connection to God the Father and Jesus Christ. Or Paul could be thinking instrumentally i.e. that they exist as the church by God's own doing or as Paul says in other contexts of his own apostleship, "by the will of God" (cf. 2 Cor. 1.1). Although I would opt for the first grammatically, who could deny the second theologically? The reality is that these two concepts are closely related and really inseparable.
Of course, the "the Thessalonians" were brought into the sphere of salvation by God who himself has 'chosen' them (1.14); but Paul's point is that these Thessalonians were brought into a "vital and inextricable union with God and Christ" (John MacArthur, 1&2 Thessalonians, 13-14).
Apostolic Greeting
In Paul's opening greeting the reader was met with Paul's favorite Christian graces. In fact, as has often been pointed out, although Paul followed the typical structure of letter writing in the Greco-Roman world, instead of using the customary "greetings" (χαίρειν)- Paul supplies the distinct Christian term "grace" (χάρις) instead. And even Christianized the second term "peace" (εἰρήνη) as well since biblically, "peace" is the customary Jewish greeting שָׁלוֹם. With its connection to "God the Father and the Lord Jesus Christ"- this greeting became distinctively Christian. With one masterful stroke of his pen Paul departs from both the secular world of Rome and the Christless world of Judaism leaving the reader with the unavoidable reality of the Lordship of Jesus Christ.

Grace and peace, these two terms stand as two overarching realities in the Christian faith that summarize what our religion is about. They not only dominate the substance of our faith but they also represent the great polarity of truth regarding our redemption. On the one side, "grace" represents the deepest motive of our redemption in the heart of God (cf. Eph. 2.8). Driven by the sheer sovereign grace of God, our redemption is decreed by grace (Eph. 1.3-6), executed by grace (Eph. 1.7-12), applied by grace (Eph. 1.13-14; also Heb. 10.29), and consummated by the grace Of God (Tit. 2.11-13). On this last point, being saved by grace leaves us longing for future grace:
1 Peter 1:13 13 Therefore, prepare your minds for action, keep sober in spirit, fix your hope completely on the grace to be brought to you at the revelation of Jesus Christ.
The other pole of redemption is this "peace" that Paul greets the church with. The peace of God is multifaceted and its glory is manifold. On the one hand it refers to the peace that is experienced as a result of redemption; that is the peace of reconciliation (cf. Rom. 5.1). This is a definitive peace, a positional peace, it is a peace that results in a certain state of existence namely friendship with God in place of hostility. It shows us that our redemption is not just a legal matter; peace stresses the fact that our salvation is also dealing with religion proper. It is man's highest form of existence. It is communion with God, fellowship with the Triune God (cf. 1 Cor. 1.9 (the Son); 2 Cor. 13.14 (the Spirit); 1 John 1.3 (the Father)).
On the other hand this same peace is also referring to our ongoing existential, spiritual, experiential, and practical peace that comes to us through Jesus Christ (cf. 2 Pet. 1.2). No less rooted in redemption, this peace is a sanctifying peace keeping our mind and heart stayed and steadfast in the Lord- the everlasting source of all true peace (cf. 1 Th. 5.23; Heb. 13.20-21). It is distinctly the peace of the Lord Jesus Christ that he promised to impart to His people (cf. Eph. 2.14). The peace of Christ accompanies us throughout all of our days in the midst of all of our trials and within all of our hearts (cf. John 14.27). It is a special peace a transcendent peace not built on circumstances or on the roller costar of our emotions but is rooted in the reality of our Union with Christ. It is the peace that passes all understanding but is understood and experienced by all who have it (cf. Phil. 4.7; also Gal. 6.16; Is. 26.3). Like grace, this peace is the peace of faith. It grows together with faith, it relies on faith, uses faith, and flourishes most when peace is coupled with faith:
Isaiah 26:3–4 3 "The steadfast of mind You will keep in perfect peace, Because he trusts in You. 4 "Trust in the Lord forever, For in God the Lord, we have an everlasting Rock.