Paul's Humble Ecstasies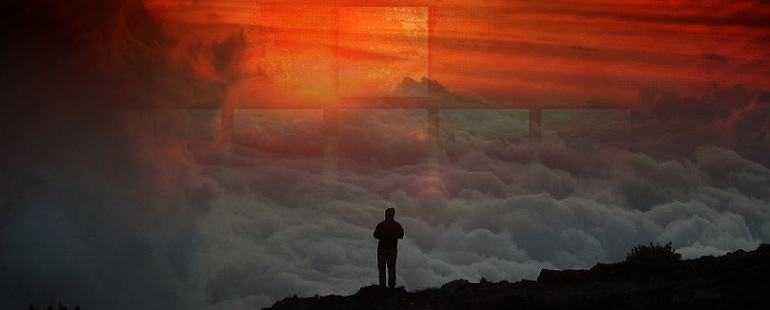 Text and Exposition
1"Boasting is necessary, though it is not profitable; but I will go on to visions and revelations of the Lord. 2 I know a man in Christ who fourteen years ago—whether in the body I do not know, or out of the body I do not know, God knows—such a man was caught up to the third heaven. 3 And I know how such a man—whether in the body or apart from the body I do not know, God knows— 4 was caught up into Paradise and heard inexpressible words, which a man is not permitted to speak. 5 On behalf of such a man I will boast; but on my own behalf I will not boast, except in regard to my weaknesses. 6 For if I do wish to boast I will not be foolish, for I will be speaking the truth; but I refrain from this, so that no one will credit me with more than he sees in me or hears from me."
Καυχᾶσθαι δεῖ, οὐ συμφέρον μέν, ἐλεύσομαι δὲ εἰς ὀπτασίας καὶ ἀποκαλύψεις κυρίου. 2 οἶδα ἄνθρωπον ἐν Χριστῷ πρὸ ἐτῶν δεκατεσσάρων, εἴτε ἐν σώματι οὐκ οἶδα, εἴτε ἐκτὸς τοῦ σώματος οὐκ οἶδα, ὁ θεὸς οἶδεν, ἁρπαγέντα τὸν τοιοῦτον ἕως τρίτου οὐρανοῦ. 3 καὶ οἶδα τὸν τοιοῦτον ἄνθρωπον, εἴτε ἐν σώματι εἴτε χωρὶς τοῦ σώματος οὐκ οἶδα, ὁ θεὸς οἶδεν, 4 ὅτι ἡρπάγη εἰς τὸν παράδεισον καὶ ἤκουσεν ἄρρητα ῥήματα ἃ οὐκ ἐξὸν ἀνθρώπῳ λαλῆσαι. 5 ὑπὲρ τοῦ τοιούτου καυχήσομαι, ὑπὲρ δὲ ἐμαυτοῦ οὐ καυχήσομαι εἰ μὴ ἐν ταῖς ἀσθενείαις. 6 ἐὰν γὰρ θελήσω καυχήσασθαι, οὐκ ἔσομαι ἄφρων, ἀλήθειαν γὰρ ἐρῶ· φείδομαι δέ, μή τις εἰς ἐμὲ λογίσηται ὑπὲρ ὃ βλέπει με ἢ ἀκούει [τι] ἐξ ἐμοῦ
Preliminary Thought
"Paul series of thoughts regarding both necessity and folly of boasting shifts now to show his superiority over the false teachers in another way i.e. in the supernatural realm. Paul's argument takes shape through personal experience written in the third person of himself. Paul's recalling of a revelation he had fourteen years ago become the basis of his double entendre. This line of argument reveals that Paul was both able to boast in his revelation yet exhibit incredible temperance in withholding the details of such elated visions. Again, Paul's emphasis once again is rooted in his passion to magnify God's grace in his weakness and not impress his audience through personal and subjective experience no matter how powerful and persuasive it may be.
Paul's argument is still rooted in his "boasting" (καυχάομαι). The shift here is in the focus of his boasting. Paul moves here from boasting in his sacrifice and suffering to his supernatural apostolicity. The nature of Paul's boasting in this letter is crucial for understanding Paul's arguments, since half of the word's 59 uses in the NT are found here in 2 Corinthians (see, Harris, p.830 n.7). The purpose of boasting is in 2 Corinthians is manifold as the list below demonstrates:
To show the nature of true ministry (11.30)
To limit the extend of one's ministry (10.15)
To show where one's true focus in ministry lies (10.17)
To set Paul apart from the false teachers (10.8; 11.12)
To beat the false teachers at their own game (11.18)
To proof his love for the church (11.10-11)
To proof his devotion to Christ (11.23)
To show his superiority to the false apostles (12.1)
Again it is this latter point that Paul is seeking to establish here (12.1-6). This will connect the present context with the comparative clause in the previous chapter, "are they servant of Christ?— I speak as if insane— I more so" (11.23). Paul is "more so" (ὑπὲρ ἐγώ) a servant than the false apostles and this is demonstrated by his passion to suffer for Christ and serve the church. Paul's superior apostleship is now observable by his superlative spiritual experiences or as he says, "the surpassing greatness of the revelations" (12.7) in (12.1-6). For Paul, the experience recounted here as part of the overarching character of a "true" apostolic ministry where signs and wonders follow:
2 Corinthians 12:12 12 "The signs of a true apostle were performed among you with all perseverance, by signs and wonders and miracles."
This amazing account of Paul's vision is a rare picture of apostolic authority and supernatural revelatory activity. While many claim to have had similar "out of body" experiences; the only authoritative experiences which should be trusted are those contained in Scripture. Paul was not the only apostle or prophet given such prophetic privileges— others like Peter, John and prophets in the OT were given similar visions, dreams and revelatory gifts which have no modern parallel today (this is my position). While I do not doubt God has used dreams to lead and provoke His people today; we are no longer given revelatory experiences today.
Paul's purpose for invoking his ecstatic experience of a heavenly vision here is not simply to wow his readers or to try to impress his readers; rather it was simply to point out his superiority in the area of supernatural claims. Thus, Paul found it both necessary to boast as well as superfluous to do so.
1.) PAUL'S SUPERNATURAL ABILITY
v.1,
1"Boasting is necessary, though it is not profitable; but I will go on to visions and revelations of the Lord."
The qualification Paul makes here repeats his insistence that such boasting was not his primary purpose in the ministry. The reason for this is because ultimately Paul saw it as self-serving, egotistical and self-promoting. Knowing the heart of Paul, we are reminded that his ministry was utterly God-centered. For Paul, man-centeredness was odious and detractive of the true goal of preaching— the gospel and ministering in Christ's church. This was for the furtherance of the gospel and the spread of God's glory in the church by preaching Christ as preeminent above all things:
2 Corinthians 4:5 5 "For we do not preach ourselves but Christ Jesus as Lord, and ourselves as your bond-servants for Jesus' sake."

1 Corinthians 1:23 23 "but we preach Christ crucified, to Jews a stumbling block and to Gentiles foolishness,"

1 Corinthians 2:2 2 "For I determined to know nothing among you except Jesus Christ, and Him crucified."
This is certainly what is behind Paul's qualification, "Boasting is necessary, though it is not profitable" (Καυχᾶσθαι δεῖ, οὐ συμφέρον μέν). Although this is certainly not the course of action Paul desires to pursue; and indeed he does so very briefly, yet because it is also "necessary" (δεῖ) he does not hesitate to assert himself as true apostle with true authority and true sings and wonders (12.12). Therefore, Paul not only saw the need to boast but also stated his ability to boast as well, "I will go on to visions and revelations of the Lord" (ἐλεύσομαι δὲ εἰς ὀπτασίας καὶ ἀποκαλύψεις κυρίου). God chose to give Paul and others visions and revelations "of the Lord" (κυρίου: probably a Subjective Genitive since the vision is not specifically about the Lord but Paradise παράδεισος) which were genuine and given directly from the Lord. Paul's vision was not the result of seeking visions, dreams, revelations or religious experiences— God sovereignly gave the apostles these revelations for the furtherance of the gospel.
2.) PAUL'S INEXPRESSIBLE VISION
vv.2-4,
2"I know a man in Christ who fourteen years ago—whether in the body I do not know, or out of the body I do not know, God knows—such a man was caught up to the third heaven. 3 And I know how such a man—whether in the body or apart from the body I do not know, God knows— 4 was caught up into Paradise and heard inexpressible words, which a man is not permitted to speak."
Though Paul spoke of "visions and revelations" (ὀπτασίας καὶ ἀποκαλύψεις) plural; he gives only one example here. This suggests that Paul if he wanted to could have easily gone into all of his ecstatic experiences but chose not to do so since that would detract from the more important goal of his ministry which is to teach every man about Christ (Col. 1.28) and to further the gospel (Phil. 2.22; 4.3). With regard to the vision itself Paul gives us four important factors.
2.1, The timing of the vision
Paul recalls that this vision took place "fourteen years ago" which would have been somewhere during Paul's "silent years" i.e. the time spent between Acts 9.30 when he was sent off to Tarsus and before he emerges again in Acts 13 as the Spirit sets him and Barnabas apart for their first missionary journey. The amazing thing is that although Paul had this experience "fourteen years ago" (πρὸ ἐτῶν δεκατεσσάρων) this is the first time we and probably most others were hearing about it. Who knows if Paul would have remained silent about the vision had not the Corinthians compelled him to engage in such boasting (12.11)? The crucial thing for Paul is that he was "a man in Christ" (ἄνθρωπον ἐν Χριστῷ). This then is contrary to many people today who claim to have had visions, dreams— they seem to tell everyone they can and many even write books about traveling to heaven and back or even hell and back. Paul was not eager to make a name through his visions but through his preaching. Although Paul's visions were revelatory and thus instructive for the church (cf. 1 Cor. 14.6); he certainly did not desire to simply tell of his subjective experiences.
The vision was also timely in Paul's life. It seems that God grants such revelations during critical moments in His people's lives. Abraham with the Abrahamic covenant, Daniel during Babylonian captivity, Mary during the Incarnation, Peter during Gentile inclusion, and Paul during his preparation for the Gentile mission. God's visions were anything but random events.
2.2, The testimony of the vision
Paul's testimony, as with everything else in his ministry, was ultimately validated by God. It seems that the exact nature of the experience was not even fully known to him, "whether in the body I do not know, or out of the body I do not know, God knows" (εἴτε ἐν σώματι οὐκ οἶδα, εἴτε ἐκτὸς τοῦ σώματος οὐκ οἶδα, ὁ θεὸς οἶδεν). It is so amazing how much people claim to know about there supposed visions; whereas Paul would not specify.
Paul repeats this ambiguity twice to stress the mysterious nature of this metaphysical experience. He is not sure if his body and soul were both present in heaven or if his soul temporarily left his body? Paul is quite confortable trusting God with the details of his experience.
2.3, The location of the vision
Paul gives two descriptions of the location of his vision. The first is heavenly the other paradisiacal. The first is described as "the third heaven" (τρίτου οὐρανοῦ). The second is described as being "caught up into Paradise" (ἡρπάγη εἰς τὸν παράδεισον). Although these are grammatically probably appositional i.e. referring to the same thing, same dimension, same reality, same realm; they may differ in emphasis. The "third heaven" gives the general sphere of the experience while "Paradise" serves to give the specific sentiment of the experience.
From Paul's vision, we learn the simple yet profound truth that heaven is paradise and paradise is where heaven is. True paradise is not going on vacation or experiencing any earthly pleasure. Neither leisure nor sensual pleasure of any kind can be ultimately called "Paradise" (παράδεισος). Only heaven is properly called paradise. This is of course for several reasons: because it is where God is (Is. 66.1; Rev. 2.7); because it is where we will see Jesus face to face (Rev 22.4; 1 Cor. 13.12); because it is a sinless place (Rev. 22.15); because it is a righteous place (Rev. 22.14); because it is a place where there will be no death (Rev. 20.14); because it is a place where everything will be new (Rev. 21.5); and it is a place where God will have eternal pleasure in store for His people (Ps. 16.11) and if eternal pleasure than eternal joy.
2.4, The limitation of the vision
The vision was also limited in that Paul was not allowed to express the vivid nature of what he heard or saw, "inexpressible words, which a man is not permitted to speak" (ἄρρητα ῥήματα ἃ οὐκ ἐξὸν ἀνθρώπῳ λαλῆσαι). The things which Paul heard were too terrible and wonderful to describe.
Basically, ordinary words are simply insufficient to express all that God reveled to Paul in this heavenly vision. Kent Hughes writes:
"There in paradise Paul "heard things that cannot be told, which man may not utter" (v.4). What he heard was beyond utterance, not because they were unintelligible or because there was any deficiency in Paul, but because God had forbidden Paul to speak of them. They were private. They were given to Paul for his own personal benefit, not to pass on. What an awesome transcendental experience had been granted to the Apostle Paul!" (Hughes, 2 Corinthians, Power in Weakness; p.211).
John's Revelation is the deepest description of one human being trying to describe with the language which he was given to describe his heavenly vision:
Revelation 21:15–21 15 "The one who spoke with me had a gold measuring rod to measure the city, and its gates and its wall. 16 The city is laid out as a square, and its length is as great as the width; and he measured the city with the rod, fifteen hundred miles; its length and width and height are equal. 17 And he measured its wall, seventy-two yards, according to human measurements, which are also angelic measurements. 18 The material of the wall was jasper; and the city was pure gold, like clear glass. 19 The foundation stones of the city wall were adorned with every kind of precious stone. The first foundation stone was jasper; the second, sapphire; the third, chalcedony; the fourth, emerald; 20 the fifth, sardonyx; the sixth, sardius; the seventh, chrysolite; the eighth, beryl; the ninth, topaz; the tenth, chrysoprase; the eleventh, jacinth; the twelfth, amethyst. 21 And the twelve gates were twelve pearls; each one of the gates was a single pearl. And the street of the city was pure gold, like transparent glass."
With regard to the whole subject of visions I would urge strong caution in listening to people's supposed visions or dreams or anything of the sort. If Paul was terse, limited, unwilling, and even forbidden to give the details of his experience as an apostle we should be very hesitant either to trust our own dreams and near death experiences. The only people I want to learn about heaven and hell from is the authors of Scripture. People that want to tell me about their visions and dreams will usually be met with a half deaf ear.
2.) PAUL'S TEMPERATE HUMILITY
vv.5-6,
5"On behalf of such a man I will boast; but on my own behalf I will not boast, except in regard to my weaknesses. 6 For if I do wish to boast I will not be foolish, for I will be speaking the truth; but I refrain from this, so that no one will credit me with more than he sees in me or hears from me."
Paul makes one final distinction between the type of boasting he was and was not willing to engage in. Paul says the man who received a vision and was not permitted to speak is the person of whom he would boast. This was because Paul paints himself as a recipient someone who was privileged to see and hear inexpressible things, "of such a man I will boast" (τοῦ τοιούτου καυχήσομαι). With regards to such experiences, this is as much as he was willing to boast. This repeats the tension that boasting is necessary at times, but not ultimately profitable. If Paul has to boast about his ecstasies, this third person "man" (which represents Paul indirectly) is representative of the extend to which he is willing to go as far as boasting in the subjective is concerned.
Paul's true desire was to boast in his weakness; a theme which has already been introduced (3.5; 4.12; 6.4-5; 11.30) and will reach its climax here in this chapter:
2 Corinthians 12:9–10 9 "And He has said to me, "My grace is sufficient for you, for power is perfected in weakness." Most gladly, therefore, I will rather boast about my weaknesses, so that the power of Christ may dwell in me. 10 Therefore I am well content with weaknesses, with insults, with distresses, with persecutions, with difficulties, for Christ's sake; for when I am weak, then I am strong."
Paul's choice to boast in his weakness versus his supernatural superiority and supernatural visions and revelations was for the preservation of his ministry. In this way Paul was unwilling to be regarded (λογίζομαι) as foolish, contradictory, deceptive or false. While people could twist and embellish the nature of his subjective experiences, no one could discredit his humble example which was clearly seen in him and heard from him (cf. 11.22-33). This meant that Paul would rather exercise great temperance and wisdom by not engaging in unnecessary self-promotion. Rather than impressing people with the subjective, Paul would rather allow for his selfless sacrifice to speak for itself.
We should take advantage of this emphasis. Contrary to what many people think and practice in many churches today, we need not seek to impress others with subjective experiences, charismatic phenomenon, or emotionalism; we would do well to allow the power of God shine through our weaknesses. In this way the grace of the Lord Jesus is magnified in our lowly bodies. The next time someone tries to impress you with visions and dreams ask them how much doctrine their children are being taught, how much theology they know, what their understanding of justification is. Not that we approach the matter with pride but with discernment in the spirit of Paul's teachings about being tossed around like children (cf. Eph. 4.11-16).
It is not surprising that rotten theology often follow those who claim to have had the wildest revelations imaginable. It has also been my personal experience that people that place an over emphasis on the subjective, the charismatic and the realm of emotional experience often have lives which do not reflect mature biblical Christianity. This is all the more reason why Paul's unique ability to boast in the supernatural made his humility extraordinary. After all who more than Paul had the right to focus on supernatural revelations which he seems to have had in abundance (12.7). He would rather leave a legacy of temperance, service and sobriety than in subjective claims. We ought to emulate Paul in this and be leery of people who do not.