Searching the Heart with Scripture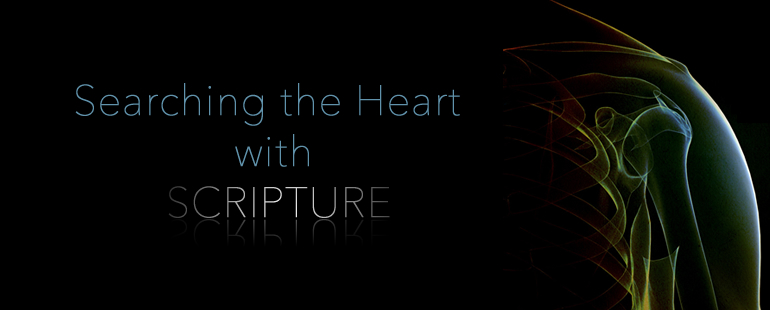 There is nothing more important in the life of the believer aside from God himself than the word of God. Scripture is so central to everything in our lives that we do not know anything apart from His word. Without the God's word we would not know God, we would not know ourselves rightly and we could never have confidence about what we perceive in the world around us. It is Scripture that separates us from all of the non-revelatory views of man in the world. Scripture and Scripture alone is our sole basis for knowing and walking with God in a godless world. This is why Scripture is so wonderful and so powerful. Our whole life is lived in connection to Scripture. The Christian life should be one lifelong sustained bible study where we never cease meditating on some glorious gem of biblical truth. If we do this, the word of God will have a powerful and sanctifying effect in our life. But what this text is telling us is that Scripture has a powerful place in our lives not so much because of the way that we wield Scripture but because of the way that God does. Before the Bible becomes God's sword of the Spirit given to us to protect us, it is first, God's sword to dissect, divide and try us. This is the role of Scripture in Hebrews here. Because this is the case, this text gives us both the attributes and accomplishments of Scripture in hands of God.
The Attributes Of The Word
This passage concludes the exposition and therefore the use of Ps. 95 in Hebrews which began in 3.7. As an aside, we should learn at least in principle the potency and powerful application one simple portion of Scripture can have in our theology. How often do we drill down as deep as the author of Hebrews did here and make connection after connection after connection for the good of our souls with respect to OT citations— a wonderful example of what it means to profit from the word. When the author makes reference to the "word of God" he mainly has his use of Ps. 95 in view at least, that is the exegetical connection.
Of course this does not mean that this is not therefore a general description for all of Scripture it certainly is. In fact, he moves from his use of a particular passage to a description of the whole counsel of God with the phrase, "the word of God" (3.12a). He moves from an acknowledgment of the word of God to a vivid description of the word's attributes. Several feature of Scripture are set forth to us.
Living And Active
The first description is designed to arrest us so that we view the History of Israel with relevant force in our lives. Lest we be tempted to think, as so many mistakenly do today, that the ancient text can ever lose its power to make personal contact with our lives today, the author tells us God's word is alive! Now exegetically, the verse refers back to the use of Ps. 95. Theologically, we should point out that Hebrews is pointing us back to the OT. This means contrary to the view of many evangelicals, the OT is vibrant and dynamic for New Covenant believers and for believers in all ages. Biblical Theology, Christ-centered, and redemptive-historical preaching, writing and theology has become quite a craze today; and for good reason. But Hebrews uniquely makes a case for OT use in the NT and for NT Christians because it shows just how much of our faith is rooted in the OT writings. Practically, the Bible is simply indispensible for our lives because it imparts life itself (cf. Ps. 119.25; 93, 107, 149, 154, cf. Dt. 32.47). Now agreeably, that is not really the point here but by extension, the living word begets life!
Sharp
The second attribute speaks of the word in comparison to a sword, "sharper than any two-edged sword." This of course implies that the Bible is God's weapon, tool, instrument of judgment and salvation. It speaks of Scripture's effectiveness to produce the results that God intends for it. In the context it is for the purpose of searching the heart. It is for the purpose of prodding God's people in order to sway them away from apostasy. In general, God's word is perfect in every way. It always fulfills God's purpose:
Isaiah 55:11 11 So will My word be which goes forth from My mouth; It will not return to Me empty, Without accomplishing what I desire, And without succeeding in the matter for which I sent it.
In the context here, God's word is for judging. Not necessarily for judgment i.e. condemnation; but for judging man's heart-condition. At this point, God's word is inseparable from God.
It is God's word, it is the word which originates with God, is spoken by God and revolves around God and reveals God. In one sense, to say that God's word is sharp and pierces man's heart is to say that God pierces man's heart and indeed judges His heart:
Romans 2:16 16 on the day when, according to my gospel, God will judge the secrets of men through Christ Jesus.
God's word is said to be "sharper than any two-edge sword" which implies several things. God's word enters into our hearts with pinpoint precision. God is able to put His "thumb" precisely where the problem is. He is able to probe and detect with perfect precision where man's heart goes astray, lies, fails, sins and disobeys. In vain does man attempt to hide from God, "no creature is hidden from His sight" (4.13), to lie to God (Acts 5.4), and contend with God (Job 40.2) or question Him (Job 42.4). This is the spiritual power of the word. Scripture is called the sword of the Spirit (Eph. 6.17). It is the same word that will proceed from the mouth of Jesus at His return which is also called a "two-edged sword" (Rev. 1.16), Jesus speaks of the "sword of My mouth" (Rev. 2.16), the same imagery is used of the second coming when a "sharp sword" comes out of Christ' mouth in order to "strike down the nation" (Rev. 19.15). The rest of the attributes of the word of God have to do with the actual activity of the word of God.
The Activity Of The Word
The phrase "living and active" is giving us two sides of the same coin. God's word has organic character that accomplishes its work in us. Through the living word, God's life comes to us in propositional form! God's word is active through its spiritual activity in our hearts. From God's word we get conviction (Rom. 7.7), wisdom (2 Tim. 3.15), assurance (1 Thess. 1.4-5), renewal (Ps. 119.25; Rom. 12.2), and grace and knowledge that causes us to grow (2 Pet. 3.18). In Hebrews, God's word is active to search our hearts in response to His redemptive work in Christ.
Penetrating
The third attribute describes the word of God as penetrating the very core of our beings, the most internal, hidden, secret parts of our humanity. God's word is able to penetrate beyond the walls we are able to put up before man; before God, His word penetrates all of those facades and gets to the root of what is going on internally. "For God will bring every act to judgment, everything which is hidden, whether it is good or evil" (Eccl. 12.14).
But the piercing happening here is taking place within man as well as upon him. The author moves from the immaterial to material from spiritual to physical from the non-corporeal to corporeal aspects of man in order to sum up our existence and how God's word reaches into the farthest recesses of who we are. Trichotomists have long used this verse to try and prove that man is comprised of three parts, body, soul, and spirit. The problem with this is that Hebrews (6.19; 10.39; 12.23) along with the rest of Scripture (e.g. Lk. 1.46-47) seems to suggest that we should view terms like "soul", "spirit", "heart", and "mind" in essentially the same way. Hebrews will go on demonstrate just that in v.12b by attributing both "thoughts" and "intentions" to the heart. We may have thought that the author would have referred to the thoughts (ἐνθύμησις) of the mind (νοῦς) and not the "heart" (καρδία). This shows the inter-changeability of the terms.
The point of referring to the division of the material and immaterial aspect of man is to show that God knows what man is comprised of. He knows precisely how man is divided because He put man together and if He put man together as His Creator (cf. 4.13) by the word of His power, than by that same powerful word, God is able to judge what is in man's deepest thoughts and intentions.
Discerning
The fourth and final attribute of the word of God is that it is able to discern our inner thought-life and thus the life of the soul within a man. How God is able to do this is through sharp precision of His word. He knows if we have hardened our hearts (3.8), if we have provoked God, tested God, and gone astray from God in our hearts (3.10) even before our ways confirm this to others. The amazing thing is that, even though it is secret to others, known only by God and by ourselves, eventually God's judgment will be known. Just as with the children of Israel, everyone became aware that God did swear in His wrath that they would not enter His rest (3.11). The nature of their heart becomes known by the judgment of God. It is the word of God, transgressing God's word, disregarding God's word, violating God's Law and disobeying His commands that will show if we have an evil unbelieving heart that causes us to fall away from the living God. Turn your back on the living word and turn your back on the living God!
The Accomplishment Of The Word
From the attributes of God's word both in it's intrinsic worth and its activity, we are able to see the accomplishments of the word of God. The net result from the searching power of the word in the life of God's creatures is that nothing is hidden from the Creator, "there is no creature hidden from His sight" (4.13a). Because God's word searches all things, nothing in all of creation including His human creatures, those created in His image, are hidden from God's presence. Thus, the accomplishment of God's word results in two significant conclusions. The one has to do with his omniscience the other has to do with God's justice.
Produces Accountability Before The All-Knowing God
Because of God's soul-piercing word, that goes beyond even the subatomic, molecular level, down to the truly invisible aspect of man, God's people are made to feel an incredible accountability to Him. Our lives in fact are lived before the naked all-seeing eye of God, "there is no creature hidden from His sight." God's knowledge and sight of man is non-discriminatory. "No creature" means, no man, no person, no human being, no one with a body and a soul is hidden from God's sight because nothing is hidden from His sight:
Psalm 139:1–8 1 O Lord, You have searched me and known me. 2 You know when I sit down and when I rise up; You understand my thought from afar. 3 You scrutinize my path and my lying down, And are intimately acquainted with all my ways. 4 Even before there is a word on my tongue, Behold, O Lord, You know it all. 5 You have enclosed me behind and before, And laid Your hand upon me. 6 Such knowledge is too wonderful for me; It is too high, I cannot attain to it. 7 Where can I go from Your Spirit? Or where can I flee from Your presence? 8 If I ascend to heaven, You are there; If I make my bed in Sheol, behold, You are there.
"Hidden" suggests our inability to escape God's piercing eyes. It also implies what we know about ourselves, that is, that man that worm that he is always tries to hide from God the way Adam and Eve did in the Garden (Gen. 3.10), the Cain try to hide what he did after killing Abel (Gen. 4.9). Man left to himself, will always to try to run from God and hide from God (Rom. 3.11b).
But Gods' sight means we are accountable to Him. God's sight is used in contexts concerning God's judgment and our accountability to Him for our actions good or bad. Paul's whole ministry was lived out under that awesome reality:
2 Corinthians 2:17 17 For we are not like many, peddling the word of God, but as from sincerity, but as from God, we speak in Christ in the sight of God.
Produces Accountability Before An All-Holy God
Finally therefore, Hebrews reminds us that we are accountable to an all just and holy God that judges with pure equity, justice, and truth. God sees things as they really are, "all things are open and laid bare to the eyes of Him with whom we have to do" (4.13b). This is why it is utterly futile to try and fool God, to regard iniquity in our hearts as if God does not know, He knows and He sees and we have to reckon with Him, "Him with whom we have to do." We may deceive ourselves through our folly, but God is not deceived. Cain went so far as to give himself a new identity, "I am not my brothers keeper", but it did not matter the rotting corpse of his brother was still lying in the field somewhere. We may give ourselves a new identity, "I just did not have enough evidence", "God made me this way, I can't help it", "God knows I love him but He also knows why I can't go to church right now." On and on our false identities go, but the rotting corpse of our sin is instantly and easily uncovered by the Holy One of Israel. John Brown put it well:
"'He is acquainted with the inmost thoughts and feelings – He knows the forming design, and the rising desire.' There is no possibility of imposing on Him by false professions or plausible appearances. He requires of us conformity of mind and heart to Him; and if we do not yield it, He is perfectly aware of this, and can and will deal with us, not according to what we appear to be, but according to what we really are, and what He knows us to be. It is not only a truth that "we all must appear," or rather be made manifest, "before the judgment-seat of Christ," but already all our thoughts are manifest before Him, and He knows us much more intimately than we do ourselves." (John Brown, The Epistle to the Hebrews; 221-222).
What are we accountable to? How do we contemporize the weight of what Hebrews is saying here? Hebrews is tying all of this into what the wilderness generation heard, what promises were made to them, and how they failed to believe God's promises and enter His rest due to their lack of faith (4.1-3).
Today, God is setting forth a fresh vision of that promise, a fulfillment form of that promise, that land, that rest and all of it has to do with Jesus Christ. The singular lesson to learn from the warning here is to trust in Jesus. Do not harden your heart to Jesus. Do not provoke Him to wrath. Do not go astray and be certain that there is not in any of us an evil unbelieving heart falling away from the living Christ who will judge the living and the dead (2 Tim. 4.1). God gives us His Son so that we will have the practical, tangible person and work of Jesus Christ and know whether or not we are holding fast to our assurance firm to the end. The apostle John said, 'if anyone does not abide in the doctrine of Christ, he does not have God' (2 Jn. 9 [paraphrase mine]). But if we do not unite the word with faith, that is precisely what will happen, we will not have God.