Securing Generosity in the Church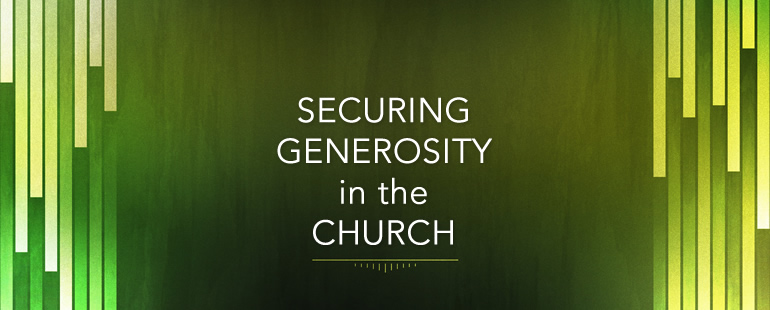 Text and Exposition
1"For it is superfluous for me to write to you about this ministry to the saints; 2 for I know your readiness, of which I boast about you to the Macedonians, namely, that Achaia has been prepared since last year, and your zeal has stirred up most of them. 3 But I have sent the brethren, in order that our boasting about you may not be made empty in this case, so that, as I was saying, you may be prepared; 4 otherwise if any Macedonians come with me and find you unprepared, we—not to speak of you—will be put to shame by this confidence. 5 So I thought it necessary to urge the brethren that they would go on ahead to you and arrange beforehand your previously promised bountiful gift, so that the same would be ready as a bountiful gift and not affected by covetousness."
Περὶ μὲν γὰρ τῆς διακονίας τῆς εἰς τοὺς ἁγίους περισσόν μοί ἐστιν τὸ γράφειν ὑμῖν· 2 οἶδα γὰρ τὴν προθυμίαν ὑμῶν ἣν ὑπὲρ ὑμῶν καυχῶμαι Μακεδόσιν, ὅτι Ἀχαΐα παρεσκεύασται ἀπὸ πέρυσι, καὶ τὸ ὑμῶν ζῆλος ἠρέθισεν τοὺς πλείονας. 3 ἔπεμψα δὲ τοὺς ἀδελφούς, ἵνα μὴ τὸ καύχημα ἡμῶν τὸ ὑπὲρ ὑμῶν κενωθῇ ἐν τῷ μέρει τούτῳ, ἵνα καθὼς ἔλεγον παρεσκευασμένοι ἦτε, 4 μή πως ἐὰν ἔλθωσιν σὺν ἐμοὶ Μακεδόνες καὶ εὕρωσιν ὑμᾶς ἀπαρασκευάστους καταισχυνθῶμεν ἡμεῖς, ἵνα μὴ λέγω ὑμεῖς, ἐν τῇ ὑποστάσει ταύτῃ. 5 ἀναγκαῖον οὖν ἡγησάμην παρακαλέσαι τοὺς ἀδελφούς, ἵνα προέλθωσιν εἰς ὑμᾶς καὶ προκαταρτίσωσιν τὴν προεπηγγελμένην εὐλογίαν ὑμῶν, ταύτην ἑτοίμην εἶναι οὕτως ὡς εὐλογίαν καὶ μὴ ὡς πλεονεξίαν.
Preliminary Thought
"The current of Paul's thought shifts with a new chapter. Here Paul is both rapping up and moving forward. Again Paul feels the need to justify the delegation and express his desire to avoid compulsion in giving. Instead of manipulation, Paul safely reminds the church of his reason to boast on their behalf after all it has been their zeal to contribute that has stirred the hearts of other churches in the region. Paul's delegation therefore serves the purpose of securing that boast by securing their generosity by preparing the church ahead of Paul's own arrival. Paul's emissaries have a twofold mission; to call the church to make good on their previous commitments as well as overcoming the threat of greed and covetousness which is idolatry. Paul is thus dully concerned with the church's commitment to integrity as well as their conquering idolatry."
1.) AVOIDING COMPULSION
v.1-2,
1"For it is superfluous for me to write to you about this ministry to the saints; 2 for I know your readiness, of which I boast about you to the Macedonians, namely, that Achaia has been prepared since last year, and your zeal has stirred up most of them."
In order to secure the church's generosity, four steps are taken. When finances are at the center of church matters, caveats are often in order (cf. Phil. 4.17). Paul feels the need to qualify his appeal for further readiness with the words, "For it is superfluous for me to write to you about this ministry to the saints" (Περὶ μὲν γὰρ τῆς διακονίας τῆς εἰς τοὺς ἁγίους περισσόν μοί ἐστιν τὸ γράφειν ὑμῖν·). The qualification was rooted mainly in Paul's intimate knowledge about the church's "readiness" (προθυμία) in v.2a. David Garland has some very helpful, text based reasons why Paul needed to qualify the following section by pointing out the superfluous nature of the matter at hand (Garland, NAC; p.401).
What Paul is seeking in this letter is not giving through compulsion but generosity through completion, that is, through following through with their "readiness" to contribute. Several significant reasons can be given to support Paul's motives in writing in this way. First, the church was involved in a legitimate ministry, "this ministry to the saints" (τῆς διακονίας τῆς εἰς τοὺς ἁγίους). The ministry to the Jerusalem church was a viable reason to garnish support from other churches like the Corinthians. Second, Paul had done a good job of knowing his people, their readiness and the fact that they were giving according to their ability and not for their affliction:
2 Corinthians 8:12–13 12 "For if the readiness is present, it is acceptable according to what a person has, not according to what he does not have. 13 For this is not for the ease of others and for your affliction, but by way of equality"—
Third, Paul had taken pride in their generosity because it was godly generosity. Like the Macedonians, Paul saw their participation as an expression of the grace of God at work in their midst (cf. 8.1-2). Finally Paul's petition was also in keeping with their own willingness and previous commitment to contribute to the saints. This final point refers back to their own readiness. It is this readiness which Paul boasts about here.
Paul boasted to the Macedonian churches that, "Achaia has been prepared since last year" (Ἀχαΐα παρεσκεύασται ἀπὸ πέρυσι). The Corinthian church was in the region of Achaia and the reference to Achaia was probably to highlight the pervasive readiness the Corinthians had previously exhibited, i.e. "since last year" (ἀπὸ πέρυσι). Paul reminds the Corinthians that their own "zeal" (ζῆλος) had led to the godly impulses of others. There is some debate as to who the Corinthians had "stirred up" (ἐρεθίζω) with their example. Most commentators conclude that Paul is pointing to the Macedonians themselves (e.g. Harris; p. 621-622; MacArthur; p. 308). However, there is also some debate as to why Paul uses the term "Achaia" if it simply refers to the Corinthians themselves?
It is quite possible that the reason the arguments for equating Achaia with the Corinthians seem inconclusive is precisely because Paul is not referring to the Corinthians again but to other churches in the region of Achaia. This would also solve the issue of why Paul seems to say Achaia is ready and then that they seem not to be ready. It may be that Paul boasted about them precisely because they were the cause of the entire region being "prepared" (παρασκευάζω) a year ago. So then, Corinth has been the catalyst for the whole region of "Achaia" (and any surrounding congregations e.g. Cenchrea cf. Rom. 16.1. Also see, Kistemaker (p.305-306) for similar connections) to be ready to contribute since it was the Corinthians themselves who had first expressed the desire to be involved in this "ministry to the saints" (τῆς διακονίας τῆς εἰς τοὺς ἁγίους) (cf. 8.10). This was the "zeal" which "stirred up most of them" (ἠρέθισεν τοὺς πλείονας) and of which Paul is boasting now.
Far from compulsion, Paul is reminding the Corinthians that all of this really is to their great advantage. Paul's way to secure generosity in the church was to avoid a compulsory tone with the church and demonstrate how their participation in the gospel was to their advantage. This is surely the apostolic pattern of pastoral ministry; which, with regards to the issue of finances, and maybe especially with regards to finances, was no different. The NT teaches these principles clearly:
1 Peter 5:1–4 1 Therefore, I exhort the elders among you, as your fellow elder and witness of the sufferings of Christ, and a partaker also of the glory that is to be revealed, 2 shepherd the flock of God among you, exercising oversight not under compulsion, but voluntarily, according to the will of God; and not for sordid gain, but with eagerness; 3 nor yet as lording it over those allotted to your charge, but proving to be examples to the flock. 4 And when the Chief Shepherd appears, you will receive the unfading crown of glory.
2.) PROMOTING COOPERATION
v.3,
3"But I have sent the brethren, in order that our boasting about you may not be made empty in this case, so that, as I was saying, you may be prepared;"
As Paul returns to the delegation he has sent, Paul touches on several under currents which have shaped the situation in Corinth. This delegation served two things mainly. First it served to vindicate Paul's boasting and second, it served to prepare the church for Paul's own arrival.
In order to secure the Corinthian's generosity Paul assembles this delegation of trustworthy "brethren" (τοὺς ἀδελφούς) and expects the church to receive them (8.24) and cooperate with them in the gospel. These men were sent to secure Paul's confidence in them; this was their purpose, "in order that our boasting about you may not be made empty in this case" (ἵνα μὴ τὸ καύχημα ἡμῶν τὸ ὑπὲρ ὑμῶν κενωθῇ ἐν τῷ μέρει τούτῳ). For Paul to "boast" about a church was to boast about its commitment to Christ and the gospel.
2 Thessalonians 1:4 4 "therefore, we ourselves speak proudly of you among the churches of God for your perseverance and faith in the midst of all your persecutions and afflictions which you endure."

1 Thessalonians 2:19-20 19 "For who is our hope or joy or crown of exultation? Is it not even you, in the presence of our Lord Jesus at His coming? 20 For you are our glory and joy."
Sometimes the church's reputation and fruit spoke for itself so that Paul had little to add to the obvious grace of God which was at work in them:
1 Thessalonians 1:8 8 "For the word of the Lord has sounded forth from you, not only in Macedonia and Achaia, but also in every place your faith toward God has gone forth, so that we have no need to say anything."
Paul's fear therefore was that all this boasting would be "made empty" (κενωθῇ) in regard to this contribution (ἐν τῷ μέρει τούτῳ) and jeopardize the generosity which Paul had attributed to them. Paul had boasted about Corinth to the delegation itself, Titus and the two unnamed brethren (8.18, 22), and the other churches e.g. the Macedonians (v.4). Paul knew that such boasting was potentially dangerous if the Corinthians did not "hold up their end of the bargain." If the church was found unprepared, if they held up the collection, or complicated the collection in anyway Paul's confidence in them would quickly turn into contempt. This is why it was so crucial to send the brethren and preempt any failure on either the church's part to be ready or Paul by falsely boasting of their readiness.
3.) CIRCUMVENTING CONTEMPT
v.4,
4"otherwise if any Macedonians come with me and find you unprepared, we—not to speak of you—will be put to shame by this confidence."
This verse explains the nightmare scenario that Paul envisions if things were not done right and contempt circumvented. Paul wanted no surprises, "find you unprepared" (εὕρωσιν ὑμᾶς ἀπαρασκευάστους). The word Paul used here for "unprepared" (ἀπαρασκεύαστος) is only used here in the NT and it literally means, "not in readiness" and was used as technical terminology in military contexts (see, BDAG). Paul is thus calling the church to a spiritual fitness that is likened unto physical war.
This is part of any biblical ministry and dealing with finances, it should always be a thorough and responsible process. Paul already spoke of this when he said, "we have regard for what is honorable, not only in the sight of the Lord, but also in the sight of men" (8.21). Therefore what Paul fears most is the shameful disrepute of his ministry. Earlier Paul spoke of his own readiness in the administration of this gift as a necessary precaution, "so that no one will discredit us in our administration of this generous gift" (8.20).
The inevitable consequence if this preparation time for Corinth failed was contempt or being "put to shame" (καταισχύνω). There is actually a twofold concern, both the reputation of Paul and the church is at stake, "we— not to speak of you— will be put to shame" (καταισχυνθῶμεν ἡμεῖς, ἵνα μὴ λέγω ὑμεῖς). The NASB is misses the point here when it translates the prepositional phrase, "by this confidence" (ἐν τῇ ὑποστάσει ταύτῃ). The noun (ὑπόστασις) should be translated "undertaking" or "project." It is important because it stresses the idea of readiness which inundates the context here and elsewhere (v.2, 3, 4; cf. 8.6, 11, 12, 19). To use Jesus' words, it would be like the man that sat out to build a tower but did not have enough to finish though the foundation has been laid (Lk. 14.28-30), or it would be like the king who sets out to battle and did not have enough military prowess to win the battle so that when he seeks to appease his opponent it was too late (Lk. 14.31-32).
The Corinthians had taken certain measures to be ready, encouraged the zeal of others (9.2), and even made certain commitments (8.10; 9.5) — to find them unprepared now would be highly disappointing. This speaks volumes for the need to be men and women of integrity in the church and keep our commitments first to the church itself and then to the ministries of the church (Col. 1.10; 2 Thess. 2.17).
4.) OVERCOMING COVETOUSNESS
v.5,
5"So I thought it necessary to urge the brethren that they would go on ahead to you and arrange beforehand your previously promised bountiful gift, so that the same would be ready as a bountiful gift and not affected by covetousness."
Finally, in order to secure the generosity of the Corinthian church Paul explains the logic of the delegation of "brethren" (τοὺς ἀδελφούς). Paul felt that it was "necessary" (ἀναγκαῖος) to explain to the church why he sent these men, "that they would go on ahead to you and arrange beforehand your previously promised bountiful gift" (ἵνα προέλθωσιν εἰς ὑμᾶς καὶ προκαταρτίσωσιν τὴν προεπηγγελμένην εὐλογίαν ὑμῶν).
There are two issues at stake here, first has to do with the Corinthian's own commitment and the other has to do with the Corinthian's own propensity towards covetousness. The "brethren" therefore served a very critical role. There work was pastoral and challenging. It is not easy to confront commitments and obligations which people make; especially financially. Things were not to get out of hand so that covetousness would creep into the picture. The delegation was preventative and thus formative for the purity of the church.
4.1, Securing generosity by staying committed to our word
The first simple reason the delegation from Paul had to move on ahead of him was to set before the Corinthian church (probably in an official way: προκαταρτίζω) that which they had "previously promised" (τὴν προεπηγγελμένην) about the "bountiful gift" (εὐλογίαν). This was Paul's way of giving the church the opportunity to stay committed to their word. The use of the perfect middle participle stresses both the settled and obligatory nature of the promise. It was a promise they had made in the past and to which they had voluntarily bound themselves. This "promise" was something they had pledged to do probably over a year ago (cf. 8.10):
1 Corinthians 16:1–2 1 "Now concerning the collection for the saints, as I directed the churches of Galatia, so do you also. 2 On the first day of every week each one of you is to put aside and save, as he may prosper, so that no collections be made when I come."
In 2 Corinthians chapters 1-7 show what happened between then and now and how division it the church was creating a hindrance to this ministry to the saints. The only thing remaining was to make good on their promise by completing the blessings (εὐλογίαν) they promised to be to others.
4.2, Securing generosity by fleeing from idolatrous greed
Closely connected with securing the Corinthians integrity was to protect the Corinthians from idolatry. The reasons Paul sends these men "ahead" was to prevent too much time to elapse before the arrival of the letter not to mention his own personal arrival. These men were there to secure fidelity to the "undertaking" by protecting the gift from being tainted by idolatrous "covetousness" and greed (πλεονεξίαν). John MacArthur is right on point when he says:
"Few sins are as ugly as covetousness; few sins manifest selfishness and pride so graphically as grasping for more at the expense of others. Covetousness is built into the very fabric of depraved human nature. "For from within, out of the heart of men," declared Jesus, "proceed … deeds of coveting" (Mark 7:21–22). Sinners covet because they have "a heart trained in greed" (2 Peter 2:14). Covetousness (greed) is idolatry (Eph. 5:5; Col. 3:5), and those who habitually practice it will not inherit the kingdom of God (1 Cor. 6:10; Eph. 5:5). Covetousness or greed characterizes a depraved mind (Rom. 1:28–29), leads people to oppress others (Mic. 2:2), and spurn the Lord (Ps. 10:3). Christians are "not to associate with any so-called brother if he is … covetous" (1 Cor. 5:11)." (MacArthur, 2 Corinthians; p. 309)
Sometimes commitments made in faith can be undone by the passage of time. Too much time may cause the heart to grow apathetic, unfocused, and unprincipled. The passage ends with an interesting parallel and leaves us thinking of giving once again for what it really is— worship. But worship is either pure or perfunctory. In the area of giving; motive is everything amount is only secondary to that (cf. 9.7). The parallel leaves us with the impression that for Paul their participation was either rooted in generosity (lit. "as a blessing" ὡς εὐλογίαν) or greed (lit. "as greed/covetousness" ὡς πλεονεξίαν). The principle is simple; our worship when it comes to giving is either done with the right motives to the glory of God or with impure motives to the ruin of our souls. This is why Paul says to the Philippians, "Not that I seek the gift itself, but I seek for the profit which increases to your account" (Phil. 4.17). As Paul goes on in Philippians, he leaves little doubt that what he is ultimately concerned for us in giving is worship that either pleases God or does not— the former leaving the worshiper blessed:
Philippians 4:17–18 18 "But I have received everything in full and have an abundance; I am amply supplied, having received from Epaphroditus what you have sent, a fragrant aroma, an acceptable sacrifice, well-pleasing to God. 19 And my God will supply all your needs according to His riches in glory in Christ Jesus."