Six Distinguishing Marks of a True Apostle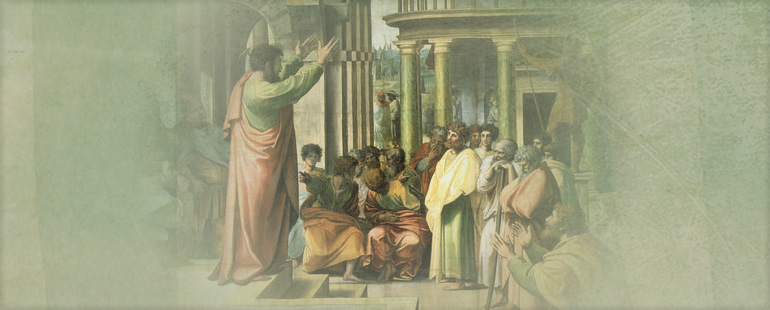 Text and Exposition
11"I have become foolish; you yourselves compelled me. Actually I should have been commended by you, for in no respect was I inferior to the most eminent apostles, even though I am a nobody. 12 The signs of a true apostle were performed among you with all perseverance, by signs and wonders and miracles. 13 For in what respect were you treated as inferior to the rest of the churches, except that I myself did not become a burden to you? Forgive me this wrong!"
11 Γέγονα ἄφρων, ὑμεῖς με ἠναγκάσατε. ἐγὼ γὰρ ὤφειλον ὑφ' ὑμῶν συνίστασθαι· οὐδὲν γὰρ ὑστέρησα τῶν ὑπερλίαν ἀποστόλων εἰ καὶ οὐδέν εἰμι. 12 τὰ μὲν σημεῖα τοῦ ἀποστόλου κατειργάσθη ἐν ὑμῖν ἐν πάσῃ ὑπομονῇ, σημείοις τε καὶ τέρασιν καὶ δυνάμεσιν. 13 τί γάρ ἐστιν ὃ ἡσσώθητε ὑπὲρ τὰς λοιπὰς ἐκκλησίας, εἰ μὴ ὅτι αὐτὸς ἐγὼ οὐ κατενάρκησα ὑμῶν; χαρίσασθέ μοι τὴν ἀδικίαν ταύτην.
Preliminary Thought
"Paul returns to the theme of foolish boasting so that he could show the church just how out of step they were with the truth. The reality was that the Corinthians should have supported their shepherd. The church should have sided with Paul and actually commended him for his ministry. Instead they had forced him to engage in self-promotion and human comparisons which he deemed as unprofitable however necessary. The church failed to recognize Paul's blameless conduct. They had also overlooked the fact that Paul's apostleship had been validated through various distinguishing marks of a genuine apostle. Paul's apostleship was accompanied by supernatural signs. His supernatural signs were also done with perseverance. Paul was not simply there to show off the greatness of his revelations; he was there to see the church established and edified to maturity— something the false teachers were not committed to do. Paul's manner also proved to be impartial. The only reason the church failed to feel this way was because they had erroneously interpreted his generosity and financial independence as pride. Paul hopes to awaken them with a jolt of irony."
When we talk about the office of an apostle, and especially when we consider the words of Paul here with respect to "a true apostle" we should consider the theology of the apostolic order. What after all is a true apostle? What is our justification for believing that this office as opposed to that of an elder or deacon has ceased? And what of the claims of those who claim that they are apostles today? Are there apostles today? Hopefully this text will help us fill in some of the gaps of those questions. We should first point out some basics principles about the theology of what the term "apostle" implies.
An apostle simply means someone who is sent. Because of this fact, the word can have a broad range of meaning both technical and non-technical. Jesus himself is called an Apostle (Heb. 3.1). Barnabas, and others are called apostles in a non-technical sense (Acts 14.14; Rom. 16.7). But there is also a technical sense in which the word apostle is used. In Acts 1, the strict technical sense of word is implied and that is why strict requirements were in place for Matthias who replaced Judas (Acts 1.21-26). A true apostle had to have been with the Lord and seen the Lord (Acts 1.21-22; 1 Cor. 9.1; 15.7-8), he had to be called and commissioned by the Lord himself (Mt. 10.2; 28.19-20, Gal. 1.11-12; 2 Cor. 1.1; Gal. 1.1; Rom. 1.1); he had just as much authority as all of the rest of the apostles (Gal. 2.8; 2.11), they were able to write Scripture (John 14.26; 16.13; 2 Pet. 3.16; 1 Thess. 2.13), and give the commands of Lord (1 Cor. 14.37).
Apostleship in the technical sense of the word also because foundational to the establishment of the New Covenant church (Eph. 2.20). In Heaven there will be twelve thrones for the twelve apostles (Mt. 19.28) and twelve foundations with the names of the twelve apostles of the Lamb (Rev. 21.14) showing that their apostleship was unique even as Paul's apostleship was also unique as he himself states, he was "one untimely born" (1 Cor. 15.58) but nevertheless he was given the grace of apostleship (Rom. 1.5). But Paul had all of the marks of a true apostle in the most authoritative and technical sense of the word. The point of this text will serve to show that in addition to all of this, the apostles were also given the ability to perform undeniable signs and wonders and miracles that authenticated their ministry in order to prove that they were operating in the authority of Jesus Christ (2 Cor. 5.20). This passage also gives us several other marks of Paul's ministry and apostleship; some things which we can emulate and others that we cannot.
1.) APTITUDE AND ABASEMENT
v.11,
11"I have become foolish; you yourselves compelled me. Actually I should have been commended by you, for in no respect was I inferior to the most eminent apostles, even though I am a nobody."
The trouble the Corinthians were in was all do to their failure to support their pastor/apostle/leader and spiritual father in the faith (cf. 1 Cor. 4.15). The principle in the background of this text teaches us that churches have a good relationship with the elders of the church. Too often pastors face unfortunate hostility in their own churches. Too often the church is infiltrated by those who would seek to attack their pastors to undermine the pastors to divide the pastors and sow discord among the members of the church. This is really what the Corinthians were guilty of. They had failed to rightly esteem the apostle Paul. This is what has given birth to his seemingly "foolish" boasting. In a series of texts Paul has already stated both the need and the undesirably of self-promotion:
2 Corinthians 11:1 1 "I wish that you would bear with me in a little foolishness; but indeed you are bearing with me."

2 Corinthians 11:21b 21 "To my shame I must say that we have been weak by comparison. But in whatever respect anyone else is bold—I speak in foolishness—I am just as bold myself."

2 Corinthians 11:30 30 "If I have to boast, I will boast of what pertains to my weakness."

2 Corinthians 12:1 1 "Boasting is necessary, though it is not profitable; but I will go on to visions and revelations of the Lord."
With the Philippians Paul had substantial fellowship in the furtherance of the gospel (Phil. 1.7; 4.10-15), with the Thessalonians (one of the Macedonian churches 8.1) Paul had an intimate and close relationship with the church. He was tender with them like a nursing mother (1 Thess. 2.7), he commended them for their faith (1 Thess. 1.3) and always gave thanks for them among the other churches (2 Thess. 1.3-4). But not so with the Corinthian church, for, they had failed to support Paul, he had to threaten them with chastisement:
2 Corinthians 13:10 10 "For this reason I am writing these things while absent, so that when present I need not use severity, in accordance with the authority which the Lord gave me for building up and not for tearing down."
Even in this context, Paul has to rebuke them first for compelling him to boast about himself, "I have become foolish; you yourselves compelled me" (Γέγονα ἄφρων, ὑμεῖς με ἠναγκάσατε) and second because they had failed to appreciate his aptitude, "Actually I should have been commended by you" (ἐγὼ γὰρ ὤφειλον ὑφ' ὑμῶν συνίστασθαι). Instead of bating him to be a fool, the Corinthians should have commended him for his aptitude as an apostle.
What makes matters worse in Corinth is that they had a proven, profound and legitimate example set before them in the apostle Paul and yet, they did not recognize him for it. Instead of recognition and respect Paul was met with reluctance and suspicion (cf. 1.17). The reality of the situation is that Paul's aptitude was observable, evident and equal to any other apostle, "in no respect was I inferior to the most eminent apostles" (οὐδὲν γὰρ ὑστέρησα τῶν ὑπερλίαν ἀποστόλων). Paul's equality to the rest of the apostles, even "the most eminent apostles" (τῶν ὑπερλίαν ἀποστόλων) was based on his calling (Acts 9.15; Rom. 1.1), his receptivity of the gospel (Gal. 1.12), his depth of theological knowledge (2 Cor. 11.6), God's hand of blessing on his ministry (Gal. 2.8), and in this context, the supernatural signs of an apostle (2 Cor. 12.12).
Not only did Paul prove to have the necessary aptitude as an apostle but also in the context of his God given adequacy (3.5) he demonstrates great humility and even abasement. Some have suggested that the Corinthians had heard some say that Paul was nothing, a non-factor, or a "nobody" (οὐδέν). You can't humiliate a humble man! Paul does not hesitate to confess his irrelevance, "I am nobody" (εἰ καὶ οὐδέν εἰμι). A true minister of the gospel is at the same time, adequate and abased. When God makes you adequate it makes one confident and contrite, independent and expendable. This is a theme that Paul had already developed in the letter and it was all tied to his New Covenant ministry:
2 Corinthians 3:4–6 4 "Such confidence we have through Christ toward God. 5 Not that we are adequate in ourselves to consider anything as coming from ourselves, but our adequacy is from God, 6 who also made us adequate as servants of a new covenant, not of the letter but of the Spirit; for the letter kills, but the Spirit gives life."
This was not abasement for ascetic purposes it was abasement for the purpose of doxology!
2.) SIGNS AND WONDERS
v.12,
12"The signs of a true apostle were performed among you with all perseverance, by signs and wonders and miracles."
Verse 12 is really an extension of the argument above, that Paul was not in any way "inferior" (ὑστερέω) to any apostle no matter how "eminent" (ὑπερλίαν). But it also introduces two other distinguishing marks of an apostle, namely "signs and wonders" (σημείοις τε καὶ τέρασιν) with the additional category of "miracles" (δύναμις). These "signs" (σημεῖον) not only proved that Paul was a "true apostle" they also distanced him from the false apostles (11.13) who could not produce "the signs of a true apostle" (τὰ μὲν σημεῖα τοῦ ἀποστόλου). False teachers could not work miracles.
This is why they were called, "deceitful workers" (ἐργάται δόλιοι).
If the first use of the term "signs" (σημεῖον) here refers not to supernatural sings, wonder, and miracles themselves it means something like "distinguishing marks" (cf. BDAG, also see: Harris; p.873-874). This seems logical for if we identify both of Paul's words "σημεῖα…. σημείοις" as identical in meaning then redundancy would ensue. Paul's apostolic marks were "performed" (κατεργάζομαι) in two ways. First with "all perseverance" (ἐν πάσῃ ὑπομονῇ) and second through the instrumentally of supernatural gifts "by signs" (dative of means). Although Paul was the human agent through which the miraculous "signs" were performed, ultimately the power of all miraculous signs finally rests with God. This would make the verb, "performed" (κατεργάζομαι) a divine passive.
This coalesces with Paul's earlier teaching in first Corinthians where he gives all the credit to God for the power of his preaching and for the working of miraculous powers among the church of Corinth:
1 Corinthians 2:1–5 1"And when I came to you, brethren, I did not come with superiority of speech or of wisdom, proclaiming to you the testimony of God. 2 For I determined to know nothing among you except Jesus Christ, and Him crucified. 3 I was with you in weakness and in fear and in much trembling, 4 and my message and my preaching were not in persuasive words of wisdom, but in demonstration of the Spirit and of power, 5 so that your faith would not rest on the wisdom of men, but on the power of God."
The words, "with all perseverance" (ἐν πάσῃ ὑπομονῇ) may at first seem out of place but as we consider the context of the letter this phrase distinguishes Paul's ministry even further by distancing him from his opponents.
The "false apostles" were by nature fickle, shallow, unreliable, and hirelings who cared nothing for the sheep— at the first sign of trouble they would quickly abandon the flock (cf. John 10.12; Acts 20.29-30).
Paul did not simply blow into the Corinthian regions with a few miracles, visions and words in order to collect some money and move on to the next town— Paul saw the work at Corinth through to the end. This was always Paul's aim in the churches i.e. spiritual stability and growth (cf. Eph. 4.11-16). He was in Corinth to make disciples not to make a show. Sadly, charlatans abound today in the "Church" who will be more than glad to put on a show for people, make all sorts of outlandish claims, even apostolic claims, only to quickly flee the scene with large sums of money and no real connection to the people, and no desire to see biblical churches raised up for the glory of God and the good of His people (cf. Rom. 16.18).
This was precisely the opposite of Paul's practice. Paul "persevered" with character, and charismatic phenomenon so that his signs gifts were self-evident. As a "true apostle", Paul had the ability to perform "signs and wonders and miracles" (σημείοις τε καὶ τέρασιν καὶ δυνάμεσιν) of various kinds. We can learn something of these apostolic gifts by the nuance of each of Paul's terms here. "Signs" (σημεῖον) could refer to supernatural abilities that range from prophecy to the power to heal the sick (1 Cor. 14.6, 37; Acts 20.10-12); thus the use of the plural form for each term.
Grammatically, it is also probable that "sings and wonders" (σημείοις τε καὶ τέρασιν) were intended to go together (note the use of a joining particle τε). One term describes the phenomenon itself the other describes the effect of the phenomenon. The signs and "miracles" being performed through Paul were awe-inspiring, they were epiphanic (Acts 19.17), and even strange. Just one example will suffice:
Acts 19:11–12 11 "God was performing extraordinary miracles by the hands of Paul, 12 so that handkerchiefs or aprons were even carried from his body to the sick, and the diseases left them and the evil spirits went out."
Paul also describes these "signs" as "miracles" (δυνάμεσιν)— a word which can be rendered, "deeds of power." Such miraculous power God was pleased to accompany Paul's preaching ministry in Asia (Acts 19. 11-12), in Galatia (Gal. 3.5), Macedonia (1 Thess. 1.5; Acts 16.16-18), and in Corinth (1 Cor. 2.4; 2 Cor. 12.12). Such miraculous power was granted so that the church could conclude that Paul's gospel was true:
Galatians 3:5 5 "So then, does He who provides you with the Spirit and works miracles among you, do it by the works of the Law, or by hearing with faith?"
3.) IMPARTIALITY AND INDEPENDENCE
v.13,
13"For in what respect were you treated as inferior to the rest of the churches, except that I myself did not become a burden to you? Forgive me this wrong!"
Finally, with such an abundant display of power, is it any wonder that Paul felt the need to bring up the issue of partiality? Apparently the church had come to feel left out as if Paul had been partial to other churches. Paul makes it clear that the only thing he had held back from them was financial burden. So in order to prove both his impartiality and his independence Paul interrogates them, "For in what respect were you treated as inferior to the rest of the churches, except that I myself did not become a burden to you?" (τί γάρ ἐστιν ὃ ἡσσώθητε ὑπὲρ τὰς λοιπὰς ἐκκλησίας, εἰ μὴ ὅτι αὐτὸς ἐγὼ οὐ κατενάρκησα ὑμῶν;).
Paul was not inferior and neither were the Corinthians. Paul did not take a back seat to the rest of the apostles and neither did the Corinthians to "the rest of the churches" (τὰς λοιπὰς ἐκκλησίας). There is a significant parallel passage at this point that exhibits Paul's passion to faithfully preach the gospel to all churches everywhere he went, which included demonstrating his apostolic authority through miraculous signs:
Romans 15:18-19 18 For I will not presume to speak of anything except what Christ has accomplished through me, resulting in the obedience of the Gentiles by word and deed, 19 "in the power of signs and wonders, in the power of the Spirit; so that from Jerusalem and round about as far as Illyricum I have fully preached the gospel of Christ."
Paul ends the section with a bit of irony, "forgive me this wrong" (χαρίσασθέ μοι τὴν ἀδικίαν ταύτην). Of course, Paul had done nothing wrong. Actually this should have been further proof of his virtuous character. Instead by the time false apostles (11.13), false brethren (11.26), and divisive brethren (12.20) had finished with Paul's reputation his financial independence was turned into a scandal. In reality Paul showed no partiality and lived financially independent at times for the sake of the church:
1 Thessalonians 2:9 9 "For you recall, brethren, our labor and hardship, how working night and day so as not to be a burden to any of you, we proclaimed to you the gospel of God."

2 Corinthians 11:7–9 7 "Or did I commit a sin in humbling myself so that you might be exalted, because I preached the gospel of God to you without charge? 8 I robbed other churches by taking wages from them to serve you; 9 and when I was present with you and was in need, I was not a burden to anyone; for when the brethren came from Macedonia they fully supplied my need, and in everything I kept myself from being a burden to you, and will continue to do so."
The greatness of the apostle Paul was seen not only in his apostolic ability to perform signs and wonders but also in the ordinary means of grace. His preaching, his perseverance, his prayers for the church, his service to the church, and his selfless sacrifice on behalf of others (cf. Phil. 2.17) all proved his commitment to the local church. What made Paul great was not just the supernatural but also that which was totally human. Paul's piety was not just in that he was given revelations and visions; but in that he was his faithfulness in the midst of very complex and heart-breaking ministry. Paul's apostleship was not excellent just because Jesus had appeared to him; it also his relentless obedience to God, the humility that characterized his example, and his dependency on the grace of God in the midst of hardship and weakness. Paul's extraordinary ministry often shines the brightest in the context of his everyday affairs.