The Burden of Prayer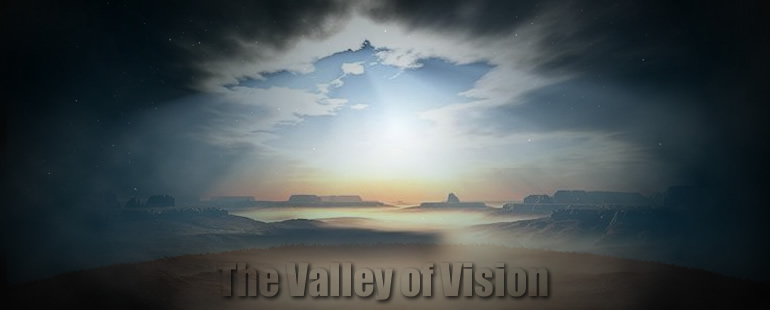 The Valley of Vision: Sermons on Prayer, Part One:
The Burden of Prayer
O Lord, in prayer I launch far out into the eternal world, and on that broad ocean my soul triumphs over all evils on the shores of mortality. Time, with its gay amusements and cruel disappointments never appears so inconsiderate as then.
In prayer I see myself as nothing; I find my heart going after Thee with intensity, and long with vehement thirst to live to Thee. Blessed be the strong gales of the Spirit that speed me on my way to the New Jerusalem.
In prayer all things here below vanish, and nothing seems important but holiness of heart and the salvation of others.
In prayer all my worldly cares, fears, anxieties disappear, and are of as little significance as a puff of wind.
In prayer my soul inwardly exults with lively thoughts at what Thou art doing for Thy church, and I long that Thou shouldest get Thyself a great name from sinners returning to Zion.
In prayer I am lifted above the frowns and flatteries of life, and taste heavenly joys; entering into the eternal world I can give myself to Thee with all my heart, to be Thine for ever.
In prayer I can place all my concerns in Thy hands, to be entirely at Thy disposal, having no will or interest of my own.
In prayer I can intercede for my friends, ministers, sinners, the church, Thy kingdom to come, with greatest freedom, ardent hopes, as a son to his father, as a lover to the beloved.
Help me to be all prayer and never to cease praying.
— The Valley of Vision
The prayer life of the Puritans far and away stands across the historical landscape as preeminent among the history of the church. It is not only that they prayed often and regularly, but that they prayed biblically. The International House of Prayer (IHOP) has 24 hour prayer as I understand, however much of their prayer is unbiblical and at times even heretical. All during this study on prayer I will look to the Puritans to help us because of the theological richness, the ardent attitude, and spiritual sobriety and maturity of their prayers.
As we look at the burden of prayer, we must begin with what the Puritans often preached about with regards to prayer, or the lack thereof, namely the neglect of prayer. We have to begin here because we should be honest about our failures in prayer if we are going to truly excel in prayer. Like with many other disciplines; sports, acting, singing, child-rearing, body building exercising, we do not really know what it takes to succeed if we are not willing to think about what is causing us to fail. Yet, unlike any of these other disciplines, prayer uniquely will affect every other part of a believer's life if this great grace of God is neglected.
The Burden Of Prayer Begins By Acknowledging The Neglect Of Prayer
As we begin here, what we fail to see so often is that in reality, to neglect prayer is to neglect our own souls and leave our souls impoverished and spirituality anemic. If you ask any nutritionist experts they tell you that to be deficient in one nutrient can have several adverse effects in the body. There are only about two dozen nutrients available for the physical body yet, the deficiency of a single nutrient can have thousands of consequences. The same could be said of prayer one of the few spiritual nutrients or means of grace that God has prescribed for our spiritual health in the Christian life but if left neglected the consequences can show up in a thousand places. Neglect prayer and you are guaranteed to experience deficiencies in holiness, assurance, joy, sanctification, zeal, sobriety, and spiritual warfare. Neglect prayer and all of your relationships will suffer, your marriage, your families, your fellowship, your culture and your church.
If we are honest, it is so easy to neglect prayer and those in ministry, especially pastors, can easily fall prey to this. I recently heard a chapel message at a popular seminary where one of the schools alumni returned to preach for the student body especially perspective pastors who will soon enter the ministry. His message was on the neglect of prayer. He warned of the dangers that pastors face in ministry that lead to the neglect of prayer. He pointed out that when pastor's get busy, when the schedule fills up, and the sermons have to be written every week; prayer is easily the first thing to go. The Puritan Samuel Chadwick said, "hurry is the death of prayer." But pastors like everyone else must give prayer a prominent place in their lives for two reasons. The first reason has already been mentioned above— the lack of prayer leads to several detrimental deficiencies in the Christian life. The consequences are a1000 to 1.
The second reason is the flip side of that. Prayer is too important for the success of the ministry and for the vitality of the believer's spiritual maturity. What it boils down to is that we do not believe in the effectiveness of prayer. But Scripture everywhere assumes the effectiveness of prayer:
2 Corinthians 1:8–11 8 For we do not want you to be unaware, brethren, of our affliction which came to us in Asia, that we were burdened excessively, beyond our strength, so that we despaired even of life; 9 indeed, we had the sentence of death within ourselves so that we would not trust in ourselves, but in God who raises the dead; 10 who delivered us from so great a peril of death, and will deliver us, He on whom we have set our hope. And He will yet deliver us, 11 you also joining in helping us through your prayers, so that thanks may be given by many persons on our behalf for the favor bestowed on us through the prayers of many.

Ephesians 6:18–20 18 With all prayer and petition pray at all times in the Spirit, and with this in view, be on the alert with all perseverance and petition for all the saints, 19 and pray on my behalf, that utterance may be given to me in the opening of my mouth, to make known with boldness the mystery of the gospel, 20 for which I am an ambassador in chains; that in proclaiming it I may speak boldly, as I ought to speak.
The Burden Of Prayer And The Effectiveness Of Prayer
The burden of prayer should be bound up in the effectiveness of prayer, believing that God works through prayer and that He works for us when we are at points of despair. The OT is full of real life examples of prayer's effectiveness and how God uses the cries of His people who petition Him before He delivers them (Ex. 2.23-25; 3.7; 1 Sam. 9.16; Ps. 22.24; 34.4; 145.19). In Isaiah 36-37 we have the account of Hezekiah's desperation upon learning of Sennacherib's plot to destroy Judah and invade their territory. Sennacherib had send Rabshakeh i.e. the cup bearer to tell Judah that they would die telling Hezekiah's delegation that they would eat their dung and drink their urine even insisting that Judah not follow Hezekiah's advice to trust in the Lord, "Do not let Hezekiah deceive you, for he will not be able to deliver you; nor let Hezekiah make you trust in the Lord," (Is. 36.14-15).
Hezekiah responds by sending a delegation to Isaiah the prophet feeling the burden of prayer and knowing that Isaiah as a man of God knew the effectiveness of prayer:
Isaiah 37:4 4 'Perhaps the Lord your God will hear the words of Rabshakeh, whom his master the king of Assyria has sent to reproach the living God, and will rebuke the words which the Lord your God has heard. Therefore, offer a prayer for the remnant that is left.' "
Ray Ortlund says this is Hezekiah turning to God in "deep need":
"To his lasting credit, Hezekiah gets real with God, unlike his father Ahaz. He goes into the house of the Lord (37:1). He understands that what really matters is not his relationship with the king of Assyria but his relationship with the King of Heaven. He can see that nothing will suffice but what is directly and immediately of God. His faith is no facile optimism. We know that because he tears his clothes and puts on sackcloth. He is soberly realistic about what is happening. He disregards appearances. He turns to God in deep need." (Raymond C. Ortlund Jr., Isaiah: God Saves Sinners, Preaching the Word (Wheaton, IL: Crossway Books, 2005), pp. 209–210).
Therefore, we too should feel the burden to pray when all hope seems lost, when we are back against a seemingly immovable wall, and when God's name is on the line! Isaiah, prayed because, he knew the effectiveness of prayer. When we think of churches in the New Testament that were struggling, sinful, impure, immature, and in need of spiritual growth, we often think of the Corinthians or the struggling Galatians. Yet, James is also writing to a church that is struggling; particularly with faith which was manifested in many unfortunate expressions one of which was the need to understand and believe in the effectiveness of prayer:
James 5:13–17 13 Is anyone among you suffering? Then he must pray. Is anyone cheerful? He is to sing praises. 14 Is anyone among you sick? Then he must call for the elders of the church and they are to pray over him, anointing him with oil in the name of the Lord; 15 and the prayer offered in faith will restore the one who is sick, and the Lord will raise him up, and if he has committed sins, they will be forgiven him. 16 Therefore, confess your sins to one another, and pray for one another so that you may be healed. The effective prayer of a righteous man can accomplish much. 17 Elijah was a man with a nature like ours, and he prayed earnestly that it would not rain, and it did not rain on the earth for three years and six months.
The Burden Of Prayer And The Mandate Of Prayer
The epistle of James reminds us of the many injunctions in Scripture to pray so that the burden and the need to pray is rooted in the mandate of prayer. Augustine is famous for saying, "Lord give what you command and command what You will"— prayer is commanded of the believer because the impulse to pray is the natural by-product of regeneration. It was the Puritan William Gurnall:
"Praying is the same to the new creature as crying is to the natural. The child is not learned by art or example to cry, but instructed by nature; it comes into the world crying. Praying is not a lesson got by forms and rules of art, but flowing from principles of the new life itself." (I.D.E. Thomas, A Puritan Golden Treasury; pp. 209-210).
Prayer is fundamental to the life of the believer. It is part of his basic identity, it is the air he/she breathes or better yet, breathes out. It is the Spirit through regeneration that gives us this childlike principle of prayer:
Romans 8:14–15 14 For all who are being led by the Spirit of God, these are sons of God. 15 For you have not received a spirit of slavery leading to fear again, but you have received a spirit of adoption as sons by which we cry out, "Abba! Father!"
Is it not amazing that according to that passage, the Spirit's work is to eliminate fear by giving us not a spirit of fear but of confidence (Mk. 11.24)! The parallel passage is 2 Timothy where we are told what this spirit which here means something like attitude is, "For God has not given us a spirit of timidity, but of power and love and discipline" (2 Tim. 2.7). This is the believer's attitude, not fear but power, love, and wisdom (σωφρονισμός). The believer's attitude in prayer is a spirit of adoption, a spirit of childlike dependence and confidence in God our Father so that prayer is as natural to the believer as speaking is between a children and their Father (cf. Mt. 6.5-8, 32; Lk. 12.30; Jn. 16.23-27; cf. Is. 65.24).
Everything in Scripture suggests that prayer is regular, frequent, natural and normative in the believer's life. A prayer-filled life is the way the Christian life should operate. Samuel saw it as sin for failing to pray for the needs of Israel, "Moreover, as for me, far be it from me that I should sin against the Lord by ceasing to pray for you…" (1 Sam. 12.23). Matthew Henry said, "it is a sin no to pray for the Israel of God." This is why Paul had no problem exhorting the believer's to pray without ceasing.
It is no more optional for believers to pray than breathing is for all living creatures. Paul knew from experience; his missionary journeys, his persecution, his imprisonments, his afflictions, his troubles in the churches, his struggles with false teachers and his efforts to purify the church that prayer was essential for the overall health of the church. Spurgeon exposed the danger of even one member of the church neglecting their duties in prayer:
"A prayerless church member is a hindrance. He is in the body like a rotting bone or a decayed tooth. Before long, since he does not contribute to the benefit of his brethren, he will become a danger and a sorrow to them. Neglect of private prayer is the locust which devours the strength of the church."
This is why Scripture knows nothing of a prayer-less Christian or Christianity. It knows nothing of sanctification and spiritual progress without prayer. This is why Paul exhorts us to pray perpetually. It is what we should be doing anyways as believers who know their continual need for God's grace:
Philippians 4:6–7 6 Be anxious for nothing, but in everything by prayer and supplication with thanksgiving let your requests be made known to God. 7 And the peace of God, which surpasses all comprehension, will guard your hearts and your minds in Christ Jesus.

1 Thessalonians 5:16–19 16 Rejoice always; 17 pray without ceasing; 18 in everything give thanks; for this is God's will for you in Christ Jesus. 19 Do not quench the Spirit;
In prayer therefore, we see our burdens lifted our joy refilled and our petitions answers so that we leave God in prayer knowing that we have met with an infinitely good God. It is nothing but demonic deception that leads believers to cease from praying to God, choosing rather to believe that God does not hear than that God does hear and does not care for them. Calvin said Christians pray:
"… to alert themselves to seek Him, to exercise their faith by meditating upon His promises, unburdening their cares by lifting themselves into His bosom, and finally to testify that from Him alone, all good for themselves and for others is hoped and asked." (John Calvin, Commentaries, Volume XVI; p.314).
Practically, the burden of prayer is rooted in the reality of the consequences of neglecting prayer and the benefits of taking advantage of prayer. The consequences are a thousand to one. We must therefore take care that we are not neglecting prayer both private and public, individually and corporately whether in the church or in home. The benefits are also infinitely precious so that we pray because we know that God hears us, God moves through our prayers, we help one another by praying for one another (Jam. 5.16) and can even sin against the Lord by failing to pray (1 Sam. 12.23).
We also pray because we know from Scripture something of the effectiveness of prayer. Scripture everywhere assumes the efficacious nature of prayer. Prayer to intervene in our circumstances, prayer to change the hearts of kings and kids, prayer to heal the sick and prayer to advance the heralding of the gospel. In prayer we join forces with missionaries, evangelists, pastors and parents in the cause of the gospel. Prayer is not superstitious futility, it is evoking the sovereign hand of God to come down and touch our lives with His power and grace for the sake of His great glory and according to His will (cf. 1 John 5.14).
Finally, prayer is rooted in the biblical mandate to prayer. For the believer, prayer is not simply a calling it is a command. God commands what He wills and the grace of God gives us the ability to obey His command over our lives to pray. So we obey the command to pray and in doing so we meet pressing needs, cast our cares on our heavenly Father, free ourselves of anxious thoughts, cleanse ourselves of carnal living and commune with God who has given us the spirit of prayer. We pray "at all times in the Spirit" so that we can be alert in our perseverance (cf. Eph. 6.18).