The Dignified Christian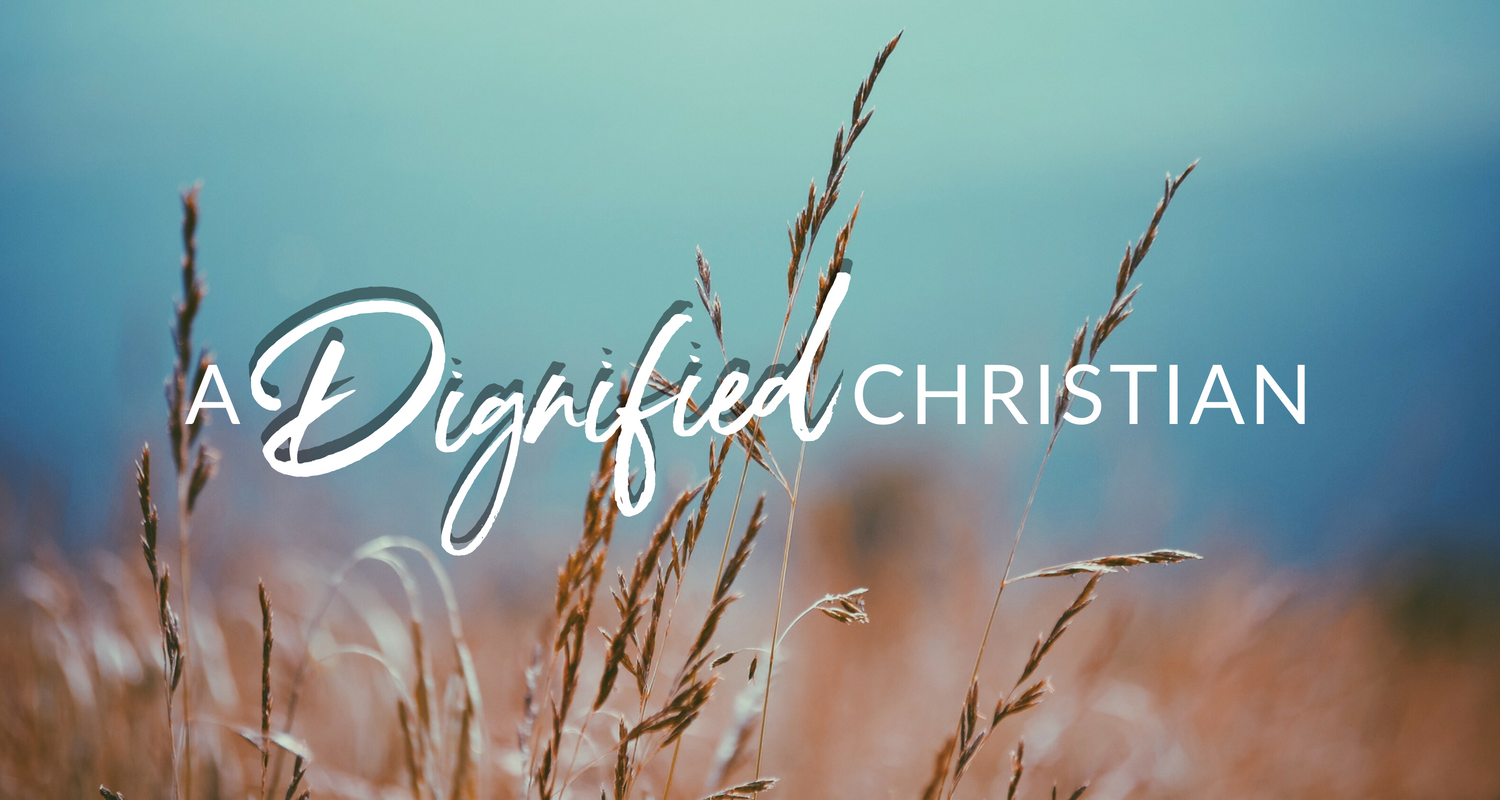 1 Thessalonians 4:9–12 9 Now as to the love of the brethren, you have no need for anyone to write to you, for you yourselves are taught by God to love one another; 10 for indeed you do practice it toward all the brethren who are in all Macedonia. But we urge you, brethren, to excel still more, 11 and to make it your ambition to lead a quiet life and attend to your own business and work with your hands, just as we commanded you, 12 so that you will behave properly toward outsiders and not be in any need.
Perhaps the most difficult dynamic in the Christian life is the issue of balance. Balance takes wisdom, intentionality, principle and zeal. There are some who have often said that 'Christianity is not a list of do's and don'ts's.' But this text simply will not allow for those types of hasty generalizations. While it may be true that, we do not follow the letter of the Law in a legalistic sense, we nevertheless are confronted practically with lists; moral lists, vice lists, virtue lists, and lists on household codes that specify and enumerate precisely what God requires of us. There are many Christians, and just people in general that thrive on lists, they do not do well with nuance, they want 'a list.' Here Paul speaks to us all by listing out what makes for a dignified Christian and reminds us what are the issues on the 'list.' I use the term, "dignity" because Paul uses the word in a similar context:
1 Timothy 2:1–3 1 First of all, then, I urge that entreaties and prayers, petitions and thanksgivings, be made on behalf of all men, 2 for kings and all who are in authority, so that we may lead a tranquil and quiet life in all godliness and dignity. 3 This is good and acceptable in the sight of God our Savior,
The beauty of such practical passages is that it reminds us is that what Scripture is giving to the believer is a robust, thorough, world and life view. God is concerned about conduct and our behavior from top to bottom. From the biggest moments and aspects of our Christian lives, to the most practical minutia of our lives; we should be impressed with God's sovereign and providential concern for His people— God cares for us and provides for us everything we need for life and godliness (cf. Mt. 6.25; 2 Pet. 1.3)!
This is a context in which God makes His concern for the church clear by calling us to a standard of dignity and godliness that is in keeping with His will for our lives. In order to maintain a godly sense of dignity several responsibilities are laid upon the members of the church.
First Responsibility: Love
Because this is Paul's second reference to the church's love for one another, some justification for the apparent redundancy is in order. Paul repeats the call for love based on the verses above on sexual immorality especially having spoken about defrauding one another (v.6). Defrauding one another through sensuality is the obvious perversion and violation of Christian charity and here Paul calls to the church to excel in true love and genuine godly affection towards the brethren. There are two things to see in this initial responsibility. Love is rooted in regeneration and susceptible to regression.
Rooted in Regeneration
This first responsibility is the most basic of Christian virtues. It is the supreme evidence of the Spirit's work in our lives. Paul reminds them of this by focusing on God's activity of instructing believers himself to love, "Now as to the love of the brethren, you have no need for anyone to write to you, for you yourselves are taught by God to love one another" (Περὶ δὲ τῆς φιλαδελφίας οὐ χρείαν ἔχετε γράφειν ὑμῖν, αὐτοὶ γὰρ ὑμεῖς θεοδίδακτοί ἐστε εἰς τὸ ἀγαπᾶν ἀλλήλους).
We should also notice the axiomatic nature of conversion. In other words, there are some things in Christianity that need no explanation, love is one of them. That does not mean that we cannot teach on love, elaborate on love, or expound on the nature of Christian love; we can certainly do those things but there is a fundamental baseline of experiential knowledge of what that love is (cf. 1 Cor. 13). The reason that I bring up the issue of love being self-evident is because too often in the Christian faith we have turned what is self evident into an exercise of self-doubt. Too often Christian counseling is weighed down with having to painstakingly explain the obvious to Christians who have been taught by God's Spirit and know the truth but simply refuse to apply it. That is the point that needs to be firmly understood today. In many instances therefore we have gone from the pulpit to the psychiatrist couch. Sadly when Christians begin to doubt everything in the Christian life it creates a culture of codependency where the Christian counselor becomes the most important means of grace in a person's life. This often infringes upon the sufficiency of scripture and the power of the Holy Spirit in the life of the believer. Obedience to the gospel cannot stand or fall on so many psychological, emotional, and therapeutic contingencies. At some point we have to really begin to ask the difficult questions, and whether or not a person actually has the Spirit if they continually exhibit a life that denies the presence and power of the Spirit. This is why Paul insists that "you have no need for anyone to write to you" (οὐ χρείαν ἔχετε γράφειν ὑμῖν) and that they have indeed been "taught by God" (θεοδίδακτος).
The reason I focus on the issue of regeneration is due to that phrase "taught by God" (θεοδίδακτος). This phrase is actually attributed to the apostle Paul since there is no other known use of the word before Paul and almost none after him (see, Charles A. Wanamaker, The Epistles to the Thessalonians: A Commentary on the Greek Text, New International Greek Testament Commentary (Grand Rapids, MI: W.B. Eerdmans, 1990), 160). The concept connected with this word however is more common in Scripture. It was used most clearly in the NT by Jesus referring to being called salvifically by God (through regeneration) in John 6:
John 6:45 45 "It is written in the prophets, 'And they shall all be taught of God.' Everyone who has heard and learned from the Father, comes to Me.
The background for this text is Isaiah 54 in a deeply messianic. There Isaiah sees an age in which all of God's children will be intimately, immediately, salvifically taught of God when the messianic age dawns, "All your sons will be taught of the Lord; And the well-being of your sons will be great" (Is. 54.13). Weima comments:
"Within the context of Isaiah's description of the blessings to be enjoyed in the messianic age, these words refer to a future time when God will live so intimately in and among his people through his Spirit that they will no longer need to be taught by human intermediaries but will instead be "taught of God."… Jeremiah similarly portrays the new covenant as a period when God's people will not need others to teach them the law but will know it innately, for God will write it on their hearts (Jer. 31:33–34 [38:31–34 LXX]). Isaiah, earlier in his prophecy, also envisions a future age when all the nations will stream to Mount Zion in order that "he [God] may teach us his ways and that we may walk in his paths" (Isa. 2:3 NRSV)." (Jeffrey A. D. Weima, Baker Exegetical Commentary on the New Testament: 1–2 Thessalonians, 288).
Susceptible to Regression
In addition to the supernatural and salvific nature of this love, this love is also progressive and belongs to the whole sphere of our sanctification that like all other virtues must be cultivated and maintained throughout our lives. We are looking at the ebb and flow of love. Love if it is not fostered through personal growth and devotion to the means of grace can regress and lead to a loveless, lukewarm, coldhearted apathy. The answer to the threat of regression of love is twofold. First, identify genuine needs for Christian love. Second, act upon them by faith. This is precisely what the Thessalonians did, they saw the need not only of their own church but also of the universal body of Christ represented by the Macedonians.
The first principle is simply referred to as a love practiced "toward all the brethren" (εἰς πάντας τοὺς ἀδελφοὺς) which reminds us that our love should extend to everyone in the church those who you deem easy to love and those who you deed impossible to love. If we have the mind of Christ, no one will be impossible to love. Regardless of how severe people have harmed us, or rub us the wrong way or for whatever reason we may deem a person difficult to love; the mind of Christ teaches us to die for them:
1 John 3:16 16 We know love by this, that He laid down His life for us; and we ought to lay down our lives for the brethren.
The second principle reminds us that love is an act of faith. It was what the church was doing it was what they were practicing (ποιέω) regularly. Faith manifested in action. But the responsibility also entails an excelling in love. In fact, Paul urges them to strengthen what is strong in them, "But we urge you, brethren, to excel still more" (παρακαλοῦμεν δὲ ὑμᾶς, ἀδελφοί, περισσεύειν μᾶλλον). There can be nothing more pastorally wise than to encourage the church to continue in whatever godly direction they are going. To remind them of the things they already know and are obedient in. Peter repeatedly gave a similar powerful exhortations to the church in order to strengthen them in their most basic identity and virtue of love:
1 Peter 1:22 22 Since you have in obedience to the truth purified your souls for a sincere love of the brethren, fervently love one another from the heart,
1 Peter 4:8 8 Above all, keep fervent in your love for one another, because love covers a multitude of sins.
2 Peter 1:5–7 5 Now for this very reason also, applying all diligence, in your faith supply moral excellence, and in your moral excellence, knowledge, 6 and in your knowledge, self-control, and in your self-control, perseverance, and in your perseverance, godliness, 7 and in your godliness, brotherly kindness, and in your brotherly kindness, love.
Second Responsibility: Tranquility
Paul's exhortation continues now to the broader context of the church's life as he focuses on their overall conduct both in the church and the culture. These directives are given to the church so that the church can maintain a blameless reputation in society. That is not to say that society will ever accept the church or be compatible with the church or agree with the church morally or ethically, it will not, at least not in terms of the real biblical witness of the church. What is at stake here is both the character and the testimony of the church. The state of quietude that Paul is calling us to is the opposite of what can be characterized in Scripture as strife and quarrelling:
Proverbs 17:14 14 The beginning of strife is like letting out water, So abandon the quarrel before it breaks out.
Proverbs 20:3 3 Keeping away from strife is an honor for a man, But any fool will quarrel.
The language that Paul uses here speaks of self-mastery and that which makes for our character and maturity in Christ. Paul exhorts them to, "make it your ambition to lead a quiet life" (φιλοτιμεῖσθαι ἡσυχάζειν). The word translated, "make it your ambition" (φιλοτιμέομαι) literally means 'to love honor' (see, Weima, 1-2 Thessalonians, 292). But the term came to indicate the ambition or aspiration for something that is praiseworthy (Rom. 15.20; 2 Cor. 4.9). Here what can be called and honor-seeking ambition is the virtue of tranquility, resignation, or quietude. The term indicates a person's ability to live peaceably or even orderly (BDAG).
In other words, God does not want to look into your life and see chaos from living disorderly, dishonorably, and irresponsibly.
In the 60s Christianity in many evangelical circles was synchronized with the hippie movement, which became known as "the Jesus movement." During this time not only was experiential and emotional ecstasy, charismatic, and Pentecostal activity at an all-time high (represented by denominations and churches like Assemblies of God, Calvary Chapel, and the Vineyard), but the church adopted a 'let go and let God' attitude of life. They urged above all what was most important in our character was an intimacy with the Lord which was largely based on a person's emotional zeal. Instead of sitting on the sidewalk hitchhiking to get a ride in the Hollywood, Christians "hippies" gathered around bonfires and guitars with little concern about being dignified, honorable, responsible, and hard-working mature followers of Jesus Christ who was himself a hard-working carpenter who understood the meaning of minding your own business and working hard. That movement confused the biblical Jesus of Nazareth who lived a perfect life of obedience to God's law with a hippie version of Jesus who walked around in sandals and looked like he belongs on Venice Beach instead of Jerusalem. And since then many more trends have blown through the church that have conveyed a notion of Christianity different from the picture that Paul gives here. Whether its an emergent Jesus, a hipster Jesus, a hip hop gangster Jesus, or a cool Jesus covered in tattoos; none of those portraits of Christ are biblical. Jesus was the essence of dignity dominated by a holy, reverent, sober-minded, mature zeal without a trace of worldliness in Him! And I think the same could be said of Paul himself who walked after the pattern of Jesus' own life (cf. 1 Cor. 11.1; 2 Cor. 5.16).
Third Responsibility: Labor
Related to the second responsibility, the third issue focuses on the subject of labor. Paul imagines a community that excels not only in inward virtue but also outward application seen in the most practical spheres of our lives like our jobs and our work ethic, "attend to your own business and work with your hands, just as we commanded you," (πράσσειν τὰ ἴδια καὶ ἐργάζεσθαι ταῖς [ἰδίαις] χερσὶν ὑμῶν, καθὼς ὑμῖν παρηγγείλαμεν). Of course, Paul was not just randomly pulling different topics from thin air; there was an apparent context to the focus on the believer's work ethic. Paul will get deeper into this issue of work, labor especially in the more negative context of idleness in the next letter.
Paul's exhortation there is weighty and sobering for any and all believers but especially for those who are lazy, unfaithful in their vocations, and lack a biblical work ethic:
2 Thessalonians 3:6–12 6 Now we command you, brethren, in the name of our Lord Jesus Christ, that you keep away from every brother who leads an unruly life and not according to the tradition which you received from us. 7 For you yourselves know how you ought to follow our example, because we did not act in an undisciplined manner among you, 8 nor did we eat anyone's bread without paying for it, but with labor and hardship we kept working night and day so that we would not be a burden to any of you; 9 not because we do not have the right to this, but in order to offer ourselves as a model for you, so that you would follow our example. 10 For even when we were with you, we used to give you this order: if anyone is not willing to work, then he is not to eat, either. 11 For we hear that some among you are leading an undisciplined life, doing no work at all, but acting like busybodies. 12 Now such persons we command and exhort in the Lord Jesus Christ to work in quiet fashion and eat their own bread.
There was a twofold reward to Paul's commands here. By maintaining these virtues or minding your own business and working with one's own hands so as not to be a burden on anyone else (cf. Prov. 27.23–27; Gal. 6.5; Eph. 4.28; 6.5–7; Col. 3.22–24; 1 Tim. 6.1–2), the believer will remain blameless and blessed. The first brings the assurance of the church's earthly testimony, the second brings the assurance of the church's earthly provision. Paul's point here is that God cares about both of those things (as seen by the hina (ἵνα) construction in v.12 that communicates the intended result of Paul's command). He cares about the witness of the church, the testimony of the church and the impact and effectiveness that our conduct has on the culture around us and how that reflects on our mission and our identity in Christ. With respect to this social engagement, God's will is for us to be socially blameless to have our Christian dignity extend to those outside the church, "so that you will behave properly toward outsiders" (ἵνα περιπατῆτε εὐσχημόνως πρὸς τοὺς ἔξω καὶ μηδενὸς χρείαν ἔχητε). This can be conceived both positively and negatively. Negatively of course, we are called to be distinct from "outsiders" (τοὺς ἔξω lit. the one's outside). We are called to be separate. We do not join in on their basic worldview or their moral, ethical, and philosophical standards especially when those things contravene Scripture (cf. 2 Cor. 6.14-7.1).
1 Peter 2:12 12 Keep your behavior excellent among the Gentiles, so that in the thing in which they slander you as evildoers, they may because of your good deeds, as they observe them, glorify God in the day of visitation.
Peter illustrates the positive nature of Paul's charge when he speaks of "the day of visitation" and allusion to God's salvation and when it appears to man. Paul's emphasis thus refers both to the believer's refraining from the carnal character of our neighbors and also the love we ought to have toward our neighbors in our gospel-witness to them. So much is at stake when you clock in!
Our earthly witness is one thing but our earthly provision is another thing and thankfully, this is also promised to us in Paul's exhortation to labor responsibly as part of our character and dignity in the faith. Although separate, these concepts obviously go together. The believer who is self-sustained, in terms of the onus toward working hard with your own hands so as "not to be in any need" (μηδενὸς χρείαν ἔχητε), that believer will also be the most effective in the witness of the gospel. John MacArthur rightly pointed out that:
"… the Thessalonians' proper behavior (acceptable daily conduct) would ensure that they would not be in any need. If they obeyed Paul's exhortations, they would not always have to depend on more industrious Christians to supply their livelihood. Such practical, straightforward living, as embodied in the apostle Paul's exhortations to the Thessalonians, is the foundation of all evangelism. Believers who sacrificially love other people, exhibit tranquil lives, conscientiously focus on keeping their own lives in order, and faithfully carry out their daily responsibilities in the workplace (thus avoiding any welfare dependence)—all the while proclaiming the gospel in light of the return of Christ—are the most effective witnesses to their unsaved neighbors and loved ones." (John F. MacArthur Jr., 1 & 2 Thessalonians, 121–123).
If we take a moment to think of the broader context of this text, what we are being called to do is adopt a proper eschatology. A truly eternal perspective in light of our eternal hope. This reminds us that although the Christian should live zealously under that future eschatological reality, we are nevertheless called to occupy with dignity and render each day in every sphere as worship and service to the God who calls now into His eternal kingdom and will soon call us up with Him.