The Fellowship of the Lord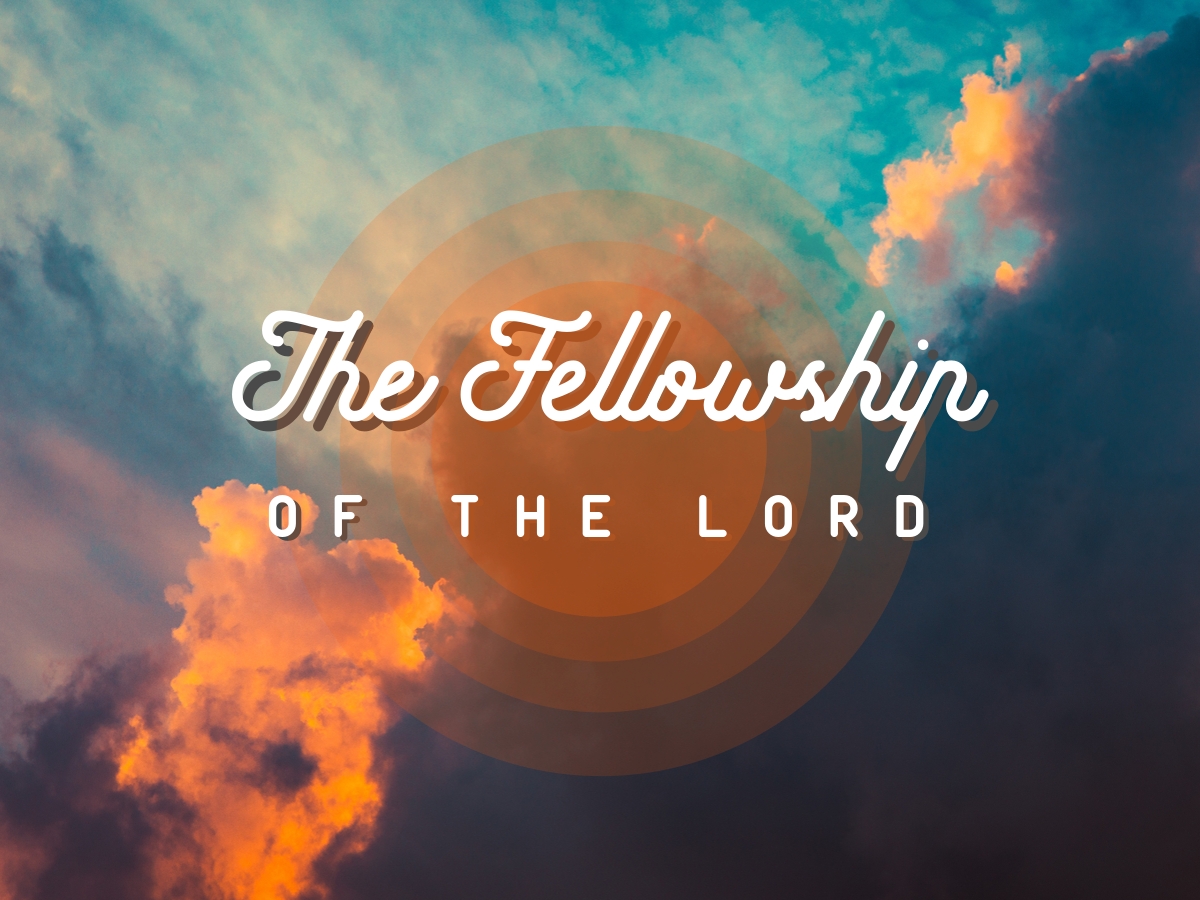 1 Thessalonians 5:9–11 9 For God has not destined us for wrath, but for obtaining salvation through our Lord Jesus Christ, 10 who died for us, so that whether we are awake or asleep, we will live together with Him. 11 Therefore encourage one another and build up one another, just as you also are doing.
In this section of Chapter 5 we have looked at three aspects of the day of the Lord, the terror of the Lord, the children of the Lord, and now we come to the fellowship of the Lord. We are reflecting here on the fellowship of God in Christ that is presented to those who long for His return. This fellowship is an expression of the doctrine of union with Christ. Just as union with Christ naturally leads to communion with Christ, Paul here does not conceive of one without the other. Those who have been mystically united to Christ by faith stand in fellowship with Him and experience that fellowship and union daily throughout our lives. This is what Paul means in referring to being "awake" in v.10. While we abide in this body and in this world, we experience life with Christ that's the beauty of our union with Christ. That life is then brought to its ultimate consummate fullness when we fall "asleep" in the Lord, i.e. undergo death. But for the believer, death is not death, that is to say, death has lost its sting, death has lost its power and it should lose its dread and tyranny over us (cf. John 8.25-26; 1 Cor. 15.55-56; Heb. 2.14-15).
The Mercy Of God's Fellowship
In the context, Paul paints a bleak picture of a world that will be ill prepared for Christ's return because sinners who are outside of Christ reside in darkness the proof of which is their wickedness represented here by the metaphor of drunkenness versus sobriety (vv. 5-7). The church however is now reassured that as children of God, they are "sons of light and sons of day" so that they will not be overtaken by the wrath of the Lord's Day that will break out on an unbelieving world. The Lord's Day will unleash unparalleled destruction and unimaginable judgment. While the world today can see expressions of the wrath of God in hurricanes, earthquakes, tornadoes, and disease, the day of the Lord will usher in the wrath of God that will consume the world by fire (cf. 2 Th. 1.6-9; 2 Pet. 3.7, 10). If that sounds terrifying and dreadful, and it should, Paul wants to reassure the church that unlike the world, the day of the Lord will not result in God's people being the objects of God's eternal, consummate wrath. The hope is that we will "live together with Him" v.10. That fellowship is rooted in God's mercy, "For God has not destined us for wrath, but for obtaining salvation through our Lord Jesus Christ" (ὅτι οὐκ ἔθετο ἡμᾶς ὁ θεὸς εἰς ὀργὴν ἀλλὰ εἰς περιποίησιν σωτηρίας διὰ τοῦ κυρίου ἡμῶν Ἰησοῦ Χριστοῦ).
This mercy begins with God's eternal decree. They were chosen by God through sovereign election, "knowing brethren beloved by God, His choice of you" (1.4). This is the great paradox of salvation that God's mercy and grace toward us do not originate in time and space but in the eternal will of God and the mind of God (cf. Eph. 1.3-5). This note of God's sovereignty should not come as a surprise to the Thessalonians, neither was it controversial in that sense, but it was supremely comforting. That is what its assurance was designed to produce in the church, the firm understanding that God sovereignly chose them precisely to escape His wrath. He will make this point clear again to them in the second letter:
2 Thessalonians 2:13–14 13 But we should always give thanks to God for you, brethren beloved by the Lord, because God has chosen you from the beginning for salvation through sanctification by the Spirit and faith in the truth. 14 It was for this He called you through our gospel, that you may gain the glory of our Lord Jesus Christ.
The truth is, the only thing that will enable us to escape God's impending wrath on this world, is His mercy and grace. After all, we all have fallen short of God's glory and continue to fall short of that glory so that as the Psalmist declares, "If You, Lord, should mark iniquities, O Lord, who could stand?" (Ps. 130.3). What we have we have by the mercy of God, the mercy that was extended to us in Christ before time began. Paul is here concerned with encouraging the church and comforting the church in light of the certainty of God's wrath; that comfort is rooted in the gospel and the gospel begins by telling us what we deserve but will not receive namely judgment for our sin. The positive aspect of the comfort is seen by the promises afforded to us in God's fellowship because it is not only about what we do not receive but what we will receive in Christ.
The Promise Of God's Fellowship
The promise that Paul's message is presenting to us here can be seen here through the lens of Jesus' mediatorial role in our redemption. There are three things to consider here. Jesus as our Mediator is the Agent of our salvation, He provides atonement and secures fellowship. This simply reinforces the truth that all of God's spiritual blessings are in Christ, "Blessed be the God and Father of our Lord Jesus Christ, who has blessed us with every spiritual blessing in the heavenly places in Christ" (Eph. 1.3). These are the riches of His grace toward us who believe. These are unsearchable riches, incalculable and infinitely good blessings in Christ (cf. Eph. 2.7; Col. 1.27; Tit. 3.5-6).
Jesus is the Agent of Salvation
First, we are told in general that contrary to being destined "for wrath" (εἰς ὀργὴν), we are by implication predestined for "obtaining salvation through our Lord Jesus Christ" (εἰς περιποίησιν σωτηρίας διὰ τοῦ κυρίου ἡμῶν Ἰησοῦ Χριστοῦ). As the context suggests, this salvation is conceived first by escaping the wrath of God when once we lived as one who only deserved the wrath of God. Salvation is salvation from our sin our misery and the judgment of God's wrath which we justly deserved:
Titus 3:4–5 4 But when the kindness of God our Savior and His love for mankind appeared, 5 He saved us, not on the basis of deeds which we have done in righteousness, but according to His mercy, by the washing of regeneration and renewing by the Holy Spirit,
Although we were just as guilty for our sins as the rest of humanity, God in His sovereign grace chose freely to glorify himself in the salvation of sinners— a salvation that is entirely based on grace and provided for us in Christ. Such a salvation results in the liberation of God's elect who render Him eternal worship and praise (cf. Rev. 5.9-10). When this salvation was determined it was determined in conjunction with the person and work of Christ our everlasting Mediator. First God conceives and decrees our salvation in Christ and then executes His decree through the work of Christ in the history of redemption. That work is the personal, perfect, and exact obedience of the Son to Father's covenant in eternity and manifested supremely at the cross where our salvation was "finished" (cf. John 19.30).
Jesus Provides Atonement
Paul moves from the general assertion of our salvation to the specific means of our salvation, "through our Lord Jesus Christ, who died for us" (διὰ τοῦ κυρίου ἡμῶν Ἰησοῦ Χριστοῦ τοῦ ἀποθανόντος ὑπὲρ ἡμῶν). Here grammatically, the prepositions are everything! Not only is our salvation "through" (διὰ) Jesus Christ as our Mediator and our sacrifice, but His sacrificial death was "for us" (ὑπὲρ ἡμῶν) or 'on our behalf' meaning of course, in our stead as our substitute. His atonement simultaneously resulting in the removal of our sin, our sin being transferred to us, and the removal of God's wrath, His righteousness being credited to our account. Atonement makes imputation possible and imputation makes propitiation possible. If we do not have Jesus dying for us and in our place, salvation is nullified because we have no righteousness of our own:
Galatians 2:20–21 20 "I have been crucified with Christ; and it is no longer I who live, but Christ lives in me; and the life which I now live in the flesh I live by faith in the Son of God, who loved me and gave Himself up for me. 21 "I do not nullify the grace of God, for if righteousness comes through the Law, then Christ died needlessly."
Philippians 3:7–9 7 But whatever things were gain to me, those things I have counted as loss for the sake of Christ. 8 More than that, I count all things to be loss in view of the surpassing value of knowing Christ Jesus my Lord, for whom I have suffered the loss of all things, and count them but rubbish so that I may gain Christ, 9 and may be found in Him, not having a righteousness of my own derived from the Law, but that which is through faith in Christ, the righteousness which comes from God on the basis of faith,
Jesus Secures Fellowship
As glorious and truly amazing as the gospel is to this point, the truth is, the gospel does not end there. God saves us in the way that He does not simply so that we will be declared righteous, not simply to escape the wrath of God, or so that we will even go to heaven; God saves us for the purpose of fellowship. It is a communion bond of fellowship that God seeks. This exceeds the mere forensic dimensions of the gospel and moves us to the covenantal realm of our salvation. Here we can see the comfort that Paul is setting forth to the church from the covenantal angle of our communion bond of fellowship. Paul's words, "we will live together with Him" (ἅμα σὺν αὐτῷ ζήσωμεν) reminds us of God's covenant dictum, 'they will be My people and I will be their God' (cf. Gen. 17.7-8; Ex. 6.7; Jer. 30.22; 32.38; Ezek. 37.27; Zech. 8.8; 2 Cor. 6.16; Rev. 21.3). This is the very emphasis on fellowship that Jesus granted to His disciples:
John 15:15 15 "No longer do I call you slaves, for the slave does not know what his master is doing; but I have called you friends, for all things that I have heard from My Father I have made known to you.
Psalm 25:14 14 The secret of the Lord is for those who fear Him, And He will make them know His covenant.
The language that Paul uses here makes perfect sense in the context. The phrase, "we will live together" (ἅμα... ζήσωμεν) is different than "with Him" (σὺν αὐτῷ). The first stresses the unity of the people of God, the saints, the church at His coming. The second stresses our corporate union with Christ when He gathers us all with Him. This has been the dynamic in this whole passage, the uniting of the church together "whether we are awake or asleep" (εἴτε γρηγορῶμεν εἴτε καθεύδωμεν). John Eadie rightly pointed out:
"They who die before the Advent are severed from them who survive till that period, but both parties in spite of this separation shall be in company as a band of contemporaries living with Christ. " (John Eadie, A Commentary on the Greek Text of the Epistles of Paul to the Thessalonians 193).
Eadie points out that the adverb (ἅμα) rendered "together" in v.10 is used in a negative way in Romans 3 to stress the visible, practical, spiritual singularity of the world's depravity and sin, "All have turned aside, together they have become useless" (Rom. 3.12). Conversely therefore, there is a practical, visible unity in the church as well as a spiritual unseen unity in the bond of the Spirit that binds believer to believer and all the saints throughout all ages for what Eadie called, "this grand destiny" (cf. Gal. 3.29; Heb. 11.40; 12.22-23; 1 Pet. 1.10-11). There is therefore a final consummate unity that we will experience together at the day of the Lord, the parousia-coming of Christ when He comes to be with us forever:
1 Thessalonians 4:16–18 16 For the Lord Himself will descend from heaven with a shout, with the voice of the archangel and with the trumpet of God, and the dead in Christ will rise first. 17 Then we who are alive and remain will be caught up together with them in the clouds to meet the Lord in the air, and so we shall always be with the Lord. 18 Therefore comfort one another with these words.
The Ability Of God's Fellowship
It has the ability to build us up in the faith when we "encourage and build up one another" with the mighty promises of God (cf. 2 Pet. 1.4ff.). Here we have been looking at life and death in light of the eschaton and the day of the Lord. Paul began with the dilemma of Christian death. The church struggled with not knowing what would transpire in the future as their beloved family and brethren had departed or would depart from this life— would they see them again, reign with them, rise with them etc. Paul returns to the note of comfort reminding the church that in the face of life or death, Jesus' death on our behalf makes us inseparable both from Him and our brethren. Paul speaks of this elsewhere that regardless of what may befall us, we belong to the Lord:
Romans 14:8–9 8 for if we live, we live for the Lord, or if we die, we die for the Lord; therefore whether we live or die, we are the Lord's. 9 For to this end Christ died and lived again, that He might be Lord both of the dead and of the living.
This is but a truncated version of Paul's earlier exposition on this very promise, namely that nothing can sever us from God's love:
Romans 8:31–39 31 What then shall we say to these things? If God is for us, who is against us? 32 He who did not spare His own Son, but delivered Him over for us all, how will He not also with Him freely give us all things? 33 Who will bring a charge against God's elect? God is the one who justifies; 34 who is the one who condemns? Christ Jesus is He who died, yes, rather who was raised, who is at the right hand of God, who also intercedes for us. 35 Who will separate us from the love of Christ? Will tribulation, or distress, or persecution, or famine, or nakedness, or peril, or sword? 36 Just as it is written, "For Your sake we are being put to death all day long; We were considered as sheep to be slaughtered." 37 But in all these things we overwhelmingly conquer through Him who loved us. 38 For I am convinced that neither death, nor life, nor angels, nor principalities, nor things present, nor things to come, nor powers, 39 nor height, nor depth, nor any other created thing, will be able to separate us from the love of God, which is in Christ Jesus our Lord.
The ability of God's fellowship also reminds us what Christianity 'feels like.' It reminds us that constant, frequent, intentional encouragement is the way forward. It reminds us that we need these constant reminders. We cannot grow weary in doing good because there simply is no other way for us to keep looking up for our redemption as the day draws closer and closer. The means of grace that God has provided for us will cease to have their effectiveness in our walk with God when we lack the ability to encourage one another in this way. We need to be constantly "encouraged" and constantly 'built up' (οἰκοδομέω) especially as we see things getting worse, the world getting more perilous, desperate and wicked. This aspect of eschatology needs to be emphasized more than it is in the church.
The final imperative phrase "build up" (οἰκοδομεῖτε εἷς τὸν ἕνα) in verse 11 is where we should draw our application. The apostle Paul ends this section by placing not just a general emphasis on encouragement and edification but he also stresses our personal responsibility to see it through among the members of the church. He could not have written this more specifically than he actually did in the Greek text. Almost no English translations draw out Paul's language here. The literal phrase (εἷς τὸν ἕνα) is 'one-the-one' or 'one-to-one' or 'one-the-other' (the term also differs from "one another" ἀλλήλους in the previous imperative παρακαλεῖτε). It is a calling to each and every member to build up the church through one on one ministry.