The Fruit of Election: Part 1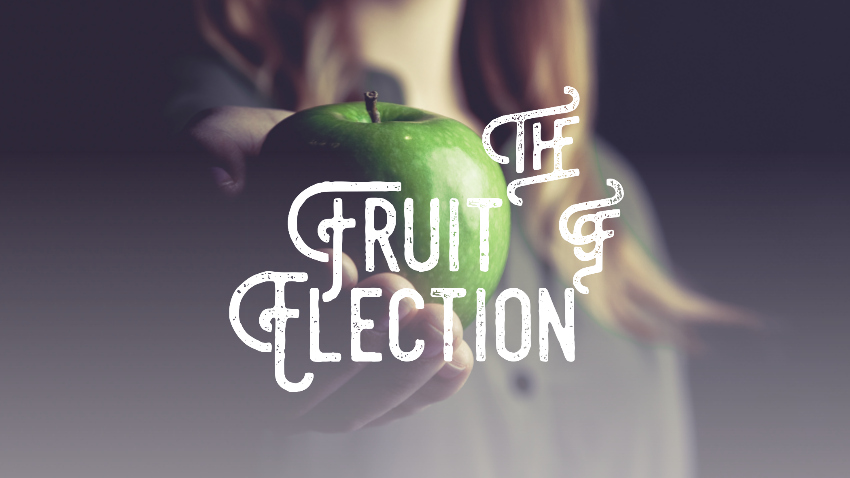 1 Thessalonians 1:2–5 2 We give thanks to God always for all of you, making mention of you in our prayers; 3 constantly bearing in mind your work of faith and labor of love and steadfastness of hope in our Lord Jesus Christ in the presence of our God and Father, 4 knowing, brethren beloved by God, His choice of you; 5 for our gospel did not come to you in word only, but also in power and in the Holy Spirit and with full conviction; just as you know what kind of men we proved to be among you for your sake.
The letter to the Thessalonians begins with Paul's prayer of thanksgiving. The praise rendered to God is rooted in the fruit of election found in v.4, "knowing, brethren beloved by God, His choice/election of you." God's sovereign election could be considered the deepest motive for Paul's giving of thanks. Since Paul is thanking God for election his confidence in knowing their election is supported by the evidence or the fruit of election lived out practically in the life of the church. In this sense we can see that God's electing love is always accompanied by undeniable evidence of our election. While in vv.2-3 the fruit of election can be seen by qualities found in the life of the church after their conversion, but in vv.4-5 Paul focuses on the role that preaching played in the life of the elect.
Election Produces Praise
When God does a genuine work of salvation we know that election is behind that work. In other words, election is the foundation, the basis and cause of genuine repentance. Paul understands this and that leads him to give thanks or praise to God for His sovereign grace in the life of the church. Paul's thanks giving is first situated in prayer, "We give thanks to God always for all of you, making mention of you in our prayers" (1.2). We can see in the giving of thanks that God is credited with the fruits of election. That is what is ultimately in view here— the evidence or fruit of election.
Paul's prayerful praise and thanksgiving of the church was also constant and comprehensive, "always for all of you." Paul prayed for the whole church corporately but he also had each individual member in mind. He knew the whole body was important. Not to see your importance in the body is negligent and hinders the overall health of the church (cf. 1 Cor. 12.14-26). Everyone plays a critical part in the overall contribution to the gospel. Everyone is necessary and everyone needs to adopt that view of the body. Paul understood this and it informed his prayer for the church:
1 Corinthians 12:20–21 20 But now there are many members, but one body. 21 And the eye cannot say to the hand, "I have no need of you"; or again the head to the feet, "I have no need of you."
We should also notice that the evidence of the believer's election was celebrated by others— a remarkable reality. Election is something that we will never know about each other for sure. It is something that belongs to God's sovereign and secret will and His sovereign knowledge. I believe that believers can have assurance about their own election/salvation (Rom. 8.14-16), but we can never infallibly know for certain whether someone else is elect. Nevertheless, we should always use the doctrine of election the way Paul did, that is, practically, to commend each other regarding our fruit. This is no different than someone being called a child of God (cf. 1 John 3.10). It is a general loving affirmation of the work of Christ in us. Paul did not use election to stumble people or confuse people; he used it to encourage the body and to glorify God for the work that He was doing among them.
Paul's thanksgiving shows us that true election blossomed into the fruit that became evident in the Thessalonian church as with all true churches. That really is the focus of this section. Paul was living up to his own words to the Philippians:
Philippians 4:8 8 Finally, brethren, whatever is true, whatever is honorable, whatever is right, whatever is pure, whatever is lovely, whatever is of good repute, if there is any excellence and if anything worthy of praise, dwell on these things.
And the fruit of election was certainly something that was "worthy of praise." Overall Paul is giving thanks that a true church exists in Thessalonica and that this church is thriving by having genuine faith and genuine fruit. It was celebrating their election by celebrating the existence of true saving faith, a faith that is not only possessed but propagated as well, "First, I thank my God through Jesus Christ for you all, because your faith is being proclaimed throughout the whole world" (Rom. 1.8). The same thing exists in the second letter only there Paul mainly focuses on the love that they have one for another:
2 Thessalonians 1:3 3 We ought always to give thanks to God for you, brethren, as is only fitting, because your faith is greatly enlarged, and the love of each one of you toward one another grows ever greater;
Where this love of the brethren does not exist, we are looking at rotten fruit, bad fruit, fruit that does not stem from the trunk of salvation but from the dead works of a dead heart (cf. 1 John 4.8).
Election Produces Faith, Love And Hope
When Paul focuses on the fruit of election he specifically focuses on three areas that are manifested in the church and are worthy of praise. These are things which belong to the activity of the believers in the church whereas in v.4 Paul will focus on God's activity (see Jeffrey A.D. Weima, 1-2 Thessalonians, 84). This activity is really fruit. It is the evidence produced by election in the life of the church which is to say in the life of the members in the church. Corporately, the church produced three distinct characteristics that stem from genuine salvation. These are the "work of faith" (τοῦ ἔργου τῆς πίστεως), "labor of love" (τοῦ κόπου τῆς ἀγάπης), and "steadfastness of hope" (τῆς ὑπομονῆς τῆς ἐλπίδος). Taken individually, these are rich phrases that yield a bountiful harvest of virtue and grace rooted in a genuine work of sovereign grace.
Election Produces Faith
Paul's reference to "the work of faith" (τοῦ ἔργου τῆς πίστεως) refers to faith that can be demonstrated through our deeds and actions. It is what James is talking about when he says that faith without works is dead (Jam. 2.14-17; cf. 2 Pet. 1.5-9). Paul is talking about election having real tangible evidence. Paul is referring to faith's demonstration because our faith is demonstrable. The reason why the apostle Paul left these phrases general and lacking a precise object e.g. 'work of faith through your evangelism' etc. was because he does not want to pinpoint this phrase to any one thing in particular but he wants to think of the Christian life or generally or in its totality. This includes our faith in Christ, or perseverance under persecution, and our ongoing faithfulness to the gospel lived out in obedience to the word of God. Paul uses the similar phrase in Galatians to speak of the total dynamic of new covenant Christian ethics, "faith working through love" (Gal 5.6).
But at a fundamental level, "the work of faith" (τοῦ ἔργου τῆς πίστεως) also suggests something about the nature of true faith itself, namely that it is productive. Faith is not stagnant it is alive and active. Again we see Paul's wisdom in leaving these statements generic. It is not just one kind of "work" that qualifies faith. Some commentators have tried to pigeon hole Paul and suggest that Paul is only thinking of preaching or evangelism; but that is certainly wrong. At its core, true faith is active in many ways because it changes us fundamentally. In other words, it means that regeneration leads to a revolution of our heart as well as our deeds. God turns our world upside down because He sovereignly and powerfully transforms our hearts resulting in the transformation of our character which leads to an inevitable production of godly living (cf. John 15.1-11). This is a genitive construction (subjective genitive) suggesting that this work flows from faith:
Ephesians 2:8–10 8 For by grace you have been saved through faith; and that not of yourselves, it is the gift of God; 9 not as a result of works, so that no one may boast. 10 For we are His workmanship, created in Christ Jesus for good works, which God prepared beforehand so that we would walk in them.
Election Produces Love
The striking thing about this phrase, "labor of love" (τοῦ κόπου τῆς ἀγάπης) is that Paul speaks of "love" (τῆς ἀγάπης) in connection with "labor" (τοῦ κόπου). And in fact, the term "labor" (κόπος) differs from that of "work" (ἔργον) in that the former has more of an emphasis on an activity that is done despite whatever obstacles may stand in the way (see, Weima, 1-2 Thessalonians, 87). In other words, biblical love is purposeful and persistent if not down right stubborn. It is what John Eadie, the masterful Puritan exegete and commentator, called an "earnest and toilsome service, into which the whole heart is thrown, travail of soul, often self-denial and exhaustion" (John Eadie, A Commentary on the Greek Text of Paul's Letters to the Thessalonians (Birmingham: Solid Ground Christian Books, 2005) 36). Eadie says, "love glows for the spiritual well-being of others" (Ibid, 38).
Of course this would account for why Christian love is such a difficult subject. True Spirit-wrought agape love, the love of God is no easy task at times. The reason is because we often allow other forces to hinder and interrupt the stream of Christian love that we are meant to display in the church. It can be our own personality so that we are by nature the quite types, socially awkward, rigid, critical, prideful, closed off, picky, or just too cynical and cold to display the love of Christ. We should make no mistake that although this is referring to the love between believers; nevertheless, our love is to be organically connected to the quality and spiritual character of the love of Christ (cf. John 13.35; 15.9; 1 Cor. 16.24). The reason why is because for Paul this love is the byproduct of a regenerate heart:
1 Thessalonians 4:9–10 9 Now as to the love of the brethren, you have no need for anyone to write to you, for you yourselves are taught by God to love one another; 10 for indeed you do practice it toward all the brethren who are in all Macedonia. But we urge you, brethren, to excel still more,
As we think about the context of the Thessalonians, where they are distressed and afflicted, persecuted and oppressed (cf. 1.6; 2.14); surely it shows us how carnal our love is today. Calvin said about the Thessalonians, "distress did not allow love to be inactive" (John Calvin, Calvin's Commentaries, xxi, 239). In other words, despite their circumstances they still needed to keep themselves in the love of God and display that love faithfully to one another (cf. Jude 21). It was this display of love that in many ways kept the church going, built the church up and it afforded the church its comfort in the midst of their trials. Paul says the same thing about his own experience and how the church's faith and love encouraged him:
1 Thessalonians 3:6–7 6 But now that Timothy has come to us from you, and has brought us good news of your faith and love, and that you always think kindly of us, longing to see us just as we also long to see you, 7 for this reason, brethren, in all our distress and affliction we were comforted about you through your faith;
Election Produces Hope
Finally, Paul tells that election also produces an enduring hope or a "steadfastness of hope" (τῆς ὑπομονῆς τῆς ἐλπίδος). We should also point out the logical connection between all three graces (cf. 5.8). Faith being the fountain of our love and consequently, those who are willing to live in this loving way through the hardships of life and with a commitment to the saints do so because they possess an indomitable hope. But this hope is also something that we need to approach with a certain disposition, namely perseverance or "steadfastness" (τῆς ὑπομονῆς). In fact, our hope is what produces this endurance. The NIV gives a good causal connection of all three phrases, "work produced by faith, your labor prompted by love, and your endurance inspired by hope."
Our hope produces endurance, perseverance and patience as we eagerly await the return of Christ or our being taken up to Him at death (cf. 2 Cor. 5.8). Spoken in the context of persecution, this note of hope was certainly inspirational for the believers. That is what our hope is meant to do, it is meant to strengthen us in the midst of our trials. Hope is a true means of grace. It causes us to think eternally minded, heavenward, and while it makes our blessings and privileges vast and great it makes our trials small and insignificant in comparison (cf. 2 Cor. 4.16-17). The reason why our hope is so glorious is because it is "in our Lord Jesus Christ" (τοῦ κυρίου ἡμῶν Ἰησοῦ Χριστοῦ). He is the source and center of our hope. The beauty of this Christological statement is that it discriminates what kind of hope quaulifies as true hope. If our hope is not in Jesus Christ if it does not come from Him and if it does not conclude with Him it is not true hope. Hope without Christ is hopelessness!
For Paul, this hope was not theoritical- it held him together and comforted him and the church through the hardest trials he ever faced. The result of that was that Paul came to the understanding that people of hope give hope:
2 Corinthians 1:6–10 6 But if we are afflicted, it is for your comfort and salvation; or if we are comforted, it is for your comfort, which is effective in the patient enduring of the same sufferings which we also suffer; 7 and our hope for you is firmly grounded, knowing that as you are sharers of our sufferings, so also you are sharers of our comfort. 8 For we do not want you to be unaware, brethren, of our affliction which came to us in Asia, that we were burdened excessively, beyond our strength, so that we despaired even of life; 9 indeed, we had the sentence of death within ourselves so that we would not trust in ourselves, but in God who raises the dead; 10 who delivered us from so great a peril of death, and will deliver us, He on whom we have set our hope. And He will yet deliver us,
The granduer of our hope in Christ is that it does not dissapiont beucasse it does not fade away (cf. Rom. 5.4). For this reason our hope should never wane it should never falter because of our circumstances. Ours is an indomitible hope beucase it is rooted in the indomitabitly of Jesus Christ himself.
Election Produces Intercession
Paul's final phrase "in the presence of our God and Father" (ἔμπροσθεν τοῦ θεοῦ καὶ πατρὸς ἡμῶν) also emphasizes Paul's prayer. The NIV rightly connects the final phrase of the verse logically to opening prayer of thanksgiving and remembrance, so the NIV: "We continually remember before our God and Father your work produced by faith, your labor prompted by love, and your endurance inspired by hope in our Lord Jesus Christ." Although this is not the actual word order of the Greek text, I do think it rightly reflects what Paul is saying here. Paul's remembrance of the saints was during his intercession and thanksgiving for the church, "in the presence of our God and Father."
Election was no reason to cease to pray for the saints. It was in fact the complete opposite. Paul understood that God's elect were to be brought before God's throne of sovereign grace (Heb. 4.15), where they would receive help in there time of need and thus receive real practical help by his prayers (2 Cor. 2.10-11). Sadly, too often God's sovereignty is seen as an occasion for apathy and cold determinism; for Paul election, predestination and the sovereignty of God was cause for reverential praise and awe:
Ephesians 1:3–6 3 Blessed be the God and Father of our Lord Jesus Christ, who has blessed us with every spiritual blessing in the heavenly places in Christ, 4 just as He chose us in Him before the foundation of the world, that we would be holy and blameless before Him. In love 5 He predestined us to adoption as sons through Jesus Christ to Himself, according to the kind intention of His will, 6 to the praise of the glory of His grace, which He freely bestowed on us in the Beloved.