The Fruit of Election: Part 2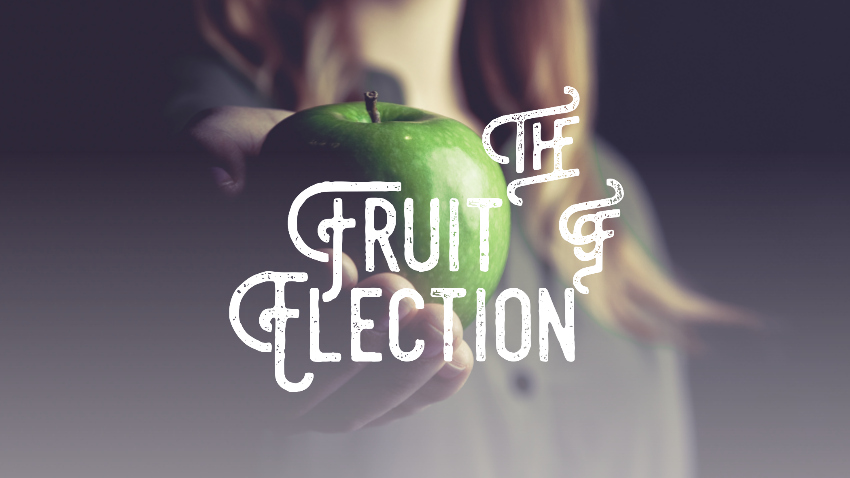 1 Thessalonians 1:2–5 2 We give thanks to God always for all of you, making mention of you in our prayers; 3 constantly bearing in mind your work of faith and labor of love and steadfastness of hope in our Lord Jesus Christ in the presence of our God and Father, 4 knowing, brethren beloved by God, His choice of you; 5 for our gospel did not come to you in word only, but also in power and in the Holy Spirit and with full conviction; just as you know what kind of men we proved to be among you for your sake.
A Brief Biblical Theology of Election
As we consider Paul's teaching on the election of the Thessalonian saints, we should pause to think about election more broadly from a biblical theology level or even a systematic level. Election is part of the order of salvation that belongs to God's eternal decrees such as God's decree dealing with predestination, foreknowledge, and election. Election differs from predestination in that it emphasizes God's specific choice of particular people for salvation whereas predestination emphasizes God's determination to bring it about. All three terms reflect God's decree to save people according to God's sovereign will. What can be said of foreknowledge can also be said of election in that those whom God has chosen, like those whom He has foreknown, are chosen to be objects of God's covenant love (cf. Neh. 9.7; Amos 3.2), those He has determined to come into a covenant relationship with (e.g. Jer. 1.5; Hos. 13.5), and ultimately God's election is in conjunction with God's sovereign will and redemptive purpose in Christ (cf. Eph. 1.3-5, 10-12; 3.10-11).
2 Thessalonians 2:13–14 13 But we should always give thanks to God for you, brethren beloved by the Lord, because God has chosen you from the beginning for salvation through sanctification by the Spirit and faith in the truth. 14 It was for this He called you through our gospel, that you may gain the glory of our Lord Jesus Christ.
What's interesting from the term in this passage (v.13) is that it differs slightly from 1 Th. 1.4 (ἐκλογή) in that here the word "to chose" (αἱρέομαι) emphasizes the selection process as it were so that it literally means to pick as if picking a piece of fruit (see, BDAG). Election is for the purpose of Adoption but that adoption happens in the same way that election and predestination and foreknowledge happens namely, "in Christ." In other words, Christ is himself the sphere and the ultimate ground of our election. God conceives of us, not only as chosen but chosen in Christ and for Christ (cf. 1 Cor. 1.9). Paul elucidates all of these matters in 2 Timothy where he clearly situates our calling not only in Christ but also in eternity:
2 Timothy 1:9 9 who has saved us and called us with a holy calling, not according to our works, but according to His own purpose and grace which was granted us in Christ Jesus from all eternity,
That last phrase, "from all eternity" (πρὸ χρόνων αἰωνίων) literally means 'before time eternal.' We should point out that not only Paul but also Peter connects both election and foreknowledge and like Paul, Peter connects this to God's holiness:
1 Peter 1:1–2 1 Peter, an apostle of Jesus Christ, To those who reside as aliens, scattered throughout Pontus, Galatia, Cappadocia, Asia, and Bithynia, who are chosen 2 according to the foreknowledge of God the Father, by the sanctifying work of the Spirit, to obey Jesus Christ and be sprinkled with His blood: May grace and peace be yours in the fullest measure.
That is God's ultimate interest in our election— to have a holy people as His holy possession for His holy purposes. His will is sovereign, His motive is holy, His instrument is Christ and His application is the Spirit who seals all of God's elect for the day of redemption (Eph. 1.14). Election shows us the glory of God, the power of God, the fear of God, the wisdom of God, the transcendence of God, and the beauty of God. So that everything is from Him, through Him and back to Him, to Him be the glory forever and ever (cf. Rom. 11.36).
It is on the basis of God's electing love that Paul here addresses them as "brethren beloved by God" (ἀδελφοὶ ἠγαπημένοι ὑπὸ [τοῦ] θεοῦ). This term of endearment and affection shows us God's special, redemptive and covenant love for His people as well as Paul's own filial connection to the saints who are his "brethren"; a chord repeatedly struck in the letter (e.g. 2.1-8). As beloved brethren, Paul gives the second basis of his thanksgiving, "knowing… His choice of you" (εἰδότες... τὴν ἐκλογὴν ὑμῶν). Paul not only celebrates their salvation by encouraging with the fruit election had produced in them but also by reminding them of the role that his preaching had in their lives when the gospel came to them.
Election Produces Preaching
What follows in this passage serves to demonstrate that God's sovereign choice not only has a goal, namely God glorified in the salvation of His people, but that there is also God's ordained means to that end. Therefore, Paul reminds us that election produces true gospel preaching that is powerful, Spirit-filled, and confident. This was the kind of preaching that God used in the salvation of His elect in Thessalonica (cf. 1 Th. 2.13). As we think about the place of preaching to bring in God's elect people, Jesus had spoken to Paul in a vision about His elect people in another city i.e. Corinth. It shows us that when God has people in any given region of the world He sends someone to preach the gospel there so as to awaken His people, draw His people and bring His people into His fold (cf. Rom. 10.14-15):
Acts 18:9–11 9 And the Lord said to Paul in the night by a vision, "Do not be afraid any longer, but go on speaking and do not be silent; 10 for I am with you, and no man will attack you in order to harm you, for I have many people in this city." 11 And he settled there a year and six months, teaching the word of God among them.
I include verse 11 to show that it was not just evangelistic preaching that Paul was doing. He also engaged in the systematic preaching of the word of God for equipping the church and discipleship (cf. Eph. 4.11,14). The apostolic preaching of the gospel was more than what we would call open air preaching, or one on one evangelistic encounters, more than what Paul was doing in the market place in Athens (Acts 17.17); it was also and mainly the preaching of God's word in the formal assembly of the church. You can see the same dynamic in Paul's exhortation to Timothy to preach the word as well as doing the work of evangelism (cf. 2 Tim. 4.1-5). The following are not only characteristics of Paul's evangelism and preaching; they are principles for preaching.
Paul's Preaching Was Powerful
As we think about true preaching and powerful preaching we should be careful to point out that what we define as powerful preaching may or may not determine whether or not it is true preaching. After all true preaching may appear to be boring and monotone but what makes it true preaching is not the zeal that accompanies it but its content and its results. True preaching is determined solely on the basis of whether or not it conforms to Scripture and the gospel. Here Paul is in a sense more concerned with what gracious influences accompanied His preaching than the style of preaching. Paul's emphasis on the word "power" (δύναμις) leads in the direction of transformation. In other words, when Paul says, "our gospel did not come to you in word only, but also in power" (τὸ εὐαγγέλιον ἡμῶν οὐκ ἐγενήθη εἰς ὑμᾶς ἐν λόγῳ μόνον ἀλλὰ καὶ ἐν δυνάμει). This also contributed to Paul's confidence in their election (note the explanatory conjunction, ὅτι, "for" or "because"). The fact that God had produced real tangible transformative power in their lives through the gospel was further evidence of their election and Paul's point going forward is that it also validated the authenticity of his apostolic ministry (2.1).
MacArthur also points out the need for real transformative power to accompany true preaching:
"Faith does come by hearing those words of truth, but the transformation process involves far more than that. Regardless of the erudition, the compelling logic, the soaring rhetoric, or the clever and interesting communication style, if the truth spoken is not accompanied by the power of God, it accomplishes nothing. But when empowered by God as it enters the prepared soul, the gospel truth saves." (John F. MacArthur Jr., 1 & 2 Thessalonians, MacArthur New Testament Commentary (Chicago: Moody Press, 2002), 22).
Because Paul is contrasting his preaching ministry with what we can call mere words, "word only" (λόγῳ μόνον) with the "power", we can only conclude that Paul here is talking about tangible manifestations produced by his preaching. The "power" Paul is talking about probably has less to do with the temporary manifestation of miraculous and more to do with the permanent moral transformation of a converted heart— the greatest miracle of all. One of the reasons for shying away from interpreting the word "power" as a reference to miracles is because Paul uses the singular not the plural form of this word. Power in the plural is most often used for miracles (e.g. 2 Cor. 12.12) but here the singular suggests that Paul is mainly thinking of the overall powerful mark the gospel produced in their lives through their own spiritual transformation as they went from darkness to light from death to life from serving idols to serving the true and living God (1 Th. 1.9). This was the power that attended Paul's preaching. It was not just another message like those from philosophers and rhetoricians and orators of that day; Paul's gospel was distinctly powerful because it effected real change. Paul will speak directly to this again:
1 Thessalonians 2:13 13 For this reason we also constantly thank God that when you received the word of God which you heard from us, you accepted it not as the word of men, but for what it really is, the word of God, which also performs its work in you who believe.
This "power" also serves to illustrate the source of the power. Since it was not merely because of words spoken through Paul and his companions, the power can only be attributed to God. Paul says essentially the same thing to the Corinthians:
1 Corinthians 2:1–5 1 And when I came to you, brethren, I did not come with superiority of speech or of wisdom, proclaiming to you the testimony of God. 2 For I determined to know nothing among you except Jesus Christ, and Him crucified. 3 I was with you in weakness and in fear and in much trembling, 4 and my message and my preaching were not in persuasive words of wisdom, but in demonstration of the Spirit and of power, 5 so that your faith would not rest on the wisdom of men, but on the power of God.
The gospel when it is rightly preached does not only produce words it also produces power of a transformative kind with lasting and undeniable effects. The power of a changed life, the power of regeneration, the power of a holy life, and the power of salvation in all its aspects (cf. 2 Tim. 3.5). In one sense the Thessalonians themselves, their "work of faith and labor of love and steadfastness of hope" was the proof of the gospel's enduring power. There is no reason to doubt that the Thessalonians, like most NT churches, saw miracles, sings and wonders, and other powerful deeds of the Spirit that would all serve to attest to the truth of Paul's message and the demonstration of the Spirit among them (cf. 5.20; see also, Gal. 3.5); and yet, these manifestations of the Spirit would come and go and eventually cease in many ways but the continual experience of salvation and the power of regeneration resulting in a holy life would be a continual reminder of God's power among them as with all true churches.
Paul's Preaching Was Spirit-Filled
Closely related to Paul's emphasis on "power" is Paul's focus on the "Holy Spirit" (πνεύματι ἁγίῳ). The difference between Paul's emphasis on the Spirit versus power is that we are no longer thinking about a manifestation of God in one way or another but now we are thinking about God himself working in and among the church. In one sense this is the single greatest goal of any preacher— to have the Spirit's accompaniment and adornment on your preaching. You will find the same thing in John Piper's book on preaching, The Supremacy of God in Preaching:
"Without this demonstration of Sprit and power in our preaching, nothing of any abiding value will be achieved no matter how many people may admire our cogency or enjoy our illustrations or learn from our doctrine. The goal of preaching is the glory of God in the glad submission of his people." (John Piper, The Supremacy of God in Preaching (Grand Rapids: Baker (2015) 44).
That 'goal' can only be achieved by the sovereign initiative and gracious activity of the Holy Spirit. Take away all perceived power, take away all eloquence, academic intellect, all zeal, magnetic personalities, genius wit or command of language and rhetorical devices; the cry of every preacher should be for the Spirit to attend His word in your preaching. He is the one who grants illumination (cf. 1 Cor. 2.13-16), He inspired His word (cf. 2 Pet. 1.2), He brings conviction (John 16.8) and only He can awaken the souls of the dead to be born again by the implanted word of life (Ezek. 36.25-27 cf. Jam. 1.18; 1 Pet. 1.23). Is it any wonder that directly after Jesus spoke of the Spirit of the Lord being upon Him (Lk. 4.18), Luke says that all were "wondering at the gracious words which were falling from His lips" (Lk. 4.22)? Jesus, who had the Spirit without measure, knew the Spirit's blessing on His preaching more than anyone other human being. Jesus was so functionally united to the Spirit that His words are called "spirit and life" (John 6.63).
But when Paul describes the coming of the gospel to the Thessalonians "in the Holy Spirit" (ἐν πνεύματι ἁγίῳ), what was he referring to? To answer that all three characteristics need to be taken together. If "power" was an effect in Paul's preaching than the "Spirit" was the ultimate source of that power and the "conviction" Paul speaks of last was the dominant attitude. For Paul it was evident that the Spirit attended the preaching of the gospel because it produced what it proclaimed. Not only did the Spirit fill the apostle's preaching, it filled the church so that they were not only converted but were then filled with a zeal to illustrate God's glory to the world in a self-evident way:
1 Thessalonians 1:8–9 8 For the word of the Lord has sounded forth from you, not only in Macedonia and Achaia, but also in every place your faith toward God has gone forth, so that we have no need to say anything. 9 For they themselves report about us what kind of a reception we had with you, and how you turned to God from idols to serve a living and true God,
Paul's Preaching Was Confident
Today much preaching is done with speculation, with hesitation, with a fear of dogma and truth. But real preaching is always coupled with confidence. Not confidence in self (cf. 2 Cor. 3.5), but confidence in the truth itself (cf. Eph. 6.19-20; 1 Pet. 4.11). The phrase here, "full conviction" (πληροφορίᾳ πολλῇ), has the idea of assurance, confidence, and complete certainty. I believe this "conviction" is God's gracious gift to preachers who are accurately preaching the gospel and what it should result in is a total reliance on God's Spirit, God's power and God's provision for this competency to preach His word:
2 Corinthians 3:4–6 4 Such confidence we have through Christ toward God. 5 Not that we are adequate in ourselves to consider anything as coming from ourselves, but our adequacy is from God, 6 who also made us adequate as servants of a new covenant, not of the letter but of the Spirit; for the letter kills, but the Spirit gives life.
Of course, Paul had this confidence in his preaching and that is why he could say that his gospel did not come simply in propositional form but it was accompanied by power and powerful persuasion. This is no different than what Paul says later to the Corinthians:
2 Corinthians 5:11 11 Therefore, knowing the fear of the Lord, we persuade men, but we are made manifest to God; and I hope that we are made manifest also in your consciences.
This attitude was something that was not only reserved for Paul and the apostles or his personal companions; it was something that we should also strive to obtain or better yet, to grow up into more and more. Paul uses the same word in Colossians where he gets to the heart of issue and identifies the target of this confidence in Christ so that having this "conviction" about Christ is of great personal gain for spiritual encouragement and maturity:
Colossians 2:2–5 2 that their hearts may be encouraged, having been knit together in love, and attaining to all the wealth that comes from the full assurance of understanding, resulting in a true knowledge of God's mystery, that is, Christ Himself, 3 in whom are hidden all the treasures of wisdom and knowledge. 4 I say this so that no one will delude you with persuasive argument. 5 For even though I am absent in body, nevertheless I am with you in spirit, rejoicing to see your good discipline and the stability of your faith in Christ.
When Paul says, "just as you know what kind of men we proved to be among you for your sake" (καθὼς οἴδατε οἷοι ἐγενήθημεν [ἐν] ὑμῖν δι' ὑμᾶς), his point is that their ministry did not come in inclusive 'conversations' or culturally acceptable politically correct dialogues or in pretentious piety or worse in hypocrisy; Paul's gospel came in power and life-altering transformation, in the Holy Spirit as the source of that power not in the cheap theatrics of fanciful academic rhetoric but in "full conviction" and full assurance in the truth as they were willing to seal their words with their lives.
Today when preaching is characterized by power, the Holy Spirit and full conviction the following things will always be true. There will be genuine salvation in that community e.g. Thessalonica (1.4, 9). There will be a genuine submission to biblical authority including ecclesiastical authority (2.13; 5.12-13). There will be genuine fruit in the church (1.3, 2.12). There will be a genuine pursuit of holiness (4.1-8, 9-12). There will be genuine a genuine zeal for evangelism (1.8). There will also be genuine opposition to the Spirit's work resulting in genuine endurance an endurance that is willing to suffer the reproaches of Christ (2.14; 3.3). Finally, there will be a genuine eschatological hope in Christ's return that purifies the church (4.13-18; 5.23-24).