The Hope-filled Suffering of the King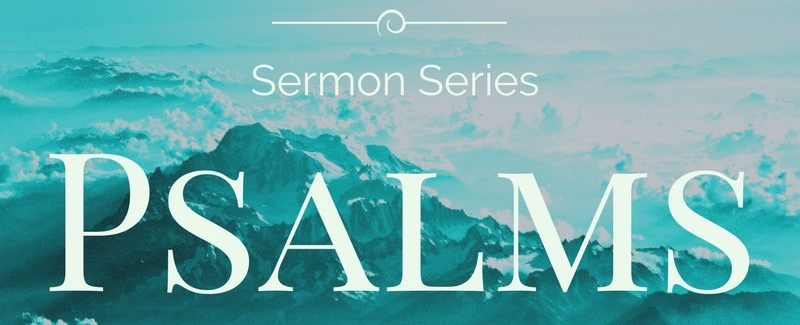 Psalm 3:1–3 1 O Lord, how my adversaries have increased! Many are rising up against me. 2 Many are saying of my soul, "There is no deliverance for him in God." 3 But You, O Lord, are a shield about me, My glory, and the One who lifts my head.
Taken in consecutive order, Psalm three can be added to the opening psalms as an exposition of the king. If Psalm one teaches us about the path of righteousness, Psalm two teaches us about the path of sovereignty, and Psalm three teaches us about the path of suffering. As we look at the structure of Psalm three, each section (vv.1-3, vv.4-6, vv.7-8) of the psalm introduces the crisis of the king's enemies and the response of faith. The psalmist goes from a lamentation of sorrow and despair to an exclamation of hope and victory. Thus, we are looking at the hope-filled anguish of the king and his subsequent triumph over his enemies. In this opening section we can discern the opposition the king faces, the discouragement he undergoes, and the source of his confidence through it all.
The Face Of Overwhelming Opposition
The psalm begins with open complaint to the Lord, an honest cry of despair, "O Lord, how my adversaries have increased" (3.1a). Now it should be pointed out that the background of this psalm is stated in the title of the Psalm as a Psalm of David when he fled from Absalom his son. The background to this psalm has been historically situated in the context of the events that transpired in 2 Sam. 15-18 where David's long estranged son returns to the city to overthrow his father by stealing the hearts of the people of Israel. Absalom declared himself to be more just and more sympathetic to the needs of the people than the king and thus, "Absalom stole away the hearts of the men of Israel" (2 Sam. 15.6). David found himself in the throes of the 'strong conspiracy' (15.12). During this time David is forced to flee Jerusalem (15.14) and that is why he switches from referring to Zion as "My holy mountain" (Ps. 2.7) to referring to Zion as the place from which God answered his prayer, "He answered me from His holy mountain" (Ps. 3.4) because David was no longer in Jerusalem at this time. During this coup, David faced overwhelming opposition at the hands of his own people.
The result of David's situation is that Psalm 3 serves as a song that was sung by future generations of Israel, both corporately and personally when entering a time of crisis or when reflecting upon the adverse situations they found themselves in throughout their history. As such, the psalm gives us much in the way of faith in the face of hostility and suffering. As we see the suffering of the king, we are reminded that coming out of the Messianic theology of Psalm 2, it would also be appropriate to view this psalm as depicting the suffering of the Davidic king who of course typologically foresignifies Christ. Many of the so-called lamentation psalms have direct Messianic connections (cf. 22.1, 21-22; 35.19; 69.4). Even in the historical events of 2 Samuel 15-18, David's life typifies aspects of Jesus' life including the ascent of the Mount of Olives as a walk of shame and betrayal (2 Sam. 15.30ff.).
In the hope-filled suffering of the king, we learn to suffer and trust ourselves. Thus, we find indispensible principles of suffering. These are the sufferings of David, they point to the sufferings of Christ and they help believers in their own sufferings. This after all is what Peter suggests is part of Jesus' example for us:
1 Peter 2:21 21 For you have been called for this purpose, since Christ also suffered for you, leaving you an example for you to follow in His steps,
Now the nature of the psalmist's suffering here presents a picture of overwhelming adversity. That is precisely what Jesus faced in His own ministry, "He came to His own and His own did not receive Him" (John 1.12), He has a man of sorrows acquainted with grief (Is. 53.3; cf. Mt. 26.37, 38; Mk. 14.34; Lk. 19.41; John11.35; Heb. 5.7), everyone was gathered against Him, even as Psalm 2 pointed out, all the rulers, kings and judges of the earth (Ps. 2.1-3). Acts supports this idea in the life of Christ as the disciples pray to the sovereign God of heaven that though Herod, Pilate, the Gentiles and the Jews were all "gathered together against" Jesus (Acts 4.27); yet, God's sovereignty reigns supreme through it all and in this they trusted and hoped for their own lives (Acts 4.29).
This overwhelming opposition is precisely what we can expect in our own lives. While anger and wrath, fear and anxiety, despair and doubt is not the answer it is not the proper response to our trials, hope, faith, and dependence on the mercy and goodness of God is. If we return for a moment the background of the psalm as David faced what he would later call, "Many are rising up against me" (3.1b); we notice his resignation to God's providence:
2 Samuel 15:24–26 24 Now behold, Zadok also came, and all the Levites with him carrying the ark of the covenant of God. And they set down the ark of God, and Abiathar came up until all the people had finished passing from the city. 25 The king said to Zadok, "Return the ark of God to the city. If I find favor in the sight of the Lord, then He will bring me back again and show me both it and His habitation. 26 "But if He should say thus, 'I have no delight in you,' behold, here I am, let Him do to me as seems good to Him."
What is remarkable about this scene is that the priests who were loyal to David took it upon themselves to displace the ark believing that the rightful place of the ark was with the king. However, David was unwilling to leverage the ark as a means to retain the favor of God. David was more content with allowing God to determine whether or not he should be restored to the throne and thus return to a religious life in Zion, the house of God where the ark belonged. In a sense this was the same principle that Jesus models for us, "not My will, but Yours be done" (Lk. 22.42). Jesus could have circumvented His awful circumstances but chose rather to trust in God's sovereign plan (cf. Mt. 26.53). As on commentator put it, "Jesus chose submission rather than resistance" (cf. Mt. 26.39). The face of overwhelming opposition must be met with a willingness to remain resigned under the sovereign will of God. Trials have a way of brining us to the end of ourselves. But that is precisely what they are designed to do, 'less of us, more of Him.' Much of our suffering is designed to cause us to abandon self-reliance which is independence— the opposite of Christian virtue:
2 Corinthians 1:8–10 8 For we do not want you to be unaware, brethren, of our affliction which came to us in Asia, that we were burdened excessively, beyond our strength, so that we despaired even of life; 9 indeed, we had the sentence of death within ourselves so that we would not trust in ourselves, but in God who raises the dead; 10 who delivered us from so great a peril of death, and will deliver us, He on whom we have set our hope. And He will yet deliver us,
The Sound Of Overwhelming Discouragement
Not only did David see the face of overwhelming opposition, he also heard the sound of overwhelming discouragement, "Many are saying of my soul, "There is no deliverance for him in God" (3.2). The "Selah" of the psalms has been suggested by many scholars to represent a musical interlude designed to cause the worshiper to pause and ponder the depth of what is being said. Here it is to digest the level of discouragement David must have felt being driven out of his own city, usurped by his own son, humiliated before all of his people, and forced to wander in the desert of despair (cf. 2 Sam. 15.20). The amazing picture is given of David going up the Mount of Olives with those loyal to him in a procession of lamentation:
2 Samuel 15:30 30 And David went up the ascent of the Mount of Olives, and wept as he went, and his head was covered and he walked barefoot. Then all the people who were with him each covered his head and went up weeping as they went.
Of course, Jesus took that same path, the Via Dolorosa, the path of the cross when Jesus (and Simon the Cyrene) was forced to carry His own cross up the mount to the place of His own execution (cf. Mt. 27.33; Mk. 15.21; Lk. 23.26ff.). Like David, Jesus heard the overwhelming blasphemous sounds of discouragement as one who had been abandoned by God:
Matthew 27:42–43 42 "He saved others; He cannot save Himself. He is the King of Israel; let Him now come down from the cross, and we will believe in Him. 43 "He trusts in God; let God rescue Him now, if He delights in Him; for He said, 'I am the Son of God.' "
Think about the blasphemous taunt of saying of God's Son that God could not help Him. This is what was being said of David as God's son (Ps. 2.7), that as the object of God's love, as God's son, he was forgotten by God abandoned by God; orphaned as it were by the Father. Adversity and our adversaries have a way of sounding like this. It also does not help us that our sin only compounds the discouragement. But this is what life in the present age is often like. We are taunted and tempted to think that we are estranged from God and forsaken. That's why Psalm 2 ends with a reassuring word to everyone who trusts in the Son of God, "How blessed are all who take refuge in Him" (2.12).
The Source Of Overwhelming Comfort
In Scripture, faith is identified as a gift (cf. Eph. 2.8; 2 Thess. 3.2). Through faith we can trust in the promises of God and believe in the word of God. But faith is also indispensible for enduring such overwhelming adversity. Through faith we also derive our encouragement in the Lord. The psalmist's faith was in God's divine protection, His supremacy and His all-sufficient grace. This is what he means when he speaks of God's glory, "But You, O Lord, are a shield about me, My glory, and the One who lifts my head" (3.3). Out of the backdrop of David's trials, three things emerge as faith is mingled with prayer making God the overwhelming source of comfort.
Total Protection
The psalmist prays for what he needs, total protection from God. Surrounded by adversaries, nothing less than God's omnipotent care and preservation will do. This is a prayer of weakness. David realizes he's outnumbered, he's overwhelmed, the conspiracy is strong and to try to undo the intrigue of Absalom's lies would be a virtual impossibility (2 Sam. 15.12). David's in a tangled mess with seemingly no way out. He prays for God's protect him and one of the ways the original context may help us explore David's petition here is reflected in his prayer that God would protect him by confusing his enemies. As Absalom took control of Israel David's most influential advisers Hushai and Ahithophel sided with his treacherous son (2 Sam. 16.15ff.). Now, Ahithophel's counsel was so influential among the people that his advice was seen as tantamount to hearing God's own word, "The advice of Ahithophel, which he gave in those days, was as if one inquired of the word of God; so was all the advice of Ahithophel regarded by both David and Absalom" (2 Sam. 16.23). The power of this man's influence carried with it the weight of God's own word! That is why David prays for God to do something only He could do:
2 Samuel 15:31 31 Now someone told David, saying, "Ahithophel is among the conspirators with Absalom." And David said, "O Lord, I pray, make the counsel of Ahithophel foolishness."
Who could turn the hearts of men but God? That is why David prays not for the increase of his own power, or that God would give him a plan to overthrow Absalom; but that the conspiracy would crumble by its own devises. As far as Ahithophel was concerned, his counsel was disregarded leading to his inevitable suicide and disgrace (2 Sam. 17.23). God did the very thing that David asked and through the thwarted plans of his enemies, God protected Him. The Lord was David's "shield" (מָגֵן) surrounding him and protecting him from the schemes of his enemies. Spurgeon said:
"a shield… means a buckler round about, a protection which shall surround a man entirely, a shield above, beneath, around, without and within. Oh! What a shield is God for his people! He wards off the fiery darts of Satan from beneath, and the storms of trials from above, while, at the same instant, he speaks peace to the tempest within the breast."
For God to be David's shield also meant that God would go to war for him, do battle on his behalf. He did not trust in his men, in his horses, in his chariots, in his swords, and his skill in battle (cf. Ps. 33.16-17). Several times in 2 Samuel David is seen passively refusing to take matters into his own hands though he himself was a powerful warrior surrounded by a throng of mighty men and David himself being a man of war (2 Sam. 17.8-10). Instead he resembled almost a Christlike meekness as he yielded to God's will (cf. 2 Sam. 15.25-26; 16.5ff; 18.5). This was because David was content with God supplying the victory even if it meant God ordaining his ruin instead. The point is David was resigned under the mighty hand of God.
Total Contentment
At a time of deepest shame, David was content to have God as his "glory" (כָּבוֹד). Of course, spoken from the backdrop of the events in Samuel, this statement reveals remarkable faith in resignation. A king in exile from his own city, kingdom and throne was the depth of shame especially given the dishonor of your own son and some of his closest friends and confidants turning on him. But David gloried in his tribulations. By faith, David was content to have all things stripped from him so long as by faith God was the supreme object of his desires. Here is a remarkable lesson for our own faith. In 2 Samuel David makes clear that his contentment in God was not conditional. David's prayer of glory is not a demand on God, 'restore my glory or else'; it was a commitment to seek and savor God's glory above his own. Not only was David submissive to God's will in returning to Jerusalem and seeing the glory of the ark of the covenant, he was also content to let God be His defense. He was not so concerned about his glory that he needed to defend himself against every 'dog' that barked his way:
2 Samuel 16:5–10 5 When King David came to Bahurim, behold, there came out from there a man of the family of the house of Saul whose name was Shimei, the son of Gera; he came out cursing continually as he came. 6 He threw stones at David and at all the servants of King David; and all the people and all the mighty men were at his right hand and at his left. 7 Thus Shimei said when he cursed, "Get out, get out, you man of bloodshed, and worthless fellow! 8 "The Lord has returned upon you all the bloodshed of the house of Saul, in whose place you have reigned; and the Lord has given the kingdom into the hand of your son Absalom. And behold, you are taken in your own evil, for you are a man of bloodshed!" 9 Then Abishai the son of Zeruiah said to the king, "Why should this dead dog curse my lord the king? Let me go over now and cut off his head." 10 But the king said, "What have I to do with you, O sons of Zeruiah? If he curses, and if the Lord has told him, 'Curse David,' then who shall say, 'Why have you done so?' "
David showed remarkable poise here because in reality, God was his glory. He was content not to return evil for evil (Ps. 34.12-13; 38.1-11; 1 Pet. 3.8-12), he was patient when wronged (2 Tim. 2.24), and he left room for God's vengeance (Rom. 12.19).
Total Confidence
God provided David with glory when the glory of his kingdom seemed lost and He also provides confidence in the midst of shame. He is, "the One who lifts my head" (3.3b). David understood that should his fortunes be returned, in reality, God alone is the lifter of his head (וּמֵרִ֥ים* רֹאשִֽׁי). This is when the eternal perspective has begun to really set in; when we realize what is of true value where we derive our true contentment and dignity. All that matters is that we give God glory in whatever providence. Only this will reveal that we really trust Him.
Psalm 18:2 2 The Lord is my rock and my fortress and my deliverer, My God, my rock, in whom I take refuge; My shield and the horn of my salvation, my stronghold.
Psalm 28:7 7 The Lord is my strength and my shield; My heart trusts in Him, and I am helped; Therefore my heart exults, And with my song I shall thank Him.
On the surface, David had very little to rejoice about. But beneath the surface, in the secret place where no one sees, there was the hidden life of David where David trusted Him. This is where his confidence came from. David is teaching us here that we can take confidence that God will deal with our adversaries in his time. Those who oppress us now, God will 'hang out to dry' put them to an open shame:
2 Samuel 18:9 9 Now Absalom happened to meet the servants of David. For Absalom was riding on his mule, and the mule went under the thick branches of a great oak. And his head caught fast in the oak, so he was left hanging between heaven and earth, while the mule that was under him kept going.
Our enemies will be like Absalom whom God hung in the branches of an oak tree to die a death of ironic reversal for he became the posterity without a posterity, a son without a son, a pseudo king with stolen valor and who's own honor was at last taken from him left only with a monument of shame like Judas the betrayer who likewise hung himself before he burst open (2 Sam. 18.9-18). Just as God dealt with David's enemies and circumstances, we can lift our head and take great confidence that God will vindicate His people and every treacherous anti-Christ force that we now face will be defeated in the end (cf. 2 Thess. 1.6-10).
Of course, David's life is one saga of triumph and tragedy, of glory and failure. Ultimately, David's lordship serves to point the way forward to yet a greater King— David's Son and David's Lord. The true Anointed of the Lord whom God vindicated from all of His enemies, cosmic and earthly powers alike. From the Sanhedrin to Satan, God's vindication of His Son, like David's, will come soon enough. We share in that vindication and thus we share in the hope-filled suffering of all of God's people knowing that God is our Deliverer and Defender.
CONNECT TO CHRIST
1. Jesus Faced Overwhelming Adversity
When we think about the background of Psalm 3, connected as it is to 2 Samuel and the episode with Absalom; we are reminded that Jesus like David faced overwhelming opposition. Although David saw this in part, Jesus saw this to the fullest degree. Jesus after all was exposed to the world's deepest darkness and to the darkest hour of all. Jesus told His killers, "this hour and the power of darkness are yours" (Lk. 22.53). And so it is today that every man or women who has not had their nature changed is 'prone to hate God and neighbor' as the Heidelberg Catechism states. Even still now and toady, so long as Christ endures the present evil age, man will continue to hate Him and oppose His law (cf. Acts 9.4; Col. 1.24). While all of Israel seemed to oppose David during this episode in the saga of his life, Jesus had all of humanity upon His shoulders bearing the brunt of their hostility. Man loves darkness and hates the Light.
2. Jesus Faced Real Discouragement
Even as David saw the betrayal of Absalom, his close friends and advisers Ahithophel and Hushai along with the people of Israel, Jesus also saw the betrayal of Judas, although He come to His own He was not received by the Jews, and at last at the cross, all had turned away from him save a few faithful (cf. John 1.11). This is why Isaiah calls Him a man of sorrows:
Isaiah 53:3 3 He was despised and forsaken of men, A man of sorrows and acquainted with grief; And like one from whom men hide their face He was despised, and we did not esteem Him.
What David did historically and typologically, Jesus did redemptively. Jesus' sufferings were no mere spectacle, from the ashes of the cross came the beauty of the subsequent glories that followed, namely His exaltation and our redemption.
3. Jesus Trusted In The All-Sufficient Faithfulness Of God
Remarkably, Jesus not only suffers as the true King, and redeems us through His sufferings; He has now become to us not only the source of our hope but also our supreme example in suffering as He modeled for us what hope in the face of adversity looks like. Peter did not hesitate to set Christ's example before the church:
1 Peter 2:21–25 21 For you have been called for this purpose, since Christ also suffered for you, leaving you an example for you to follow in His steps, 22 who committed n no sin, nor was any deceit found in His mouth; 23 and while being reviled, He did not revile in return; while suffering, He uttered no threats, but kept entrusting Himself to Him who judges righteously; 24 and He Himself bore our sins in His body on the cross, so that we might die to sin and live to righteousness; for by His wounds you were healed. 25 For you were continually straying like sheep, but now you have returned to the Shepherd and Guardian of your souls.