The Perfect Atonement of Christ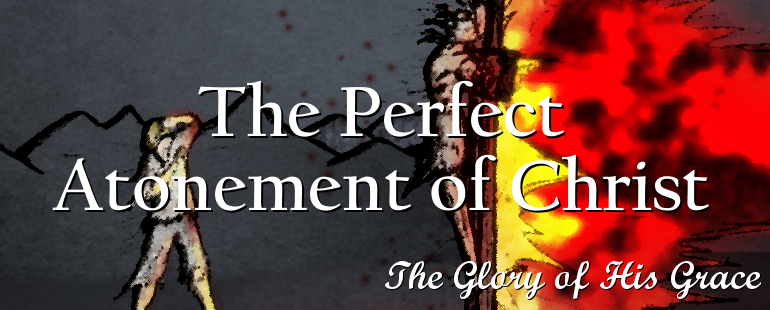 The Glory of His Grace pt. 4
The Perfect Atonement of Christ
Isaiah 53:1–6 1 Who has believed our message? And to whom has the arm of the Lord been revealed? 2 For He grew up before Him like a tender shoot, And like a root out of parched ground; He has no stately form or majesty That we should look upon Him, Nor appearance that we should be attracted to Him. 3 He was despised and forsaken of men, A man of sorrows and acquainted with grief; And like one from whom men hide their face He was despised, and we did not esteem Him. 4 Surely our griefs He Himself bore, And our sorrows He carried; Yet we ourselves esteemed Him stricken, Smitten of God, and afflicted. 5 But He was pierced through for our transgressions, He was crushed for our iniquities; The chastening for our well-being fell upon Him, And by His scourging we are healed. 6 All of us like sheep have gone astray, Each of us has turned to his own way; But the Lord has caused the iniquity of us all To fall on Him."
There are two fundamentally different ways of thinking about the atonement of Christ. For some the atonement represents a great opportunity. The atonement makes people savable. Full atonement has been provided for all people no exceptions whatsoever. Every man woman and child has the same amount of atonement available to them. They merely need to exercise their faith in order for that atonement to take away sin. As for those who do not exercise faith, the atonement remains totally available for them but without application. Under this scheme the atonement is an experiment as to how many people will end up applying the atonement to themselves and taking advantage of the great reservoir of salvation that God has provided equally for all people throughout human history. On the other hand, the Reformers saw that the atonement was no experiment and no mere opportunity, it was a payment for a specific people and would accomplish precisely what God had designed for it to do i.e. save all those whom Christ came to save (cf. Mt. 1.21; Acts 20.28). One is a system largely dependent upon human effort and human volition, the other is a system rooted in the total sovereignty of God in salvation for the sake of God's glory. The debate over the nature and extent of the atonement has been raging on for centuries primarily since the Reformation. The language of the atonement is at the very center of this debate. Is it best to speak of the atonement as limited, unlimited, particular or universal? We are going to make a case for what has been historically known as the Limited Atonement view or particular or definite redemption.
In this prophecy of Isaiah, we have the fountain of all our Messianic hope so far as our total redemption and atonement and satisfaction for our sins is concerned. This is why Peter reflecting on this very passages directs us to place our final hope and trust in the one who is able to guard our souls for a perfect redemption and ultimate salvation:
1 Peter 2:21–25 21 For you have been called for this purpose, since Christ also suffered for you, leaving you an example for you to follow in His steps, 22 who committed no sin, nor was any deceit found in His mouth [Is. 53.9]; 23 and while being reviled, He did not revile in return [53.7]; while suffering, He uttered no threats, but kept entrusting Himself to Him who judges righteously; 24 and He Himself bore our sins in His body on the cross [53.4], so that we might die to sin and live to righteousness; for by His wounds you were healed [53.5]. 25 For you were continually straying like sheep [53.6], but now you have returned to the Shepherd and Guardian of your souls.
The fact that Peter points us to Isaiah 53 is just more reason why we should use a passage like Is. 53 to reflect on Jesus' atoning glory; we do not need to look for any other— He is the Messiah who Isaiah spoke of. Peter's call to return to the "Shepherd" is also Messianic (cf. Ps. 23; John 10.11). It speaks of Israel's future happy state in Zion which signifies future redemption for Israel future safety and future restoration and rest, or as Jonathan Edwards preached, "Safety, Fullness, and Sweet Refreshment in Christ." Edwards was pulling from Is. 32.2:
Isaiah 32:1-2 1 Behold, a king will reign righteously And princes will rule justly. 2 Each will be like a refuge from the wind And a shelter from the storm, Like streams of water in a dry country, Like the shade of a huge rock in a parched land.
The Hebrew literally read, "a man" not "each" so that the KJV has it more accurately "a man will be as a hiding place" so that the "man" (also see, LXX) corresponds to the eschatological "king" of v.1. If we ask of this passage, "how does this kingly figure become this "refuge"", Is. 53 answers by providing a perfect substitutionary atonement for His people. This atonement I will contend was perfect in its design and accomplishment. In order to see this clearer we must look at our need of atonement, what is provided in the atonement, and the extent of that provision.
The Need for Christ's Perfect Atonement
Atonement is a word that simply means "to cover" (e.g. Gen. 32.21). From the earliest time of Israel's history, they learned their great need for atonement. Ultimately atonement is provided to cover sin and to remove guilt. The ESV brings out the meaning here of the Hebrew more literally with the word "atone":
Deuteronomy 21:8 8 Accept atonement, O Lord, for your people Israel, whom you have redeemed, and do not set the guilt of innocent blood in the midst of your people Israel, so that their blood guilt be atoned for.' (ESV).
Christ provided atonement for us, primarily because we have guilt, we have blood on our hands as it were and we are in need of redemption. The term is also used to describe pacifying of someone's anger as with Jacob and Esau for if we remember, Esau had vowed to kill Jacob for stealing his birthright:
Genesis 32:21 20 and you shall say, 'Behold, your servant Jacob also is behind us.' " For he said, "I will appease him with the present that goes before me. Then afterward I will see his face; perhaps he will accept me."
Again, God assures Babylon that it will have no capacity to appease His wrath by the evil that He would bring upon it, which also introduces the idea that atonement is not just offered but also must be accepted:
Isaiah 47:11 11 "But evil will come on you Which you will not know how to charm away; And disaster will fall on you For which you cannot atone; And destruction about which you do not know Will come on you suddenly.
Perhaps nothing in all of Old Testament theology gives us a clearer picture of atonement and its theological basis than the Scripture's teaching on The Day of Atonement. Perhaps the greatest lesson on atonement was taught to the Israelites by God Himself during the Day of Atonement (Lev. 16.1-34; 23.27-32; cf. Heb. 9.7-12). The Day of Atonement had Three Stages:
Aaron was to make sacrifice (i.e. by slaughtering a bull) for himself and his household. This was so that he could proceed and make atonement for the rest of the people without fearing judgment for his own sin (Lev. 16.11-14).
Aaron (and then the high priest after him) was to make a sin offering for the congregation of Israel by sacrificing a goat (Lev. 16.15-19).
Aaron was to lay hands on a second goat. This was to be a scapegoat, one that would bear the iniquities of the people outside the camp where it would die (Lev.16.20-22).
That there are two goats involved in the atonement process implies that they each serve a different purpose beneath the single main purpose in atonement. From these two goats we could say that there are two aspects in the concept of Atonement. Expiation (the removal of sin) and Propitiation (the removal of wrath).
Propitiation: (the Divine aspect)
Propitiation is symbolized by the first goat which was not only slain, but which had its blood sprinkled on the mercy seat of the ark of God symbolizing that God's justice had been satisfied and his anger averted (Lev. 16.15, 27; Heb. 10.22; 12.24; 1 Pet. 1.2).
Expiation: (the human aspect)
Expiation could be said to be represented in the second goat which is said to "bear" the sins of the people "on itself" (Lev. 16.21-22). The human aspect of the atonement is concerned with the expiation or sacrifice through which people are freed from their sins. This goat has the sins of the people transferred over by the hands of Aaron. By this transfer the people experience a cleansing of the defilement that sin brought upon them.
What God was seeking in OT atonement was also reconciliation and redemption. This is brought out by virtue of Moses calling for circumcision of heart (Dt. 10.16; 30.6; Lev. 26.41; cf. Jer. 4.4) and by the testimony of the prophets who issued oracles where God is indicting the people for refusing to come to Him even after many religious ritual and even after experiencing severe chastisement:
Amos 4:4–5 4 "Enter Bethel and transgress; In Gilgal multiply transgression! Bring your sacrifices every morning, Your tithes every three days. 5 "Offer a thank offering also from that which is leavened, And proclaim freewill offerings, make them known. For so you love to do, you sons of Israel," Declares the Lord God.
The emphasis of these verses are found in verses 6, 8, 9, 10, "yet you have not returned to Me declares the Lord." All of this pointed forward to the need for actual reconciliation and redemption for God's people.
The Provision in Christ's Perfect Atonement
When we stop to consider our need of the atonement and what the OT language of atonement focuses on, we see our need for expiation and the removal of our sins which Christ provided and we see our need for propitiation and the removal or satisfaction of God's wrath which Christ in His perfect atonement also provided for us perfectly. The author of Hebrews brings this out marvelously by focusing on the imagery, typology, and symbolism of OT sacrifices and the superior sacrifice of Christ which accomplishes a much deeper cleansing than merely that of the flesh:
Hebrews 9:11–14 11 But when Christ appeared as a high priest of the good things to come, He entered through the greater and more perfect tabernacle, not made with hands, that is to say, not of this creation; 12 and not through the blood of goats and calves, but through His own blood, He entered the holy place once for all, having obtained eternal redemption. 13 For if the blood of goats and bulls and the ashes of a heifer sprinkling those who have been defiled sanctify for the cleansing of the flesh, 14 how much more will the blood of Christ, who through the eternal Spirit offered Himself without blemish to God, cleanse your conscience from dead works to serve the living God?
Not only does the blood of Christ provide for our need of cleansing by removing our sin and our false religion but His blood also removes the dangerous prospect of the wrath of God. Paul speaks of this very thing from a redemptive historical perspective explaining how God provided a satisfaction for the sins of God's people at the proper time:
Romans 3:21–25 21 But now apart from the Law the righteousness of God has been manifested, being witnessed by the Law and the Prophets, 22 even the righteousness of God through faith in Jesus Christ for all those who believe; for there is no distinction; 23 for all have sinned and fall short of the glory of God, 24 being justified as a gift by His grace through the redemption which is in Christ Jesus; 25 whom God displayed publicly as a propitiation in His blood through faith. This was to demonstrate His righteousness, because in the forbearance of God He passed over the sins previously committed;
When we think of OT saints, this is precisely the redemption and the propitiation they were hoping in when they obeyed God through OT sacrifices they were in essence looking at Jesus' shadow. All those sacrifices where but prophetic monuments to the perfect atonement of Jesus Christ.
Sin being removed, wrath being removed and satisfied, God also did reconcile us to himself through the perfect atonement of His Son:
2 Corinthians 5:18–19 18 Now all these things are from God, who reconciled us to Himself through Christ and gave us the ministry of reconciliation, 19 namely, that God was in Christ reconciling the world to Himself, not counting their trespasses against them, and He has committed to us the word of reconciliation.
Reconciliation speaks of being restored into proper fellowship with God through the cross of Christ. Because Jesus made perfect sacrifice (Heb. 13.10-13), and perfect satisfaction (Heb. 2.17; 1 John 2.2), our hostility and alienation from God can now be replaced with peace and friendship (Rom. 5.1; 6-11). Christ's atonement overcomes our rebellion and our God-hating hearts so that we will love God with all our heart. Furthermore, the perfect atonement of Christ also brings us perfect redemption:
Ephesians 1:7-8 7 In Him we have redemption through His blood, the forgiveness of our trespasses, according to the riches of His grace 8 which He lavished on us. In all wisdom and insight
This wisdom is seen in the fact that the redemption provided for us by Christ' blood secures for us perfect forgiveness. The term "redemption" simply means "to buy back" and in Biblical theology it speaks of being freed from some form of captivity or bondage. This bondage is principally dealing with our sins (Rom. 3.24). This redemption is not a redemption that leads us out of bondage and to an abstract or undefined freedom; it is a redemption unto eternal life:
Hebrews 9:15 15 For this reason He is the mediator of a new covenant, so that, since a death has taken place for the redemption of the transgressions that were committed under the first covenant, those who have been called may receive the promise of the eternal inheritance.
Here is the perfect atonement of Christ on display. He is the perfect Mediator of a better and superior covenant who dies a perfect death affecting a perfect redemption releasing us from our transgressions that we committed by breaking the Old Covenant (cf. Jam. 2.10). But we should also point out the particularity of this redemptive work for it applies only to "those who have been called" it is the called who "may receive the promise of the eternal inheritance."
Reflecting on all that Christ supplies to us in His perfect atonement, John Murray in his seminal work, Redemption, Accomplished and Applied, says:
"Ransom presuppose some kind of bondage or captivity, and redemption, therefore, implies that from which the ransom secures us. Just as sacrifice is directed to the needs created by our guilt, propitiation to the need that arises from the wrath of God, and reconciliation to the need arising from our alienation from God, so redemption is directed to the bondage to which our sin has consigned us."[1]
This redemption is absolutely crucial to appreciate and reflect on all that God has done for us in Christ. For as Murray himself points out, God redeems us from the curse of the Law (Gal. 3.13) and from the curse of Sin (Rom. 6.23; 1 Cor. 15.56-57). The death of Christ alone can make sense out of the following verses:
Romans 6:23 23 For the wages of sin is death, but the free gift of God is eternal life in Christ Jesus our Lord.
1 Corinthians 15:56–57 56 The sting of death is sin, and the power of sin is the law; 57 but thanks be to God, who gives us the victory through our Lord Jesus Christ.
Before moving on to the extent of Christ's atonement. The provisions of Christ's atonement also speak of the sufficiency and efficiency of Christ's atoning work. This means that there is nothing lacking in Christ's atonement. His atoning work is fully sufficient to bear God's curse (Gal. 3.13) and remove all sin (Col. 2.14) and provide life through His blood (Heb. 9.22). This also means that God's design in the atonement was thoroughly effective in every way. This is of course seen by the fact that atonement is connected with redemption and ransom. The ransom texts of Scripture refer to that which God actually secures, procures and ultimately obtains through the atonement which is the salvation of His people through Jesus Christ (Mt. 20.28; Mk. 10.45; Gal. 4.4-5; Eph. 1.18; 1 Tim. 2.6). Again Isaiah says:
Isaiah 53:11 11 As a result of the anguish of His soul, He will see it and be satisfied; By His knowledge the Righteous One, My Servant, will justify the many, As He will bear their iniquities.
The Extent of Christ's Perfect Atonement
It is on the basis of the sufficiency and efficacy of the atonement that we can speak with certainty about the extent of Christ's atonement. The extent of Christ's atonement is concerned with the simple question, "for whom did Christ die?" Hopefully, we have established that for Christ to die for you, it would mean that He bears your guilt, removes your sins, takes away the wrath of God, restores fellowship with God and grants eternal life. The reality is the atonement is far from a cosmic experiment, it's a Trinitarian mission (John 17.1-5), based on a Trinitarian pact (Eph. 1.3-14; 3.9-11), built on Trinitarian promises (2 Cor. 1.20), and realized in a redemptive Trinitarian fulfillment (1 Pet. 1.10-12). It is the divine provision of God on behalf of sinners so that He ensures their safety in Jesus Christ. Renown Old Testament scholar Alec Motyer puts it well commenting on Isaiah's suffering Servant:
"The death of the Servant is the intersection point of all space and all time. From north, south, east, and west, from past, present, and future, the divine hand gathers in the sins of all the sinners he proposes to save, and personally conducts them to a solemn and holy spot— the head of his Servant."
Like the Levitical goat upon which Aaron's hand was laid, Isaiah says, "the Lord has laid on Him the iniquity of us all" (NKJV). What Isaiah makes equally clear is that those for whom the Servant of the Lord dies, a perfect justification is provided as well (Is. 53.11-12). So then, the perfection of Christ's atonement can only be understood when we see that the objects of the atonement are sovereignly chosen to be the recipients of Christ's death which cannot fail to accomplish what it was intended to do namely, save! Bearing in mind after all that this is what "redemption" means. Redemption does not result in making men redeemable— it actually means Jesus bought us and will take us to himself:
1 Peter 3:18 18 For Christ also died for sins once for all, the just for the unjust, so that He might bring us to God, having been put to death in the flesh, but made alive in the spirit;
We have to keep in mind that Peter is here talking to a specific audience. Peter introduced that audience at the beginning of the letter as those who have been chosen for a Trinitarian redemption:
1 Peter 1:1–2 1 Peter, an apostle of Jesus Christ, To those who reside as aliens, scattered throughout Pontus, Galatia, Cappadocia, Asia, and Bithynia, who are chosen 2 according to the foreknowledge of God the Father, by the sanctifying work of the Spirit, to obey Jesus Christ and be sprinkled with His blood: May grace and peace be yours in the fullest measure.
Far from Jesus coming to this world without any intention to save anyone and with the hope that He might have saved someone in the end, a view which many are content to entertain their whole lives, the atonement is actually an invincible mission that cannot fail. It cannot fail to save God's people because, God has promised to give His Son a special people (Is. 53.11-12; Dan. 7.14) who have been chosen from the foundation of the world (Eph. 1.4) and united to the Son in God's plan of redemption (Eph. 3.9-11). Furthermore, Jesus himself works in perfect unison with the Father (John 6.37, 44) and the Spirit (Heb. 9.14) to bring His sons and daughters into His home through adoption (Eph. 1.5) and through the redemption of His blood (Eph. 1.7). The result of the death of Christ is that all those for whom Jesus died, died with Him and will therefore rise with Him and that by the sovereign decree of God:
Romans 6:5–8 5 For if we have become united with Him in the likeness of His death, certainly we shall also be in the likeness of His resurrection, 6 knowing this, that our old self was crucified with Him, in order that our body of sin might be done away with, so that we would no longer be slaves to sin; 7 for he who has died is freed from sin. 8 Now if we have died with Christ, we believe that we shall also live with Him,
2 Corinthians 5:14–15 14 For the love of Christ controls us, having concluded this, that one died for all, therefore all died; 15 and He died for all, so that they who live might no longer live for themselves, but for Him who died and rose again on their behalf.
If we have genuinely died to sin (Rom. 6.3-11), crucified the old man (Col. 3.3, 9), we can be confident that we will live with Him and reign with Him (Eph. 2.4-7). We can also be confident that Christ provided a perfect atonement for us because we have been united to Him by the very decree of God before the foundation of the world (Eph. 1.4-5). If Jesus died for every person no exceptions, then that would result in universalism where every person who has ever lived would have died with Him and will rise with Him on the last day. Christ's atonement is perfect substitution and perfect propitiation that is why Jesus can always be our Advocate with the Father— an advocacy that only extends to those for whom He died (1 John 2.2).
[1] John Murray, Redemption Accomplished and Applied (Grand Rapids/Cambridge: Eerdmans, 1955) 43.