The Power of Imitation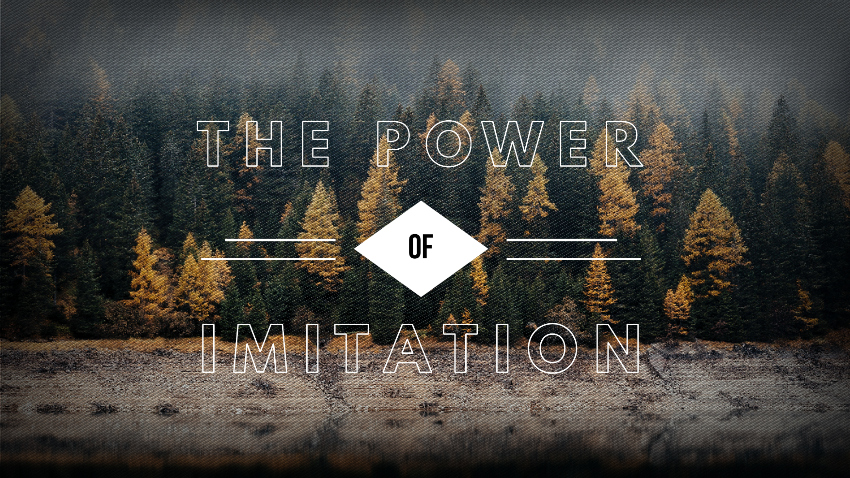 1 Thessalonians 1:6–7 6 You also became imitators of us and of the Lord, having received the word in much tribulation with the joy of the Holy Spirit, 7 so that you became an example to all the believers in Macedonia and in Achaia.
Imitation As A Biblical Principle
Plagiarism has become an contemptible practice in many fields today where it is unacceptable to take a persons writings, songs, poetry, research and make it your own as if you could simply imitate what they said and still be authentically artistic or scholarly. This is because when it comes to plagiarism, that kind of imitation is tantamount to lying and stealing. In those cases imitation is not acceptable on any level. But when it comes to Christian conduct there is a biblical principle of imitation that not only allows for us to copy and imitate each other but in fact we are commanded to do it. This is because what we are ultimately looking to imitate is not necessarily original to the person we are imitating. When the apostle Paul says to imitate him as he imitates Christ (1 Cor. 11.1), he is not telling us to imitate his personally or his idiosyncrasies, or his gestures or something like that. It is far more profound and spiritual than that.
Biblically, to imitate one another is not a call to try and sound like each other in terms of our inflections in our voice or choice of clothing or something like that. Amish communities imitate each other in these ways. But that is more of a group think and even cultic mentality. Biblically our imitation consists of virtue, character, sound doctrine and spiritual maturity. All imitation is based on patterning our lives after the person, virtue and nobility of Christ. He is the ultimate standard of human existence! Perhaps there is no clearer statement about the holy and spiritual nature of our need to be like Christ and imitate His devotion to the Father than John's call for Christ-centered imitation in 1 John:
1 John 2:4–6 4 The one who says, "I have come to know Him," and does not keep His commandments, is a liar, and the truth is not in him; 5 but whoever keeps His word, in him the love of God has truly been perfected. By this we know that we are in Him: 6 the one who says he abides in Him ought himself to walk in the same manner as He walked.
We can see from this text the close connection to God's word in our imitation of Christ. To walk like Christ is to keep His commands even as He himself taught (cf. John 13.15). John is telling us that at the heart of the principle of imitation is, to use Tom Nettle's title for his biography on Spurgeon, "Living by Revealed Truth." In other words, it is a life of conformity to Scripture and sound doctrine. We know this by the opposite principle of living by what is contrary to revealed truth:
1 Timothy 1:8–10 8 But we know that the Law is good, if one uses it lawfully, 9 realizing the fact that law is not made for a righteous person, but for those who are lawless and rebellious, for the ungodly and sinners, for the unholy and profane, for those who kill their fathers or mothers, for murderers 10 and immoral men and homosexuals and kidnappers and liars and perjurers, and whatever else is contrary to sound teaching,
In Scripture we are told positively to imitate God, Christ, Paul, each other, other churches, and negatively we are also told to avoid imitating sinful examples such as ancient Israel (cf. 1 Cor. 10.6, 11, 18). The principle of imitation is undeniable. Here Paul focuses on three aspects of that principle.
Imitation Both Human And Divine (the reality of Imitation)
Of course, in the context these verses only elucidate further the rationale for Paul's thanksgiving and the fruit that God's elect in Thessalonica exhibited as evidence of God's sovereign grace in their lives. The connection is seen in the word "also" or 'and' (καὶ) since Paul's last statement was an assertion of his own integrity and example, "you know what kind of men we proved to be among you for your sake" (v.5). And now he turns to their own exemplary behavior, "You also became imitators of us and of the Lord" (ὑμεῖς μιμηταὶ ἡμῶν ἐγενήθητε καὶ τοῦ κυρίου). What this opening phrase in v.6 shows us about the principle of imitation is that imitation is both human and divine. But there are two patterns here. However these two patterns are simply two sides of one coin since both patterns are described together under one activity namely, the reception of the gospel in the context of tribulation.
The Apostolic Pattern
First, the apostle Paul reminds the church that in receiving the gospel they were following in the footsteps of Paul and his companions. Paul teaches us to follow his example and the example of others repeatedly:
1 Corinthians 4:16 16 Therefore I exhort you, be imitators of me.
1 Corinthians 11:1 1 Be imitators of me, just as I also am of Christ.
Philippians 3:17 17 Brethren, join in following my example, and observe those who walk according to the pattern you have in us.
Philippians 4:9 9 The things you have learned and received and heard and seen in me, practice these things, and the God of peace will be with you.
1 Thessalonians 2:14 14 For you, brethren, became imitators of the churches of God in Christ Jesus that are in Judea, for you also endured the same sufferings at the hands of your own countrymen, even as they did from the Jews,
What is so encouraging about this initial level of imitation is that God in His grace has given us tangible examples, human specimens, if you would, that we can learn from and grow from so as to not grow weary in our struggle of faith. I think, had God only given us the Lord Jesus Christ to imitate it would have been far too easy to become overwhelmed, discouraged, and defeated in our walk. We could become cynical in thinking that imitating the perfect, sinless God-man is just too unrealistic for fallen creatures such as we. But God grants us to learn from each other (cf. Col. 3.16), from our leaders (cf. Gal. 6.6; 1 Th. 5.12; Heb. 13.7, 17), and from those in Scripture who have gone before us as well as other faith heroes who have gone before us in the annals of Church History.
The Lord's Pattern
Second, when we arrive at the divine level we have reached the ultimate example of all. We should be careful to point out that this level of imitation is not unrealistic and in fact we are commanded not only to imitate Jesus in His earthly example but also God in general:
John 13:14–15 14 "If I then, the Lord and the Teacher, washed your feet, you also ought to wash one another's feet. 15 "For I gave you an example that you also should do as I did to you.
1 Peter 2:21 21 For you have been called for this purpose, since Christ also suffered for you, leaving you an example for you to follow in His steps,
Ephesians 5:1 1 Therefore be imitators of God, as beloved children;
Notice that this imitation was not only possible but achievable, "You also became imitators of us and of the Lord." How then do we imitate the Lord? How do we know that our walk is an imitation of the divine pattern that we have been called to? If we simply read further in Ephesians we have our answer so that any time we are walking in love, in purity and holiness we are imitating God and living according to His eternal kingdom:
Ephesians 5:1–6 1 Therefore be imitators of God, as beloved children; 2 and walk in love, just as Christ also loved you and gave Himself up for us, an offering and a sacrifice to God as a fragrant aroma. 3 But immorality or any impurity or greed must not even be named among you, as is proper among saints; 4 and there must be no filthiness and silly talk, or coarse jesting, which are not fitting, but rather giving of thanks. 5 For this you know with certainty, that no immoral or impure person or covetous man, who is an idolater, has an inheritance in the kingdom of Christ and God.
Imitation Through Adversity (the context of imitation)
This verse reminds us that in the actual working out of this principle in Scripture is often connected with suffering and adversity. This was the context here, "having received the word in much tribulation with the joy of the Holy Spirit" (δεξάμενοι τὸν λόγον ἐν θλίψει πολλῇ μετὰ χαρᾶς πνεύματος ἁγίου). This act of receiving God's word in the context of what Paul calls "much tribulation" (θλίψει πολλῇ) is the heart of the Thessalonian's imitation. We should also point out here that the imitation to Christ and Paul is really more general than the text may suggest. Jesus in a sense did not "receive" the word of God as much as suffered because of the word, especially the word of the cross or the gospel which He preached (Mk. 1.15; 1 Cor. 1.18ff; 2.14-16). The connection is based on the fact that this church like Jesus was persecuted on the occasion of the word whether the Thessalonians received it on the one hand and were persecuted or the Lord proclaimed it on the other hand and was likewise persecuted (cf. Lk. 4.28-29; John 8.43). What they imitated was the virtue of Christ as He endured from His own people the hostility that led to the cross. What Paul experienced on a personal level they were experiencing corporately:
Colossians 1:24 24 Now I rejoice in my sufferings for your sake, and in my flesh I do my share on behalf of His body, which is the church, in filling up what is lacking in Christ's afflictions.
Two things come into view here that are going to helpful for us to apply this principle to ourselves— what we can call the adversity and the attitude found in successive prepositional phrases. The adversity is captured by Paul's phrase, "in much tribulation" (ἐν θλίψει πολλῇ).
To understand their struggle, one commentator points out the most obvious kinds of adversities they would have faced after their conversion:
"such difficulties as their alienation from unbelieving family members and friends; the curtailment of their opportunities to maintain, let alone to improve, their current economic and social status; the restriction of their access to the city's political and social institutions; and their constant subjection to harassment and public insults" (as cited: Jeffrey A.D. Weima, 1-2 Thessalonians, 101).
This certainly fits the context of one explicit instance in the book of Acts where the one "Jason" is persecuted in his home because he had welcomed the apostles. The Jews had "set the whole city in an uproar" and even got the governing officials involved so that they ultimately had to be bribed in order to release Jason (Acts 17.5-8). Of course this entire episode would have only led to more persecution of the church. This only reinforces what Scripture teaches regarding persecution and the hostility we will face if we dare to be godly, "Indeed, all who desire to live godly in Christ Jesus will be persecuted" (2 Tim. 3.12). Of course this adversity always accompanies the righteous because at the heart of this hostility is a spiritual principle that sets this world against God's kingdom and Church that goes back to the dawning of time and is visible throughout redemptive history (cf. Gen. 3.15; Ps. 2). This hostility came to a climax in Christ (cf. Lk. 22.53). Our identification with Jesus Christ puts the Church in the cross hairs of the world's hostility against God and His Christ.
It is simply undeniable that part of Jesus' ministry and work demands for His people to be persecuted for His sake. His work on the cross forged a permanent wedge between everything that Christ is, and all that is anti-Christ. This was part of Jesus' war, His battle against the principalities and powers and against the present evil system of this age down to the attitudes, ambitions, ethics, philosophical commitments, political views, and the totality of a person's worldview. This was all caused in a righteous way by the cross so that following Jesus Christ could literally cost you everything in this life including your closest earthly relationships:
Luke 12:49–53 49 "I have come to cast fire upon the earth; and how I wish it were already kindled! 50 "But I have a baptism to undergo, and how distressed I am until it is accomplished! 51 "Do you suppose that I came to grant peace on earth? I tell you, no, but rather division; 52 for from now on five members in one household will be divided, three against two and two against three. 53 "They will be divided, father against son and son against father, mother against daughter and daughter against mother, mother-in-law against daughter-in-law and daughter-in-law against mother-in-law."
But there is something particularly powerful about suffering that uniquely brings us into communion and conformity to the character and virtue of Christ:
Philippians 3:10–11 10 that I may know Him and the power of His resurrection and the fellowship of His sufferings, being conformed to His death; 11 in order that I may attain to the resurrection from the dead.
The attitude comes in the phrase, "with the joy of the Holy Spirit" (μετὰ χαρᾶς πνεύματος ἁγίου). As we think about the evidence of the believer's election in v.4, their exhibition of "joy" (χαρᾶς) in the midst of such adversity is refined proof of their commitment to Christ and thus their election as well. In the Parable of the Sower the false convert it capable of producing joy for a time but not joy with endurance— eventually when all the external sources of that joy are gone, they fall away because there is no root (cf. Mt. 13.20-21).
But this "joy" is no ordinary joy is it the joy "of the Holy Spirit" (πνεύματος ἁγίου). First, what this means is that their joy was produced by the Spirit. He is the source of our joy. He produces it in our lives as the fruit of our Union with Christ (cf. Gal. 5.22). That means their joy was a spiritual joy not carnal. It did not arise out of their own strength but out of their Union with Christ being filled and sealed with His Spirit (cf. Acts 13.52). Second, it means that their joy was transcendent and rose above their circumstances. Of course these all go together; because it was the joy of the Spirit it was based on external circumstances and that is certainly the point here. Their joy not only helped them cope it allowed them to overcome their circumstances. Third, it means that their joy was sanctifying because it was authentic. It was not superficial; this was real life giving, soul-sustaining joy. This is fundamental to who the Spirit is and what He produces in our hearts. We should be in shock if a believer does not have this joy. Although we may all very in degree to which we experience this joy, nevertheless we should be not only puzzled but appalled if we lack the joy of the Holy Spirit in our lives despite our hardships so that we can say with Paul, though "sorrowful yet always rejoicing" (2 Cor. 6.10; also elsewhere (Rom. 5.3–5; 2 Cor. 7.4; 8.2; Phil. 2.17; Col. 1.24; Jam. 1.2; 1 Pet. 1.6; 4.13).
Imitation For A Legacy (the result of imitation)
Finally, the apostle brings us full circle in the text. He began with imitation and ends with imitation as the Thessalonians, as a result of their Spirit-wrought endurance, became and "example" (τύπον) for others to imitate including us, "so that you became an example to all the believers in Macedonia and in Achaia" (ὥστε γενέσθαι ὑμᾶς τύπον πᾶσιν τοῖς πιστεύουσιν ἐν τῇ Μακεδονίᾳ καὶ ἐν τῇ Ἀχαΐᾳ) (1.7). This is precisely what true discipleship looks like, learning from the example of others. In this case these were churches learning from each other but each of us can learn from one another individually as well. Scripture tells us to teach one another (cf. Col. 3.16 also Rom. 15.14) which implies that we learn from one another. Of course we all assume that means that we teach each other theology and in a sense, for the believer, that is true because all of life is worship to be lived to God's glory (cf. Rom. 12.1-13; 1 Cor. 10.31). Whether we are teaching each other to budget or to bake, whether we are going through Scripture together or learning how to better raise our children and strengthen our marriages; the prerequisite for all discipleship is humility (cf. Mt. 5.5; 11.28-29). We are to receive with meekness the implanted word:
Romans 12:16 16 Be of the same mind toward one another; do not be haughty in mind, but associate with the lowly. Do not be wise in your own estimation.
Peter and James both agreed with Paul that humility is essential for a church and crucial for discipleship and growth:
1 Peter 3:8–9 8 To sum up, all of you be harmonious, sympathetic, brotherly, kindhearted, and humble in spirit; 9 not returning evil for evil or insult for insult, but giving a blessing instead; for you were called for the very purpose that you might inherit a blessing.
1 Peter 5:5 5 You younger men, likewise, be subject to your elders; and all of you, clothe yourselves with humility toward one another, for God is opposed to the proud, but gives grace to the humble.
James 1:21 21 Therefore, putting aside all filthiness and all that remains of wickedness, in humility receive the word implanted, which is able to save your souls.
Because the Thessalonians were willing to take up the example of Paul and the Lord, they left a legacy of joy-filled perseverance that became a means of grace for other saints who were likewise tempted and tried (e.g. those in Macedonia and Achaia).
How do we practice all this? Well, we can start by doing the "one-anothers" of Scripture. But we should also, in humility, be willing to listen to each other, approach each other for mutual encouragement (cf. Rom. 1.11-12). We should all have an attitude of wanting to learn from each other in the body. We can also read biographies of Church History. And we should also look to ourselves in healthy introspection and be willing to identify weakness in our character and seek out examples to model after. This does not necessarily have to be theological, it could be financial, moral, domestic, marriage and family, fatherhood, motherhood. We should all be willing to seek out those who may be able to mentor us and encourage us practically on all these issues. When we do this we will truly be imitators of God as His beloved children (Eph. 5.1).
Soli Deo Gloria