The Promise of Rest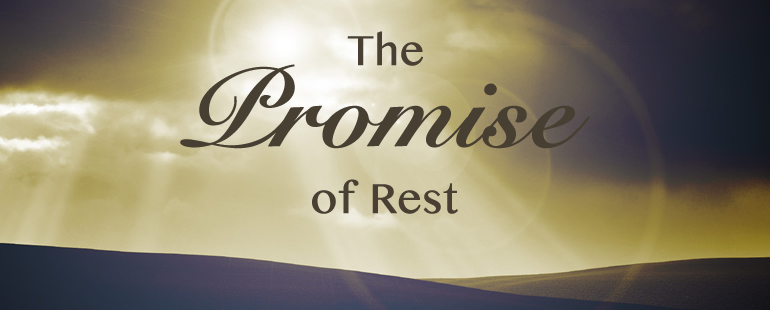 If we've ever missed out on a golden opportunity than we know the feeling of disappointment that can set in. The story of the rich young ruler is a prime example of a spiritual opportunity lost. The impact of the story is that the this young rich man leaves the presence of Jesus grieving and saddened by the cost of discipleship. But in reality, the reader feels a deeper sadness for what he forfeits in his idolatrous pursuit of wealth and materialism. This encounter represented the promise of a great reward that was sadly rejected. Hebrews is reminding us of this very thing, "Therefore, do not throw away your confidence, which has great reward" (10.35). Therefore, in order to take advantage of God's promise of rest we must respond in several ways to the promises of God:
The Promises Of God Lead Us To Fear
The Bible teaches us to fear many important things in the context of our Christian lives. The wonderful thing about Biblical fear is that in many instances it is a fear that purifies, sanctifies and therefore it is intended for our good. Biblical fear is often associated with things that are good and wonderful and glorious. Above all we are called to fear God because of all of the glorious things that it produces. The Fear of God is pure (Ps. 19.9), it gives us wisdom (Prov. 1.7), and it gives us life (Prov. 14.27; Amos 5.6). In fact the fear of the Lord coupled with humility is described as "riches, honor and life" (Prov. 22.4). For this reason we are told to pursue the fear of the Lord always and at all times (Prov. 23.17).
Here in the context of Hebrews the author calls us to fear having an evil unbelieving heart and falling away from the living God. So we can say that fear is a gracious preservative for our faith and for that we ought to be grateful that God has caused us to live in gospel fear. Paul focused on the purifying power of gospel fear as an incentive for many things. In a general sense, Paul's entire life was dominated by the fear of God for he feared and trembled at the profundity of his calling and the frailty of his own humanity (1 Cor. 2.3). Through fear of Christ' great judgment seat Paul was motivated to purify his preaching:
2 Corinthians 5:10–11 10 For we must all appear before the judgment seat of Christ, so that each one may be recompensed for his deeds in the body, according to what he has done, whether good or bad. 11 Therefore, knowing the fear of the Lord, we persuade men, but we are made manifest to God; and I hope that we are made manifest also in your consciences.
Through fear Paul urged the Philippian church to continue to strive toward eternity and the upward call of God in Christ in the "nitty gritty" of what life constitutes as our sanctification. Fear is after all, "the soul of godliness":
Philippians 2:12–13 12 So then, my beloved, just as you have always obeyed, not as in my presence only, but now much more in my absence, work out your salvation with fear and trembling; 13 for it is God who is at work in you, both to will and to work for His good pleasure.
And this is the essence of the present passage, "Therefore, let us fear if, while a promise remains of entering His rest, any one of you may seem to have come short of it" (Heb. 4.1). In a sense this passage gives us the what, the who, and the how of God's rest. The what of Gods' rest deals with the eschatological presence of God's rest. This means that in the New Covenant we are living in the last days where God's promises have been fulfilled and redemption has been accomplished opening up for us a new and living way in Jesus Christ (10.20).
The who of God's rest speaks to the distributive nature of this fear so that everyone or "any one of you" is susceptible to the exhortation of God's rest. We know that it is through warnings of the gospel that each one of us will be made to persevere to the end. Each one therefore bears personal responsibility to the things he/she has heard to act upon them to be doers of the word and not only hears (Jam. 1.22-25). The how deals with how precisely this rest is forfeited in falling "short of it" (4.1). The constant drumbeat of this epistle is unbelief. It is the evil and unbelieving heart that falls away from the living God. It is the person for whom nothing is enough, in every providence God is always questioned, the heart is always grumbling, and ultimately refusing to accept and trust in the redemption that God provided through Jesus Christ, this is the heart of the matter.
The Promises Of God Lead Us To Fight
Because the danger has everything to with the failure to persevere, our personal endurance is top priority in faith. Faith is a fight! Faith is not easy, faith is not always painless but it is often complex. Faith is filled with set backs and can be down right arduous. Many have learned the lesson of faith's fights but no one has come out unscathed by the struggle. I am reminded of the biography of Charles Simeon (1759-1836) who had been the faithful pastor of Trinity Church, Cambridge, England, for 54 years. We might think to ourselves that it sounds like he led an exemplary ministry because of its duration, 54 years is a long time to preach in the same church. But Charles Simeon's faithfulness was not known simply because of the duration of his pastorate but by the depth of the opposition he faced for most of that time— Simeon endured. He pastored a church that really did not like him nor appreciated him and often attempted to get rid of him and opposed him nearly every week for years— again Simeon endured. They would not allow him to preach the Sunday evening service instead hiring an assistant lecturer (the church controlled the evening service preaching) and again, Simeon endured the opposition. Even after being allowed to preach on Sunday for an even later evening service, the members would often lock the doors so those who did want to attend the late service could not. They even had little doors with locks on their pews which they would lock as well so visitors and people who were softening up to Charles could not sit down— Simeon endured.
Part of the basis of that endurance was based on the fact that Charles Simeon had prayed one day that he would very much like to preach in that church someday, ""How should I rejoice if God were to give me that church, that I might preach the Gospel there and be a herald for Him in the University" (H.C.G. Moule, Charles Simeon, London: InterVarsity, 1948, 155f.). God answered his prayer, and Simeon never stopped relying on the promises of God for his ministry. Eventually, late in the ministry, after thirty years, he was finally given some unity and peace. Simeon endured not because he was in good company, indeed it was hostile. He endured not because he received kindness from others, they were mainly cruel and mean spirited towards him. He endured because he believed in the faithfulness of God, in God's promises and in the hope of his reward for having been faithful till the end. In a similar way we should be inspired by Charles Simeon to continue the fight of faith not because God's providence always aligns in our favor but because their remains the promise of God's rest and because of the dread of falling short of it through unbelief. Another thing that really sticks out about Charles Simeon's example, he always found a way to encourage himself in the Lord. If you think that life is not going your way, health is not going your way, relationships, employments are not going your way; rejoice! Not because your circumstances have changed but because He has overcome the world (John 16.33)! In other words, because what makes life so continually difficult and down right nasty, namely sin; He has overcome in your stead.
Paul's exhortation for a different pastor, Timothy, should be an encouragement to all of us, regardless of our particular place in life:
2 Timothy 4:5–8 5 But you, be sober in all things, endure hardship, do the work of an evangelist, fulfill your ministry. 6 For I am already being poured out as a drink offering, and the time of my departure has come. 7 I have fought the good fight, I have finished the course, I have kept the faith; 8 in the future there is laid up for me the crown of righteousness, which the Lord, the righteous Judge, will award to me on that day; and not only to me, but also to all who have loved His appearing.
We have to fight, we have to run we have to continue to war on because, there remains a promise of entering His rest. Lets talk a bit more precisely about this rest; what is it, its nature, character and implications? There is an entire theology of "rest" reaching back into the opening chapters of Scripture. Sabbath rest begins the discussion of "rest" in Scripture. The way I see it is that, rest has three major movements in the Bible. There is the theological, theonomic and the typological rest of God. By theologically, I mean theology proper. God is the one who introduces the concept of Sabbath rest in Gen. 2.3, "God completed His work which He had done, and He rested on the seventh day."
From here, we move to the theonomic element of God's rest found in the Law revealed to Israel on Sinai that called for the nation to rest on the seventh day as a perpetual memorial and sign that Israel was in covenant with God and had been delivered from bondage in Egypt (Deut. 5.15):
Exodus 31:16–17 16 'So the sons of Israel shall observe the sabbath, to celebrate the sabbath throughout their generations as a perpetual covenant.' 17 "It is a sign between Me and the sons of Israel forever; for in six days the Lord made heaven and earth, but on the seventh day He ceased from labor, and was refreshed."
Israel also understood Sabbath rest in connection with the conquest of Canaan under Joshua where God would give Israel rest from their enemies (Josh. 1.13-15; 21.44; 22.4), rest for their people, rest for their soul, to borrow a the language of Edwards, it would be safety, security and "sweet refreshment" for Israel in a land flowing with milk and honey. The only requirement for entering that Promised Land was faith in God's word, faith in the promise that God made to the fathers, especially to Abraham (Dt. 1.8). This is why Joshua when he gives his redemptive-historical summary of the history of Israel leading up to the conquest, begins with the promise God made to Abraham (Josh. 24.1-4).
Finally, the typological aspect of this rest is perhaps the most significant for Hebrews. For even as Hebrews will go on to develop, Biblical rest is rooted in the Creation day Sabbath where God rested serving as the basis for the 4th Commandment for Israel to observe that day of rest, and ultimately served as the basis for the Promised Land to become a type of eternal eschatological rest in the New Creation (cf. Heb. 4.8; 12.22). Hebrews ties all this together here in chapter four through Jesus Christ. This typology is inherently present in the OT. That means that while we read it the Old Testament, the story of Abraham, the story of Moses, Joshua and the people of Israel, God is already signaling forward to a greater Land, a greater city, and greater country realized and inaugurated in Christ. Hebrews points this out in connection to Abraham's own journey of faith, that is, what it was really symbolizing:
Hebrews 11:8–10 8 By faith Abraham, when he was called, obeyed by going out to a place which he was to receive for an inheritance; and he went out, not knowing where he was going. 9 By faith he lived as an alien in the land of promise, as in a foreign land, dwelling in tents with Isaac and Jacob, fellow heirs of the same promise; 10 for he was looking for the city which has foundations, whose architect and builder is God.
This is why Hebrews can speak of "rest" in this fashion, that is, as purely salvific and eschatologically; because the author of Hebrews understands the typological significance of the rest. It means that in Christ, we have a greater rest than Israel ever experience on the seventh day, it means that we have greater safety and security in Jesus than Joshua would ever experience in the land of Canaan from their enemies and alien forces. Israel could be driven out of the land by alien powers like Babylon but we can never be driven out of Jesus by Islam (cf. Rom. 8.31-39). No weapon formed against us can prosper.
The Promises Of God Lead Us To Faith
This brings us to the all-important subject of faith. God's promises lead us to fear falling short of God's rest, and to fight through perseverance so that we do not fall short it, and finally they lead us to faith in the promise itself, "For indeed we have had good news preached to us, just as they also; but the word they heard did not profit them, because it was not united by faith in those who heard" (Heb. 4.2).
The Condition and Necessity Of Faith
The singular condition of faith is the word of God. Speaking evangelically, a person cannot be saved apart from the gospel of Jesus Christ. In a similar context, where Paul is pointing out Israel's failure to believe in the message given to them in the prophets, he emphasizes the condition of faith:
Romans 10:16–17 16 However, they did not all heed the good news; for Isaiah says, "Lord, who has believed our report?" 17 So faith comes from hearing, and hearing by the word of Christ.
God's word has provided us everything we need for salvation. God's word is sufficient (2 Tim. 3.16-17). God's word is truth (John 17.17). God's word makes us accountable to Him and opens the way to Him as well. There is an even more specific definition going on here with respect to God's word. The promise is now being equated with "good news." In short, what the promises of God in Hebrews are referring to is what God did in Christ and in this way it is referring to the gospel. Remarkably, the word, "gospel" does not appear in the book of Hebrews but what does appear are many equivalents to the gospel, "[God] has spoken to us in His Son" (1.2), "a great salvation? After it was at the first spoken through the Lord" (2.2-3), "if you hear His voice do not harden your hearts" (3.7, 15; 4.7) etc.
God has provided the condition for faith to be effective and all that remains is for us to unite our faith to God's word so that we will enter His rest. So, we move from the provision of God's word to the necessity of man's faith. Hebrews is the book of faith (4.2; 6.1, 12; 10.22-23; 38-39; 11.1ff. 12.2; 13.7). Without faith it is impossible to please God (11.6). That means, man can never be in God's favor, God will never be favorably disposed to sinful man without faith. This of course is because, through faith God justifies the ungodly (Rom. 3.28). Through faith, man is reconciled to God, justified in the sight of God, and put right with God (Gal. 2.16-17).
Consequently through faith, believers live a life that is pleasing to Him (2 Cor. 5.7); one that holds fast to confession, conviction and confidence that gives us hope (3.6, 14; 4.14).
Certainly, this verse leaves us with a frightening warning, namely that one can have the provision of God's word, you can hear the good news, you can come to church, attend small groups, study theology, enter into communion of the saints; maybe even identify yourself as a saint, yet, do to unbelief, the word of God will not "profit" you, "the word they heard did not profit them, because it was not united by faith in those who heard" (4.2b). Notice that Hebrews makes a point to reiterate personal responsibility for unbelief, "in those who heard." Here we are being given a picture of those who did not hear, and potentially those who are hearing but will either believe or fall short of God's promise through unbelief. But in 1 Thessalonians we see a glorious contrast to the unbelief of the wilderness generation with those who exemplify how the good news is to be received:
1 Thessalonians 2:13 13 For this reason we also constantly thank God that when you received the word of God which you heard from us, you accepted it not as the word of men, but for what it really is, the word of God, which also performs its work in you who believe.
We should conclude on a practical but all important point. Although Israel had the Law, they had the prophets, they had extensive rabbinical commentaries and writings that explained and expounded upon the Law even as Christians today have endless resources to understand the word of God; for most Jews in Jesus day for example the word did not benefit them because they settled for tradition over truth. Ultimately our we need to focus on the object of our faith namely, Christ. After all, He died and rose again, He made propitiation for us sins, He cancelled the debt of our sin, He makes the good news good. So then our focus if we are going to fear God's warning of entering His rest, if we are going to persevere in the fight of faith, and if we are going to place our faith in all of God's promises cannot do this apart from total commitment and trust in Jesus Christ. Jesus takes the promises of God from the abstract to the personal from the theological to the spiritual, from the promise of remaining rest to the ultimate reality of that rest.