The Total Depravity of Man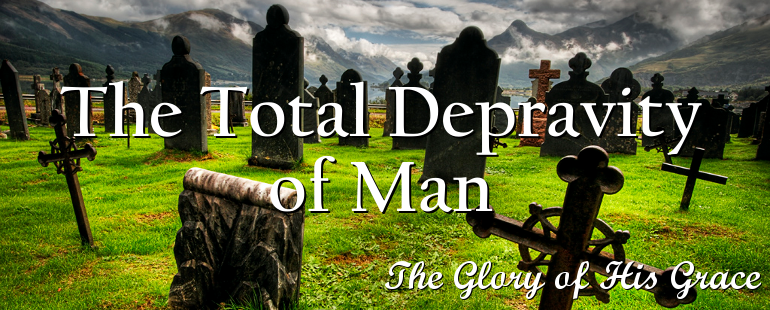 The Glory of His Grace, Part 2
Man's Totally Depraved
Matthew 15:18–19 18 "But the things that proceed out of the mouth come from the heart, and those defile the man. 19 "For out of the heart come evil thoughts, murders, adulteries, fornications, thefts, false witness, slanders.
One of the reasons this message is so timely for me is because after the inception of Red Grace Media— culture has become an increasing focus of mine because much of site is dedicated to all things evangelistic. With this emphasis comes tons of research, reading and sifting through how the church and the culture not only intersect but conflict. And what I am finding is that we are entering increasingly dark and difficult times for the American church. Calvin is famous for the dictum, "after darkness light" (Post Tenebras Lux) to describe the dawn of the Reformation. Yet for the present situation I see that the "sun" of the Reformation setting into a not so distant darkness of postmodern madness. It seems like every day I am seeing more light switches being turned off as some new "evangelical" pastor, leader or author is falling by the wayside on the issue of homosexual perversion (which is leading to a thousand other perversions of sexuality). Although not as quickly in America as in other parts of the world, the midnight of Islamic darkness grows over the globe. Just this week, Islamic Jihadists affiliated with Al Qaeda known as ISIS (Islamic State of Iraq and Syria) have virtually toppled the entire country of Iraq. All of this speaks to the fact that a people, city and nation can be so entrenched in sin that not even the influence of the most righteous saints on Earth can protected it from imploding and ultimately falling into to total divine reprobation (Rom. 1.18ff.). This is what makes the doctrine of Total Depravity so relevant for me. What is the answer to total depravity? Total Sovereignty! Only the total sovereignty of God can overcome and overthrow the power of sin and sin's cruel bondage. The issue of depravity has to do with the issue of the heart. Not the human organ but the human condition, human nature i.e. the sinful nature. This is what Jesus was talking about when He said, "out of the heart come evil thoughts…" As Calvin put it, the human heart is an "idol factory" and this factory never stops manufacturing false doctrines, false gods, false wisdom and false spirituality.
It is the bleak and dismal condition of the human race; a race fallen in Adam and shot through with Adamic sin, guilt and pollution. All of the things that Jesus lists here are symptoms of total depravity but the root of those things is the very heart of man itself. Man is born with a sin nature that renders him spiritually dead so that God must act sovereignly to bring life where there is only death, to bring fellowship where there is only hostility, to bring light where there is only darkness. In order to understand the doctrine of total depravity, we have to look at three aspects connected with the heart of man his radically depraved nature, his religiously impotent soul and his spiritual regeneration.
The Heart Of Man Is Radically Depraved
Historically speaking, the doctrine of the total depravity of man referred not to the fact that man was as wicked and evil as he could be so that unregenerate people are incapable good deeds or amoral activities— that would be utter depravity. Rather, the Reformers and those who followed them taught that what is meant by total depravity was more along the lines of radical depravity. This meant that every aspect of man is depraved. Everything that consists of humanness and what it means to be human is fallen and exposed to the ruin of sin. What this looks like is sinfulness on an internal level and an external level, both physically and metaphysically man is affected by the Fall and the sin nature so that Paul could say, "For I know that nothing good dwells in my, that is, in my flesh" (Rom. 7.18).
The fallen physical aspect of man:
The falleness of our bodies begins at birth. David said in Ps. 51 that from birth we begin to die (Job 3.11), we begin showing our depravity from childhood (Ps. 58.3), and we are given an immediate death sentence (Heb. 9.27), we feel the reign of death (Rom. 5.14), and we are under the tyranny of death (1 Cor. 15.56; cf. John 11.21). From here we know that our bodies are fallen and our bodies are driven by sinful impulses and sinful passions so that human depravity is lived out by what we do with our members:
Romans 6:12–13 12 Therefore do not let sin reign in your mortal body so that you obey its lusts, 13 and do not go on presenting the members of your body to sin as instruments of unrighteousness; but present yourselves to God as those alive from the dead, and your members as instruments of righteousness to God.
In other words, there is only two ways to live in the body, "to sin" or "to God" (Rom. 6.13). This is the corporeal aspect of total depravity. The body, which was born in iniquity, becomes a vessel of iniquity through disobedience:
Romans 6:16 16 Do you not know that when you present yourselves to someone as slaves for obedience, you are slaves of the one whom you obey, either of sin resulting in death, or of obedience resulting in righteousness?
It is with the body that one commits immorality, adultery and sexual impurity which Paul defines as sinning against your own body (1 Cor. 6.18), the body is either where we house the presence of God's Spirit as believers (1 Cor. 6.19) or where we harbor iniquity and live out the sinful passions of the flesh (Eph. 2.3). This is why God has to redeem our fallen bodies as well as our souls:
1 Corinthians 15:53–54 53 For this perishable must put on the imperishable, and this mortal must put on immortality. 54 But when this perishable will have put on the imperishable, and this mortal will have put on immortality, then will come about the saying that is written, "Death is swallowed up in victory.
It was a common NT heresy to degrade the human body and to minimize its importance in the name of elevating the soul (cf. Col. 2.23). The Gnostics viewed the physical nature of man as worthless and unimportant so that ultimately it did not matter what you did with your body. The Corinthians had a similar view of the body and did not realize the value of keeping the body pure so that they fell into prostitution and all sorts of sexual sin (which is much like what is happening today in contemporary culture; it's a low view of the body that is contributing to the moral collapse of Western culture) (1 Cor. 6.12ff.; cf. Rom. 1.24).
The fallen metaphysical aspect of man:
The fact of radical depravity means again, that all of man is depraved that is, every aspect of man, every facet of man, every area of a person's humanity is affected and ruined by sin. The metaphysical aspect of man is also ruined. Here I am referring to man's mind and man's emotional psychological condition. So we could say, the mind is where the soul thinks, the heart is where the soul feels and both these non-corporeal aspects of man are affected by sin.
The Noetic effects of sin
Theologians like to talk about the Noetic effects of sin, which refers to sin's impact on man's mind or in Greek νοός from which the word noetic is derived. The mind is where man thinks about the two highest possible concepts, himself and God. Sadly, both of these fundamental thoughts are ruined by sin so that he cannot think rightly either about himself or God. Long ago did Jeremiah sum up the noetic effects of sin on the "wise men of the nations" (Jer. 10.7-8), that is, the pagan unbelieving nations— nations whose worldviews Israel should have rejected. Jeremiah said, "they are altogether stupid and foolish" they are delusional in their idolatry so that the Lord finally says, "Every man is stupid devoid of knowledge" (Jer. 10.14a).
That is really what we get from looking at total depravity, hopefully we gain a greater appreciation for sin's misery, sin's destructive nature, sin's ruinous rampage in the created order including mental faculties of every person in Adam no matter the level of their IQ. Quite possibly no other passage of Scripture reminds us best of the tragic effects of sin on the mind than Romans 1. Consequently these passages will also serve to show us the interchangeable nature of the terms, mind and heart.
Romans 1:18 18 For the wrath of God is revealed from heaven against all ungodliness and unrighteousness of men who suppress the truth in unrighteousness,
Romans 1:21 21 For even though they knew God, they did not honor Him as God or give thanks, but they became futile in their speculations, and their foolish heart was darkened.
Romans 1:28 28 And just as they did not see fit to acknowledge God any longer, God gave them over to a depraved mind, to do those things which are not proper,
The Inward effects of sin
The effects of sin that are inward move beyond just the mind; sin affects every aspect of man's heart: his emotions, motives, ambitions and volitional powers. Therefore, it is important to note that the heart in total is depraved (Jer. 17.9) and that regardless of what inward aspect of man we are talking about whether his emotions (Rom. 1.29), his thoughts (Mk. 7.21), his ambitions (Jam. 3.16); under sin's dominion and tyranny all of these inward aspects of man are corrupted so that as Jesus put it, "All these evil things proceed from within and defile the man" (Mk. 7.23).
The Heart Of Man Is Religiously Impotent
The metaphysical non-corporeal aspect of man's sin also consists of his religious life or the lack thereof. This moves us to what we can call the religious impotence of man. Total depravity has often been thought of as a point of agreement between Calvinists and Arminians; but when the doctrine is used in its historical usage as meaning more than that man is born a sinner or that he is sinful, but that because of his sin he is unable— usually that veneer of agreement falls apart. This is why Total Depravity has often been called Total inability as well. And as a matter of fact, it is not until the doctrine of depravity has been formulated to speak to this issue of spiritual inability that it has failed to reach its most significant point. It one thing that man is sinful, depraved in his actions and affections, that he is spiritually affected by the fall; yet, if man is not able to reform himself from his sin, then and only then do we see the sinner's true misery.
Perhaps no one text speaks to this than Paul's statement in Ephesians:
Ephesians 2:1–5 1 And you were dead in your trespasses and sins, 2 in which you formerly walked according to the course of this world, according to the prince of the power of the air, of the spirit that is now working in the sons of disobedience. 3 Among them we too all formerly lived in the lusts of our flesh, indulging the desires of the flesh and of the mind, and were by nature children of wrath, even as the rest. 4 But God, being rich in mercy, because of His great love with which He loved us, 5 even when we were dead in our transgressions, made us alive together with Christ (by grace you have been saved),
According to this verse, when we walk around in society, at the store, at school, at work, with family and on the Internet and Television; we ought to see dead people all around. Total depravity means that people who are unregenerate are in a zombie-like existence where they have animation and motion but they are really lifeless (cf. 1 Tim. 5.6). That is, they are devoid of true life (John 14.6), abundant life (John 10.10), eternal life (John 17.3). This is why the "children of wrath" are driven about by "the course of this world, according to the prince of the power of the air" which is "the spirit that is now working in the sons of disobedience" (Eph. 2.2). A religiously impotent person has no sensibility for true religion, real Biblical spirituality, and authentic worship to God.
Therefore, because of total inability, man cannot ever do what God commands for the right reasons (cf. Rom. 8.7). But theologically, to be "dead" spiritually is also to be hostile. This is why Paul says "we were dead in our transgressions" because man in his spiritual dead state is at the same time adverse to the things of God. He is dead in respect to spiritual things but not to sinful things:
Romans 8:6–8 6 For the mind set on the flesh is death, but the mind set on the Spirit is life and peace, 7 because the mind set on the flesh is hostile toward God; for it does not subject itself to the law of God, for it is not even able to do so, 8 and those who are in the flesh cannot please God.
The double negation (not even able… cannot please…) emphasizes the inability of the sinner to do what is right or even to begin a relationship with God. Not one religious thing is possible for the sinner dead in sin (John 3.27). He cannot pray (Prov. 28.9), he cannot obey God's commands (2 Thess. 1.8), he cannot fellowship with God's people (Ps. 1.5), he cannot love God (Rom. 1.30), he cannot fear God (Ps. 36.1), he cannot repent (Rom. 3.10-12), he cannot believe (1 Cor. 12.3; Phil. 1.29; 2 Tim. 2.24-25), and he cannot approach God (Ex. 33.20). In other words, the sinner does not have access to the presence of God and cannot commune with God in his sin (cf. Rom. 5.1-2). Before even approaching God he must be enabled, he must first be drawn by God:
John 6:44–45 44 "No one can come to Me unless the Father who sent Me draws him; and I will raise him up on the last day. 45 "It is written in the prophets, 'And they shall all be taught of God.' Everyone who has heard and learned from the Father, comes to Me.
The metaphor for "coming" reflects the act of faith so that what Jesus is literally saying is, 'man is not even able to exercise the necessary faith to truly trust in Him for salvation.' To be drawn is to be effectually called by the Spirit through the gospel. This is precisely what it means to be religiously impotent; man cannot save himself, avail himself of salvation, contribute to his salvation, or give himself spiritual life. Man must be given life by a sovereign act of the Spirit of God. Because man is dead in sin, dead to God, unresponsive to spiritual things, radically depraved so that his will, his mind and his emotions are all ruined by sin— the heart of man must be regenerated spiritually.
The Heart Of Man Is Regenerated Spiritually
If man has the ability to come to Christ of his own will so as to be saved then, the Spirit's activity would be unnecessary. Yet, Paul says life comes from the direct life-producing work of the Spirit. Again Paul says:
Ephesians 2:4–5 4 But God, being rich in mercy, because of His great love with which He loved us, 5 even when we were dead in our transgressions, made us alive together with Christ (by grace you have been saved),
Regeneration is a purely sovereign work of God. God does not need man to cooperate with regeneration, so that regeneration is a result of some level of good works, even faith is superseded by the regenerative power of the Spirit:
Titus 3:5 5 He saved us, not on the basis of deeds which we have done in righteousness, but according to His mercy, by the washing of regeneration and renewing by the Holy Spirit,
What Paul is telling us in Titus is that man is regenerated by the Spirit and for spiritual life. It is only after he establishes the total sovereign freedom of the Spirit that Paul goes on to speak of our capacity to engage in good works (Eph. 2.8-10). To end on a bright point, the doctrine of Total Depravity should cause us to look only in one directly, Christ! In Christ, all curse is gone, all death is life, all blindness is sight, all impotence is power, all alienation is friendship, all enmity is amity, all Hell is Heaven! Total depravity demands total deliverance:
Romans 8:2 2 For the law of the Spirit of life in Christ Jesus has set you free from the law of sin and of death.
What the doctrine of Total Depravity teaches, like the rest of the doctrines of grace, is that man has no ground for boasting in himself:
1 Corinthians 1:28–29 28 and the base things of the world and the despised God has chosen, the things that are not, so that He may nullify the things that are, 29 so that no man may boast before God.
Ephesians 2:8–9 8 For by grace you have been saved through faith; and that not of yourselves, it is the gift of God; 9 not as a result of works, so that no one may boast.
Galatians 6:14 14 But may it never be that I would boast, except in the cross of our Lord Jesus Christ, through which the world has been crucified to me, and I to the world.