The Trinitarian Nature of Prayer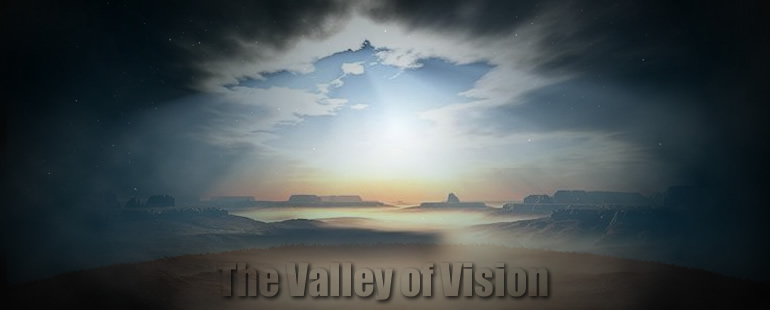 The Valley of Vision, The Trinitarian Nature of Prayer, Pt. 2
Prayer is theology in action. It makes our doctrine practical and real because it brings us into a theological conversation with God. We are called for this very purpose that we might commune with God in truth. God reconciled us in Jesus Christ so that we might have our fellowship with Him restored:
Romans 5:10–11 10 For if while we were enemies we were reconciled to God through the death of His Son, much more, having been reconciled, we shall be saved by His life. 11 And not only this, but we also exult in God through our Lord Jesus Christ, through whom we have now received the reconciliation.
Our reconciliation has led to this exultation and worship. Prayer is worship and prayer is proof that our reconciliation with God has been accomplished and applied. Just as continued alienation from God would be proof that we have no communion with God and no ability to pray to God either. The fact that unbelievers cannot pray and have no real living relationship with God is clear evidence that they do not possess salvation. Likewise, a good prayer life is good evidence that a person does know God. It is the difference between God receiving prayer or rejecting it. God does not receive into His presence those who have not received Christ into their hearts (John 1.12). This should not surprise us, for; throughout Scripture God has never received false worship. When God's covenant people had been so polluted by the world their religion was almost unrecognizable, He rejected them in the most terrifying way even going so far as to hide from their prayers:
Isaiah 1:10–15 10 Hear the word of the Lord, You rulers of Sodom; Give ear to the instruction of our God, You people of Gomorrah. 11 "What are your multiplied sacrifices to Me?" Says the Lord. "I have had enough of burnt offerings of rams And the fat of fed cattle; And I take no pleasure in the blood of bulls, lambs or goats. 12 "When you come to appear before Me, Who requires of you this trampling of My courts? 13 "Bring your worthless offerings no longer, Incense is an abomination to Me. New moon and sabbath, the calling of assemblies— I cannot endure iniquity and the solemn assembly. 14 "I hate your new moon festivals and your appointed feasts, They have become a burden to Me; I am weary of bearing them. 15 "So when you spread out your hands in prayer, I will hide My eyes from you; Yes, even though you multiply prayers, I will not listen. Your hands are covered with blood.
As Isaiah proves, prayer cannot be divorced from worship because prayer is worship. Therefore, above all we must worship and pray in a way that is pleasing to God. In fact, prayer is all about God. The Bible teaches that prayer is about knowing and worshiping God as He is coming to Him in spirit and truth (John 2.24; cf. John 17.3). Therefore as we begin to explore the God-centeredness of prayer, we have to start with the Trinitarian nature of prayer and communion or fellowship with God. Judah's sin after all was that they had forgotten who God was and what He required. By acknowledging the Triune God in prayer we can commune with the whole God, the Godhead in its entirety. This is important because as we will see each member of the Trinity contributes something to the doctrine of prayer.
The Trinitarian Nature of Prayer
First, we should point out that Scripture calls for Trinitarian prayer. This is done every time we pray "in the name" of Jesus. When we evoke the name of Jesus what we are saying is that we are addressing the Father on Jesus' authority and on the basis of what He has done for us:
John 14:13-14 13 "Whatever you ask in My name, that will I do, so that the Father may be glorified in the Son. 14 "If you ask Me anything in My name, I will do it.
John 15:16 16 "You did not choose Me but I chose you, and appointed you that you would go and bear fruit, and that your fruit would remain, so that whatever you ask of the Father in My name He may give to you.
John 16:23–24 23 "In that day you will not question Me about anything. Truly, truly, I say to you, if you ask the Father for anything in My name, He will give it to you. 24 "Until now you have asked for nothing in My name; ask and you will receive, so that your joy may be made full.
In the same way, Jesus directs us to pray directly to the Father to have immediate fellowship with Him so that the Trinitarian arrangement is not that we cannot approach the Father directly. Christ is our Mediator but He is also our Sacrifice who makes direct fellowship with God the Father possible:
John 16:26–27 26 "In that day you will ask in My name, and I do not say to you that I will request of the Father on your behalf; 27 for the Father Himself loves you, because you have loved Me and have believed that I came forth from the Father.
1 John 1:3 3 what we have seen and heard we proclaim to you also, so that you too may have fellowship with us; and indeed our fellowship is with the Father, and with His Son Jesus Christ.
We should quickly point out that the same level of fellowship that we experience with the Father and the Son we also have with the Spirit:
2 Corinthians 13:14 14 The grace of the Lord Jesus Christ, and the love of God, and the fellowship of the Holy Spirit, be with you all.
This is why prayer has to be thought of as totally Trinitarian in nature. It is the only way to think responsibly about prayer. If we do not see the Trinity in our theology of prayer we will destroy the fellowship that we have with God because our fellowship with God cannot be conceived of apart from Trinitarian theology. This is why we need to consider each member of the Trinity and our fellowship with them respectively— the Father, the Son and the Spirit.
Fellowship with the Father
The fact that we have fellowship with the Father implies several important things about His nature and our relationship to Him. These are His Fatherhood, our adoption into His family, and His benevolence towards us who believe unto salvation.
The Fatherhood of God
Because Scripture identifies God as Father, our relationship is fundamentally familial in nature. God is our Father. Because of God's Fatherhood man is God's offspring (Acts 17.28; cf. Eph. 3.15), Adam is called God's Son, "[Joseph] the son of Enosh, the son of Seth, the son of Adam, the son of God" (Lk. 3.38). Fundamental therefore to knowing God as Creator in general and in a covenant in particular means that God is your Father. When God brought David into covenant with Him, God addressed him as His son:
2 Samuel 7:14–16 14 "I will be a father to him and he will be a son to Me; when he commits iniquity, I will correct him with the rod of men and the strokes of the sons of men, 15 but My lovingkindness shall not depart from him, as I took it away from Saul, whom I removed from before you. 16 "Your house and your kingdom shall endure before Me forever; your throne shall be established forever."
In a unique way therefore, believers are God's children, we are sons and daughters of God who have been brought into His family through the sovereign choice of God. Election is about God deciding to make people part of His Trinitarian family, to take part in that family and enjoy the benefits of being in that family.
The Adoption of God
Adoption is the way that God brings us into His family and bestows all of His good pleasure upon us. Too often the doctrine of adoption is destroyed by modern notions of universalism and the idea that "everyone is a child of God." This slogan has all but erased the doctrine of sovereign adoption from the Evangelical world. In reality, adoption is part of God's sovereign grace, His electing grace to choose and to bring us into His heavenly home through union with Christ:
Ephesians 1:3–5 3 Blessed be the God and Father of our Lord Jesus Christ, who has blessed us with every spiritual blessing in the heavenly places in Christ, 4 just as He chose us in Him before the foundation of the world, that we would be holy and blameless before Him. In love 5 He predestined us to adoption as sons through Jesus Christ to Himself, according to the kind intention of His will,
When we consider God the Father we are reminded of His sovereign decree to give us sonship through His Son. But if we fail to stress the blessings of adoption in our theology and in our prayer, we will not be as grateful as we ought for what God has done. Adoption means that God has accepted orphans into His care. It means that He took us out of our miserable condition as unwanted orphans who were not wanted, loved or cared for; and He made a home for us. Adoption is all about God bringing strangers near. This is precisely what Paul goes on to say:
Ephesians 2:11–13 11 Therefore remember that formerly you, the Gentiles in the flesh, who are called "Uncircumcision" by the so-called "Circumcision," which is performed in the flesh by human hands— 12 remember that you were at that time separate from Christ, excluded from the commonwealth of Israel, and strangers to the covenants of promise, having no hope and without God in the world. 13 But now in Christ Jesus you who formerly were far off have been brought near by the blood of Christ.
Adoption means, hope for the hopeless, a home for the homeless, a father for the fatherless. God has always had a special love for the fatherless (Ex. 22.22) probably because it is a precursor to His adoption of His elect through Jesus Christ. But divine adoption spiritual adoption is superior to physical adoption because, God adopts not only those who are helpless and hopeless but also those who are hostile to Him (Rom. 5.6-11).
The Benevolence of God
Directly related to the doctrine of adoption is the doctrine of God's goodness His benevolence. Through adoption and through our fellowship with Him, God brings heaven down upon us by showering us with His blessings both temporal blessings but especially spiritual and eternal blessings in Christ (cf. Eph. 1.3-4; 2 Cor. 8.9). God's Fatherhood therefore, stresses his benevolent nature towards the children He adopts. Jesus taught this exact thing to His disciples when they were tempted to question God's providential dealings in their lives:
Luke 12:29–32 29 "And do not seek what you will eat and what you will drink, and do not keep worrying. 30 "For all these things the nations of the world eagerly seek; but your Father knows that you need these things. 31 "But seek His kingdom, and these things will be added to you. 32 "Do not be afraid, little flock, for your Father has chosen gladly to give you the kingdom.
Fellowship with the Son
Our fellowship with Jesus Christ means that we are in union with Him (Rom. 8.17). In fact, this too is rooted in the reality of adoption so that we see how all these points intersect and are connected one to the other. Paul ties it all together in Romans:
Romans 8:15–17 15 For you have not received a spirit of slavery leading to fear again, but you have received a spirit of adoption as sons by which we cry out, "Abba! Father!" 16 The Spirit Himself testifies with our spirit that we are children of God, 17 and if children, heirs also, heirs of God and fellow heirs with Christ, if indeed we suffer with Him so that we may also be glorified with Him.
As with the Father, our fellowship that we have with the Son implies several crucial things that informs our prayer life, our union with Christ, our access through Christ, and our benefits from Christ.
Our Union with Christ
As we transition into communion with the Son, we do not leave off thinking of the Father, for it was the Father who puts us into fellowship with the Son:
1 Corinthians 1:9 9 God is faithful, through whom you were called into fellowship with His Son, Jesus Christ our Lord.
It is the faithfulness of the Father that puts us into fellowship with the Son. This Christ-centered fellowship deals with our election; this is what being "called into fellowship with the Son means." The redemptive covenant faithfulness of God reaches to its highest point in the believer's union with Christ. Such faithfulness is foreshadowed in God's past dealings with His people:
Deuteronomy 7:9 9 "Know therefore that the Lord your God, He is God, the faithful God, who keeps His covenant and His lovingkindness to a thousandth generation with those who love Him and keep His commandments;
Our prayers are based on this union and we should reflect and rejoice in this union with thanksgiving in our hearts and at all times (Dan. 6.10; Acts 6.4; Rom. 12.12; Eph. 1.16; 6.18; Col. 3.15; 1Thess. 5.17; 1 Tim. 5.5; 2 Tim. 1.3).
Our Access through Christ
The fact that we have fellowship with the Son also means that we have obtained access through Jesus. Access to approach the throne of God's grace where we derive every spiritual benefit for our lives (Heb. 4.16), access to make our requests known to God (Phil. 4.6), and access to converse immediately with God the Father as we pray to Him in the name of Jesus (John 16.26-27). To pray in Jesus' name means that we recognize the person and work of Christ as the sole basis of why we are able to bring our offerings of praise and prayer to God (Heb. 13.15).
This is why prayers directed solely to Jesus are not as rich and full as Trinitarian prayers. Trinitarian prayers, that is, prayer to the Father in Jesus' name, and in the power of the Spirit give us a fuller appreciation of our God and a greater reality of the gospel grace in which we stand:
Romans 5:1–2 1 Therefore, having been justified by faith, we have peace with God through our Lord Jesus Christ, 2 through whom also we have obtained our introduction by faith into this grace in which we stand; and we exult in hope of the glory of God.
Our Benefits from Christ
The fact that we have obtained access and peace through Jesus Christ means that we benefit from our fellowship with Jesus Christ. These blessings are bestowed on us because as Scripture makes clear, He is our Mediator and our Great High Priest. The author of Hebrews is known for his exposition of Jesus' High Priestly work on behalf of His people. Because our fellowship with Jesus we should fashion our prayers knowing that Jesus understands and unloads our burdens through the strength of His grace— He is our sympathetic High Priest:
Hebrews 4:14–16 14 Therefore, since we have a great high priest who has passed through the heavens, Jesus the Son of God, let us hold fast our confession. 15 For we do not have a high priest who cannot sympathize with our weaknesses, but One who has been tempted in all things as we are, yet without sin. 16 Therefore let us draw near with confidence to the throne of grace, so that we may receive mercy and find grace to help in time of need.
The greatest benefit of Christ's Priestly office is grace. This is what Trinitarian prayer is all about— knowing and understanding how the grace of the Triune God is brought to us through Christ. Joel Beeke elaborates on the theology of John Calvin on this point:
"Prayer originates with the Father, is made possible though the Son, and is worked out in the soul by the Spirit, through whom it returns via Christ to the Father. The Triune God gives, hears, and answers prayer." (Joel R. Beeke & Brian G. Najapfour, Taking Hold of God, Reformed and Puritan Perspectives on Prayer (Grand Rapids: Reformation Heritage Books, 2011) 36).
Calvin went on to say that with out Christ, prayer is nothing but presumption. This is why fellowship with Christ must come first. If there is no fellowship with Christ, if there is no union with Christ and if there is no saving knowledge of Christ; we may utter the words, but like in Isaiah's day, God will hide His eyes from us and turn a deaf ears to our prayers. But through Christ, the Father's ears are opened to us, the Father's eyes see us and our burdens and sends us help to lift our burdens or strength to bear them. Because Jesus is our High Priest, our Mediator, Redeemer and Righteousness God listens to our prayers for Christ' sake.